Extreme late summer heatwave hits Southeastern, Eastern Europe, Turkey and parts of East Central Europe. From Slovakia to Turkey, on Saturday has been reached temperatures from +35 to +45°C (95 to 113 °F).
Heatwave brings regionally the hottest days of the year 2020 – mainly in southeastern Poland, eastern Slovakia, Ukraine, Belarus and parts of Balkan. In Turkey, heatwave is comparable with the strongest heatwaves in the middle of summer.
In some parts of Ukraine, top reached temperatures of the year 2020 can be measured at the start of September.
Saturday´s national maximum temperatures are: +44,2°C, Cyprus +40,2°C, Greece +38,0°C, Romania +37,2°C, Albania +36,6°C, Bosnia +36,3°C, Serbia +35,3°C, Croatia +35,2°C, Hungary and Slovakia +35,0°C.
On Sunday, possible temperatures up to +38°C are in Hungary, Romania, Slovakia, Ukraine, up to +36°C in southern Poland and up to +34°C in Belarus. Southern Balkan could be closely to +40°C, Turkey +45°C.
Meanwhile the east of continent is experiencing with record-heat temperatures, Scotland is waiting freezing -2°C and parts of western Europe and northern Spain cold nights only around +6°C. Between this temperature gradient, powerful storms on the cold front bothers central parts of Europe /https://mkweather.com/2020/08/29/extreme-storms-expands-in-europe-and-hit-sk-cz-pl-hu-hr-si-after-it-au-su-ge-and-fr-italy-8-cm-hails-switzerland-250-mm-48-hours-and-floods//.
T850 hPa with expected regional TOP maximum temperatures and temperature anomaly on Sunday, 30. August 2020 across Europe /wxcharts.com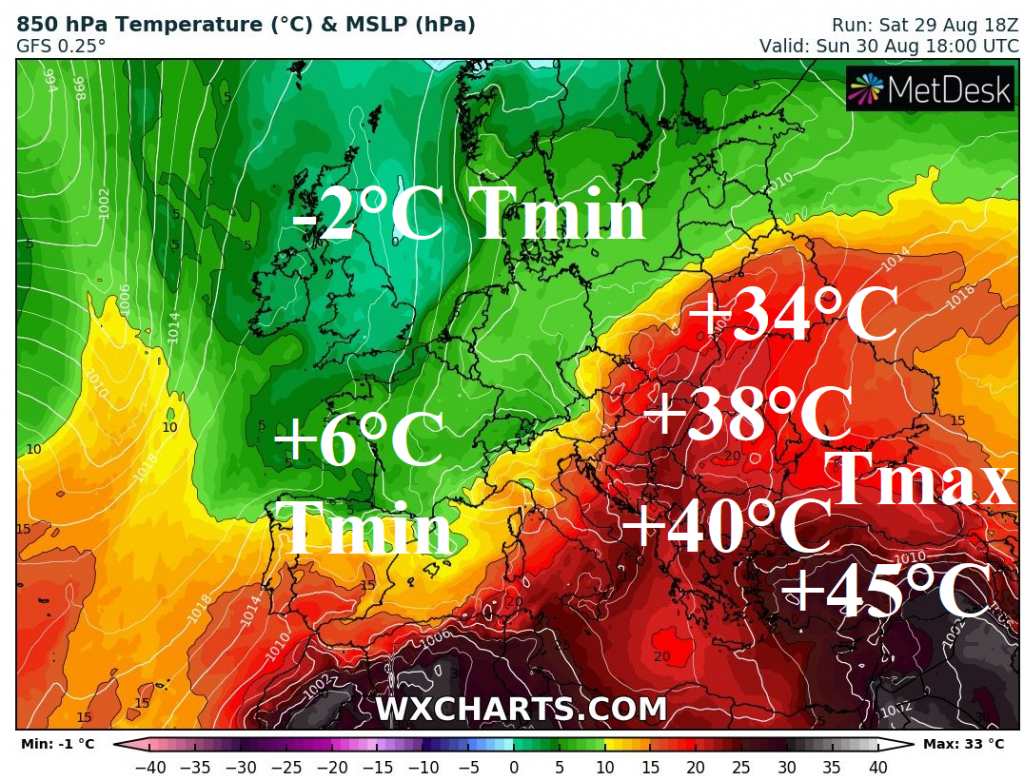 Read more:
(Visited 81 times, 1 visits today)