150 km/h winds in British Islands! Windstorm Barra hits the UK and Ireland!
MK
December 6, 2021
2 min read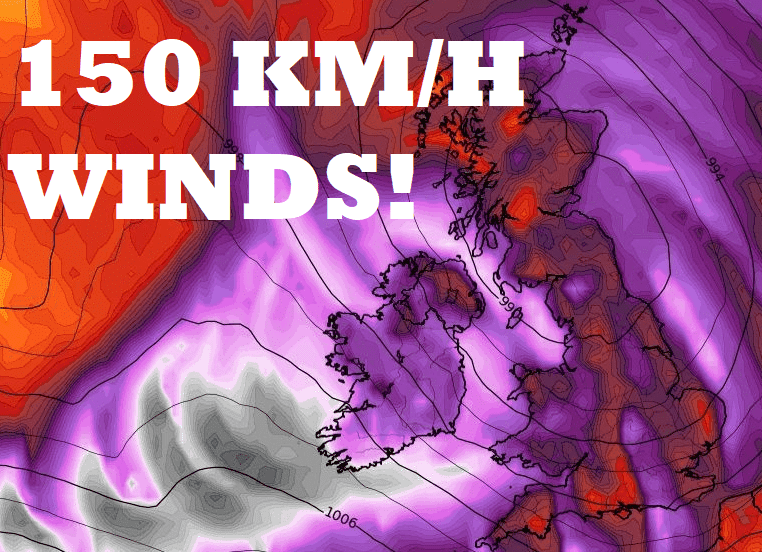 Life-threatening wind gusts, snow, and rain.
After a windstorm Arwen /https://mkweather.com/a-snowstorm-trapped-60-people-in-uk-pub-they-had-fun-and-sang-for-three-days// the next hard times are forecasted for the UK and Ireland already in the next 48 hours!
Both countries hit Windstorm Barra, with a possibility of wind gusts up to 150 km/h along the coasts and even higher in the mountains.
The worst situation is forecasted around Tuesday, 7. December 2021, when widespread power outages are forecasted.
In many parts will appear snowflakes, in warmer regions will be raining.
In the mountains, the next severe blizzard should appear.
After a movement of the system above British Islands, in ideal conditions such as snow cover, dry air and weak winds, extremely cold mornings around -10/-15°C should appear in Scotland, maybe in northern England.
The worst wind gusts are forecasted in all of Ireland and along the coasts of the UK, 90-130, rarely 150 km/h, while continental parts should report 60 – 100 km/h wind gusts.
Until the end of the week, 100 mm of rainfall in Wales and northern parts of Ireland are forecasted, with regional floods possibility.
Wind with a combination of temperatures around 0°C should cause anomalously low windchill up to -15°C in colder regions and up to -10°C in metropolitan cities.
If you live in the UK or Ireland, we recommend you to watch current weather news, forecast, warnings, and advisories.
Mkweather will watch the situation and will bring information about measured extreme winds in British Islands, soon.
A warmer period in the region is forecasted gradually only during the 2nd December decade, Christmas and New Year 2021-2022 should be again very cold /https://mkweather.com/winter-in-europe-will-return-around-christmas-and-new-year-2022-especially-in-the-central-and-eastern-sector-long-term-forecast-until-10-january-2022/; https://mkweather.com/natioanl-tops-nights-below-20c-purple-15c-dark-blue-and-10c-light-blue-in-frost-basins-valleys-or-lowlands-below-1000-masl-in-europe-until-21-december-2021/; https://mkweather.com/white-christmas-2021-a-big-snow-forecast-for-europe-until-10-january-2022//.