Jangmi is bringing floods over Korea and Japan
Tropical Storm Jangmi made landfall in South Korea on Monday, bringing with it heavy rainfall and floods. The Philippines attached the name Enteng to the disturbance. After the system strengthened to a tropical storm on Sunday, the Japan Meteorological Agency (JMA) named the storm Jangmi.
As of Sunday night, the storm has maintained a northerly trajectory with forward speed of 55 km/h (34 mph) with maximum-sustained winds of 84 km/h (52 mph). After Jangmi brought times of heavy rain and gusty winds to the Ryukyu Islands (Kumejima totaled 55 mm (2.2 inches)) into Monday morning, the storm took a turn to the northeast.
Next, Jangmi was on a path straight into South Korea, arriving Monday. Rainfall reports as high as 66 mm (2.6 inches) were found. Heavy downpours, landslides and floods in South Korea have killed at least 30 in the past several days, before arrival of Jangmi.
Heavy rain will continue across South Korea as well as parts of Kyushu, Shikoku and western Honshu till Tuesday as Jangmi continues to move northeastward, close to far southeastern Russia. Jangmi is likely to lose more and more wind strength on Tuesday and becoming a tropical rainstorm. On Tuesday, downpours are expected in the Primorsky region of Russia, and western parts of Hokkaido.
Mekkhala has moved from Philippines over China
Only a week after Typhoon Hagupit, another tropical system is targeting the region this week. On Sunday night, local time, a tropical depression emerged in the South China Sea, just west of the island of Luzon in the northern Philippines. Tropical storm was given the name Mekkhala by the JMA (same tropical storm is also referred to as Ferdie in the Philippines).
During Tuesday, Mekkhala is expected to make landfall in China, near the city of Quanzhou and other cities along the populous coast of the Fujian province include Xiamen and Fuzhou.
Widespread rainfall amounts of 25-75 mm (1-3 inches) are possible across this region, rarely up to 150 mm (6 inches). This amount of rainfall can lead to areas of flooding and even mudslides in the mountains. Gusty winds could bring wind gusts up to 85 km/h (53 mph).
Heavy rainfall in Taiwan will continue throught Tuesday, threatening much of the island with heavy, flooding rainfall. Mudslides will also be possible.
Heavy rain could be a threat till Wednesday as far north as the southern half of the Zhejiang Province. Some of the same areas hit by heavy rain from Hagupit will be doused with another round of tropical rainfall.
China faces in summer 2020 "Once in the century" floods and late summer typhoons could the situation make worse, yet.
Stormtracks of Jangmi and Mekkhala according to Asian meteorological institutes:
Up: Flooding in South Korea after arrival of Jangmi, down: damaging winds from Mekkhala in China:
Areas in China the most affacted by floods in the summer 2020 (read more:
Stormtracks of Jangmi and Mekkhala during Tuesday and Wedenesday 11.-12. August 2020 /tropicaltidbits.com/: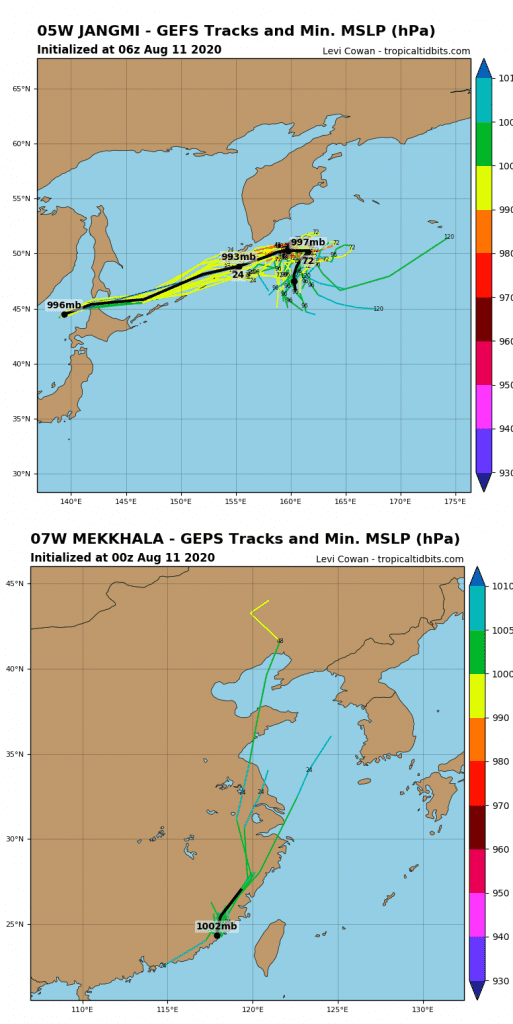 Documentation of storms from Accuweather:
Sources:
https://www.koreatimes.co.kr/www/nation/2020/08/281_294096.html
https://www.aljazeera.com/news/2020/08/south-korea-floods-landslides-kill-dozens-displace-thousands-200809034627417.html
https://metinews.com/daily-uk-news-dramatic-moment-typhoon-mekkhala-tears-though-a-factory-building-in-china-as-high-winds-hit-the-country-s-southern-regions-metinews-com/63806/
Read more:
(Visited 64 times, 1 visits today)