Before an arrival of winter, the last very warm days: Greece +25,2°C, Croatia +22,7°C, Norway +17,9°C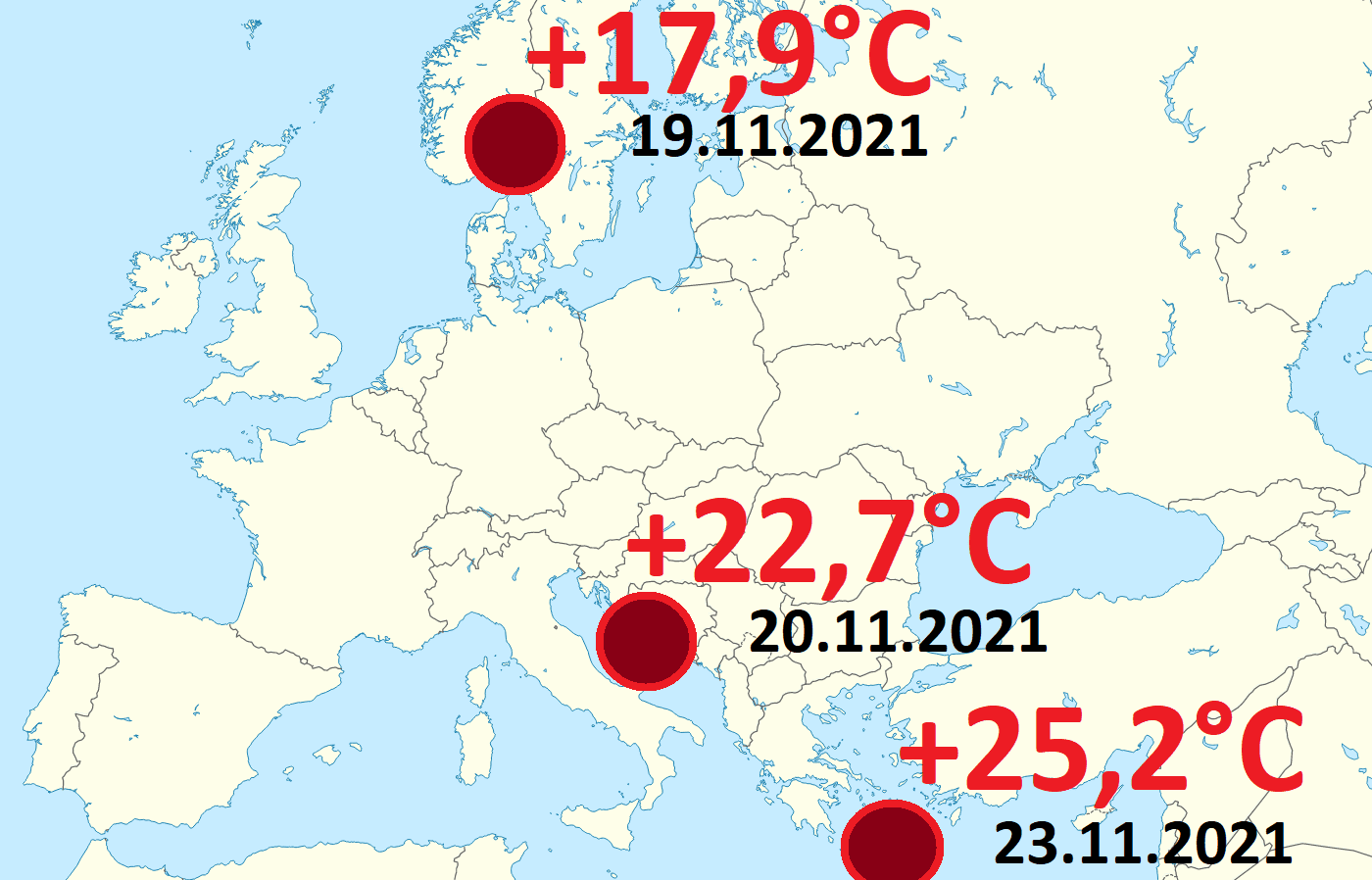 In the last 5 days have appeared in Europe the last very warm, in southernmost parts of Europe even summer (above +25,0°C) days.
Very warm was from Norway to Greece and these air masses have shifted here on the front side of a polar vortex, shifting from the Arctic and Atlantic already above western and northern Europe.
Firstly, very warm +17,9°C was measured on Friday, 19. November 2021 in Svelvik Knem, southward from Oslo, Norway. In Oslo, the latest +15,0°C and more in history were measured.
At the weekend, anomalously warm was in Dubrovnik, Croatia, +22,7°C, but e.g. Lucenec, Slovakia reported warm day, too, with +16,6°C.
Anomalously warm air has shifted until Tuesday, 23. November above Eastern Mediterranean and eastern parts of Europe, with the warmest maximum temperature in Heraklion, Crete, Greece – summer +25,2°C.
On Tuesday, 23. November however started the mentioned very cold period and e.g. in Belarus, -12,6°C was already measured, while in Finland, almost -30°C appeared (one of the next Mkweather articles).
Information about the cold period in Europe you should find here /https://mkweather.com/extremely-cold-weather-until-a-new-year-2022-arctic-air-should-come-in-3-peaks-around-30-11-14-12-and-christmas-wider-european-region-estimates/; https://mkweather.com/nao-index-falls-to-2-0-the-lowest-value-since-legendary-35c-frosts-in-europe-in-january-february-2021-or-206c-in-april-2021/; https://mkweather.com/heavy-blizzards-hit-europe-in-these-regions-is-possible-snow-calamity/; https://mkweather.com/central-europe-winter-should-start-with-historic-30c-in-frost-valleys-blizzards-and-snow-calamity-very-possible// and in prepared articles on our homepage.
Very warm weather will gradually shift above Turkey, the Caucasus, northern Middle East, or Egypt until the end of the month, and winter conditions will come to these regions a little later, then into Europe, mostly around 5.-10. December 2021.
We will be furthermore monitoring the situation and it´s possible, that already this week will bring information above the next, cold, temperature records.