On the front side of the high-pressure system, shifting from continental Europe eastward, or within its central parts, the next series of the first frosts and ground frosts appeared from Monday to Wednesday, 6.-8. September 2021 in Eastern Europe, southern Baltic region, some Balkan countries, and Hungary.
About cold temperatures in Europe from the last period, we wrote e.g. here: /https://mkweather.com/statistics-the-coldest-measured-temperatures-in-europe-during-the-august-2021-coldwave/; https://mkweather.com/europe-first-frosts-are-here-czechia-30c-slovakia-17c-poland-02c-romania-02c-ukraine-07c/; https://mkweather.com/the-extremely-cold-air-is-already-in-southern-europe-greece-61c-north-macedonia-48c-romania-slovenia-34c-croatia-30c-2-3c-above-all-time-august-records/; https://mkweather.com/winter-came-to-norway-and-sweden-very-early-snow-in-the-north-tmax-below-0c-frosts-in-the-south-folldal-fredheim-86c-latnivaara-52c//.
The last 3 mornings were in the eastern half of Europe again extremely cold, while western Europe and NW Africa experienced on the backside of the same anticyclone with extremely hot weather /https://mkweather.com/uk-ireland-glenbeigh-ireland-286c-the-hottest-september-day-since-1906-gogerddan-wales-307c-northolt-england-301c-2021/; https://mkweather.com/spain-392c-france-367c-portugal-360c-heatwave-is-bringing-many-all-time-september-records-2021/; https://mkweather.com/algeria-482c-egypt-477c-only-02c-01c-below-all-time-september-records-extremely-hot-will-be-until-early-next-week/; https://mkweather.com/nouasseur-morocco-445c-only-07c-below-all-time-national-september-temperature-record//.
The coldest 6. September in history (nationally) was measured on Monday in Hungary when +1,2°C in Zabaron in the northern part of the country was measured.
In Ukraine and Belarus, the first frosts at the main stations were observed – in Druzhba, Ukraine -0,4°C and in Klicev, Belarus -0,2°C on Monday.
Very cold was on Monday in Varena, Lithuania, only +1,3°C, Tiraspol in Moldova reported a peak of coldwave even on Wednesday, +2,0°C.
From Balkanian countries, interesting temperatures were in Miercurea Ciuc, Romania, +0,9°C, where however previous week +0,2°C was measured and Kocevje, Slovenia with +2,4°C and Berovo, North Macedonia with the only +2,5°C.
Now, extremely hot, tropical air with Saharan origin from western Europe is coming and all continental Europe from France to Ukraine expects the last tropical days of the year until the end of the current week /https://mkweather.com/long-and-even-stronger-heatwave-for-europe-france-and-iberia-38c-italy-and-balkan-35c-continental-and-eastern-europe-from-30-to-34c-england-and-baltic-states-30c-scan//.
About the highest measured temperatures in the next European countries, we will inform soon – already on Wednesday, 8. September 2021, extreme +29°C is possible in southern Scandinavia or +31°C in Benelux and Germany.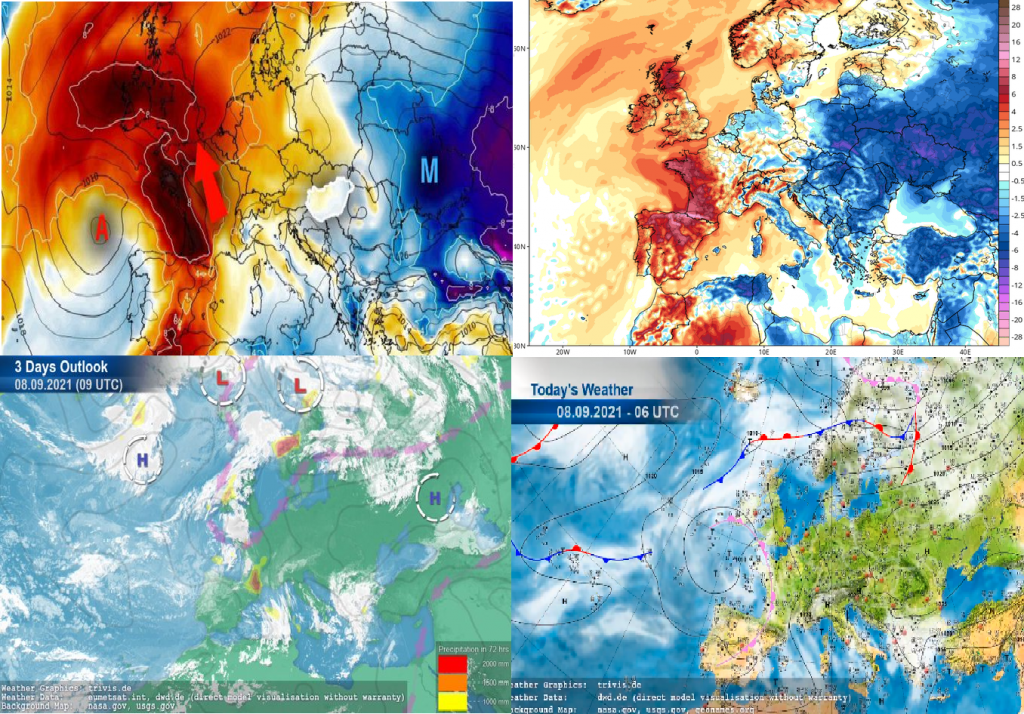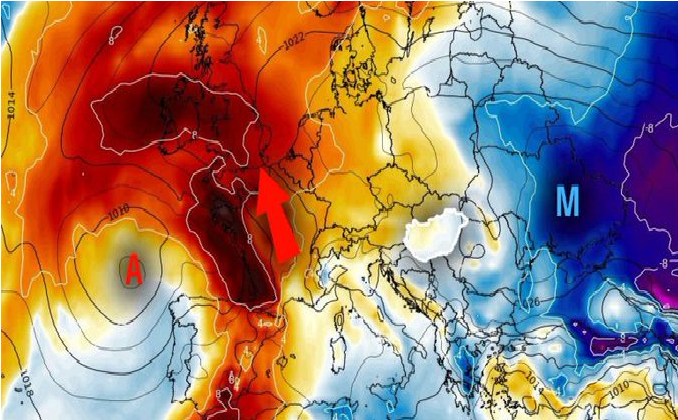 Illustration photos: Tweets below
(Visited 75 times, 1 visits today)