East and Northeast of US is aliving extremely hot and very humid July 2020. In many parts, heatwaves has persist more than month, minimally from 20. June 2020 and in some regions, July 2020 can end as the warmest July in all-time history of measuring, from 1872. Hot and humid weather still continue and little change is predicted only for the last days of July.
In Monday, 27.7.2020, Norfolk reports +36,7°C (98°F), New York +36,1°C (97°F) (and very hot night with minimum temperature +26,7°C / 80°F) and Baltimore, Boston and Washington +35,0°C (95°F).
According to Accuweather.com, cities such as Syracuse and Buffalo, New York, and Burlington, Vermont, have observed overall temperatures 6 degrees Fahrenheit or higher above normal so far through the July 2020. Many cities across the Northeast along the Interstate 95 corridor have recorded temperatures 2-4 degrees above monthly averages.
"Diving a bit deeper into the heat felt across Buffalo, New York, the city observed its all-time highest July temperature of 98 °F (36,7°C) on July 9, beating out the former record of 97 degrees set back in 1995. As of July 26, the cumulative average temperature in the city was a balmy 78.0 degrees, a whopping 1.7 degrees ahead of the all-time warmest July observed 99 years ago, back in 1921."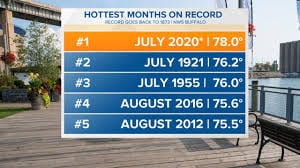 Illustration photo: bfalloproud.com; wallpaperup.com
(Visited 10 times, 1 visits today)