The first peak of Siberian winter in January in Czechia -27,0°C /https://mkweather.com/2021/01/18/orlicke-zahori-czechia-on-the-polish-border-270celsius-2021//, the second peak at the start of February -27,8°C /https://mkweather.com/2021/02/01/jizerka-czechia-278c-the-second-peak-surprised// and the third peak for now -27,2°C!
Temperature -27,2°C from Rolava, northwestern Czechia is similarly strong frost such as during previous coldwaves, but for the TOP cold winter morning is Czechia only waiting.
Frosts around -30/-35°C should in Czechian frosts basins and valleys appear already during next 10 days, until the next weekend (or until 20. February), if extreme Siberian winter will return at the end of February and in early March 2021, maybe later, too /https://mkweather.com/2021/02/09/neverending-winter-siberian-blasts-until-late-march-2021//.
On Wednesday, 10. February, extremely -26,7°C was measured too in Germany, only in 216 MASL /https://mkweather.com/2021/02/10/germany-267c-siberian-winter-minimally-until-20-february-2021-mk//.
On Tuesday, 9. February, surprised the strongst frosts since 2010 / 2012 the UK and the Netherlands /https://mkweather.com/2021/02/09/the-uk-167c-the-lowest-temperature-since-2010/; https://mkweather.com/2021/02/09/hupsel-gelderland-the-netherlands-162c-the-coldest-times-since-2012-mk-2021//, Wednesday was in the UK even colder /a topic of the next article/.
Heavy snowfall was shifted from line Ukraine - Poland - Germany - Benelux - France - the UK into more southern regions last hours - intensive snowing was reported from the Alps or the Carpathians, where the strongest frosts, below -30°C, even come.
Extreme frosts are reported from the USA and Canada, too /https://mkweather.com/2021/02/08/northern-canada-519c-southern-canada-489c-the-usa-400c-new-all-time-temperature-records// - according to the newest reports, temperatures have dropped below -46°C / -51°F in northern USA, what is the coldest temperature in west - Great Lakes region for more than last 100 years /next article/.
In Prague, Czechian capital, has fallen more than 20 cm of snow last days and in valleys and basins in the north, snow cover is reaching around 60 cm. Many inhabitants of Prague took photos from the city and posted into social sites.
Situation in Europe will be carefully watched during next days an Mkweather will bring next series of articles about measured temperature records from European countries.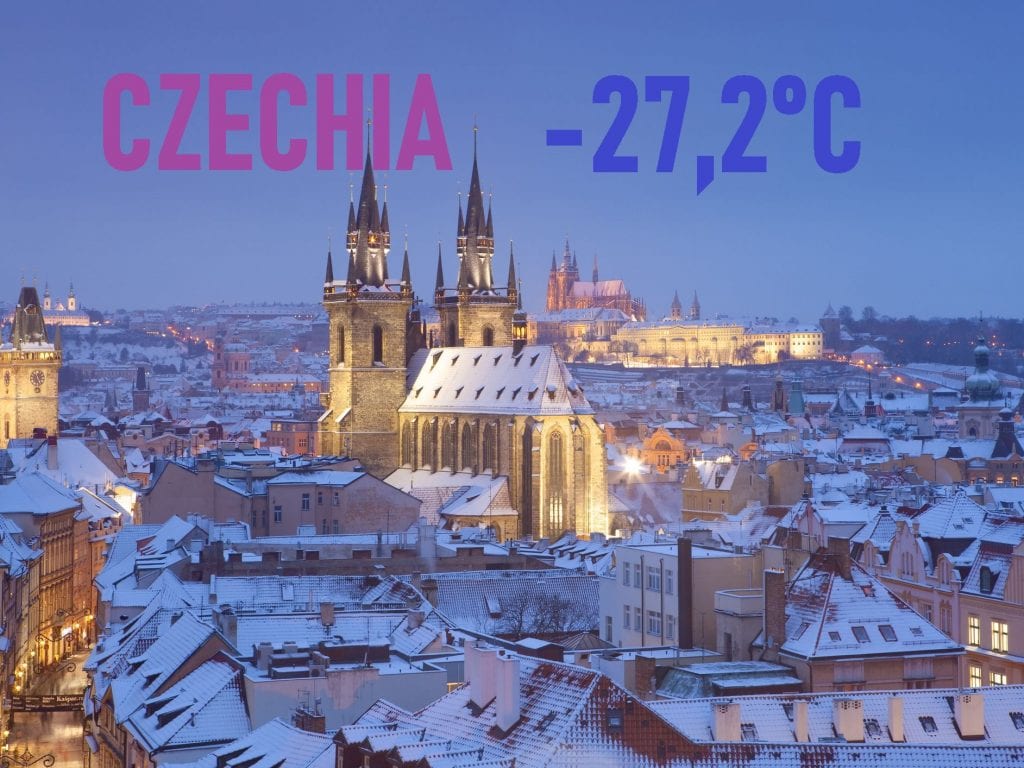 Read more:
(Visited 36 times, 1 visits today)