Edmonton, Canada: -43,8°C, only 0,1°C from all-time record from 1994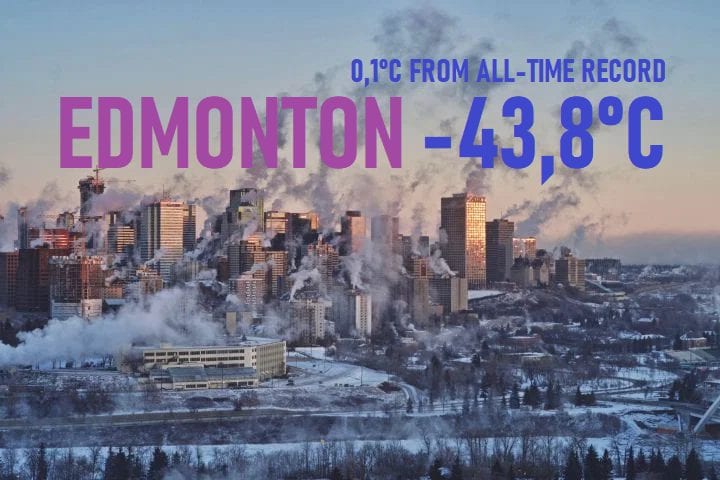 Extreme winter in Canada continues and southern Canada reports 22 broken all-time temperature records from Saskatchewan, Alberta and Manitoba.
The coldest was in Uranium City, Saskatchewan, -48,9°C (broken previous record -40,0°C from 2019) /https://mkweather.com/2021/02/08/northern-canada-519c-southern-canada-489c-the-usa-400c-new-all-time-temperature-records//.
In Alberta, Fort Chipewyan was broken all-time record from 1936 (-45,6°C) and meteorologists here measured -47,3°C.
Roblin, Manitoba reported -42,0°C, the coldest temperature since 1972 (-40,6°C) /https://www.cbc.ca/news/canada/saskatchewan/polar-vortex-record-cold-temperatures-saskatchewan-1.5905238?__vfz=medium%3Dsharebar/.
Extremely cold weather hit metropolitan regions, too, including Edmonton, where was measured bone-chilling -43,8°C, only 0,1°C more than in 1994 (all time record -43,9°C).
Extreme winter is spreading furthermore into the USA, where however, snowfall making more problems than extreme frosts.
Snowstorms are planned in Seattle region, New York or from Texas to New Jersey during next days and snow should appear in northern Florida, too. In some regions, dangerous freezing rain is possible.
Extremely cold weather is according to current forecasts prepared for eastern Rockies and Midwest minimally until 20. February 2021.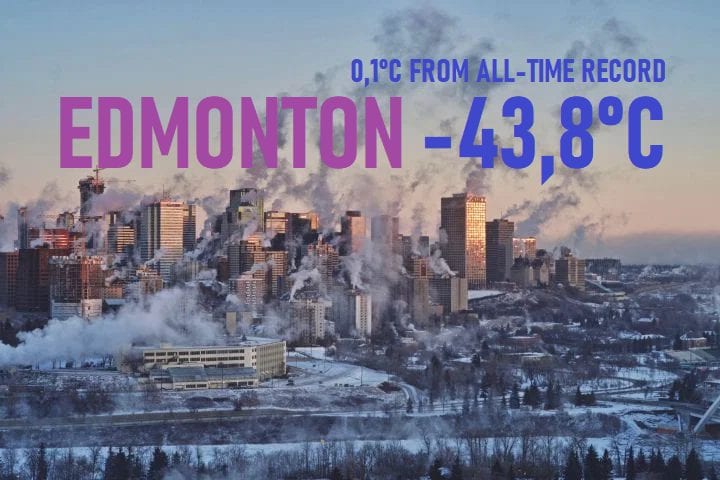 Read more: