Heatwave in the western half of the USA is bringing many daily temperature records, extreme coldwave in outlook only after 20. September, until then the largest wildfire in California in history should be observed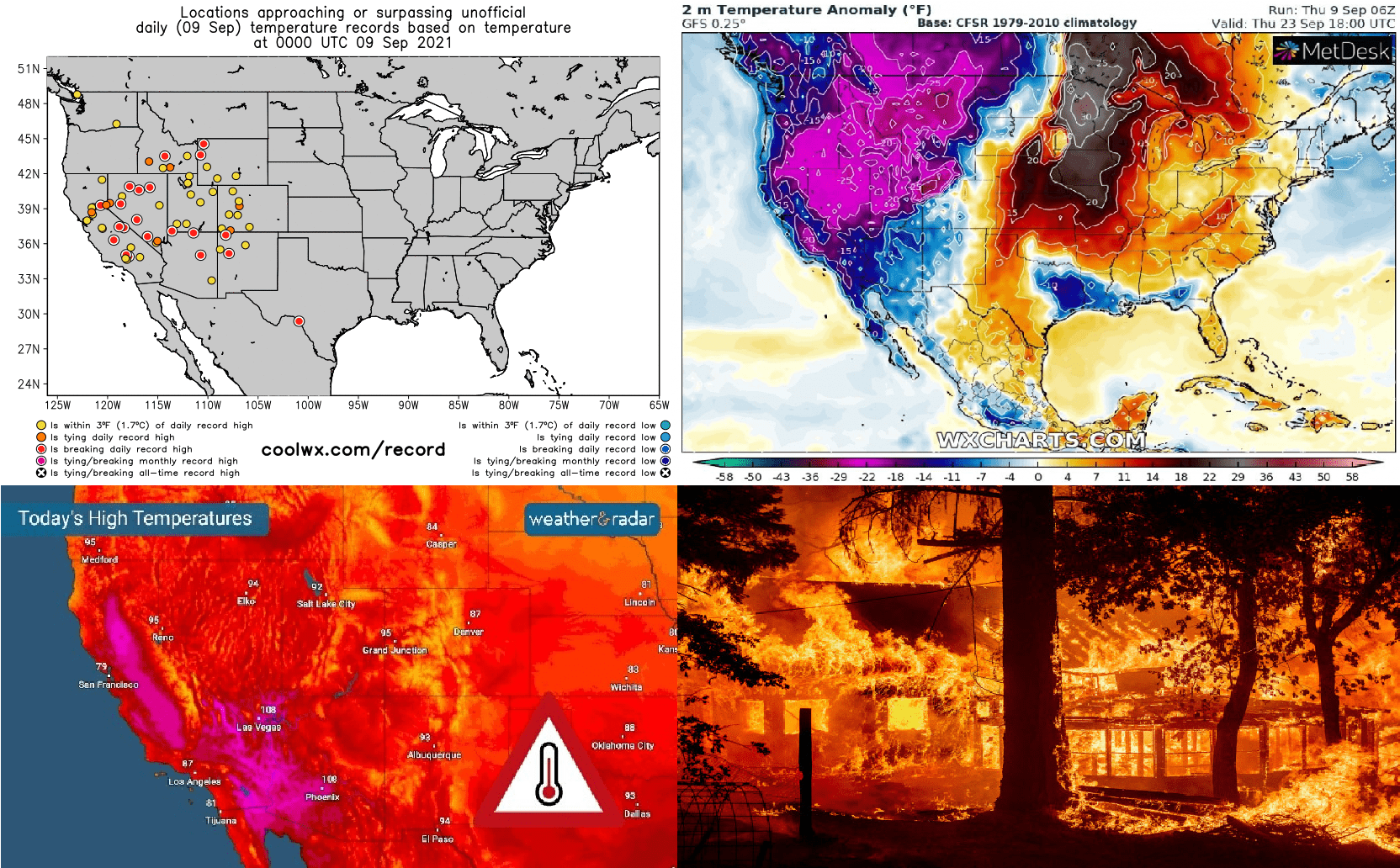 Already in the last article, we warned before extreme heatwave, which was forecasted to replace ex-Hurricane Nora conditions across the western half of the USA and northern Mexico /https://mkweather.com/a-long-lasting-heatwave-for-the-western-half-of-the-usa-until-15-september-immediately-after-an-ex-hurricane-nora//.
Heatwaves in the region should according to current forecasts persist above the region – mainly the southwestern USA minimally until 20. September 2021, while after this date, the first severe coldwave, with frosts and snowing in the Rocky Mountains appeared in current outputs of GFS.
The current heatwave is bringing many daily temperature records – in the last 24 hours, daily records were broken in California, Nevada, Arizona, New Mexico, Texas, Utah, Colorado, Wyoming, and Idaho, but high temperatures will be moving across western and central, temporarily eastern parts of the USA, too, during the next period, with the next possible temperature records.
In Las Vegas and Mercury Desert Rock, airport, +42,2°C / 108 °F, Redding reported +41,7°C / 107°F, Red Bluff and Fresno +41,1°C / 106°F, Phoenix and Del Rio +40,6°C / 105°F, Bishop and Kingman +40,0°C / 104°C in the last 3 days (7.-9. September 2021).
Death Valley reports heatwave, too, after a colder and traditionally stormy period /https://mkweather.com/hills-in-death-valley-were-blooming-white-with-salt-precious-salt-flowers-appeared-after-a-rain-will-bring-spring-2021-extraordinary-bloom//
Heatwaves are reported from Europe, too /from the latest news: https://mkweather.com/the-hottest-september-day-in-scotland-in-115-years-charterhall-286c/; https://mkweather.com/drammen-berskog-norway-280c-05c-below-all-time-september-record/, for more information, visit our homepage/ and both continents are preparing for the first serious winter season blasts after 20. September /https://mkweather.com/in-most-of-europe-coldwaves-with-frosts-in-colder-regions-the-first-snowing-should-come-between-20-september-10-october-2021-a-big-ensemble-forecast-for-european-cities//.
Persisting heatwaves in the southwestern USA should bring the next severe wildfires – Caldor Fire near Lake Tahoe and Dixie Fire are only 2 examples, where is situation very bad. While Caldor Fire is occupying the region longer time, Dixie Fire should only become the largest wildfire in California ever.
Wildfire season 2021 in California is for now, worse than in 2020 and the next 2 weeks should make the situation even worse.
Therefore, if you live in the region, watch current forecasts, news, warnings and advisories.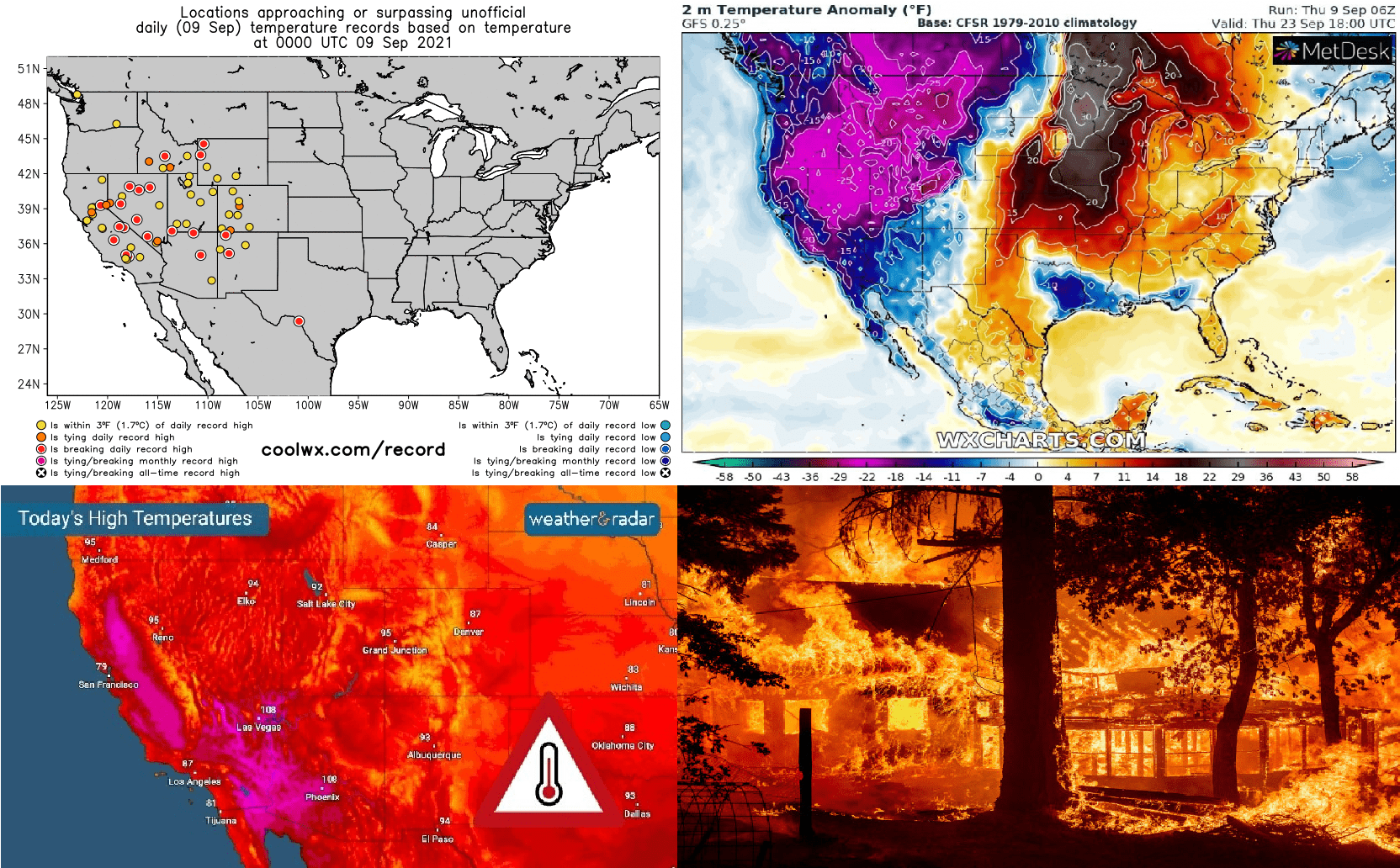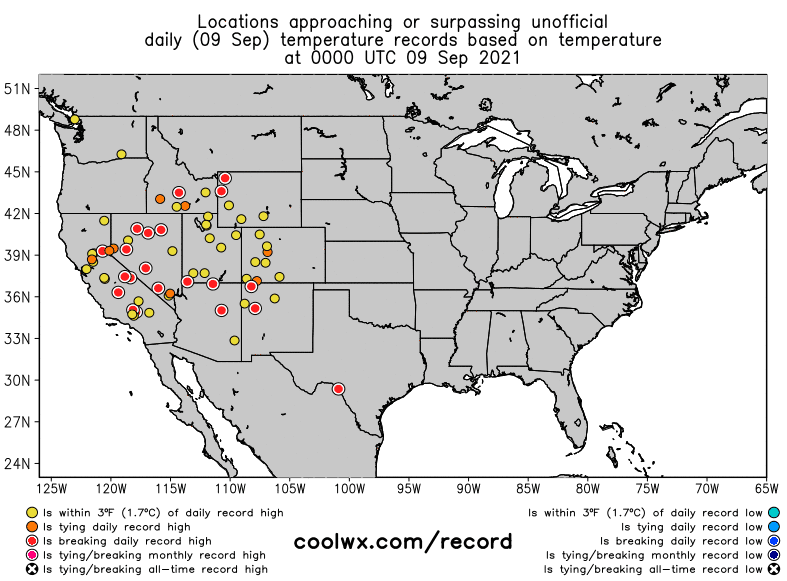 Source: http://coolwx.com/record/usamovie.day.php