Hurricane Epsilon aims to Europe, next 7 deep-pressure threats appear until 5. November in British Isles and NW Europe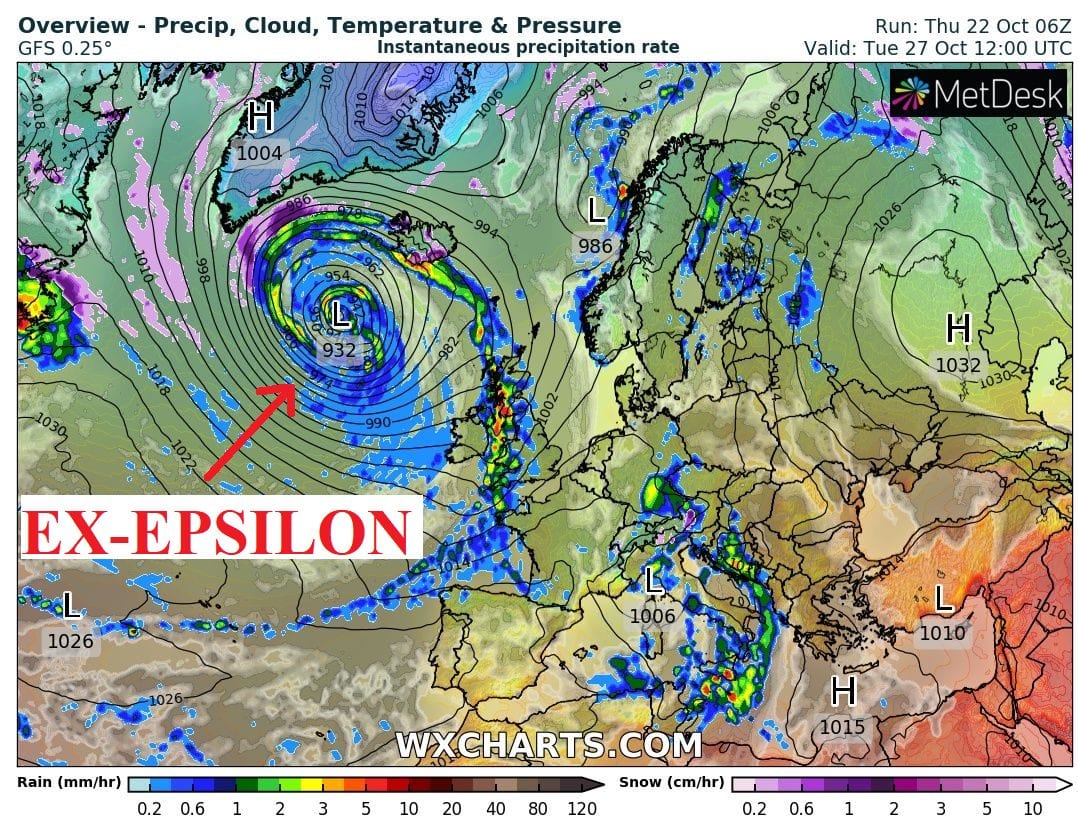 Hurricane Epsilon after unexpectedly rapid intensification hit Bermuda on Thursday as a major, Category 3 hurricane and continues farther towards Europe.
According to many sources, it was observed the strongest intensification of a hurricane in a late hurricane season.
Forecasts are not very positive for Europe – mainly British Islands, Iceland, Faroe Islands and Norway, where Epsilon still with a power of a hurricane, or a tropical storm hits already early next week. Powerful precipitation and wind sectors of hurricane brings severe winds and possible regional floods to the Northwestern Europe around Tuesday, 27. October 2020 and it is not all – next 7 deep cyclone systems hits British Isles coast of Northwestern Europe until 5. November 2020!
These cyclonic systems with next forecasted wind and precipitation threats are expected around Saturday, 24. October, (Tuesday, 27. October – Epsilon), Thursday, Friday and Saturday, 29.-31. October, Monday and Tuesday, 2.-3. November and Friday, 5. November 2020, with returning windy and rainy pattern in the UK, Ireland, but too coast of NW Europe in Spain, France, Belgium, Netherlands, Germany, Denmark, Sweden and Norway, where the most precipitation, with possible floods, is predicted. Severe wind gusts trajectory should approximately copy regions with an expected heavy rain.
In western half of the UK and N, W and S Ireland coast, 100-250 mm, rarely up to 400 mm of rain should fall during next 2 weeks, and wind gusts 120-130 km/h, rarely up to 150 km/h should appear in lower areas along the coasts. Similar situation will be in mentioned countries along their coasts.
When Epsilon hits the UK, Ireland and Iceland, it should have pressure in its center around 930 hPa according to forecasts, what is really deep cyclone.
If you live in the region, we recommend you to watch current weather news, forecasts and warnings.
Infographics: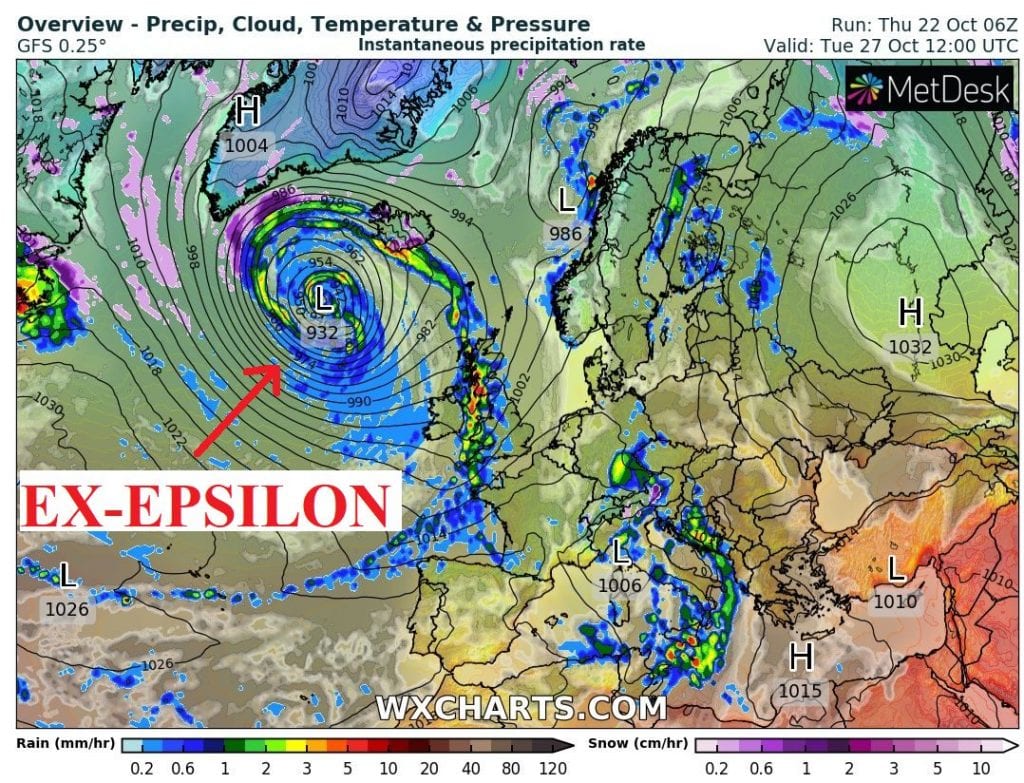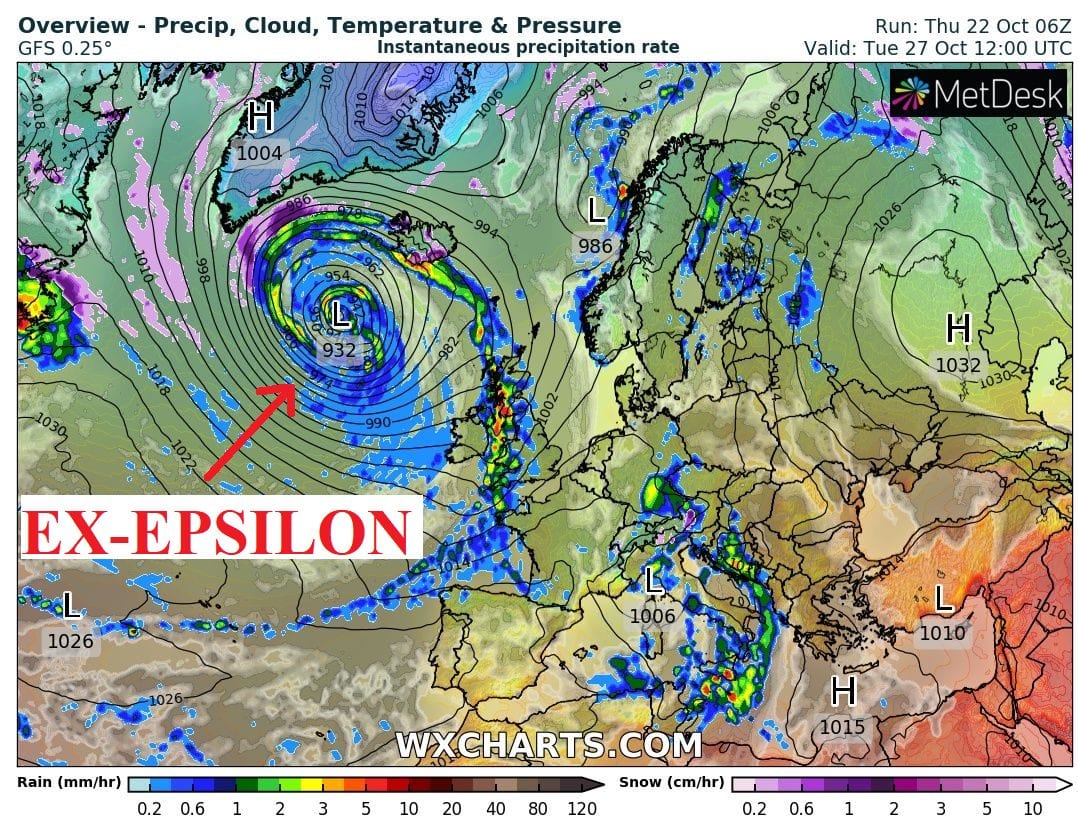 Epsilon comes to Europe very probably such with a hurricane or a tropical storm status /tropicaltidbits.com: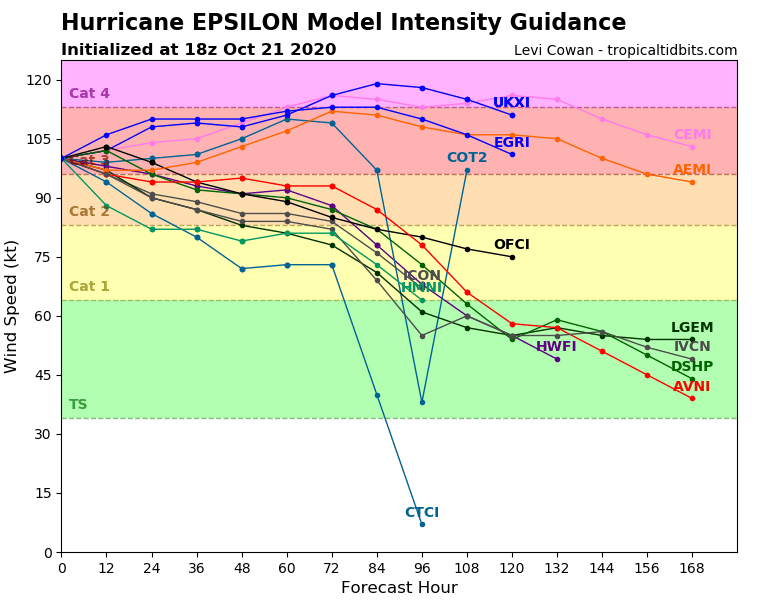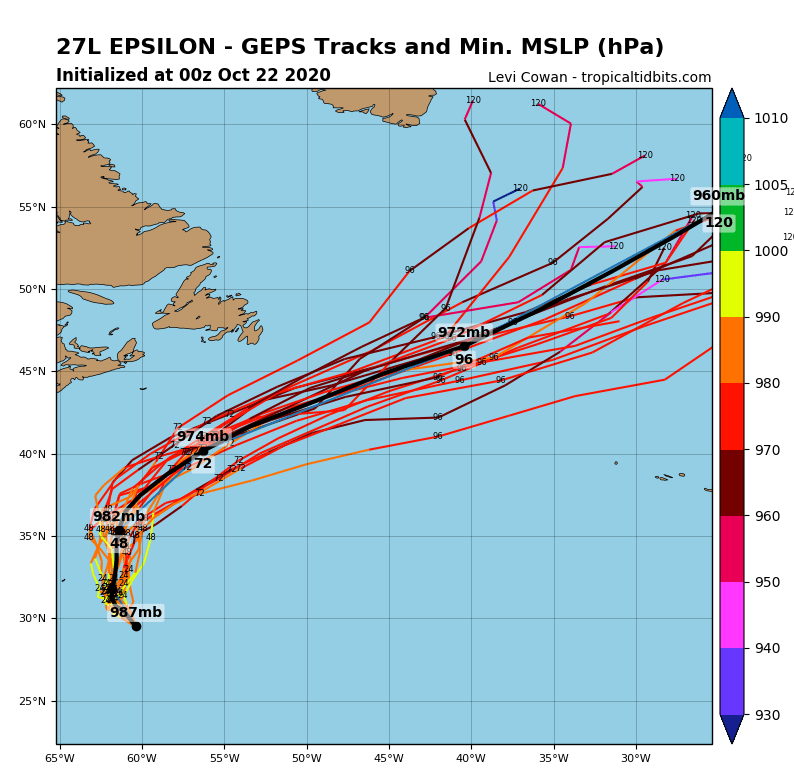 Next 7 low-pressure threats in British Isles until 5. November 2020 /wxcharts.com: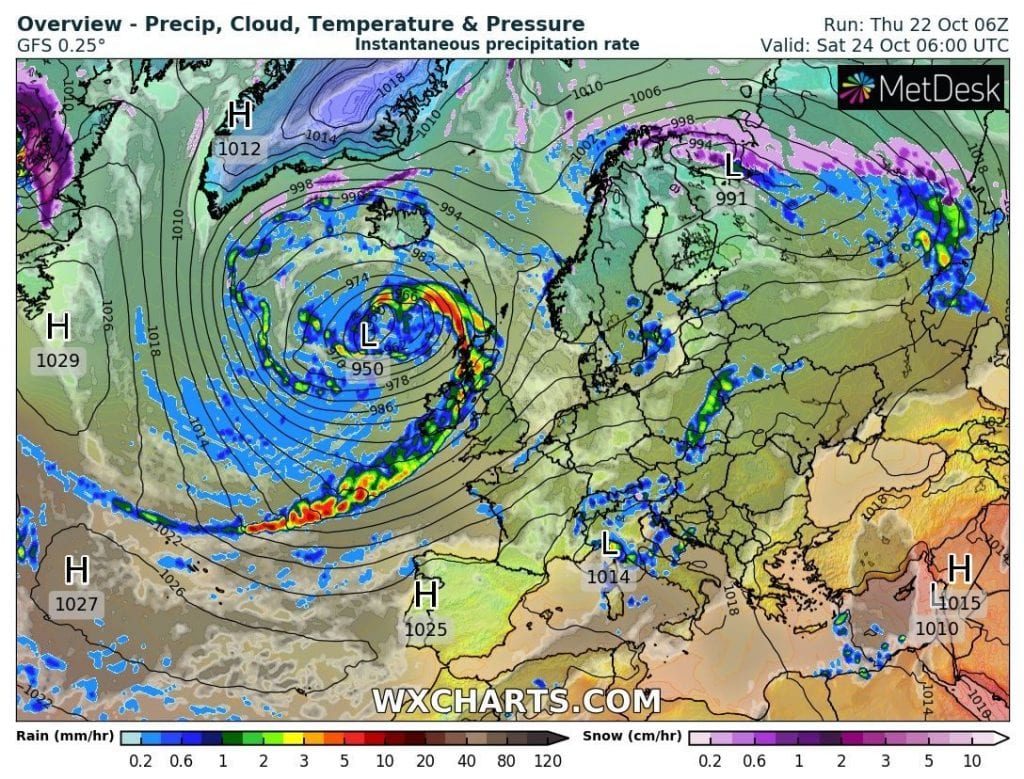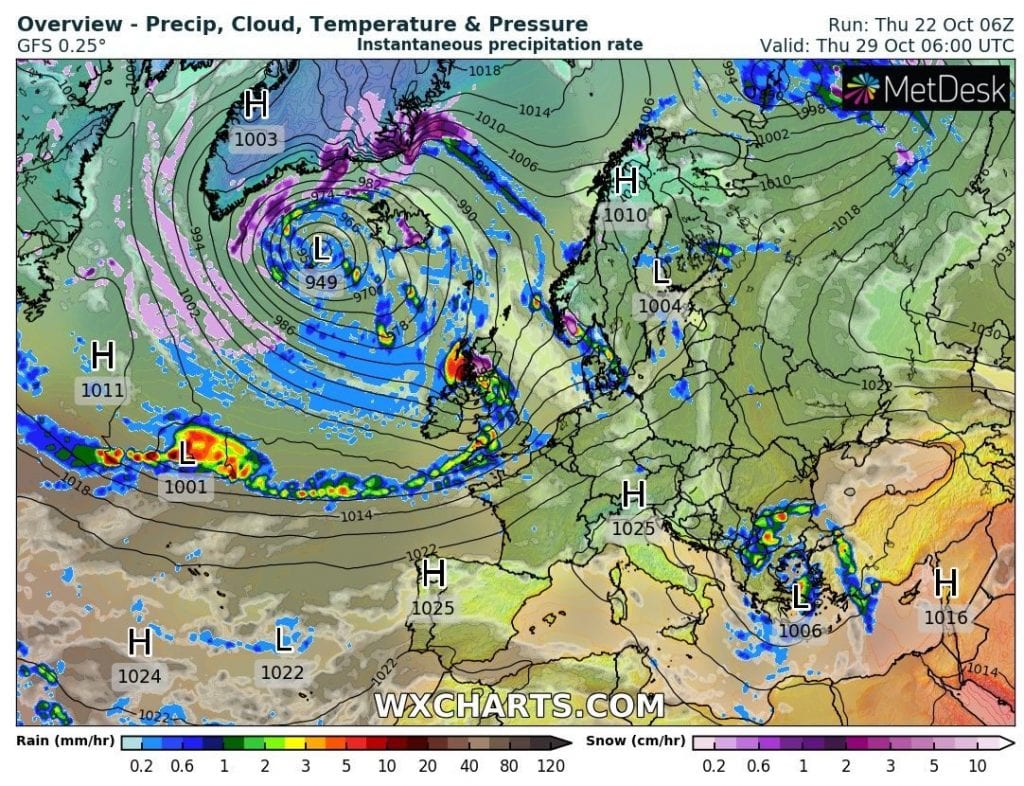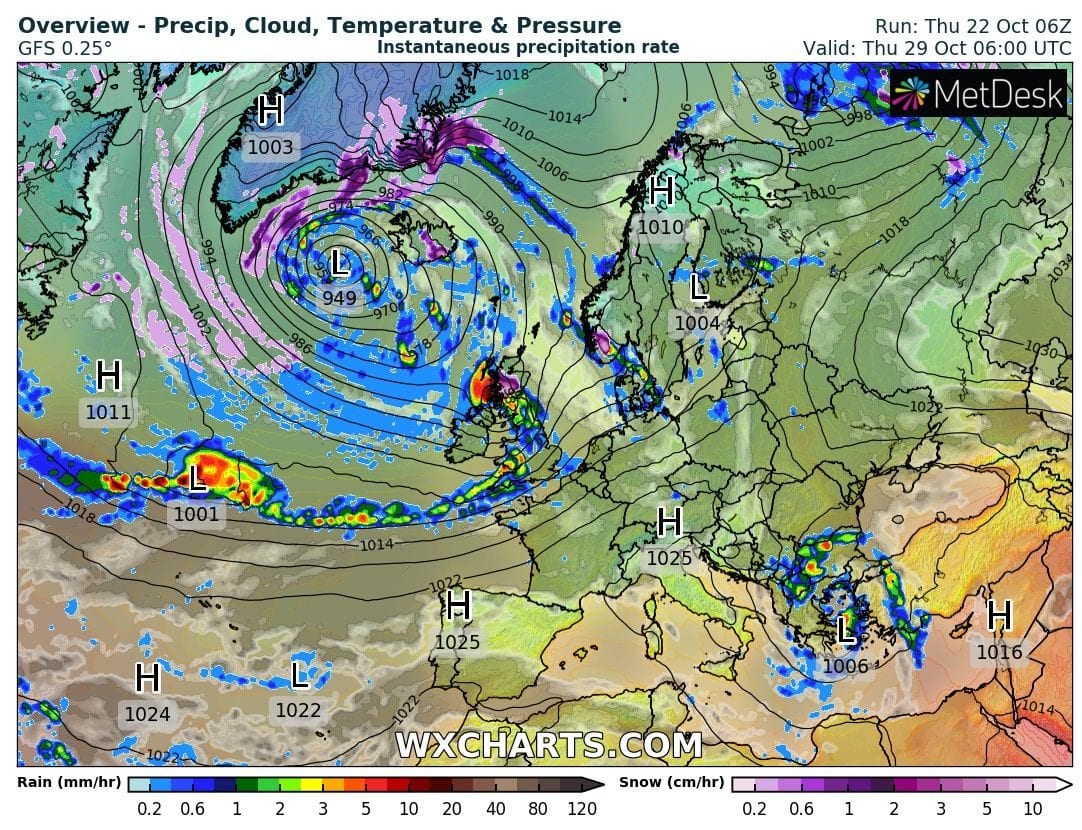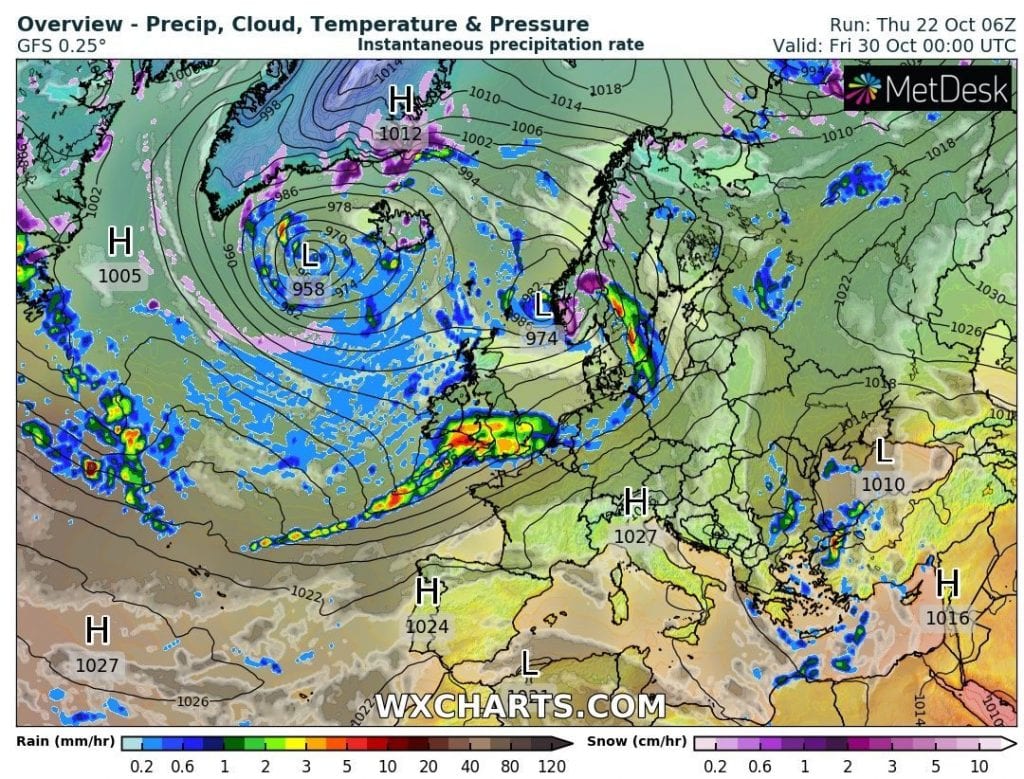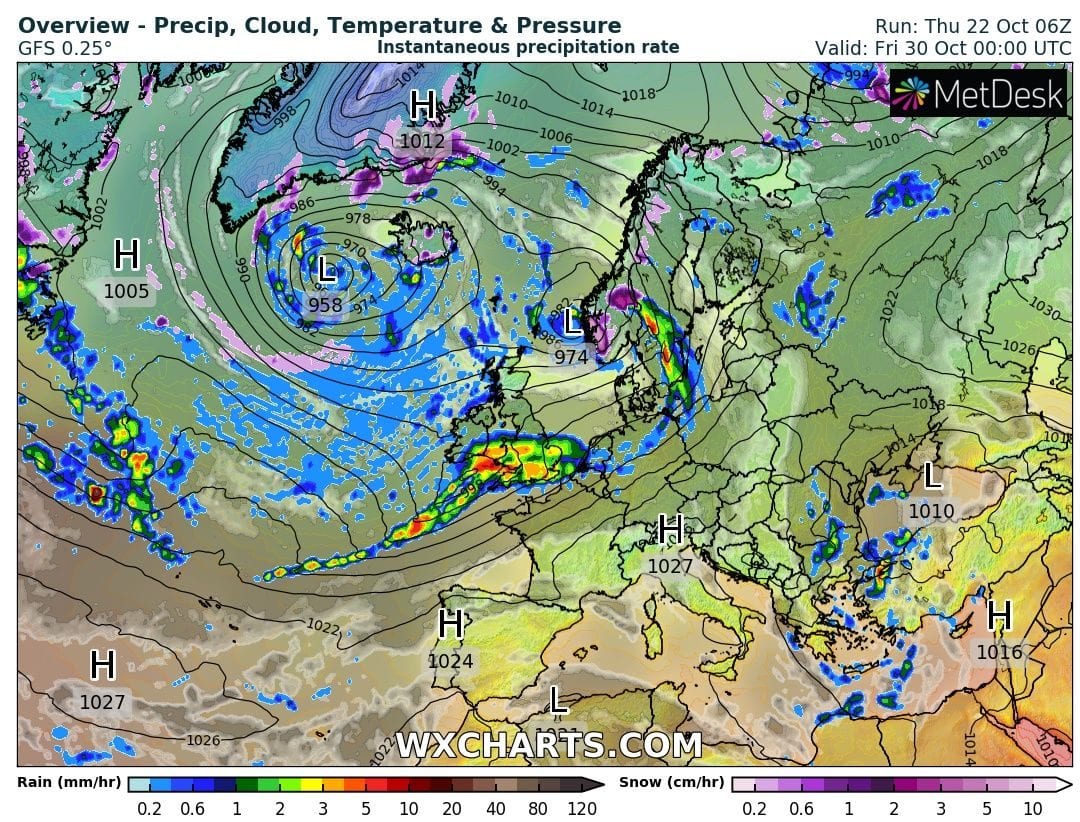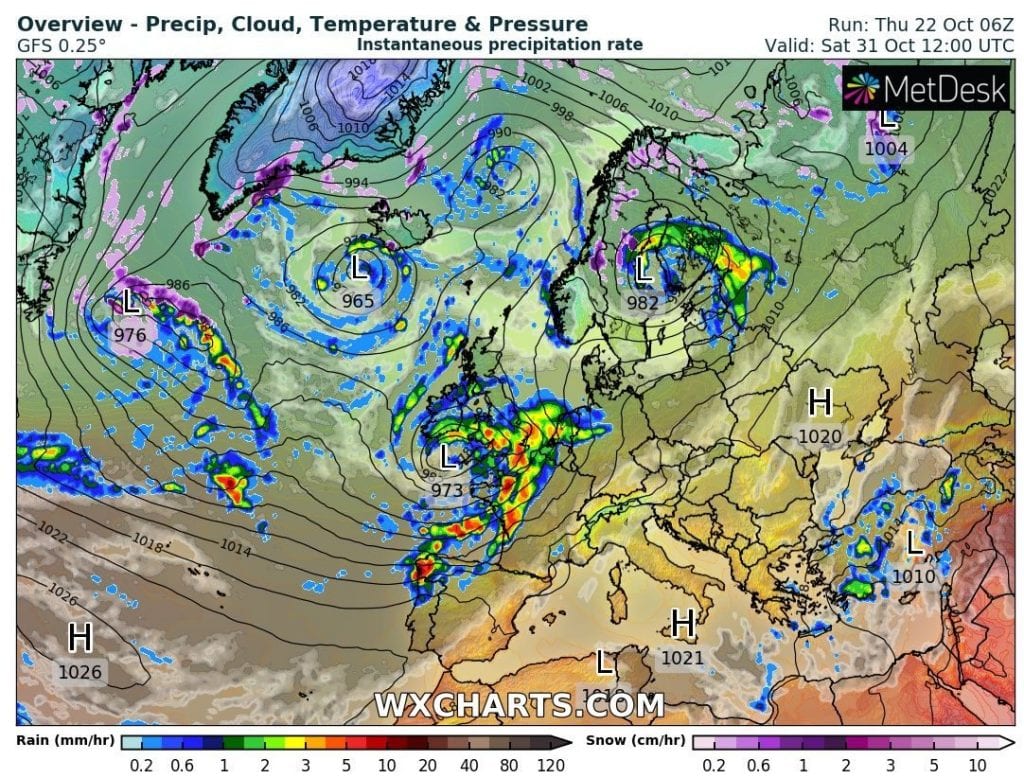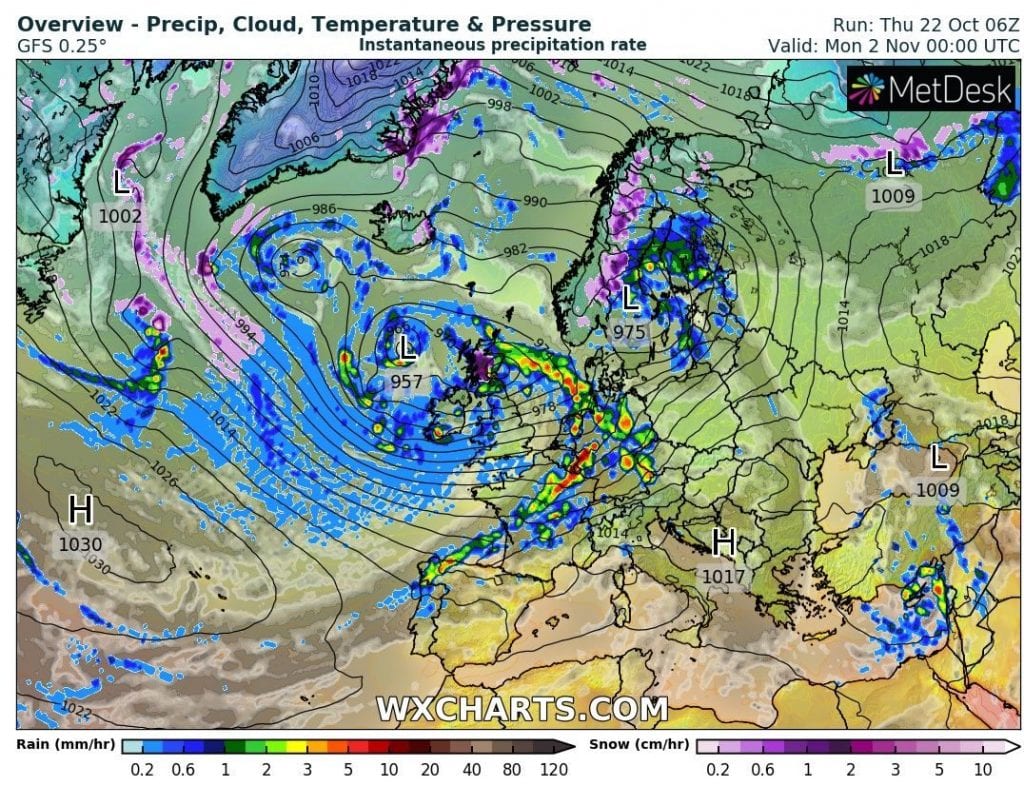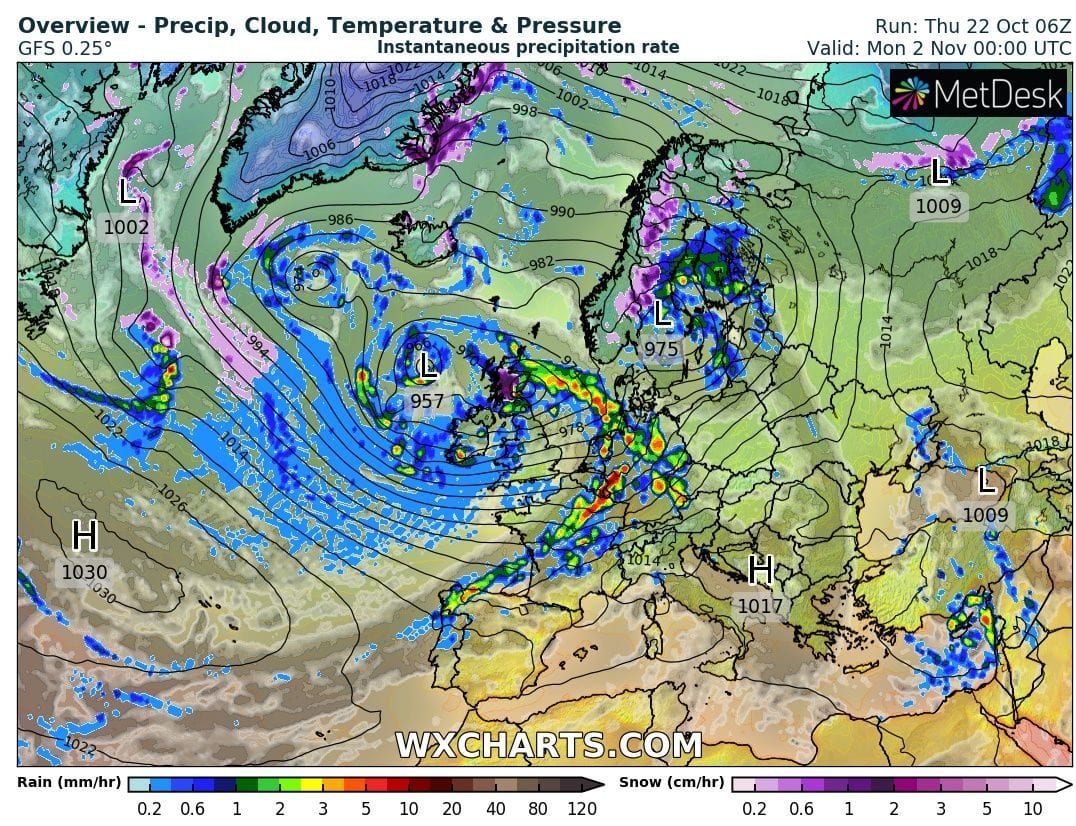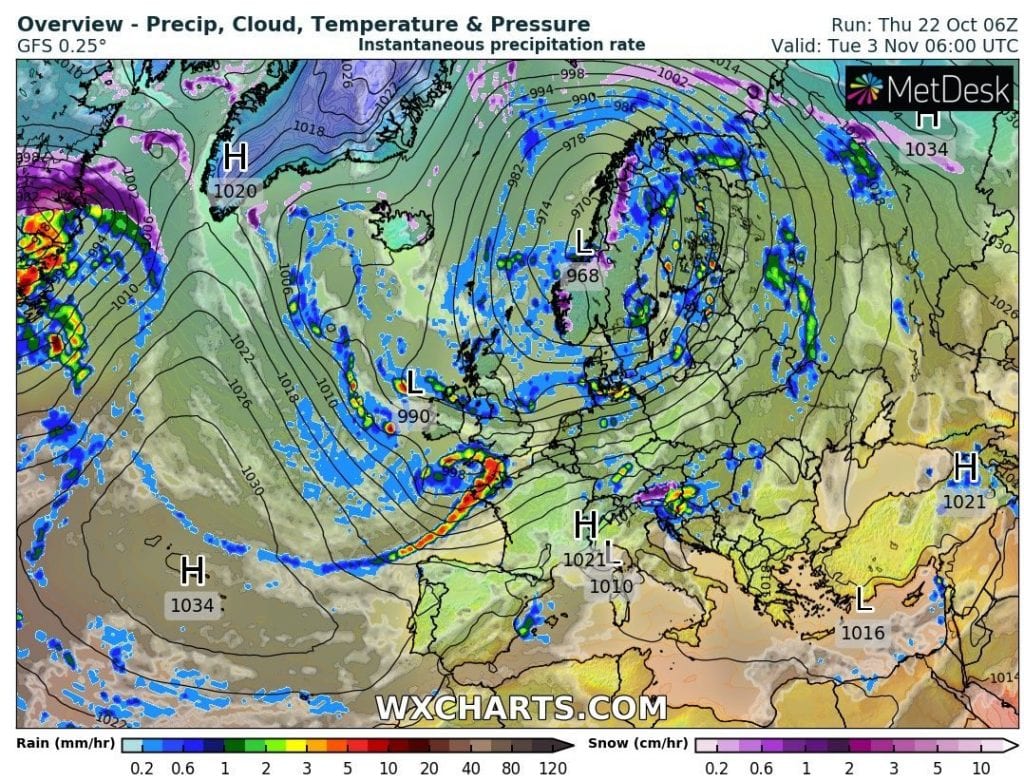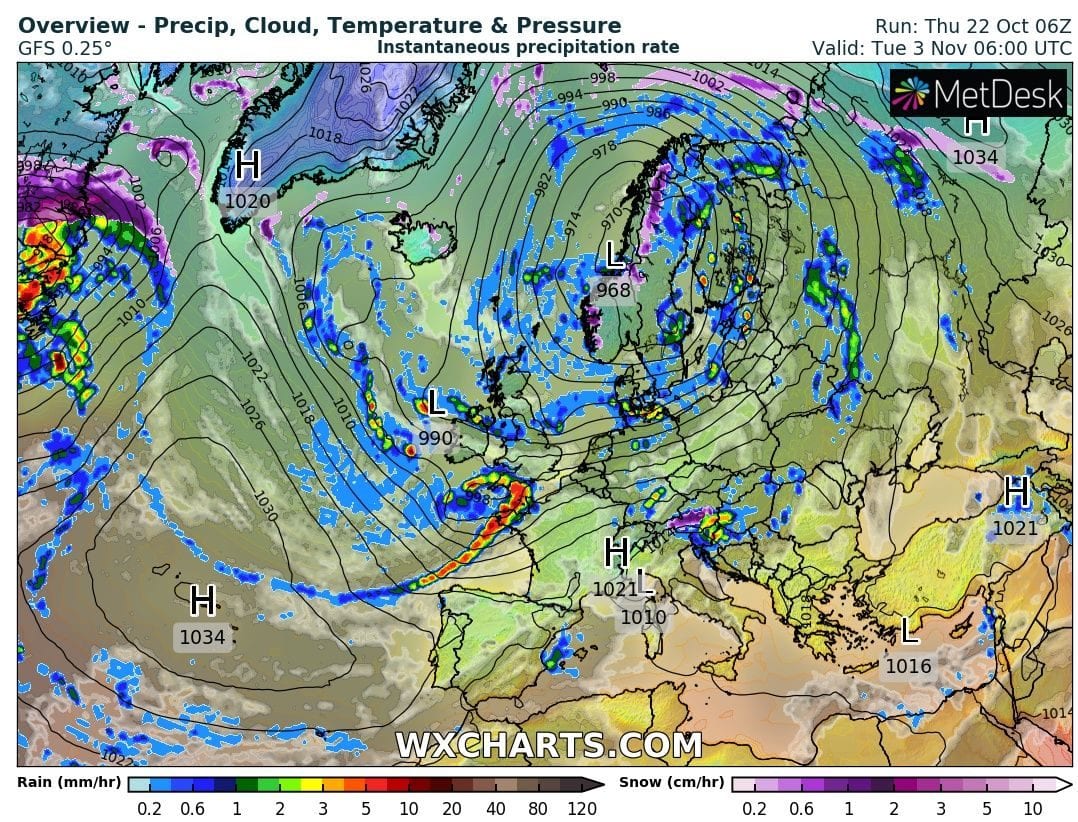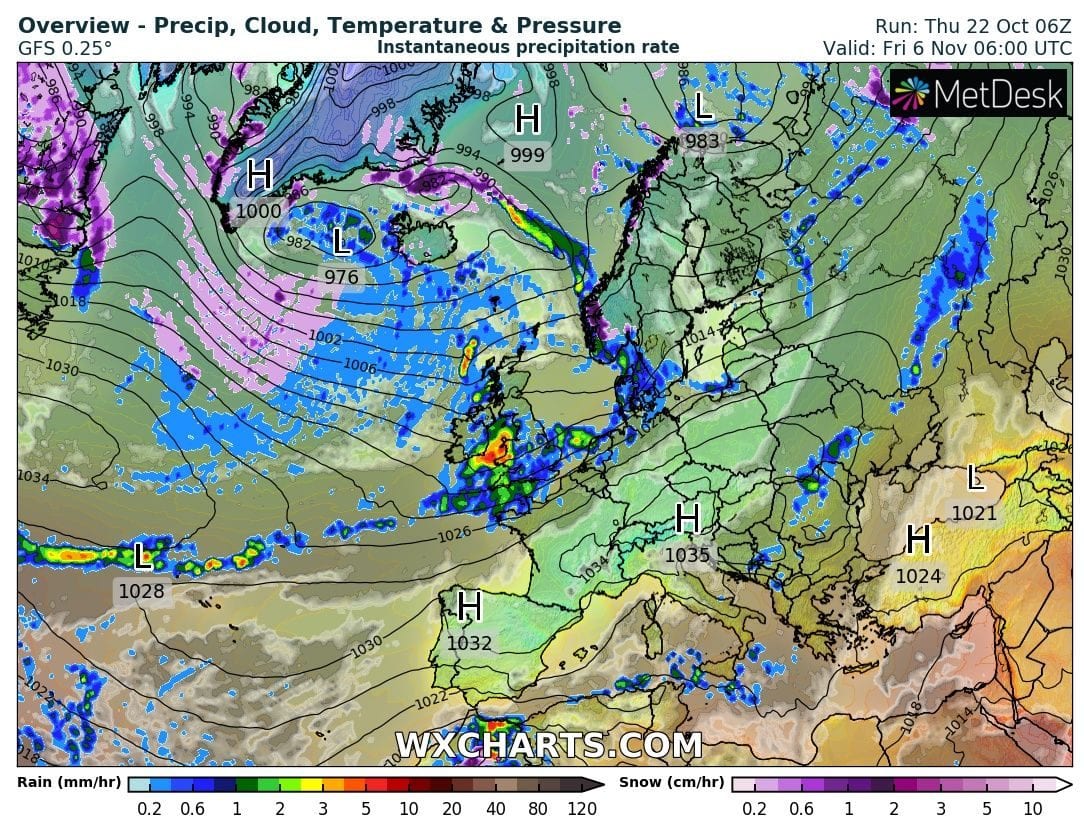 Expected maximum wind gusts and accumulated precipitation in Europe / British Isles until 5. November 2020 /wxcharts.com: