Indonesia: 20-40% more precipitation during next months thanks to La-nina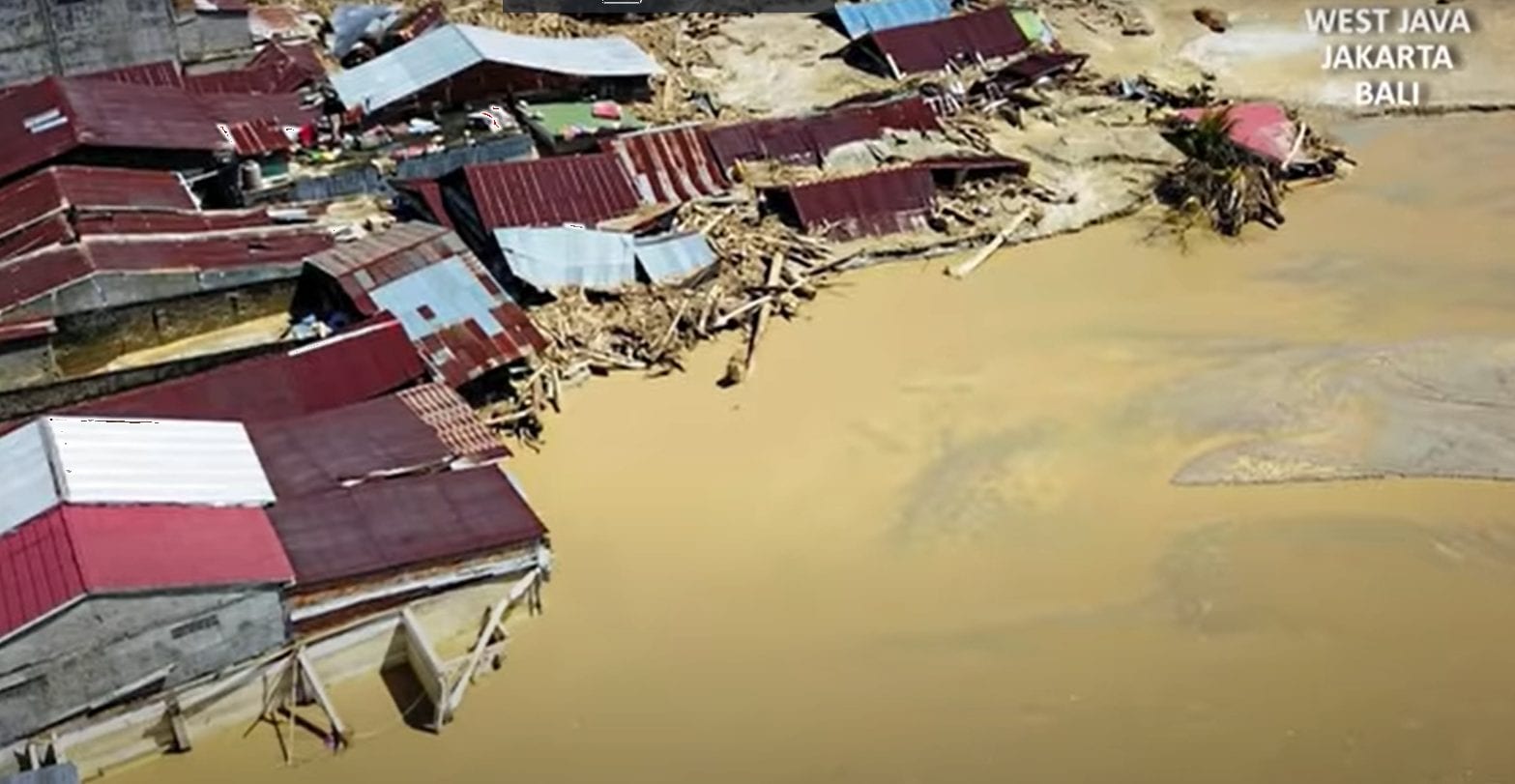 Dry season in Indonesia is away and in October 2020, country have bothered severe storms with numerous floods and landslides and even has occurred a tornado.
Floods hit practically all islands of the country thanks to shift of ITCZ (Intertropical Convergence Zone) southward, meanwhile in northern regions of Southeastern Asia are / will be making problems extreme typhoons at the end of October and at the beginning of November 2020 /https://mkweather.com/2020/10/30/typhoon-goni-exploded-into-2020s-strongest-storm-on-earth-category-5-305-km-h-winds-hits-philippines-and-vietnam//.
Another factor of severe floods in Southeastern, Southern and Eastern Asia is current La-nina phase, which has started in early autumn 2020 and will be peaking around mid-winter 2020/2021:
"On 13 October Indonesian President Joko Widodo warned of the potentially hazardous impact of an upcoming La Nina weather pattern (into next winter 2020/2021), according to Reuters. Indonesia's weather agency (BMKG) said rainfall could increase by between 20%-40% over normal levels, increasing the risk of flooding and landslides." accroding to floodlist.com.
Into game was entering persisting wet MJO phase in the region last weeks, too.
Accroding to floodlist.com, severe floods has occurred during October 2020 in these regions of Indonesia:
27. October West Java

: Pangandaran Regency, 111 houses were flooded, affecting 311 people in six villages in the sub-districts of Padaheran, Langkaplancar, Sidamulih and Parigi. 2 died near landslide. 40km east of Pangandaran, recorded 107.7mm of rain in 24 hours.
25. October Central and West Java: displacing almost 600 people and affecting over 7,000, Cimahi City, Ciamis Region, West Java,
24. October West Java: damaged almost 1,500 homes, 7 700 people affected, Depok City and Bekasi (

+tornado

), Bogor City recorded 120mm of rain in 24 hours.

21. October South Sumatra

: 11 killed near landslide, in a coal mine near the village of Tanjung Lalang in Muara Enim Regency, 50 mm of rain.
Around 15. October West Java / Central Kalimantan / Bangka Belitung Islands: 200 people displaced, Sukabumi Regency in West Java, West Kotawaringin Regency in Central Kalimantan, Central Bangka Regency, Bangka Belitung Islands. Beluluk in Central Bangka Regency recorded 117.5mm of rain in 24 hours to 19 October.
15. October Central Sulawesi: 5,000 people have been affected and hundreds of homes damaged, around 1,5 m flood water.
7.-13. October almost all Indonesia (8 provinces): 3 killed. West Java 11. October: 1,000 households in 6 districts of Garut Regency in West Java Province. The affected districts are Pameungpeuk, Cikelet, Cibalong, Peundeuy, Singajaya and Banjarwangi. Landslides occurred in Tasikmalaya Regency, West Java. Central Java, 12. October: Dawe District, Kudus Regency, 2 dead. Greater Jakarta, 10. October: Jagakarsa Subdistrict, South Jakarta. Northern Sumatra 8. October: affected 1 205 and damaged 240 homes in parts of Mandailing Natal Regency. Bengkulu province, Sumatra, 8. October: 225 people were displaced and a further 500 or more affected + landslides. Bali Island 10. October: 1 died, 1 injuried. Sulawesi Island 7.-8. October: 340 people were affected by floods in Mamasa Regency, West Sulawesi Province, river to overflow in Parigi Moutong Regency, Central Sulawesi Province.
1.-5. October Java and Jakarta: West Java 2. October – 200 homes were damaged by flood waters which were 2 metres deep in some areas, 3. October: Kuningan Regency, a landslide caused by heavy rain on unstable soil damaged 7 houses and affected 38 families or 105 people, 2. October: Bogor Regency – Around 120 homes were damaged, affected 370 people. East Java, 1. October:  landslides in Lumajang Regency, 200 people were affected. Greater Jakarta, 5. October: flood waters up to 1.5 metres deep, South, East and West Jakarta, 250 displaced, Beji district in Depok, West Java, recorded 143 mm of rain in 24 hours.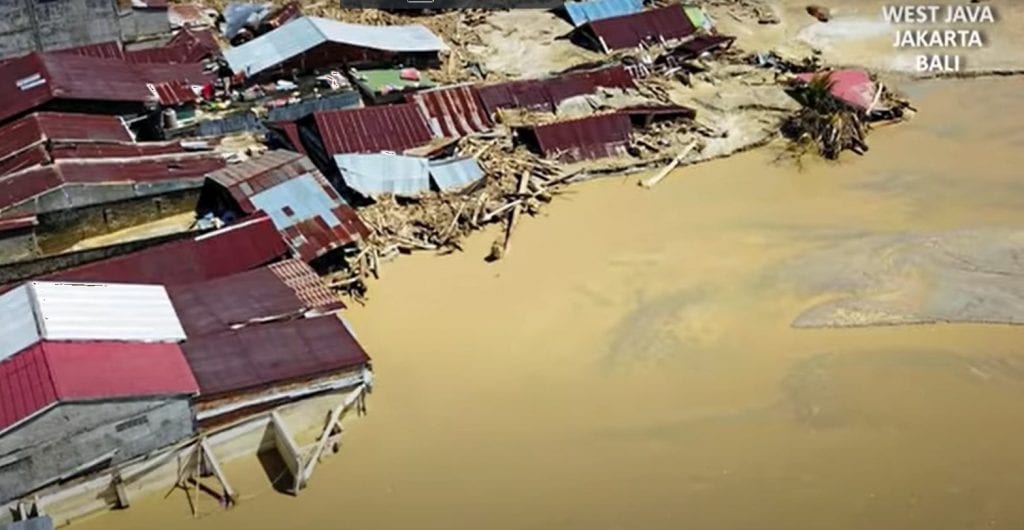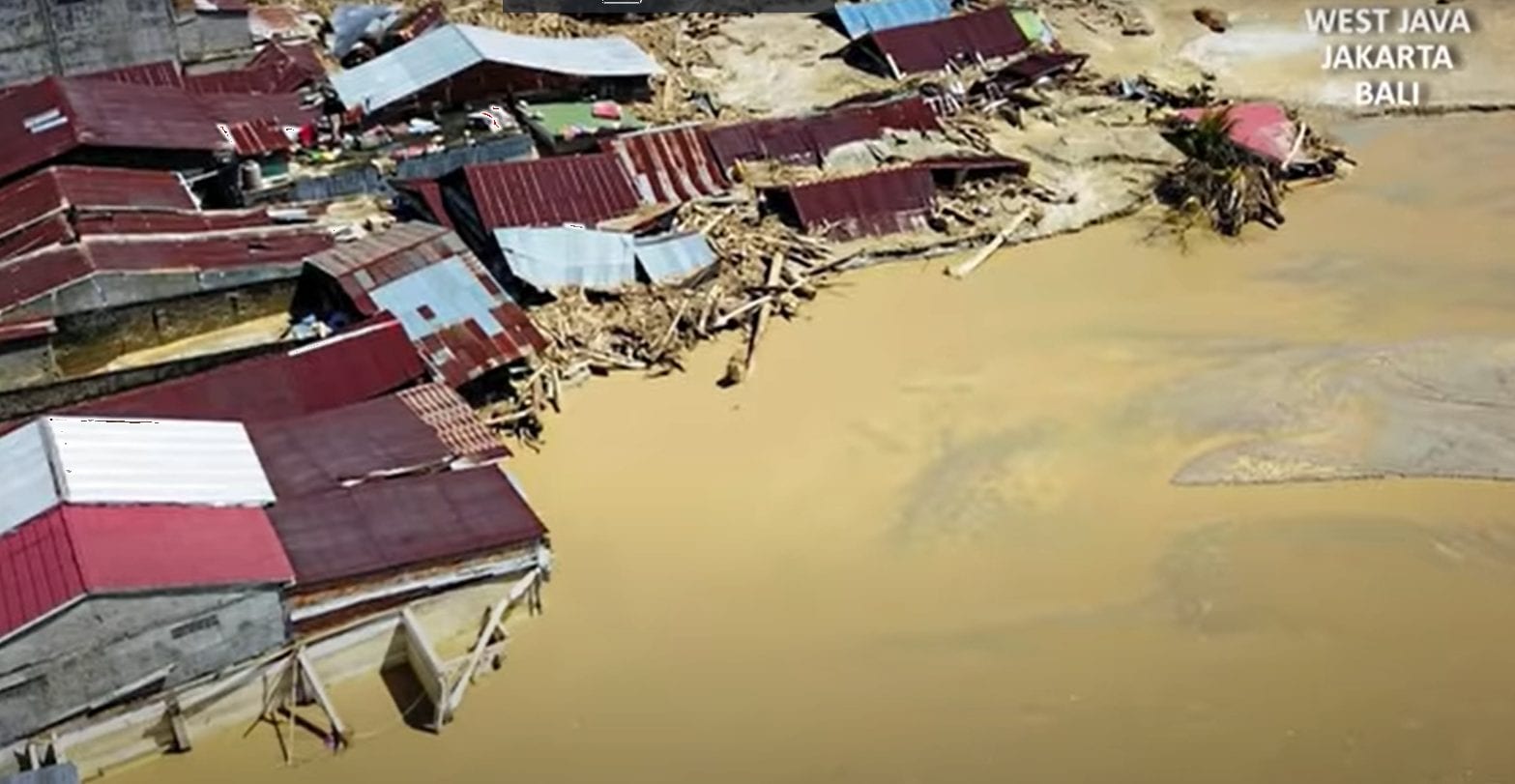 Infographics: floodlist.com, wxcharts.com: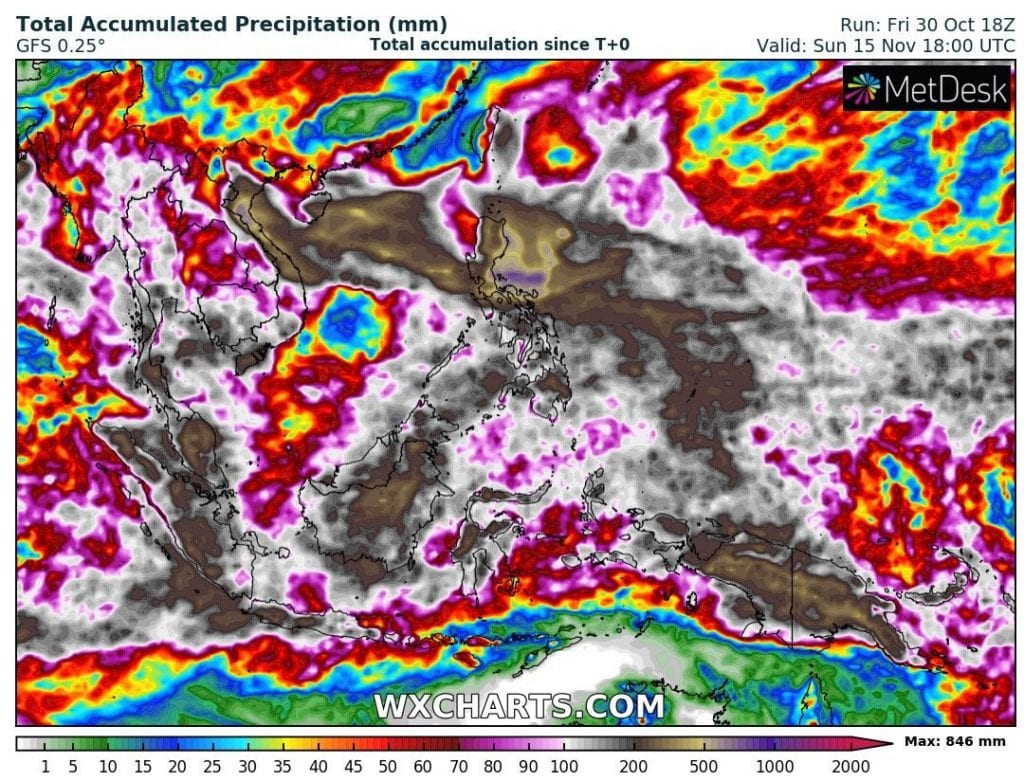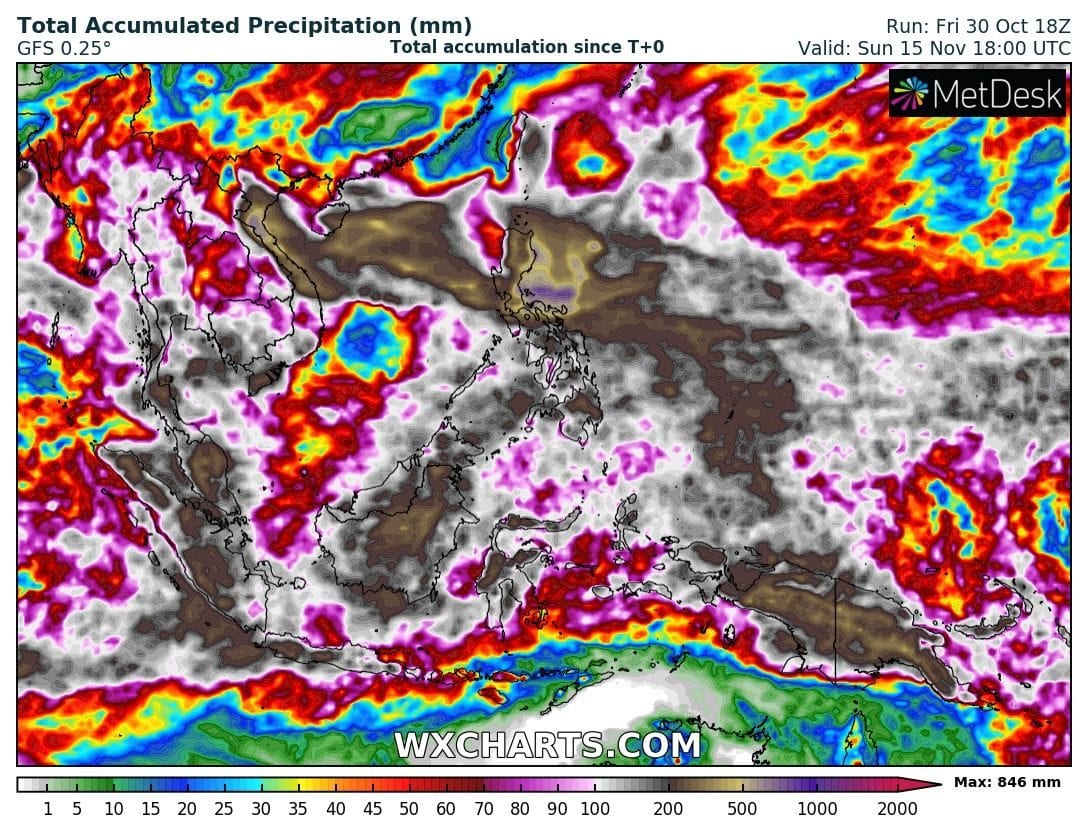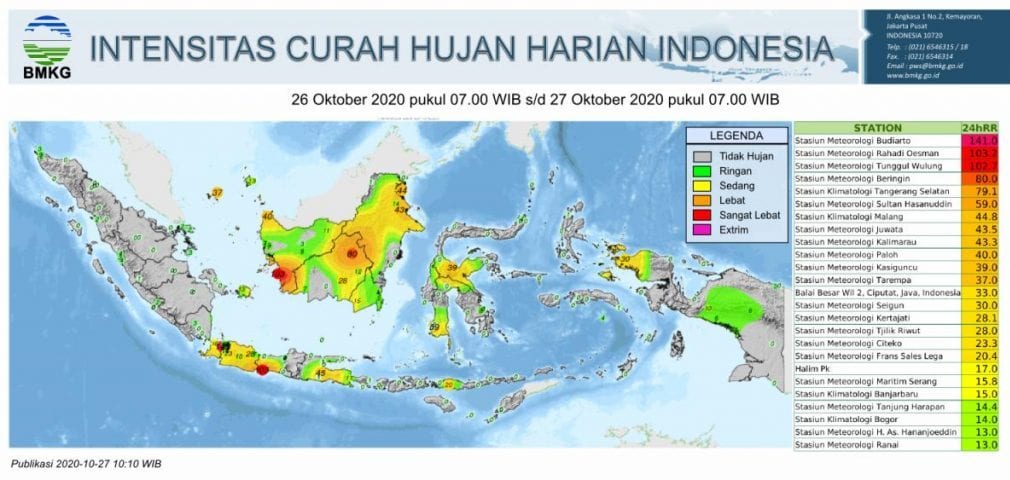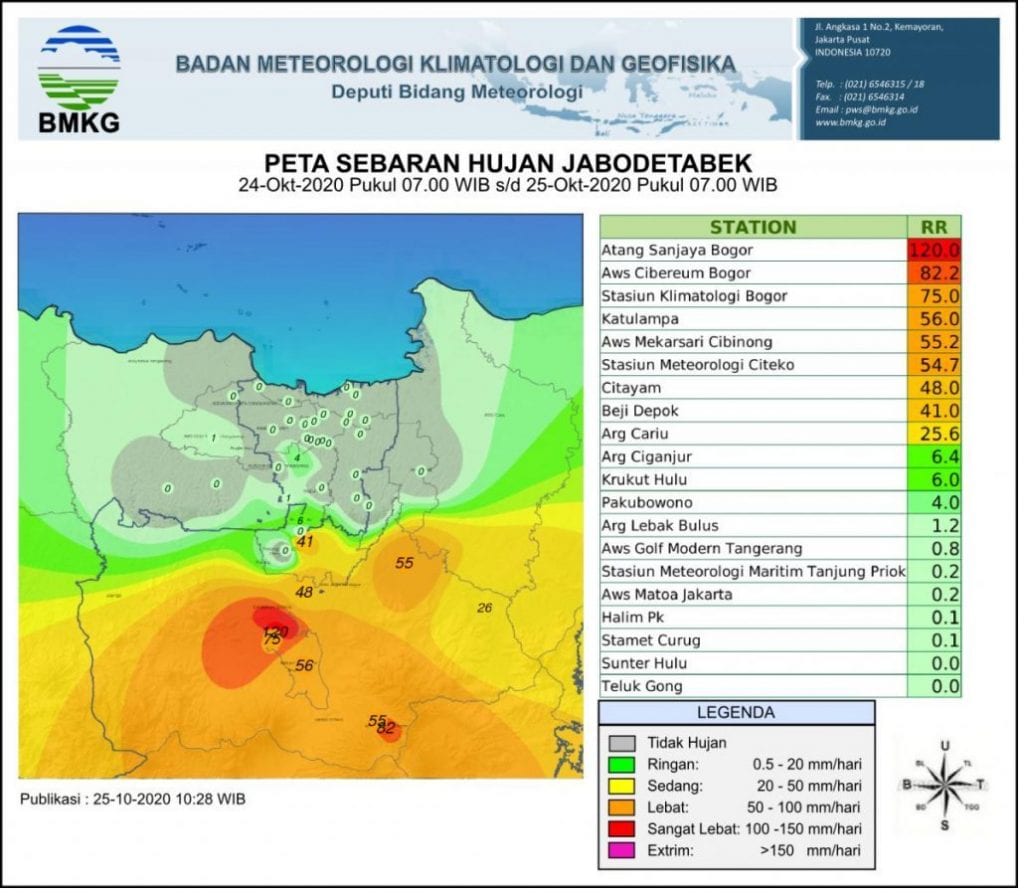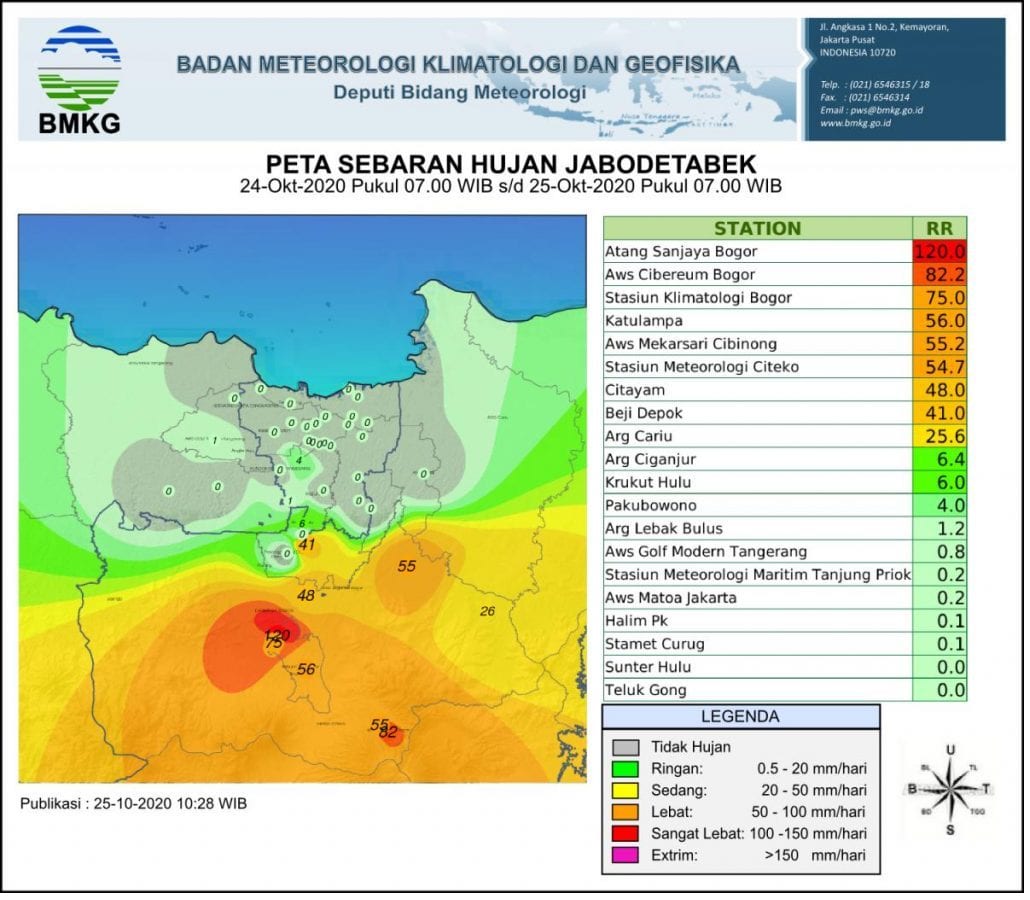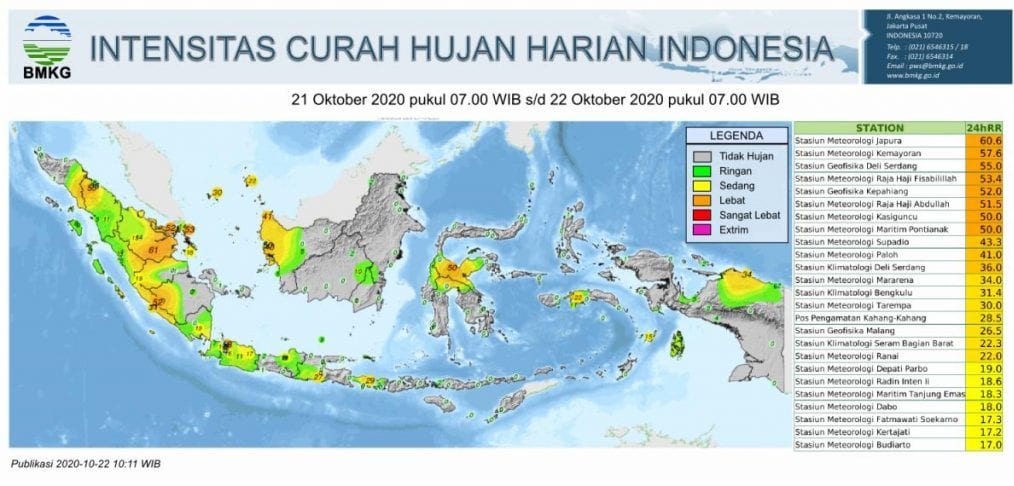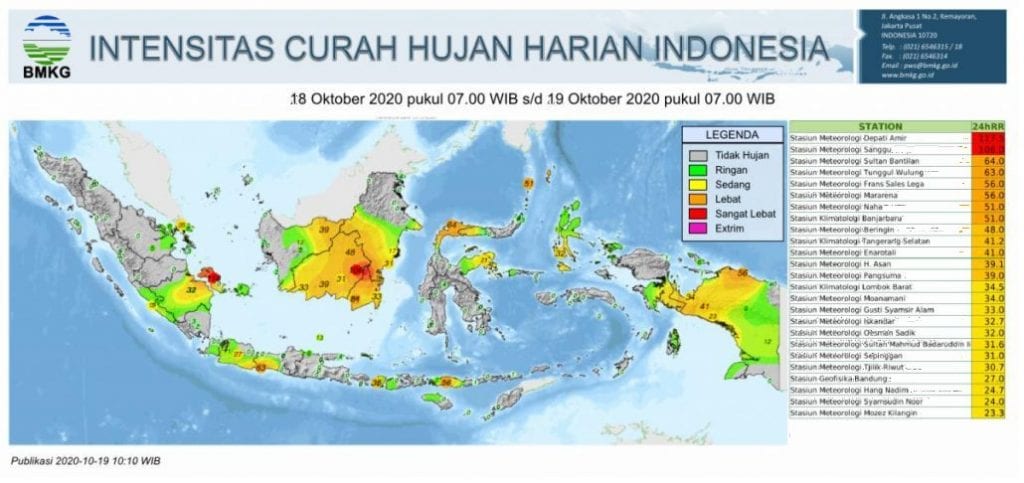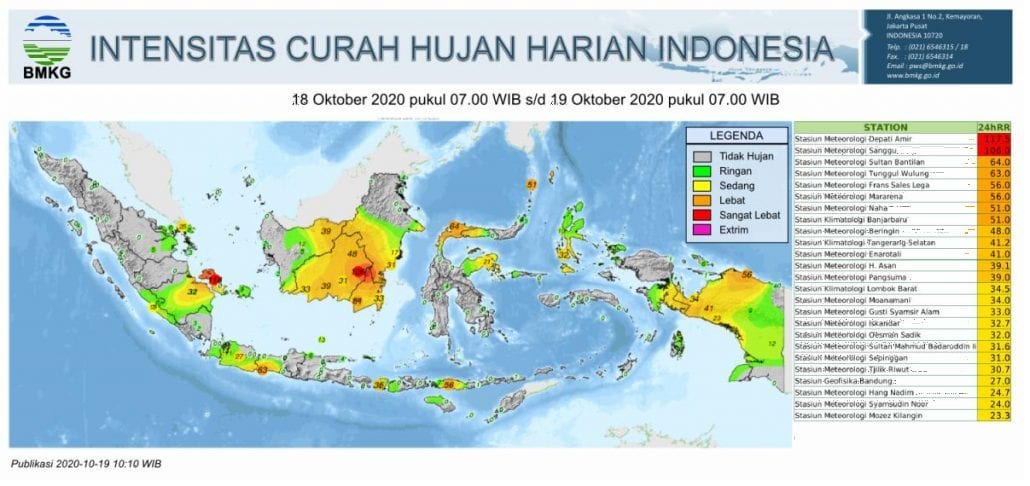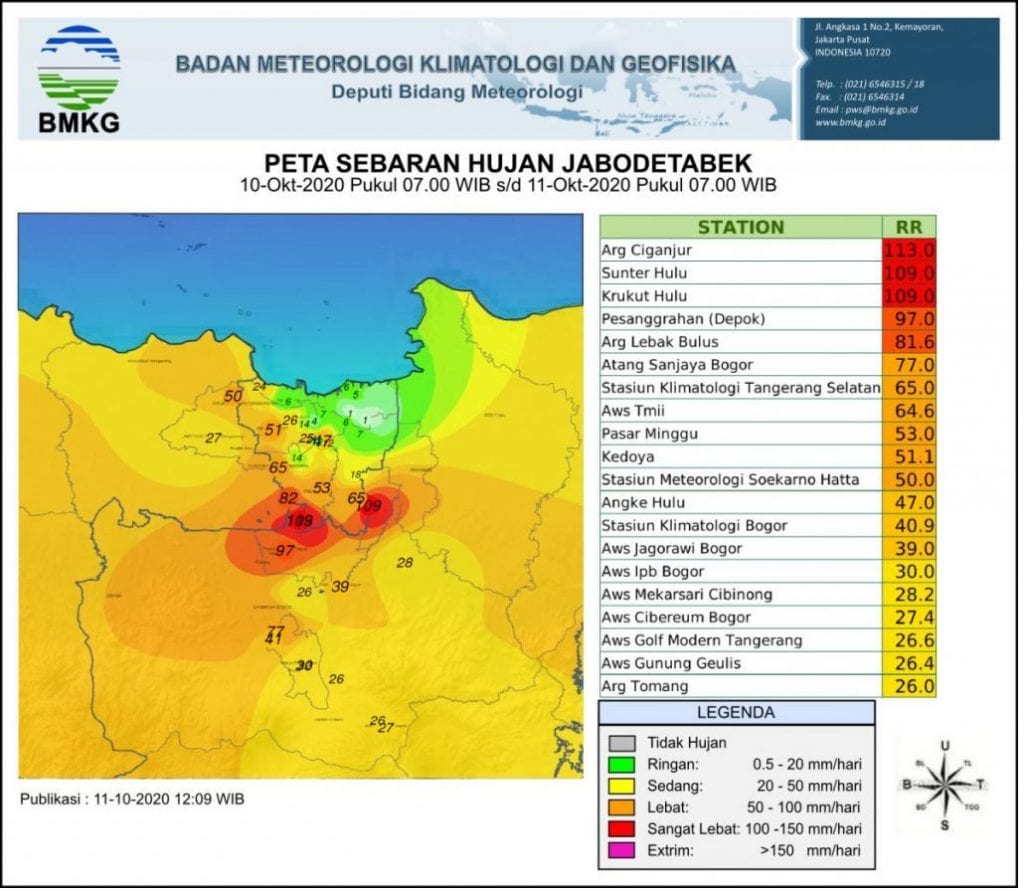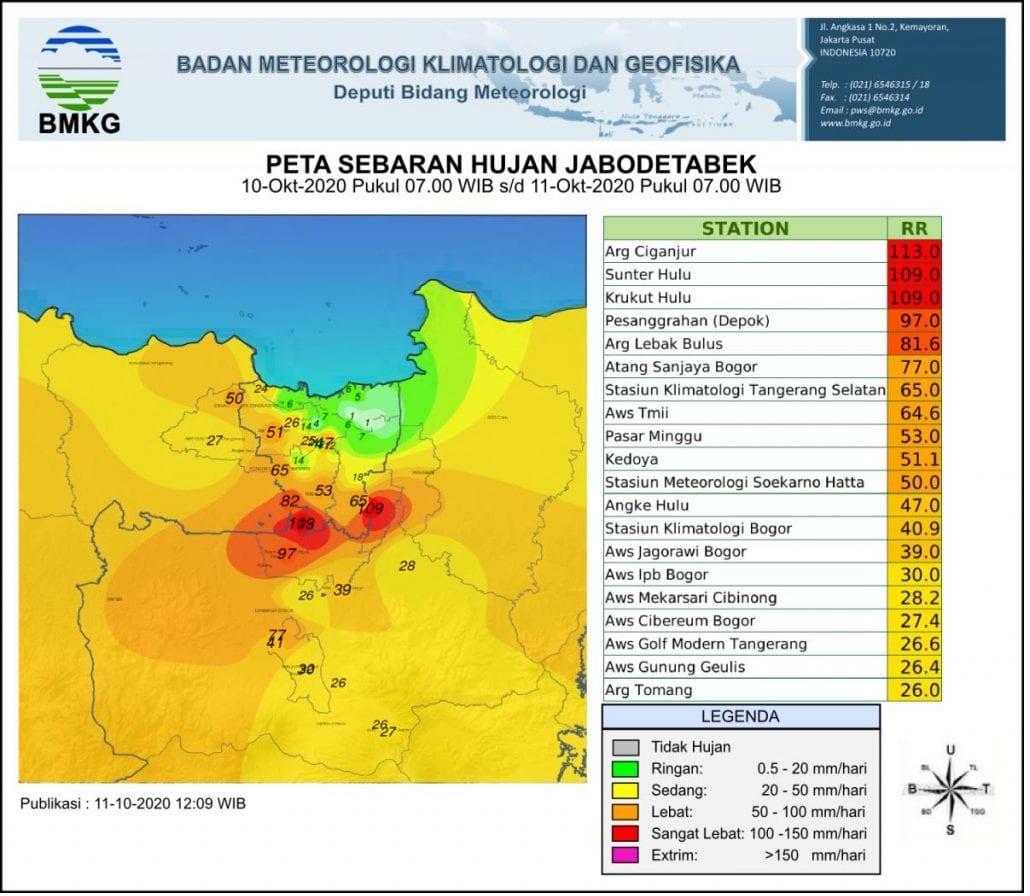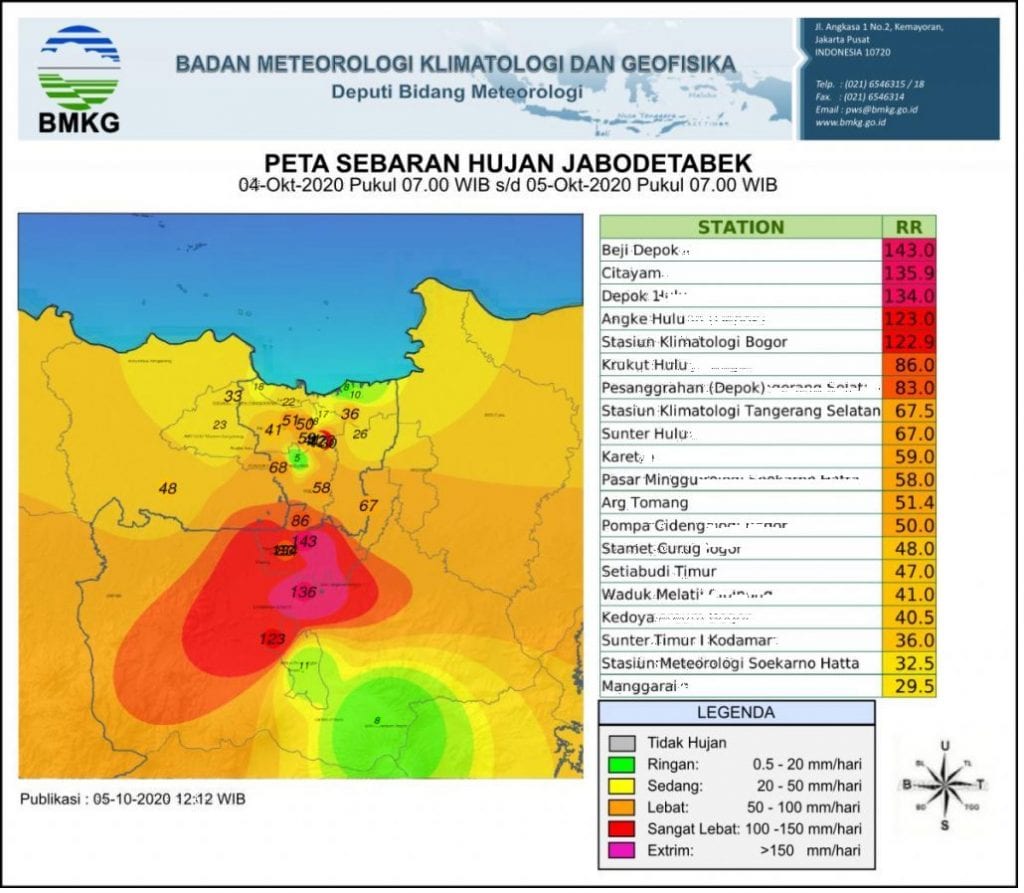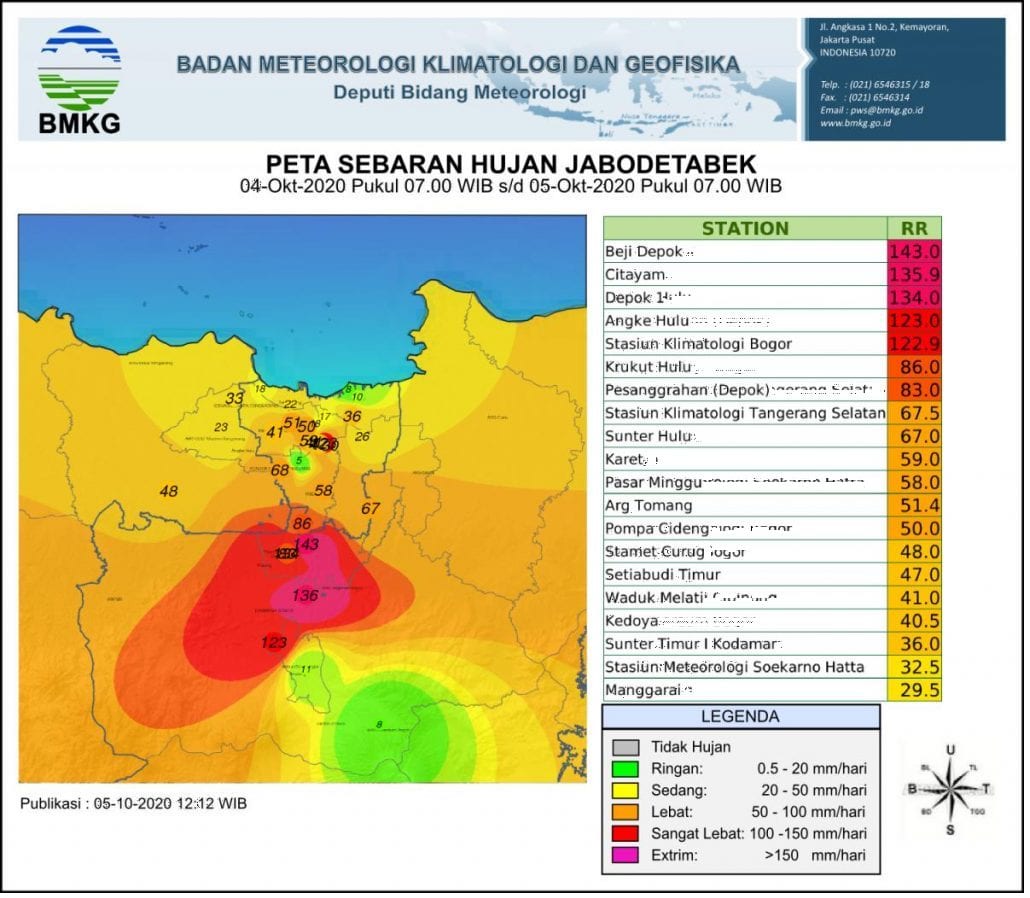 Read more: