Extremely high maximum temperatures up to +36°C are forecasted for Moscow from Wednesday to Friday, 23.-25. June 2021, while all-time June record for city has value +34,7°C /Moscow's Sweltering Summer Breaks Heat Records – The Moscow Times/.
Already on Tuesday, 22. June 2021, +32,9°C was measured /The heat in Moscow broke the temperature record – The News 24 (then24.com)/.
All-time national records for June were already broken in Sweden, +34,6°C /Sweden: The hottest June day since 1947, +34,6°C! – mkweather/, Belarus, +35,7°C /the next Mkweather article/, some stations in Finland, e.g. Tampere, +33,2°C /the next article, from all-time record, 0,2°C was missing/, many stations in Italy /Italy: After 2 days with +45°C, real hell is coming! Heatwaves in Italy are stronger such as in 2003! – mkweather/ or regionally in Poland /+36,1°C in Slubice, Poland! Germany +36,9°C and 5 days above +35°C! – mkweather/. In Estonia, only 1,2°C was missing /Finland is expecting +36°C, Estonia +37°C on Tuesday, all-time national records have values +37,2°C and +35,6°C – mkweather/, while Central Europe, Italy and Balkan is only preparing for the peak of heatwtave /Sirocco for Central Europe? Hungary should attack +40°C on Thursday! – mkweather/.
Meanwhile in northern Siberia, Verkhoyansk, approximately an year after record temperatures up to +38°C /38°C (101°F) behind polar circle in Siberia 5 years after unprecedent event with +40°C (104°F) in Nunavut (northern Canada) – mkweather/, historic record of ground temperature, +48°C, was measured on 20. June 2021 /Surface temperatures in Siberia heat up to a mind-boggling 118 degrees – CNET/. Extremely hot weather hit northern Siberia such as uninhabited islands in the Arctic /Kotelny Island, the Arctic +21,8°C, while parts of Russia with flash floods and hailstorms, St. Petersburg hits extreme heatwave – mkweather/.
Heatwaves are the strongest since 2010 and after their shift above Russia, the next round of wildfires is possible /Wildfires in Siberia are changing atmospheric circulation over the Arctic and Northern Hemisphere, this is a leading pattern! – mkweather/.
Meanwhile in the UK, severe summer frosts were measured /The coldest June times in the UK in 30 years! Scotland -3,3°C, England -1,4°C! Only 2,3°C from all-time June national record! – mkweather/ and in western Europe, extreme storms have occurred /10 cm hailstorms are shifting to Germany, CZ, CH, AU, DK, SE and N IT from France, PT, ES, BE, NL, LU! – mkweather; Belgium hit EF2 tornado with a twin: 17 injured, 92 buildings damaged – mkweather; 10 cm hails, 140 km/h winds, 10 tornadoes and 7 day forecast: Balance of weekend storms in Europe – mkweather/.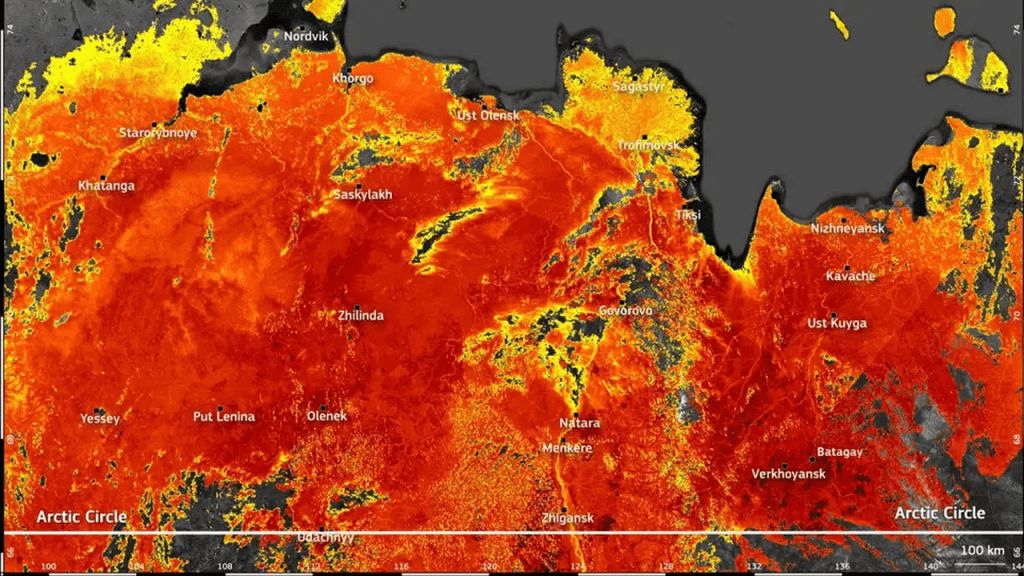 (Visited 56 times, 1 visits today)