Oymyakon: -9,6°C (14,7°F), 3,6°C from absolute August record! "This year the autumn season came to the Republic of Yakutia early."
"This year the autumn season came to the Republic (of Yakutia) very early," has commented current early coldwave in the Republic of Yakutia hmn.ru article dated on Sunday, 23. August 2020.
"In the village of Eyik, Olenek region of Yakutia, the temperature dropped to -8°C (17,6°F) and this is the lowest temperature in Russia."
According to ogimet.com, in Oymyakon minimum temperature has dropped even lower, to -9,6°C (14,7°F).
Absolute temperature record of minimum temperature for August for Oymyakon is -13,2°C, so during last hours, temperature was very close to the coldest August night in Oymyakon ever (only 3,6°C)!
Above an Yakutsk region, extremely cold Arctic air with temperatures below -5°C in 850 hPa has moved during the weekend and snowy conditions has appeared before an extreme frosts.
Rare summer frosts have been registered in the Moscow region, too, with the areas of Cherusty and Kostroma measuring lows of -1°C / 30,2°F).
Moscow is experiencing with a cold summer, with absolute maximum temperature till 23. August 2020 only +31,4°C from 17. June 2020 /https://mkweather.com/2020/08/23/a-peak-of-summer-in-eastern-europe-in-september-ukraine-belarus-baltic-states-parts-of-russia//.
We will see, what will do extreme hot Arctic with Siberian snow cover and early coldwaves over Siberia during next 3 months – a circulation is set to very cold conditions over the area (mainly powerful cold spells and lot of snow from the Arctic moisture).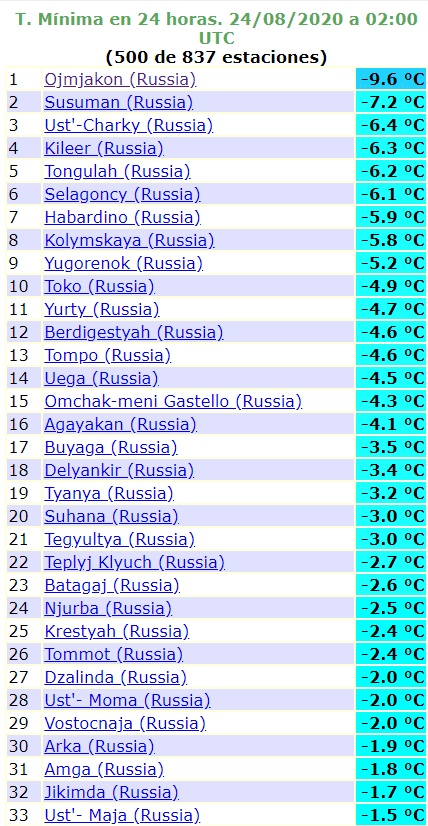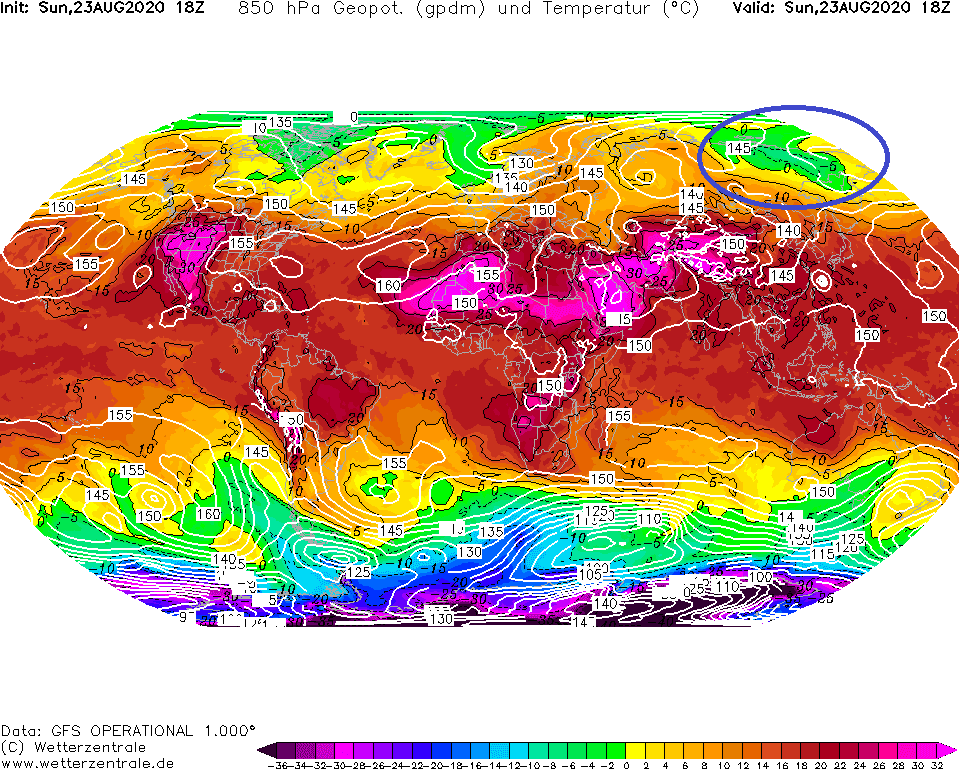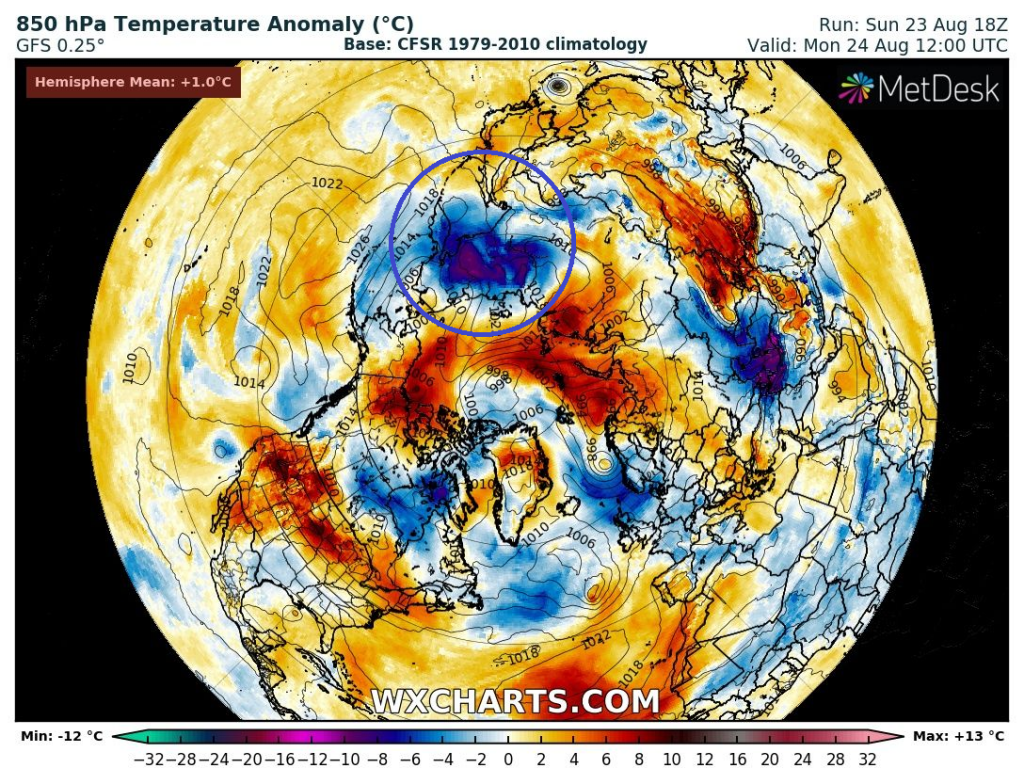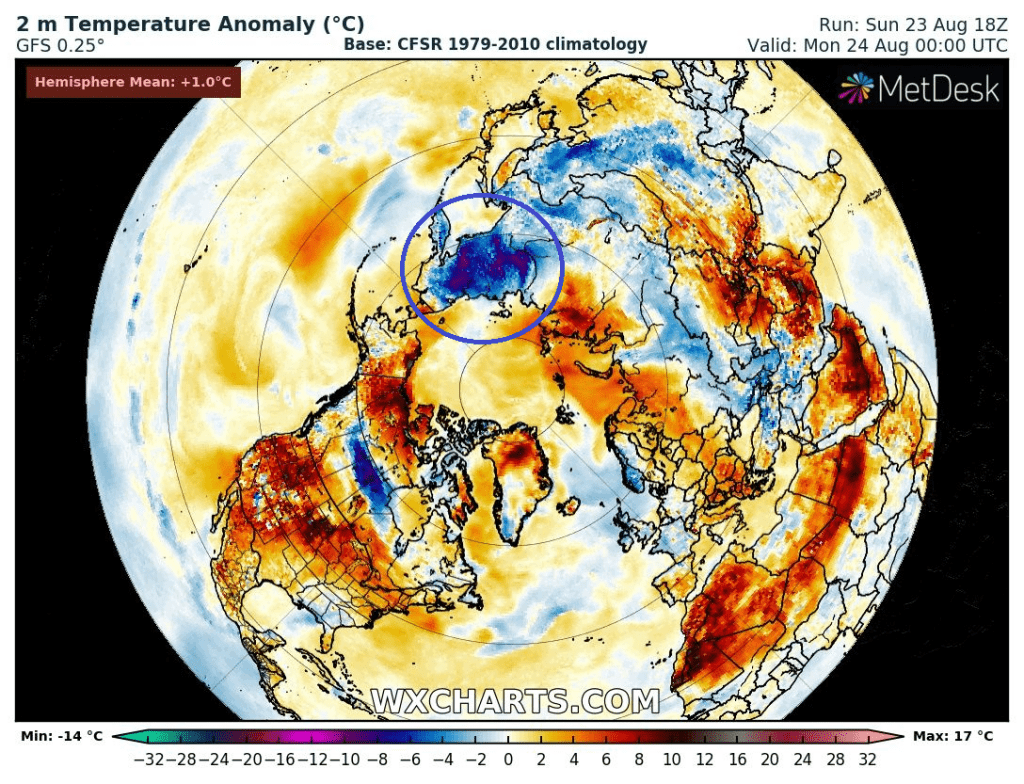 Some information were used from the page https://electroverse.net/record-setting-cold-invades-central-russia/.
Infographics: wetterzentrale.de, wxcharts.com, sidetracked.com/lake-baikal/
(Visited 327 times, 1 visits today)