Scandinavia should repeat -40°C, continental Europe with the 3rd -20°C coldwave! Hopes for winter in Europe between 10.-31. January 2022, maybe earlier!
MK
December 30, 2021
2 min read
Already in the 6-week outlook for Europe until 7. February 2022 we were forecast, that Winter 2021/2022 should return between 10.-31. January 2022 /https://mkweather.com/ecmwf-6-week-forecast-until-7-february-2022-for-europe-hopes-for-a-peak-of-winter-2021-2022-between-10-31-january// (ECMWF).
The last 4 runs of GFS however, returned gradual arrival of frosts a little earlier, already around 7. January 2022, with a possibility of -40°C frosts in Scandinavia, -20°C frosts in continental Europe, and snow cover again in large parts of the continent (maps below).
Warmer alternatives expect "only" -35°C in Scandinavia and -15°C in continental Europe such a peak of upcoming coldwaves, but during the long period until the end of January, frosts below -20°C, maybe below -25°C are more probable alternative.
Meanwhile, we were informed about the possible early arrival of Spring 2022 to Europe, too /https://mkweather.com/spring-2022-will-come-in-february-nao-and-extremely-warm-early-spring-conditions-in-february-and-march-2022-are-predicted-cfs-ecmwf//.
The last outputs have relatively good agreement with the last similar update /https://mkweather.com/the-next-arctic-blast-for-europe-in-the-second-january-2022-week-in-scandinavia-40c-continental-europe-balkan-turkey-20-25c-the-british-islands-spain-below-15c-is-possible//.
On New Year 2022, however, extremely warm weather is forecasted almost for all Europe, with a possibility of temperatures up to +20°C in mid-latitudes /https://mkweather.com/20c-on-new-year-2022-in-european-mid-latitudes-extremely-warm-air-already-in-spain-air-from-north-africa-260c//.
NAO index around 7. January 2022 will be surprisingly only neutral /https://www.cpc.ncep.noaa.gov/products/precip/CWlink/pna/new.nao_index_ensm.html/, which should make an upcoming coldwave little problematic, yet. On the other hand, the NAO forecast is dynamically changing in the next days and there are possible negative values of NAO, soon (for the coldwave below -20°C in continental Europe, at least -0.5 or Scandinavian block should be good, for British Islands, NAO- is needed).
Although Winter 2021/2022 until now didn´t produce in continental Europe and European mid-latitudes extreme -30°C and lower frosts, such as Winter 2020/2021, so far (minimum of Winter 2021/2022 in Czarny Dunajec, Poland with -24,9°C, so far: https://mkweather.com/the-lowest-temperature-of-the-winter-2021-2022-in-europe-in-poland-czarny-dunajec-249c-so-far-mid-latitudes-below-1000-masl/; note: in Switzerland was measured -33,3°C at 1200 MASL: https://mkweather.com/amburnex-combe-switzerland-333c-the-strongest-frosts-of-winter-2021-2022-in-continental-europe-so-far/), January 2022 should surprise, yet.
On the other hand, many "early winter" records appeared across Northern Hemisphere e.g. /https://mkweather.com/the-worst-predictions-came-true-sweden-427c-the-lowest-temperature-in-naimakka-in-december-in-all-time-history/; https://mkweather.com/the-strongest-early-frosts-in-the-baltic-region-in-62-years-since-1959-tartu-estonia-276c-zoseni-latvia-264c/; https://mkweather.com/historical-times-for-siberia-610c-has-never-been-measured-so-early/; https://mkweather.com/key-lake-saskatchewan-canada-446c-the-2nd-strongest-early-frosts-in-history//.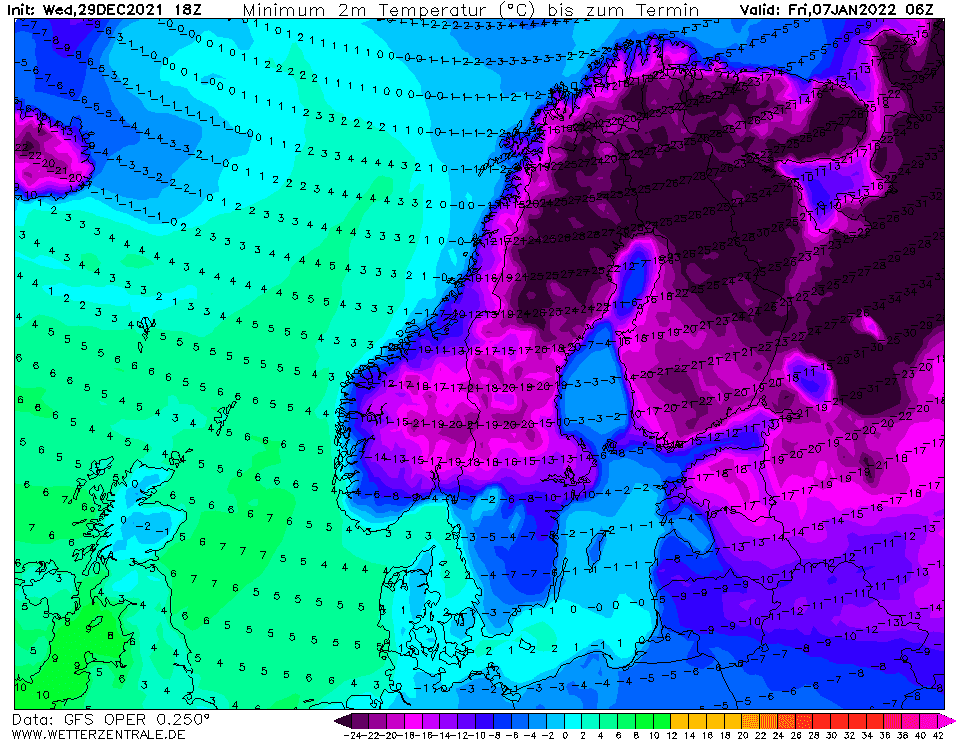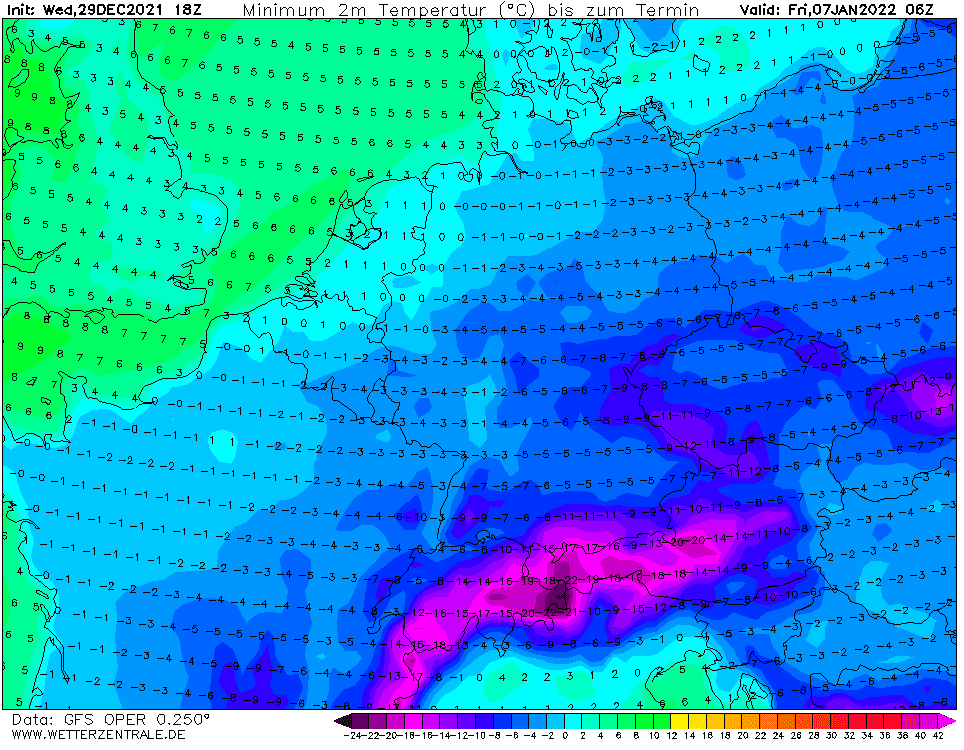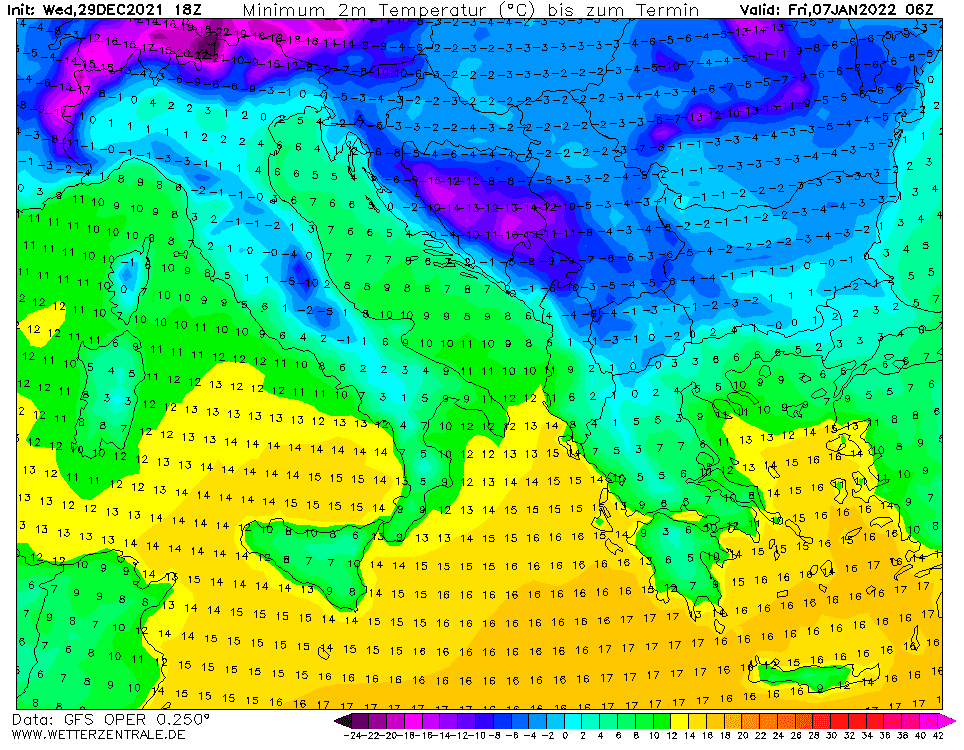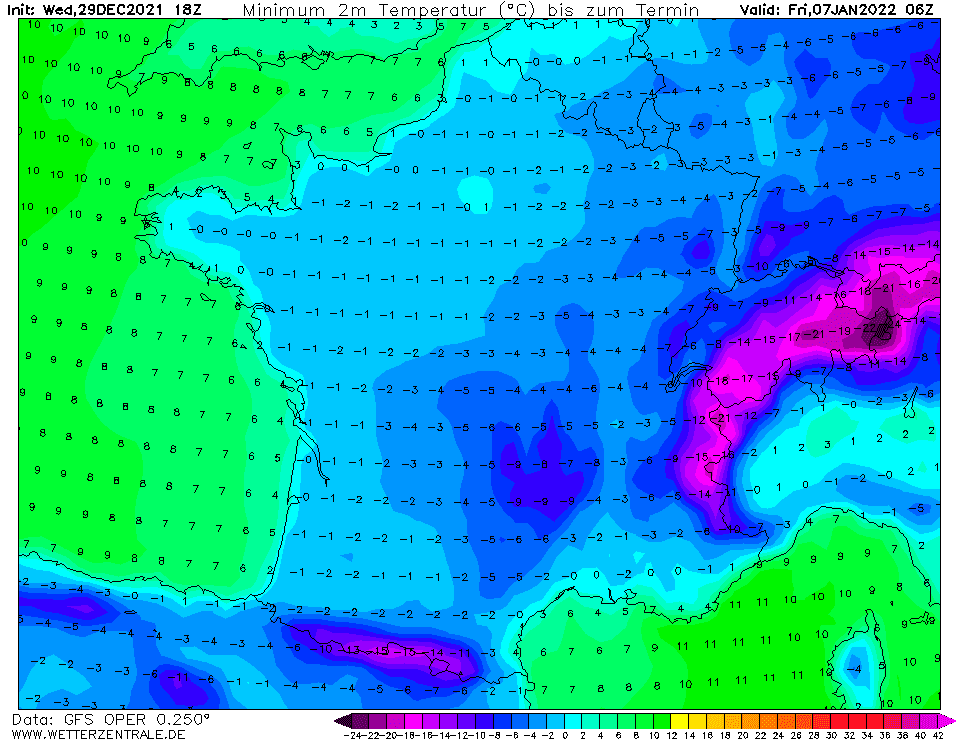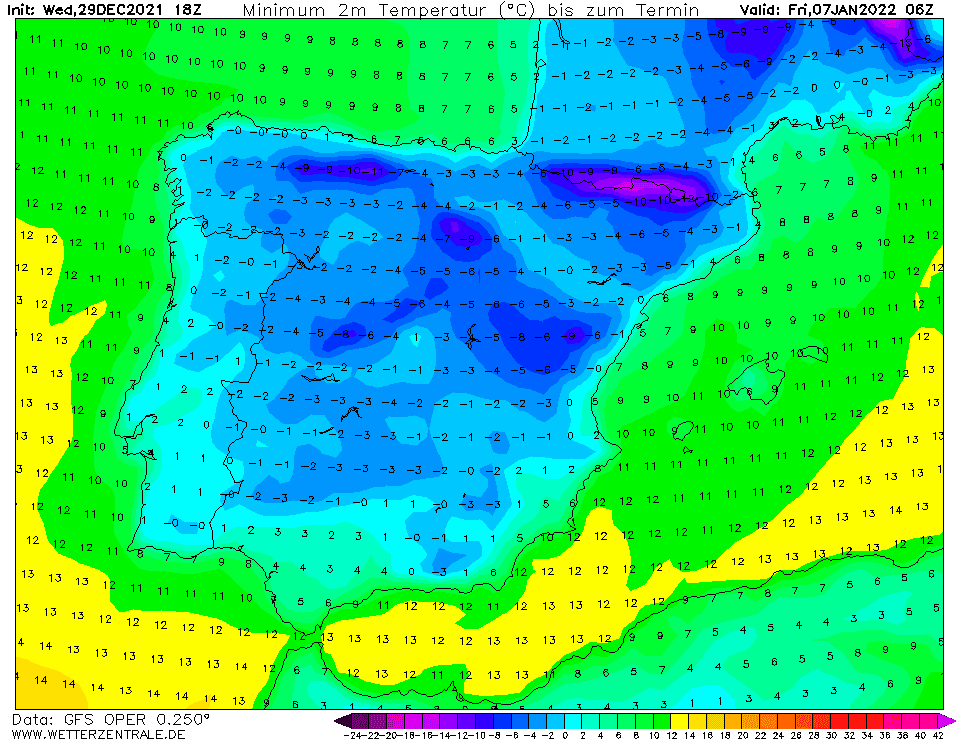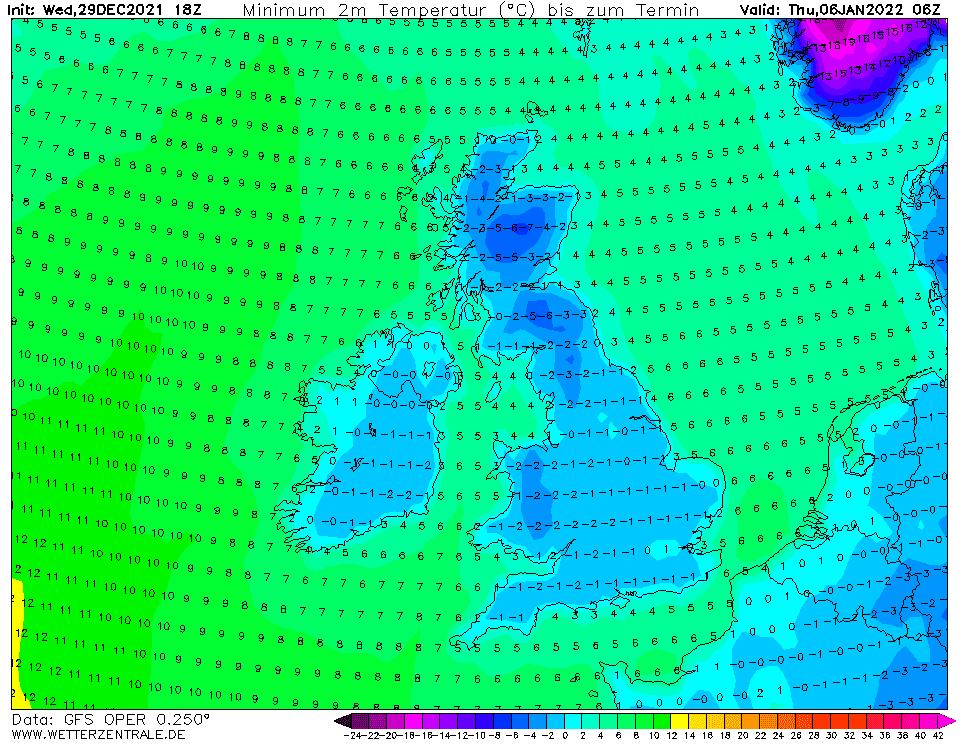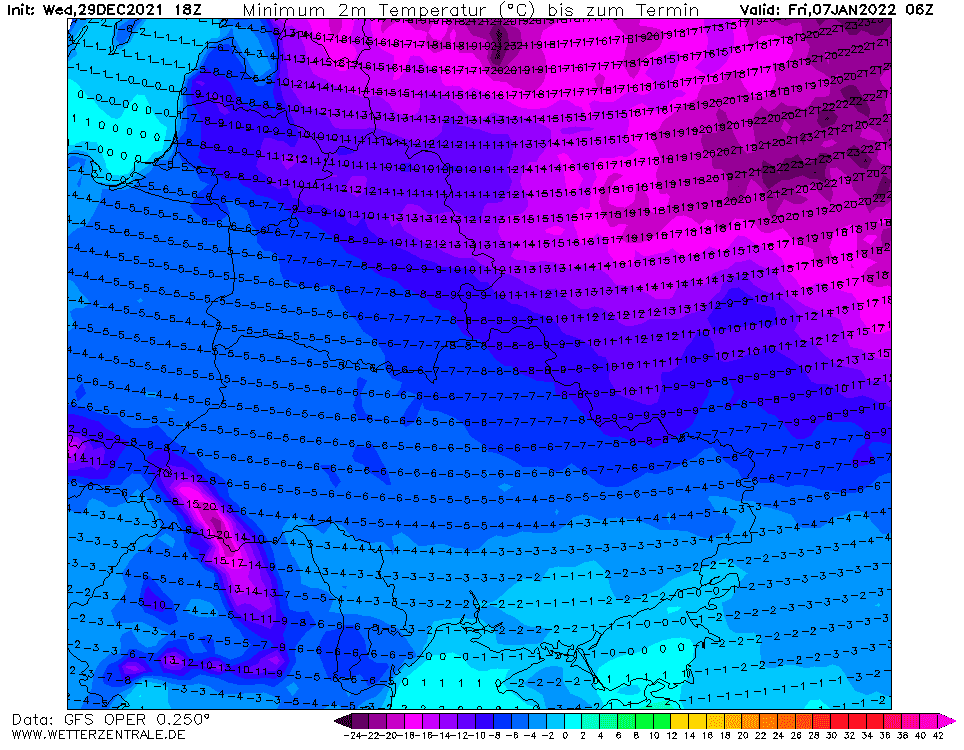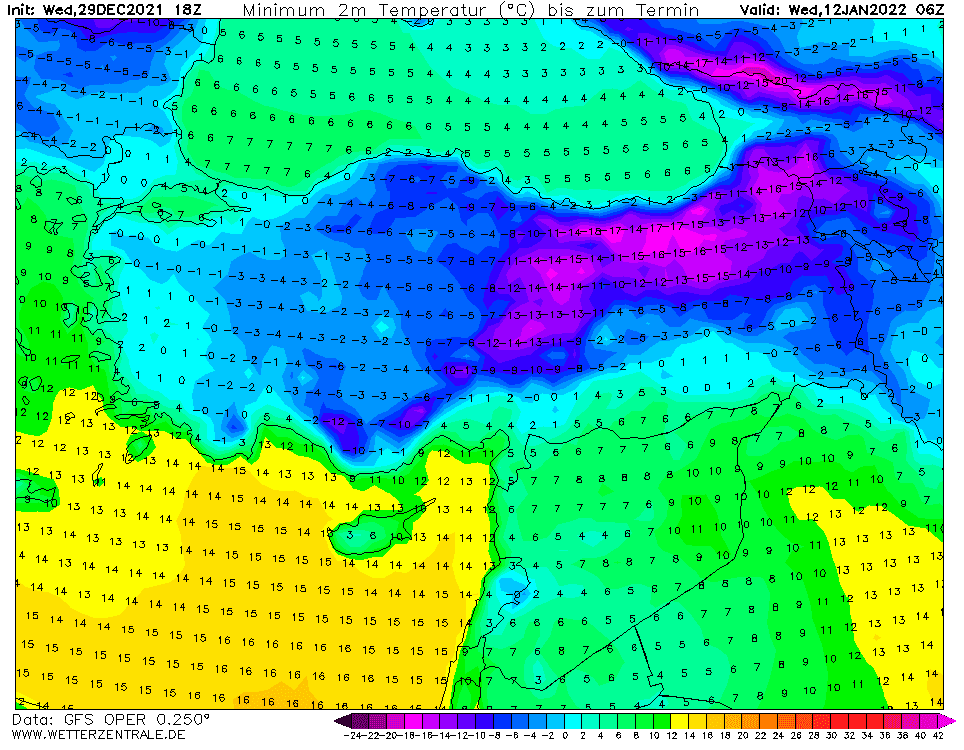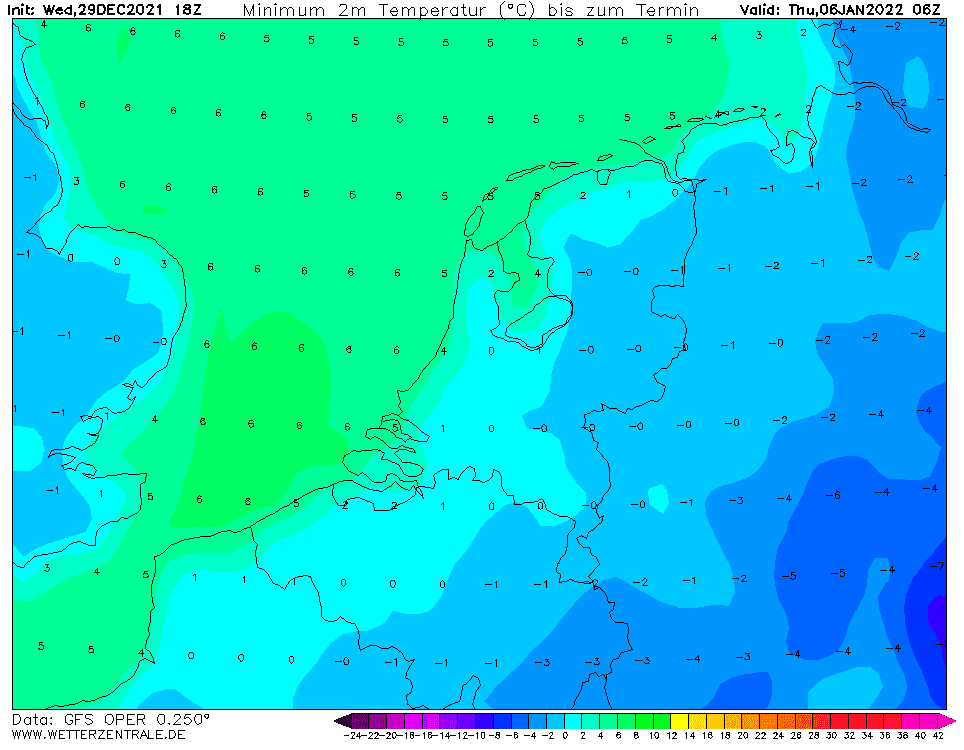 Source: wetterzentrale.de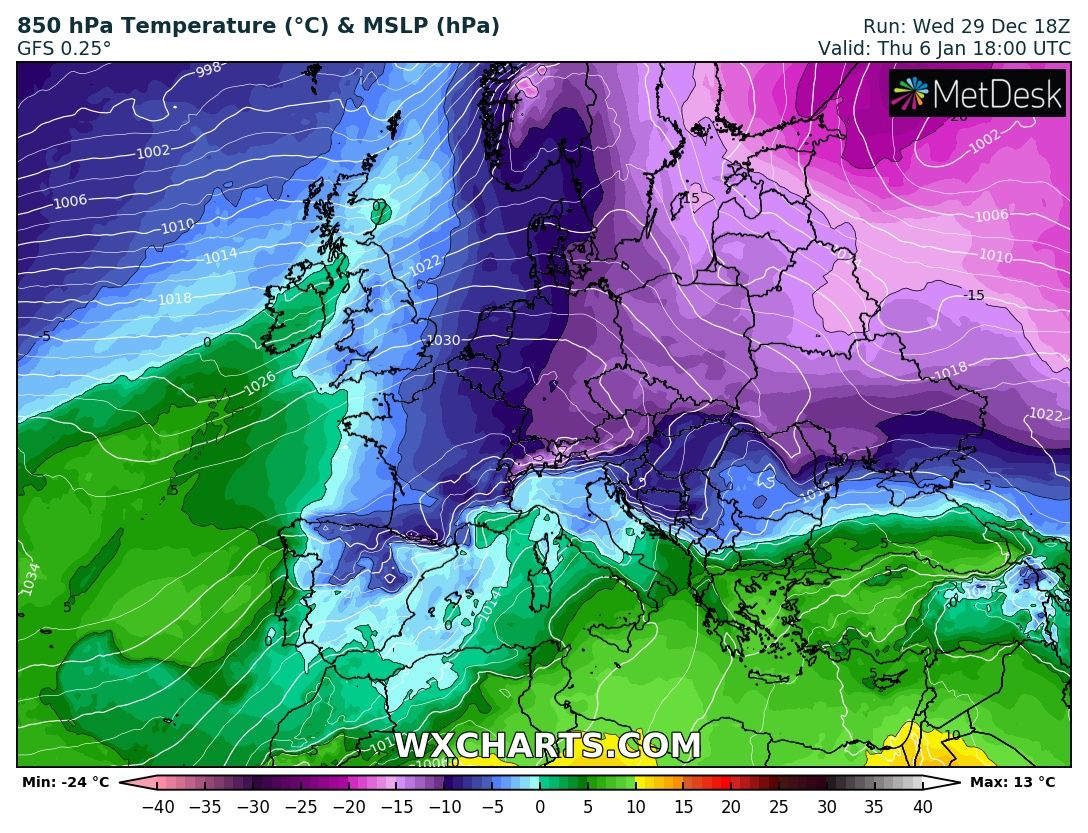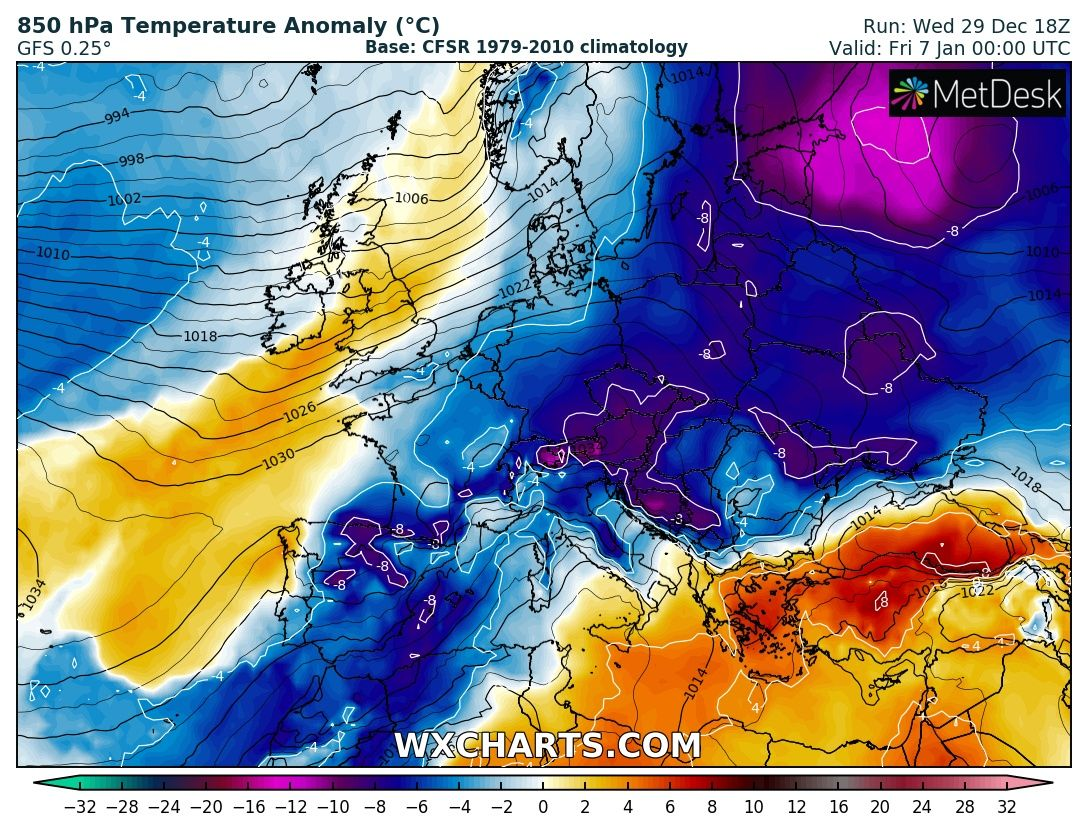 Source: wxcharts.com