Sierra Snow Lab in California: 455 cm / 193.7 inches (16+ feet) of snowfall! A historic amount of snow!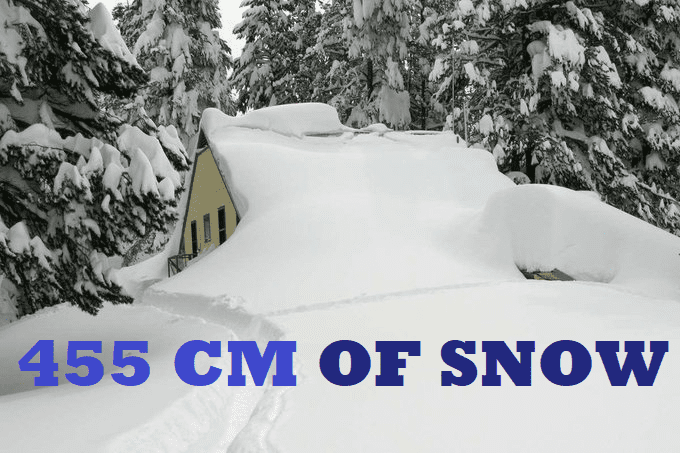 Already in the last articles, we were informed about the coldest December temperature in Canada since 1998 (-51,0°C) /https://mkweather.com/canada-511c-the-first-50c-and-lower-temperature-in-december-since-1998// and 52-year / 11 and 31-year December temperature records in Vancouver and Seattle /https://mkweather.com/vancouver-canada-hit-the-coldest-temperatures-in-52-years-153c/; https://mkweather.com/seattle-with-the-coldest-day-since-1990-and-the-coldest-night-since-the-legendary-year-2010//.
Now, we will shift more southward, into California, where historic early snowfall in the mountains was observed.
In Sierra Snow Lab, snow cover after Christmas 2021 reached record 455 cm / 193.7 inches (16+ feet), which is the highest amount of snow so early to date in history.
At the end of Winter 1982-1983, however, a snow cover at the station reached unbelievable 17,04 meters / 671 inches (55+ feet).
Arizona Snowbowl reported in the last days 22 inches / 56 cm of snowfall, from additional records.
Extreme snowfall is coming together with the wettest start of the "water year" in California in the last more than 40 years /https://mkweather.com/california-with-the-wettest-start-to-water-year-in-more-than-40-years// and the wettest Christmas in Phoenix in 80 years /https://mkweather.com/phoenix-arizona-with-the-wettest-christmas-in-almost-80-years//.
Meanwhile, between northern and southeastern USA is creating anomalous temperature gradient of almost 70°C / 125°F /https://mkweather.com/montana-38f-39c-alabama-87f-31c//.
Forecasts of CFS for January and February 2022 promises very similar circulation patterns /https://mkweather.com/kentucky-like-tornadoes-for-the-usa-in-january-and-february-2022-cfs-sees-extreme-temperature-differences-across-the-continent-and-sharp-frontal-boundaries-for-midwest-southeast//, with a possibility of tornado outbreaks in Midwest/Southeast and extreme Arctic blasts in the western half of Canada and N/NW USA.
California looks like in January 2022 still anomalously stormy, while in February mainly in southern and central parts finally drier.