The Spain +32,3°C, France +29,9°C, Germany +27,2°C, the Netherlands +26,1°C, the UK +24,7°C, Poland +24,3°C, Sweden +19,7°C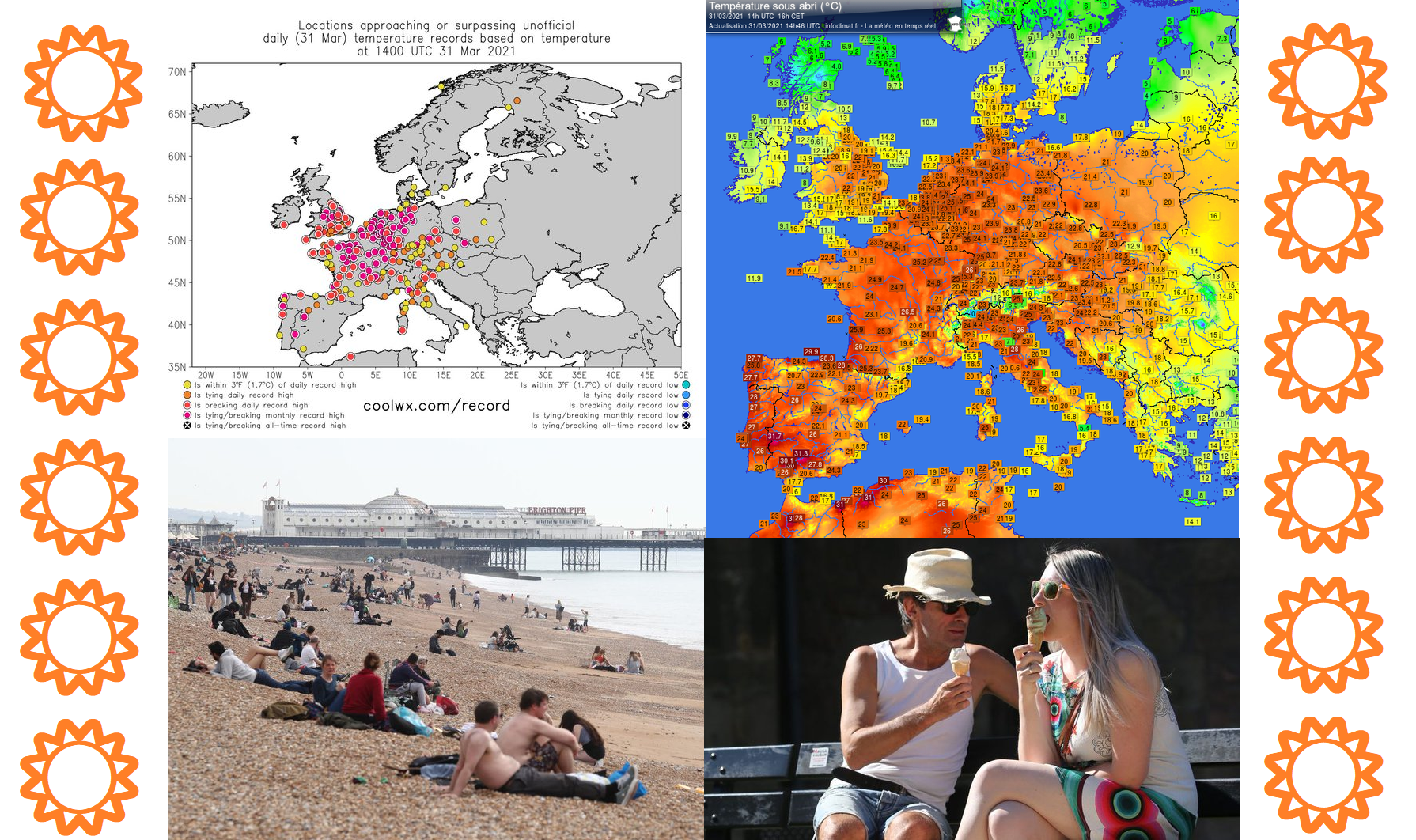 Europe experience with heat attack from Africa on 31. March 2021! As we have forecasted in many articles before /see our homepage/, all-time March national temperature records are here and we should summarize weather across Europe during the warmest day, in many places since September 2020.
The hottest was traditionally in Iberian Peninsula – Badajoz in the Spain reported +32,3°C becoming the hottest city in Europe. Santander in northern Spain reached tropical +30,0°C.
Almost tropical day, +29,9°C was measured in Cambo les Bains in southwestern France. Paris reported record +26,0°C.
Extremely high temperatures surprised Tuscany, northern half of Italy, with temperatures up to +28,4°C.
All-time March record was overcame in Rheinau, Germany where unbelievable +27,2°C was measured, Arcen in the Netherlands reported +26,1°C, Luxebmourg +25,4°C and Carinthia in Austria +25,5°C – all the newest all-time March national records. Kleine Brogel in Belgium reported summer +25,5°C.
Extremely warm was too in the UK, up to +24,7°C in England, but these data should be corrected, yet. London reported +24,5°C already on Tuesday, 30. March 2021.
Extreme warm spell shifted already above East-Central Europe, too – in Otmuchów, Poland maximum temperature reached +24,3°C and in several places in Czechia, between +25/+26°C was measured. In Nova Gorica, Slovenia, +25,4°C and in Ljubljana, +25,3°C was measured.
A new March temperature records even reported southern Sweden with +19,7°C, southern Denmark surprised with +22°C.
During Thursday, 1. April, extremely warm air will shift above southern and eastern Poland, Baltic states, Slovakia, Hungary, Belarus, Ukraine and Balkanian coutnries more, therefore, the next temperature records are still possible.
However, such we warned in series of articles before, extreme April coldwave is forecasted for Europe mainly after an Easter 2021 /https://mkweather.com/april-snow-hits-europe-coldwave-will-be-long-and-strong-snow/, https://mkweather.com/polar-vortex-brings-to-western-europe-10-day-coldwave-some-runs-expect-blizzard-for-central-parts-of-continent/, https://mkweather.com/blizzard-and-heavy-frosts-after-an-easter-europe-with-a-record-arctic-blast/; https://mkweather.com/the-uk-hits-the-coldest-april-weather-in-history-all-time-record-154c-should-be-overcame-record//.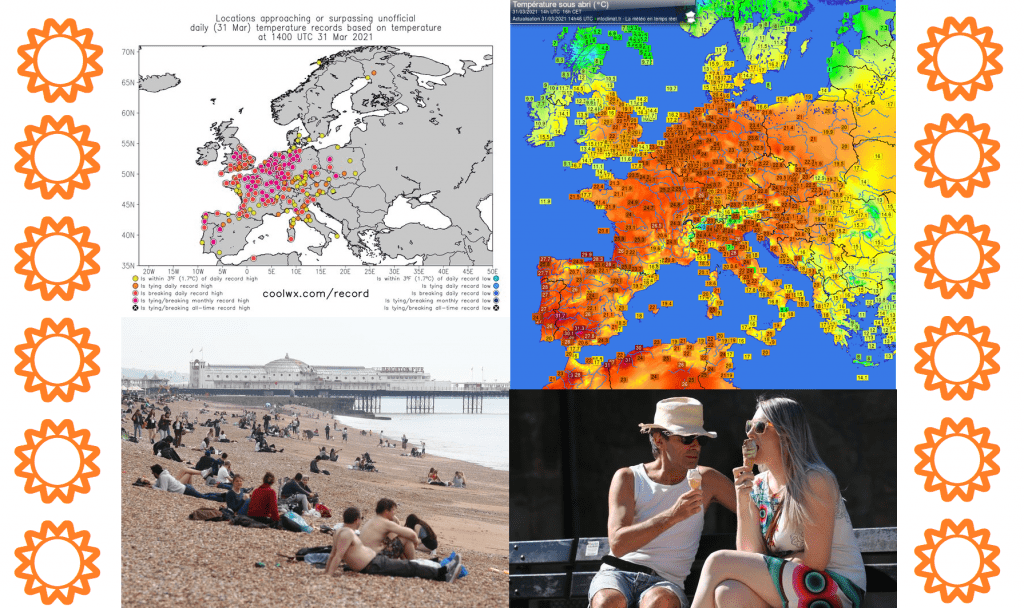 Read more:
Wednesday brings summer: Paris +27°C, Frankfurt aM +26°C, London +25°C, Wroclaw +24°C | mkweather
Canada under the snow, spring is coming very slowly | mkweather
India and Pakistan with heatwave, after floods and snow in the mountains | mkweather
Middle East almost +45°C, its very early, Central Asia +38°C already | mkweather
The UK -10°C, Greece +35°C? Extreme temperature differences across Europe after an Easter? | mkweather