After more than a month lasting Indian summer in the eastern half of the USA /https://mkweather.com/more-than-30-day-indian-summer-in-upper-midwest-great-lakes-and-northeast-is-ending// and the first serious blizzard in mid-October 2021 in the western half of the USA /https://mkweather.com/winter-came-to-the-usa-up-to-40-inches-1-meter-of-snow-is-forecasted//, the next attacks of an upcoming winter are forecasted already in the next 2 weeks.
Very, regionally extremely cold Arctic air masses are forecasted to hit the USA in 3 peaks approximately between 25. October – 1. November, 30. October – 5. November and 4. November – 10. November 2021 from West and Northwest to East and Southeast.
Tropicaltidbits forecast tool sees chances for snowing or even blizzard conditions in parts of the USA the first time during the starting Winter season 2021/2022 – mainly in the Midwest and Northeast.
Cold Arctic air masses hit gradually all USA and in Canada, strengthening of severe frosts is forecasted.
A map of predicted snow cover for the USA and Canada you will find below the article, together with T850 hPa anomalies during peaks of Arctic blasts.
Meanwhile, in Europe, anomalously warm, Indian-summer-like weather is in early November forecasted /https://mkweather.com/november-brings-an-abnormal-heatwave-france-30c-germany-25c-the-uk-23c//.
Mainly for the eastern half of the USA, it should be a relatively serious temperature shock, therefore stay warm and safe. The virological situation should be worsened in conditions like these. Harvest should be collected in southern regions, too and it´s needed to take your jackets and coats in colder parts, with blizzard or severe frosts.
Regionally should be 10-15°C / 15-25°F colder than the seasonal average.
Mkweather gradually brings updates associated with the first snowfall and possible daily or monthly records of minimum temperature in the USA (and Canada) in the next 2 weeks.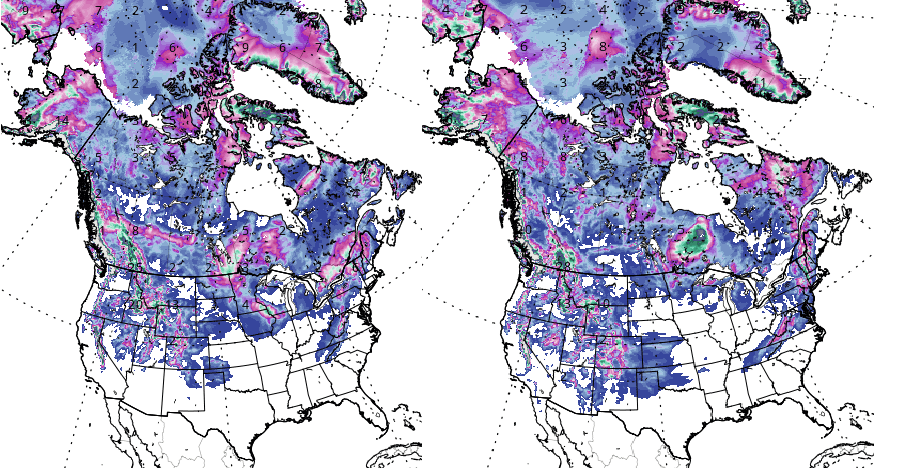 The 1st coldwave: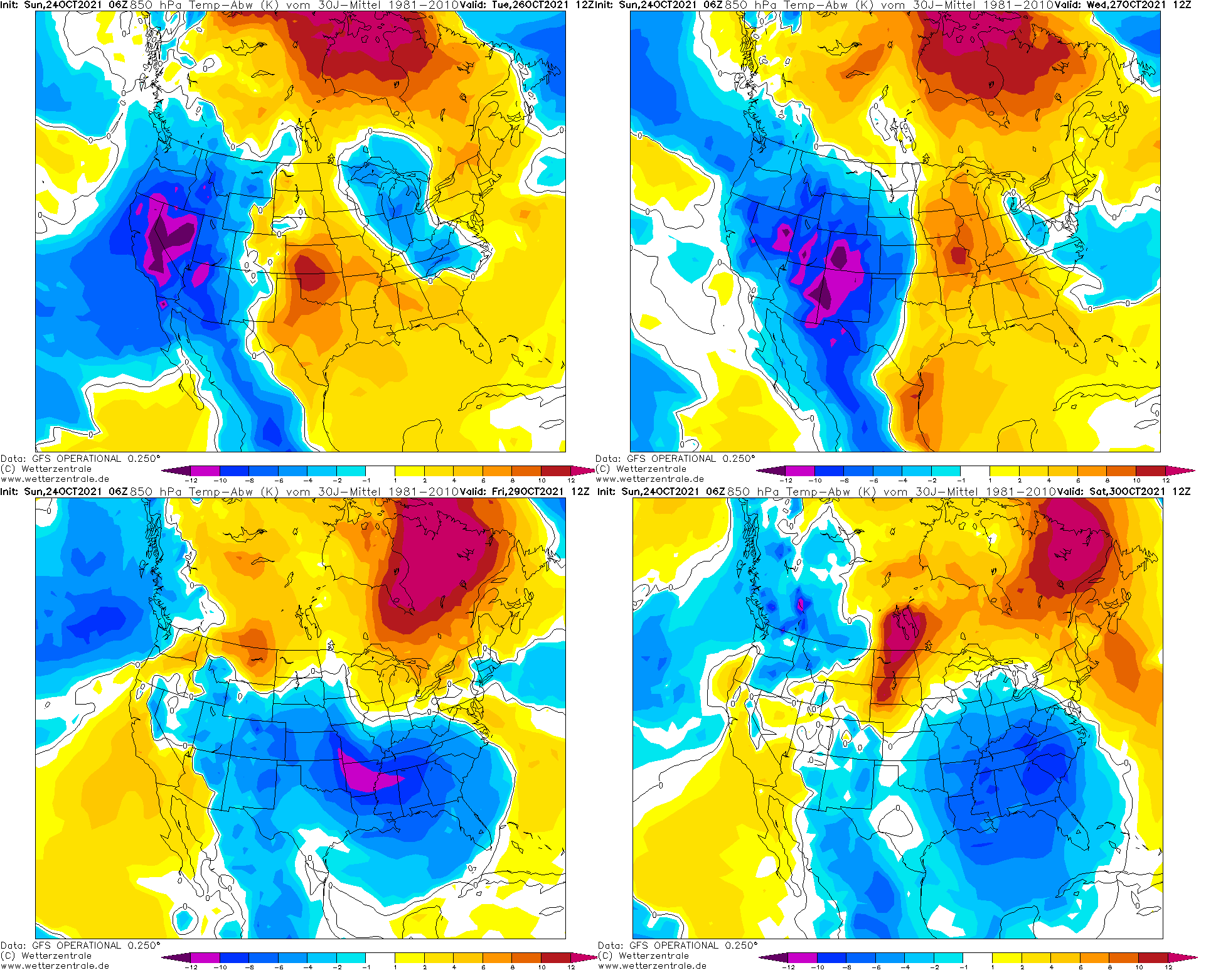 The 2nd coldwave: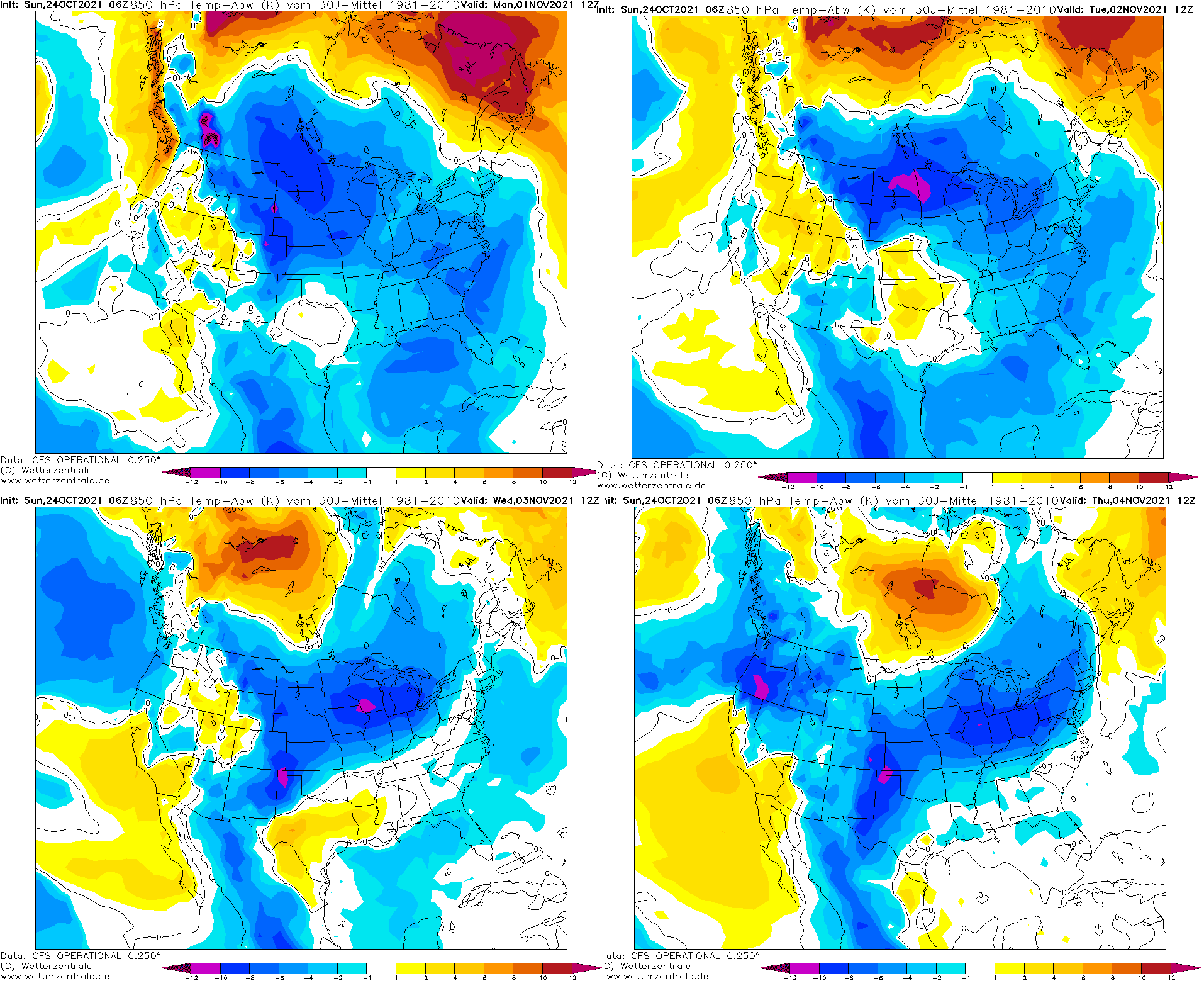 The 3rd coldwave:
T850 hPa anomaly during 3 peaks of forecasted coldwaves /wetterzentrale.de
(Visited 348 times, 1 visits today)