After deadly cyclone Eloise /https://mkweather.com/2021/01/28/cyclone-eloise-hit-south-africa-mozambique-and-zimbabwe/; https://mkweather.com/2021/01/24/tropical-activity-forecast-for-next-month-and-half-year-videos-ts-eloise-kimi-chalane-imogen-danilo//, which devastated in January 2021 many south-African coutnries is South Africa, Eswatini, Mozambique and Madagascar after another tropical threat – tropical storm Guambe.
Tropical storm has developed above coastal areas of southeastern Africa, where was slowly moving above ocean.
10-minute sustained winds on 19. February 2021 reached 155 km/h, an equivalent of Category 2 tropical cyclone on Saffir Simpson scale and minimum pressure in centre of cyclone 953 hPa.
Three-digit wind gusts bothered coasts of South Africa, Mozambique and Eswatini last week and caused regional floods and material damages.
Fatalities haven´t been reported.
According to Autumn 2021 forecast for southern-African states, powerful cyclone season is expected to continue during the next months /https://mkweather.com/2021/02/22/spring-autumn-2021-forecast-for-africa//, with wet and cold anomalies from Mozambiuqe to Namibia.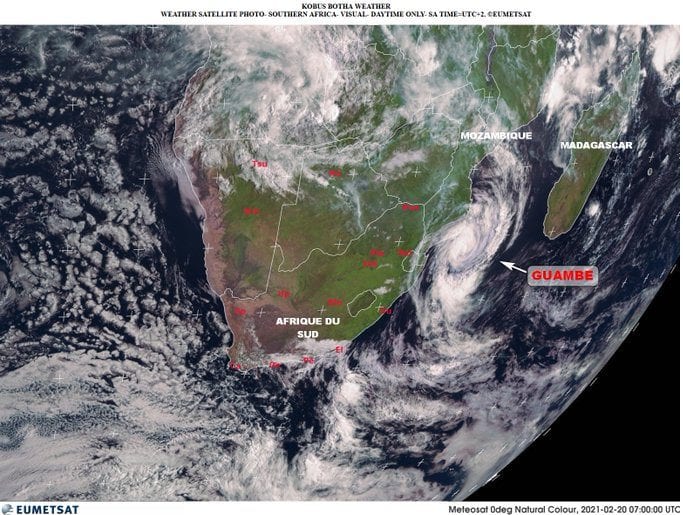 Read more: