USA hits strong summer coldwave, near the border it will be snowing!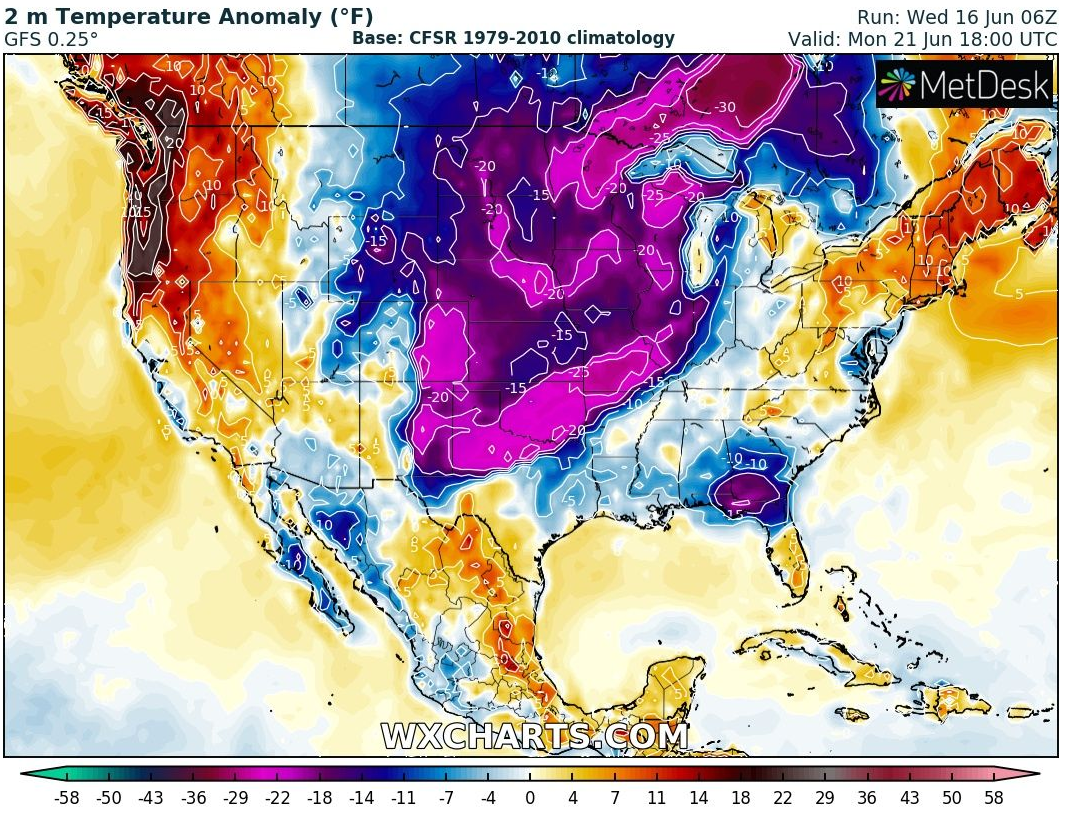 While western half of the USA and Canada are currently experiencing with historic heatwave /Historic heatwaves in the USA and Canada! The coldest US state +42,2°C / 108°F! – mkweather/ and Europe is waiting anomalous heatwaves, too /Heatwave will be stronger as was forecasted and extremely deadly! Mediterranean +50°C, Balkan +44°C, Central Europe +38°C, Scandinavia +34°C – mkweather; Aggressive +40°C heatwaves for Germany! +36°C for Sweden, +38°C for Poland, Italy and Balkan totally grilled, +44/+48°C! – mkweather; July 2021 should start with historic heatwaves, GFS surprised with +46°C possibility in France – mkweather/, central and eastern USA soon hits extreme summer coldwave, with possibility of frosts or ground frosts anomalously southward.
Near the US border, on Canadian side, mainly in Ontario, surprising summer snowstorm should moreover appear only short time after unprecedented snowfall in southern Quebec and Newfoundland and snowstorm in Iceland /Newfoundland and southern Quebec with rare summer snowfall, last time was snowing in 1976 – mkweather; Iceland tourists rescued from snowstorm and extremely cold weather – mkweather/.
This cold anomalies above eastern Canada and eastern USA should be a result of changed circulation pattern – the start of Summer 2021 is diametrically different such as Spring 2021 /Summer 2021 has started with totally opposite hemispheric circulation pattern such as during Spring 2021 – mkweather; Meteorologists across Europe report the coldest spring since 1987 / 2013 – mkweather; A big European circulation anomaly in 2021: totally oppositely such as in the World (!) and showing, what climate change should bring until 2100 – mkweather/.
Above Greenland has created anomalous low geopotential (pressure) field in last decade (the 1st June 2021 decade) and observed coldwaves in the region, such as forecasted extreme coldwave in the US and Canada around 21. June 2021 should be a result mainly of this circulation switch.
Temperature anomalies -20/-30°C, above Ontario up to -40°F are forecasted already early next week, around Monday, 21. June 2021, with possibility of historic cold weather, with rain / storms, more northward snowstorms and later, after movement of cold front ground frosts or more northward, frosts.
It´s needed to say, that trio of possible tropical storms above the Atlantic should contribute to this coldwave, too /The first hurricane of the Atlantic hurricane season 2021? 3 tropical storms should hit the USA (Bill, Claudette and Danny), the 1st one aims towards Europe, the 3rd should be a hurricane! – mkweather; Ex-tropical storm Bill hits British Islands, brings storms and strong cooldown – mkweather/.
After extreme heatwave from Mexico to western Canadian Arctic is behavior of climate system such this very unusual and surprising.
Climate change very probably will be bringing more and more situations such this – from summer into winter and reversely, therefore will be prepared for extreme weather changes not only in next days, but too in next decades of 21. century.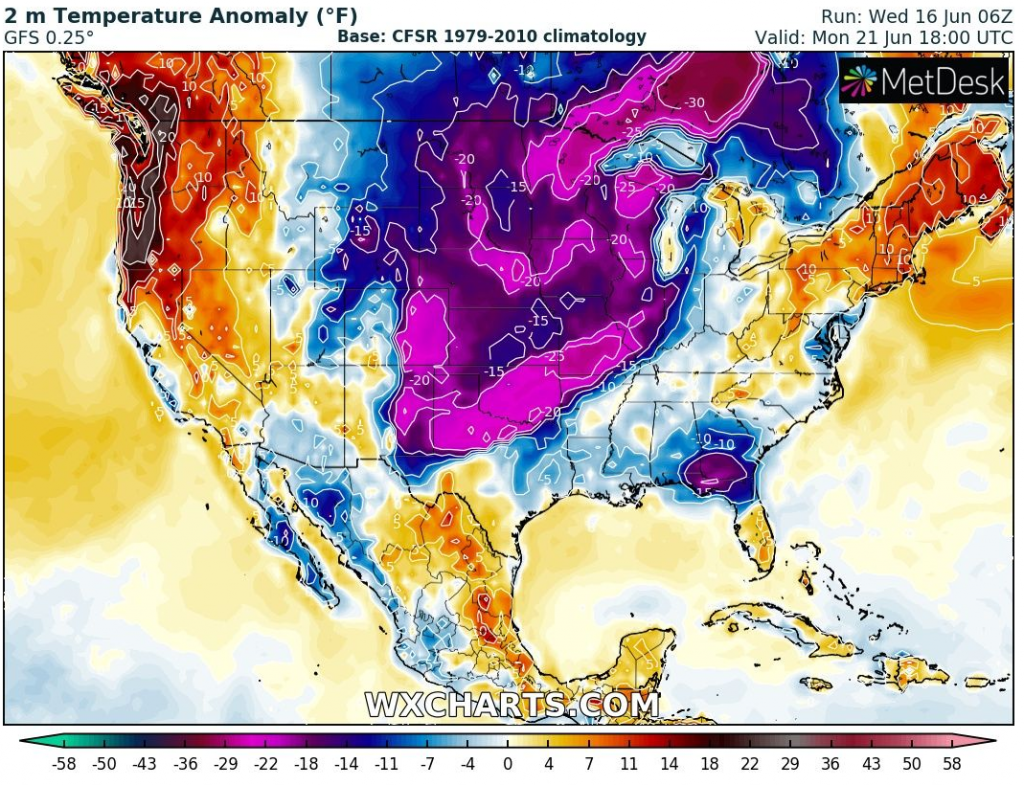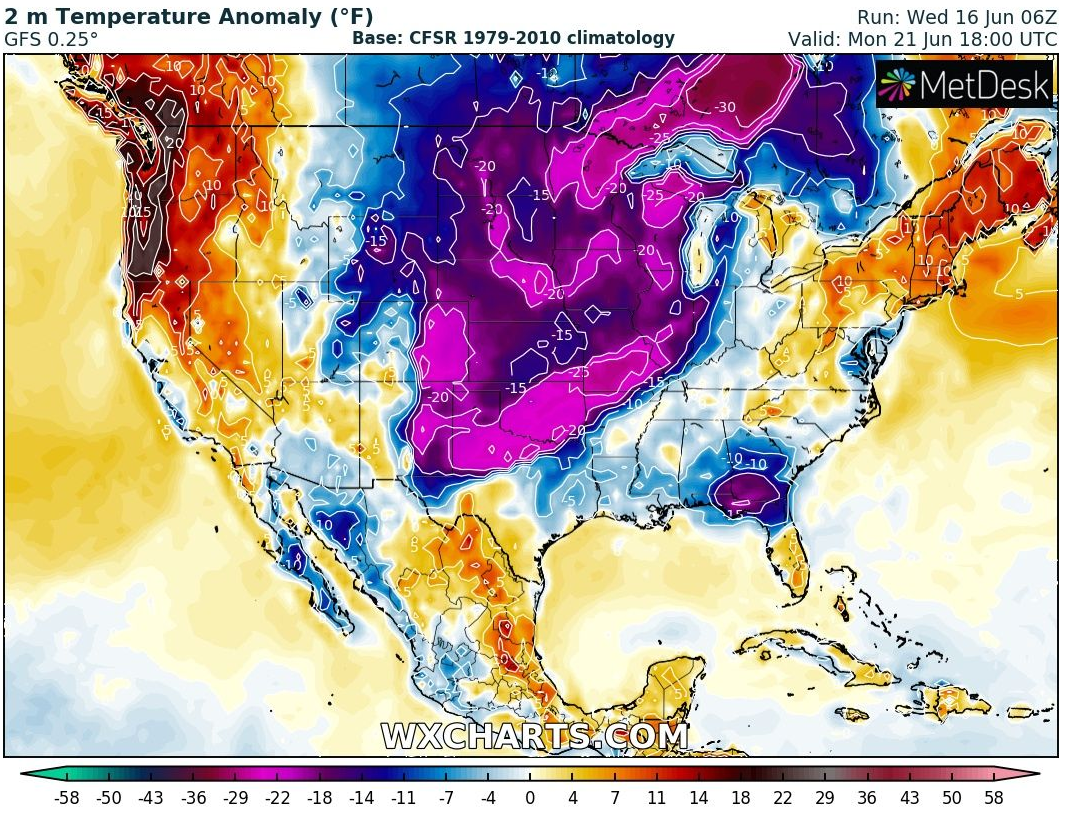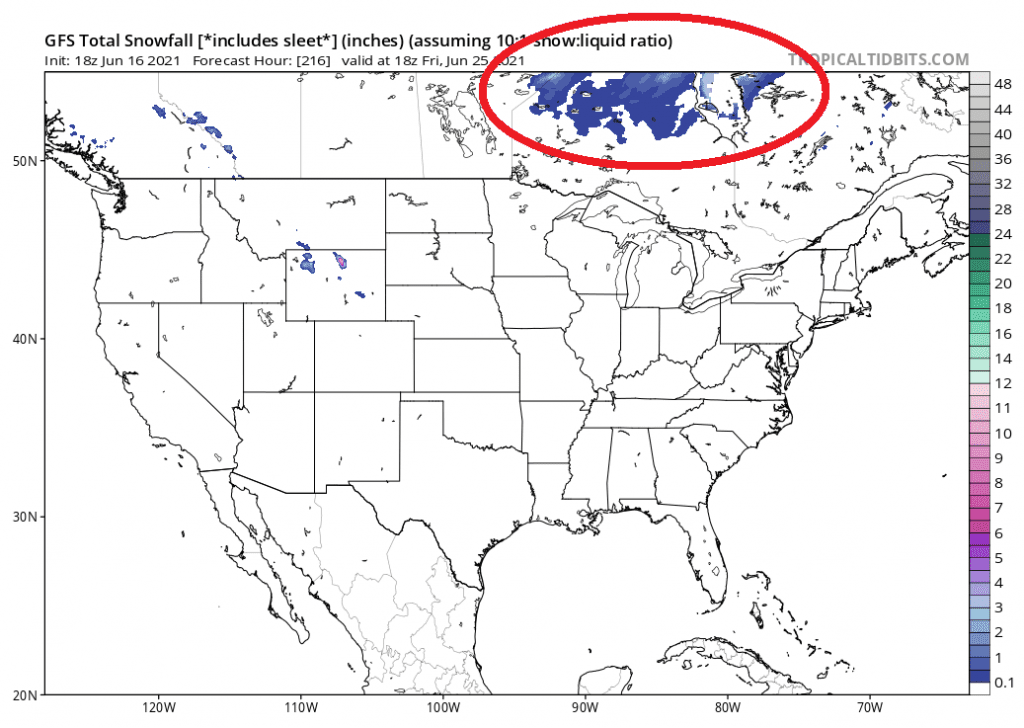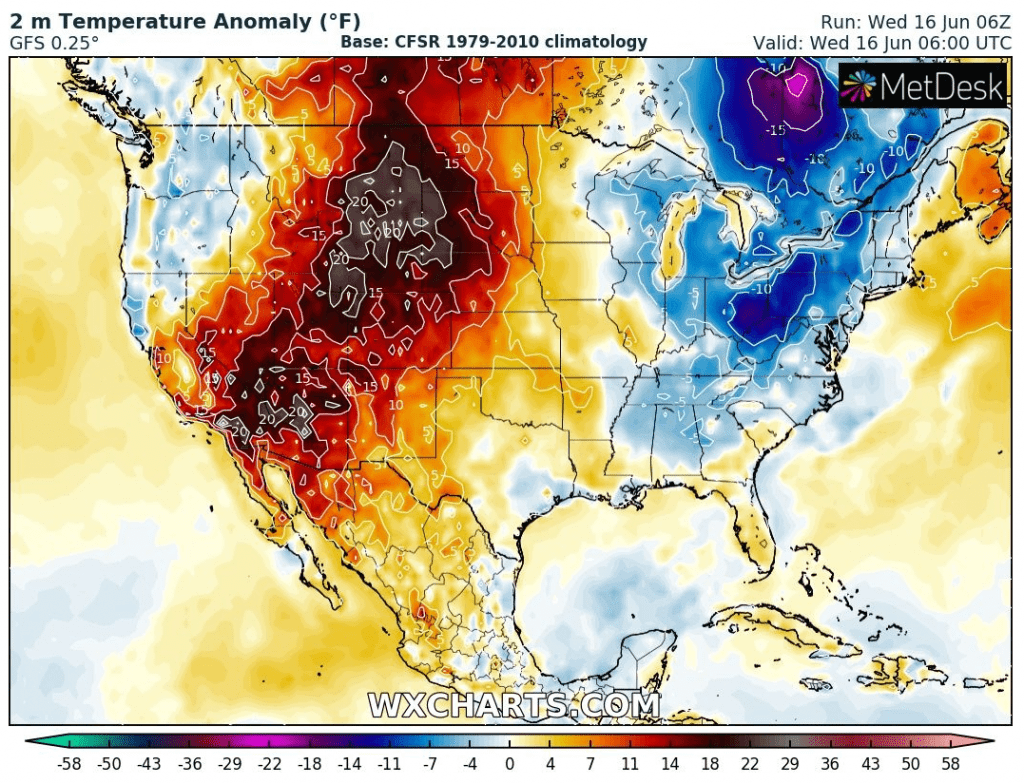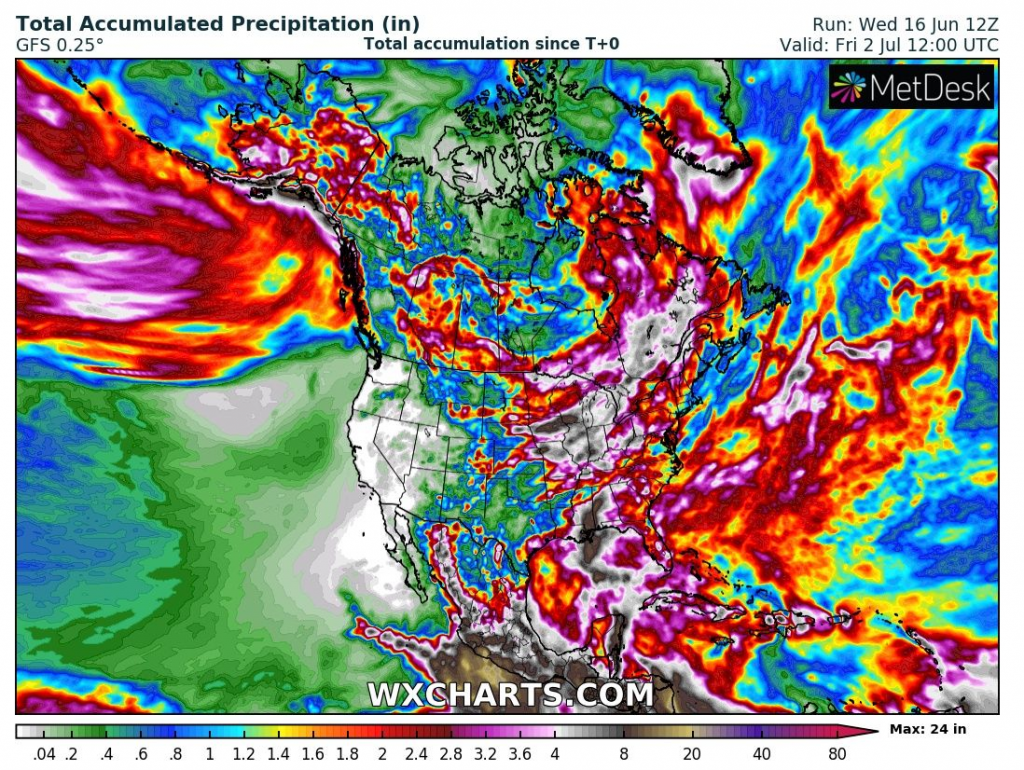 Sources: wxcharts.com, tropicaltidbits.com