On Saturday, 12. September, Turkish capital, Ankara, hit rarely event – a dust storm.
Dust storm arrived after hot day, with maximum temperatures +34/+35°C in the city between 12:00-15:00 UTC.
During a very short time, temperature dropped from +35°C to +25°C and with dust arrived wind gusts up to 100 km/h.
Sandstorm was associated with lighting, but any significant rain didn´t occur.
Dust storms in the region don´t occur every year, but in 2020, storm was very intensive. By strong winds, 6 people was injuried and people must clean houses, cars and materials from thick layer of sand.
Storm arrived after extremely hot start of Autumn in Turkey, SE Europe and NW Middle East /https://mkweather.com/2020/09/04/turkey-hits-abnormal-heatwave-484c-119f-only-06c-from-absolute-national-record-from-27-august-1961/; https://mkweather.com/2020/09/05/cyprus-with-new-absolute-national-record-462c-115f/; https://mkweather.com/2020/09/14/iraq-490c-kuwait-485c-with-new-september-records-syria-470c//.
Dust storms sometimes occur in Southwest US or Spain, in weaker intensity it can appear in Midwest and Northern Plains thanks to close badlands region.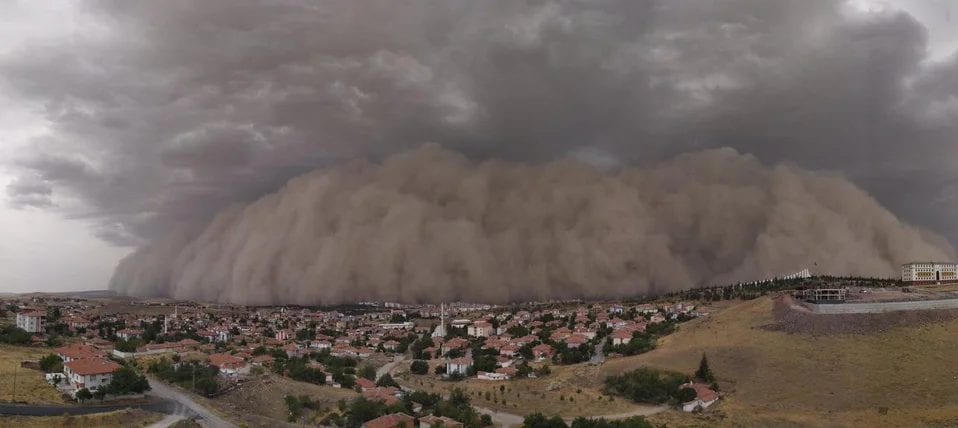 Read more:
(Visited 112 times, 1 visits today)