White Christmas 2021! A big snow forecast for Europe until 10. January 2022!
MK
December 5, 2021
1 min read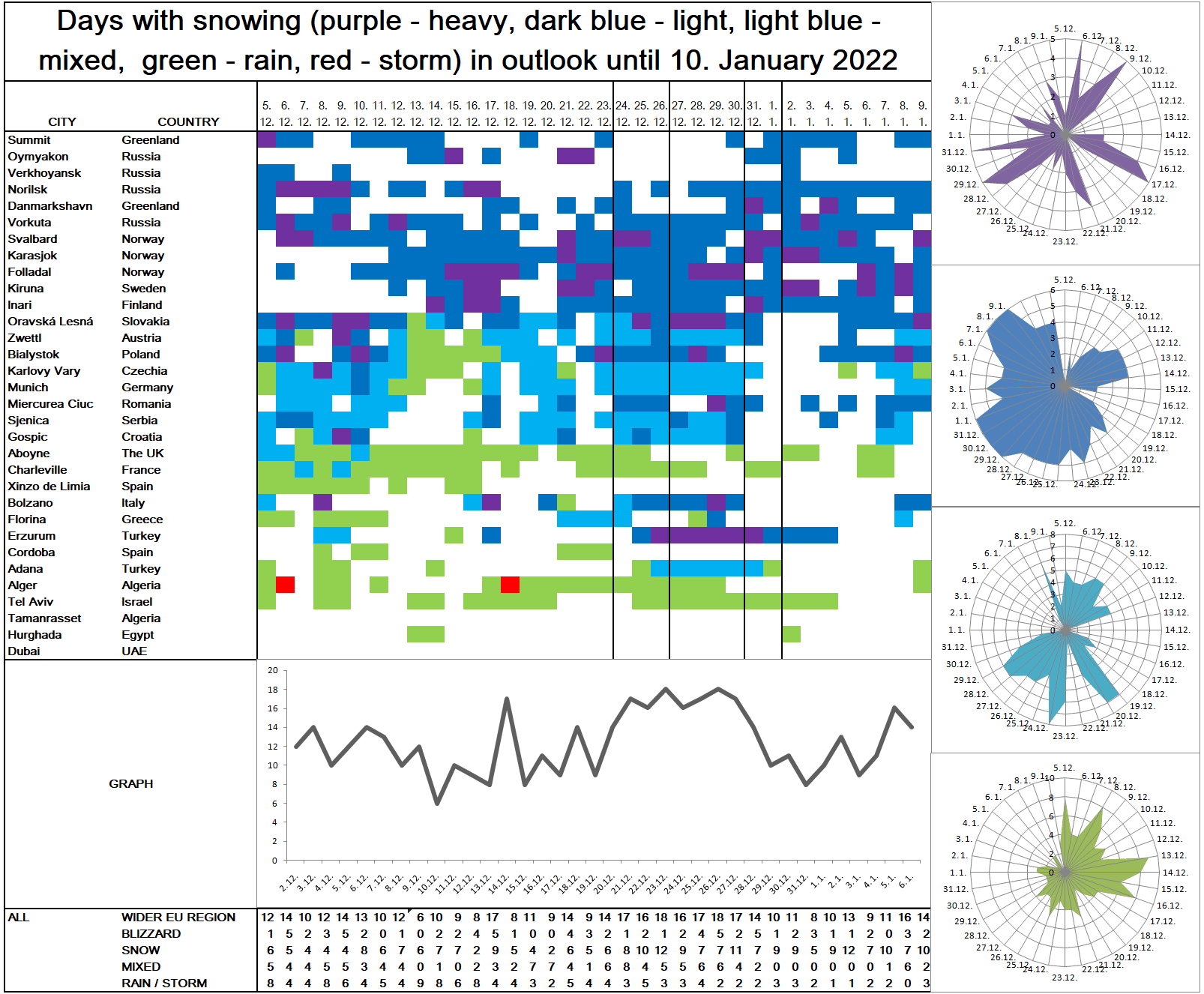 Already in the last similar articles, we have investigated temperature trends in the wider European region and North America until 10. January 2022 /https://mkweather.com/winter-in-europe-will-return-around-christmas-and-new-year-2022-especially-in-the-central-and-eastern-sector-long-term-forecast-until-10-january-2022/; https://mkweather.com/a-long-term-forecast-for-the-usa-can-mex-until-10-january-winter-will-be-gradually-strengthening//.
Now, we should look at expected forms of precipitation in the same cities – A) blizzard B) snow C) mixed precipitation D) rain, and E) thunderstorm.
From the table below is evident, that the peak of snow activity is forecasted in Europe just around Christmas 2021 – mainly in mid-latitudes from subtropical regions to the subarctic regions.
Peaks of blizzard conditions are forecasted around 6. December, 14. December, 26. and 28. December 2021.
Lighter snowfall activity will be peaking around 7.-11. December 2021 and then between 20.-29. December and 5.-7. January 2021-2022.
Mixed precipitation will have peaks around 15.-16., 20., 24.-25. December 2021.
Rains are forecasted mainly in the first half of December 2021.
In the table, we should notice a relatively calm snowfall period in the Arctic and Siberia around 15.-30. December 2021, such as the next calm snowy/rainy period in southern mid-latitudes, subtropical and tropical latitudes in the first January 2022 decade.
Some tropical stations will stay without precipitation.
Most of the snowfall activity in the most populated parts of Europe is expected at Christmas 2021 and between Christmas and New Year 2021-2022, therefore winter holidays in many countries/regions should be very cold, with snow.