The US is aliving very turbulent times, not only with COVID-19 spreading, but too regarding mid-summer weather. Gusty and damaging T-storms are destroying Great lakes area and long-term heatwave is bothering East and Northeast Coast and Midwest. Anomalous hot weather had to return in the whole territory of US in the late July with next stormy times in air with tropical origin. Southern Canada is affected too, storms and hot weather reported durng last period area from South-Central Canada to Quebec.
The worst situation is actually in Great lakes area in Minneapolis region with involving MCS (mesoscale convective system) with derechos, severe and damage wind and hailstorms. More southwesterly, in Wyoming, tornado was reported and temperatures up to 98°F / +36,7°C in Wyoming (Sheridan, 1255 MASL). North Dakota is reporting 2,75 inch / 7 cm hailstorm and 101 mph / 162 km/h wind, for change.
The hottest weather is still in south, up to 108°F / 42,2°C in Phoenix, but realfeel temperatures rised above 100°F / 38°C in East Coast and south part of Northeast and above 105°F / 41°C in the Southeast. In Alabama was measured in Saturday 100°F / 37,8°C (Midland), in Baltimore 97°F / +36,1°C and in Washington D.C. 96°F / 35,6°C.
Stormy and hot weather will be continuing in Sunday and Monday, with shift of eastern direction.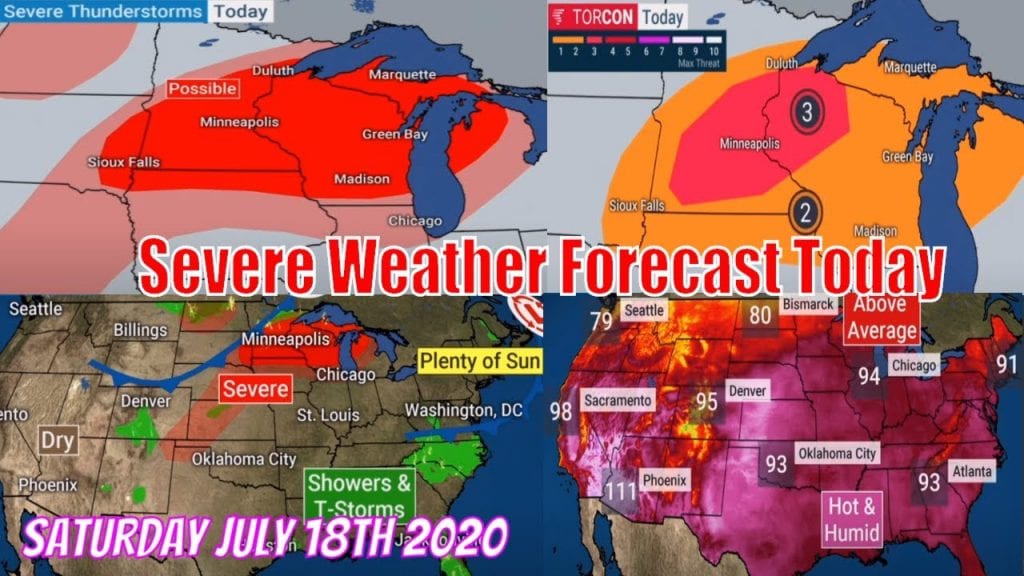 Colder weather is only in Northwest, but till end of July, tropical air tropical air floods the entire territory of US
Not every region of US is affected now by severe strorms or heatwaves, Seattle is expecting only 85°F / 29°C in Tuesday, but it will change soon - till end of July tropical air with temperature in 850 hPa over 59°F / 15°C floods the whole territory of US, with tropical temperatures everywhere. Heatwaves later hit northern parts of Canada again, and in tropical air storm-systems will arise.
It looks, that August and first half of autumn will be too hot in the US - Accuweather seasonally forecast for next 3 months promises continued heatwaves in hot air - La-niňa patern namely causes a southwestern flow from Southwest to the Northeast of the territory. People, and mainly weather-watchers and stormchasers in the USA have something to look forward to.