BREAKING! Orkan Nadia hit Budapest with 130 km/h winds! Above 100 km/h Hamburg, Vienna, Innsbruck, Copenhagen, Malmo, Lodz, Usti nad Labem, Glasgow or Edinburgh, too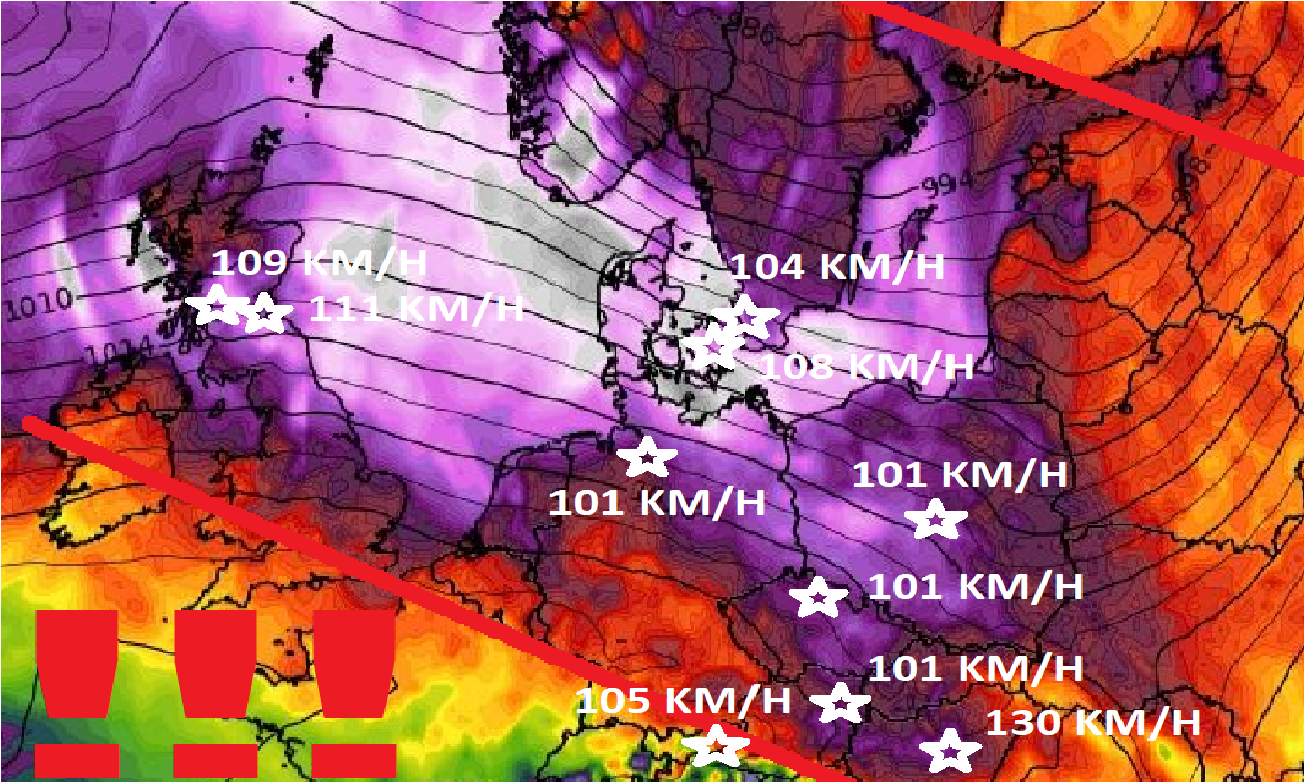 The next cooldown above Europe is coming hand in hand with Orkan Nadia, which is bringing life-threatening wind gusts across Europe.
The worst situation was from Saturday to Sunday, 29.-30. January 2022 in the UK, southern Sweden, Denmark, northern Germany, Austria, Czechia, Poland, Slovakia and Hungary.
In the mountains, wind gusts were reaching up to 200 km/h, so far (e.g. Snezka in Polish-Czechian border with 191 km/h, Chopok, Slovakia 155 km/h, so far) and extremely strong wind gusts are threatening many metropolitan cities, especially in lowlands, too.
The worst situation is on Sunday around midday reported from Budapest, where according to /https://www.metkep.hu/2022/01/30/kozel-130km-h-s-orkant-mertek-az-iment-budapesten/?fbclid=IwAR0VZcfs6EIWKx8NwD30QTz9tDim7wH3Bt3ZbropHR4LZk3tpEGxemQgtYk/ 130 km/h winds were measured.
Severe winds are reported from Vienna (101 km/h) or Innsbruck (105 km/h). Leiser Berge, 450 MASL reported 126 km/h.
From Czechian metropolitan cities, Usti nad Labem reported 101 km/h, from Polish Lodz 101 km/h, Petrobaltic Beta 123 km/h.
Copenhagen, 108 km/h wind gusts were measured, Malmo reports 104 km/h, Hano in Sweden 141 km/h, Thyboroen in Denmark 132 km/h.
Hamburg, Germany reported 101 km/h. Kahler Asten reported 112 km/h and Potsdam 104 km/h. Leuchtturm Alte 144 km/h.
Powerful winds were reported from Edinburgh and Glasgow, Scotland – 111 and 109 km/h.
In Cairnwell, the UK, 933 MASL, 193 km/h wind gusts were on Saturday measured.
Above the coast of the Netherlands, up to 115 km/h wind gusts were measured.
If you live in mentioned countries (see map below), we recommend you to be careful, because windstorm has already 2 victims.
The situation in the mountains and lowlands will be mainly until Monday, 31. January 2022 very dangerous, especially in the eastern and southern parts of the region, where even stronger wind gusts should be measured.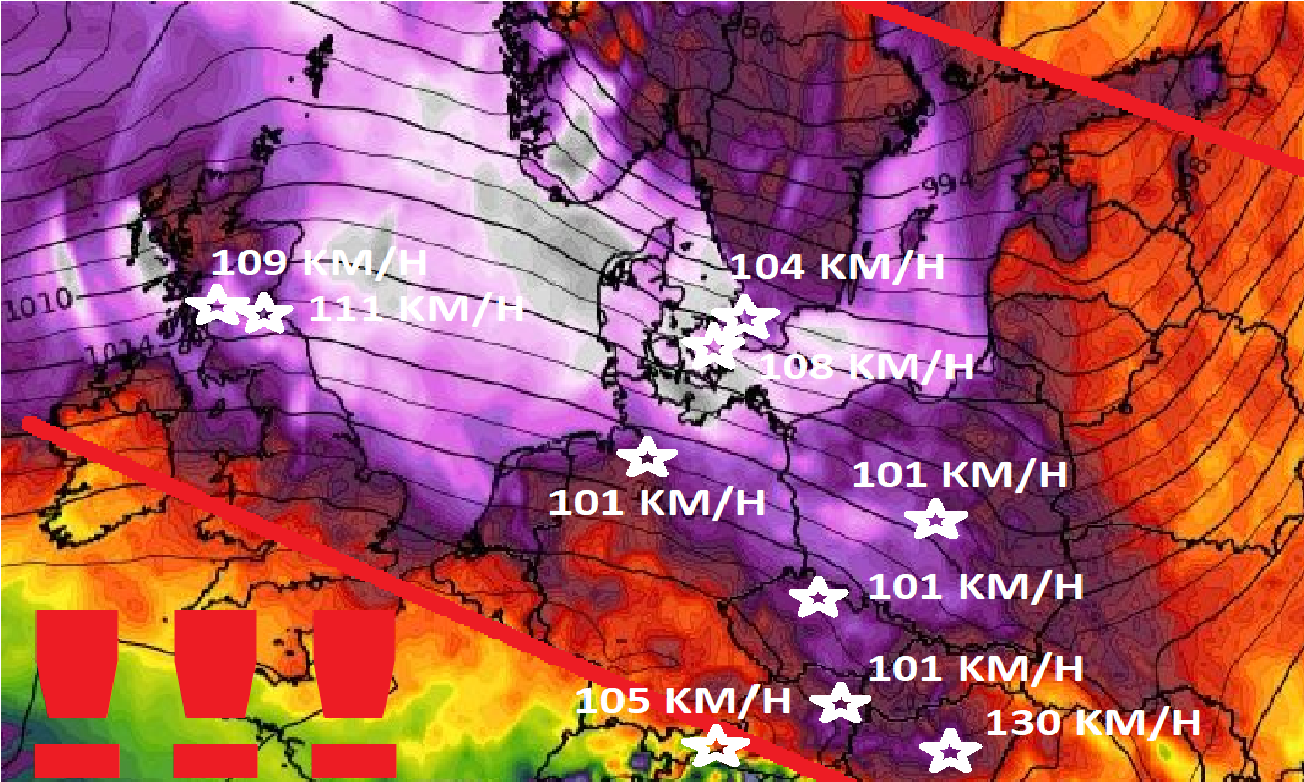 Wind gusts map (cities in the title). Source: wxcharts.com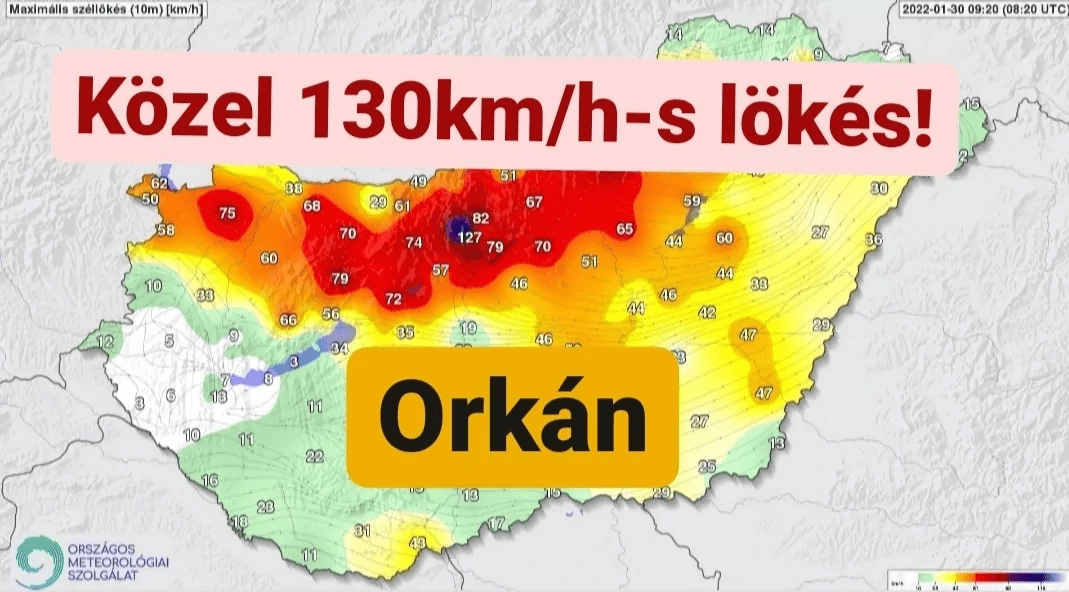 Source: https://www.metkep.hu/2022/01/30/kozel-130km-h-s-orkant-mertek-az-iment-budapesten/?fbclid=IwAR0VZcfs6EIWKx8NwD30QTz9tDim7wH3Bt3ZbropHR4LZk3tpEGxemQgtYk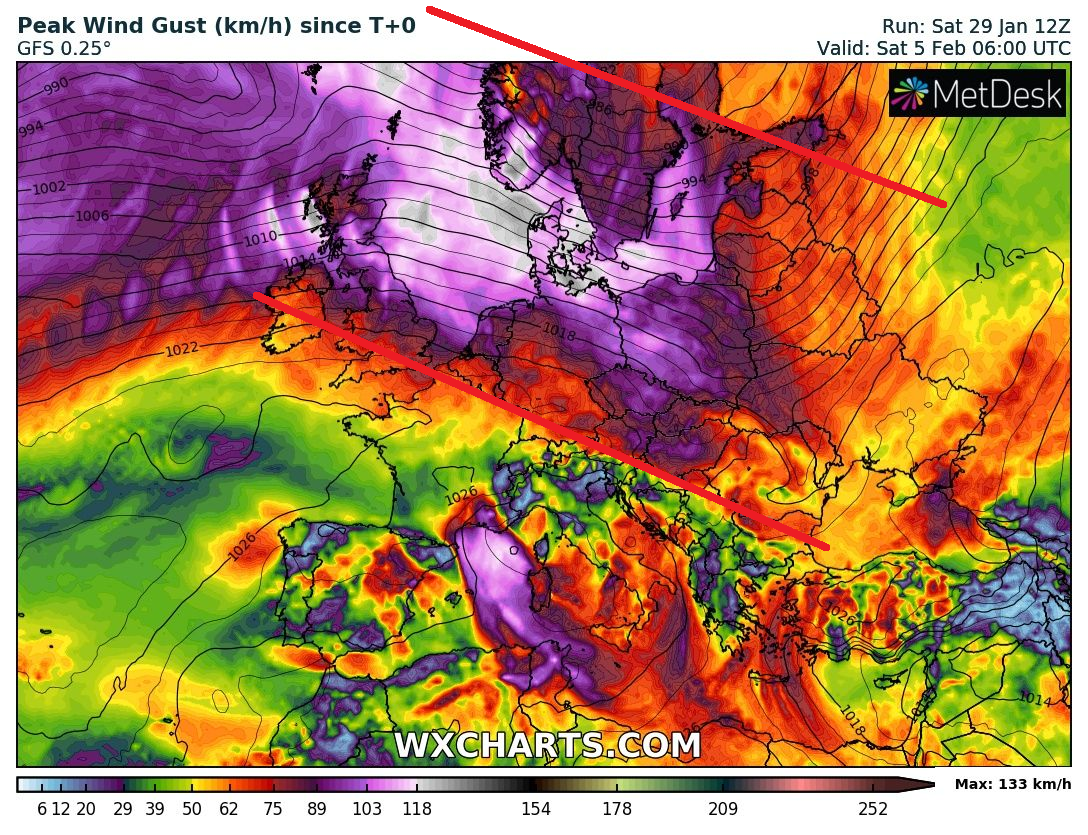 Source: wxcharts.com
(Visited 165 times, 1 visits today)