France, +37,3°C, Germany +32,5°C, UK +30,4°C, in some parts of continental Europe heatwave all this week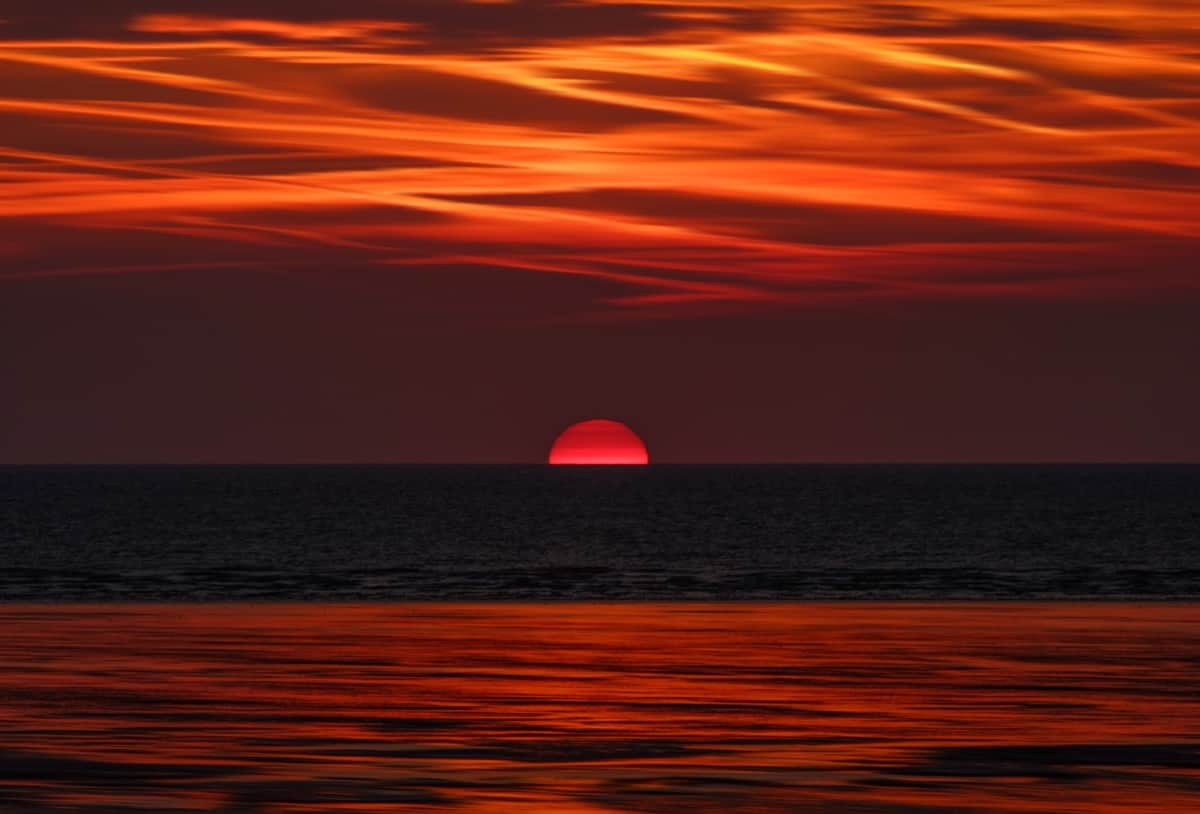 In warm sector of deep cyclone with southern stormtrack over northeastern Atlantic, anomalous heatwave brings extremely high temperatures across large parts of Europe.
Cold front linked with another cyclone, with center above Scandinavia and later European Russia brings cooldown after Wednesday, but only in eastern part of Central Europe and Eastern Europe.
In France and Alpine region (Bavaria including), heatwave will be continuing up to end of current week.
On Monday, France has reported the highest temperature in Europe – in Dax meteorologists has reported +37,3°C.
Extremely hot was in Benelux too, with temperature maximum +32,3°C in Belgium (Diepenbeek) and +31,4°C in Netherlands (Maastricht).
In Trier-Petersberg, Germany, was measured +32,5°C – highly above mid-September average temperature for territory of Germany. These temperatures are around 12°C above long-term temperature averages for first autumn month.
Tropical weather has surprised UK too – in Jersey was measured +30,4°C on Monday.
From very to extremely hot weather is reported from Mediterranean, Central Europe and Balkan, too.
In Spain, meteorologists has reported +36,5°C (Zumaya-Faro), in Italy +35,8°C (Latina), in Montenegro +35,5°C (Podgorica), in Albania +35,4°C (Skhodra), in Greece +35,2°C (Kerkyra), in Croatia +34,4°C (Makarska), in Bosnia and Herzegovina +33,8°C (Mostar), in North Macedonia +32,8°C (Gevgelija), in Serbia +32,7°C (Veliko Gradiste), in Romania +32,3°C (Drobeta), in Hungary +32,0°C (Baja), in Slovenia +31,8°C (Portoroz), in Bulgaria +31,5°C (Sliven), in Switzerland +30,9°C (Visp), in Slovakia +30,7°C (Dudince) and in Czechia +30,5°C (Plzeň).
On Tuesday, the hottest air will move above Central Europe and part of Eastern Europe (Ukraine, Belarus, Latvia).
On Wednesday, tropical air will be divided to two parts over East-Central and East and West Europe, with starting of Arctic blast in eastern Germany, western Poland and Czechia.
From Thursday to Sunday, cold Arctic air will shift mainly above Eastern Europe, but too above East-Central Europe. During next week, cold blasts from North will be continuing, with possible the most affected area in Eastern Europe, East-Central Europe, Eastern Balkan and Black sea region.
Soon we will bring an article with frost forecast for parts of Europe hit by Arctic blasts after 17. September, therefore, stay with Mkweather furthermore.
Synoptic situation over Europe from Monday to Wednesday, 14.-16. September 2020 /chmi.cz/: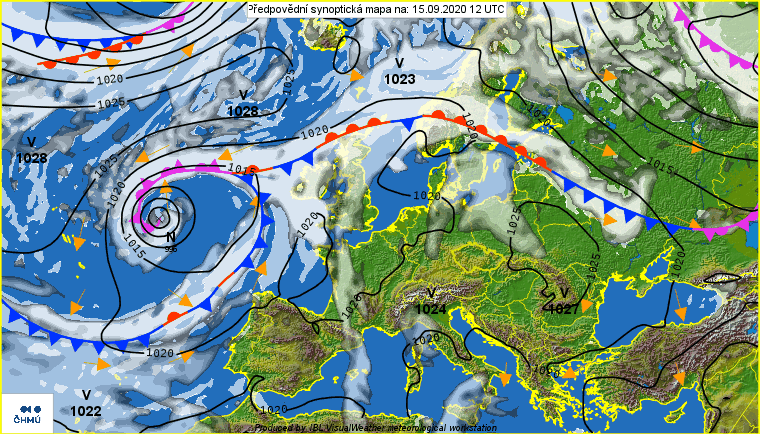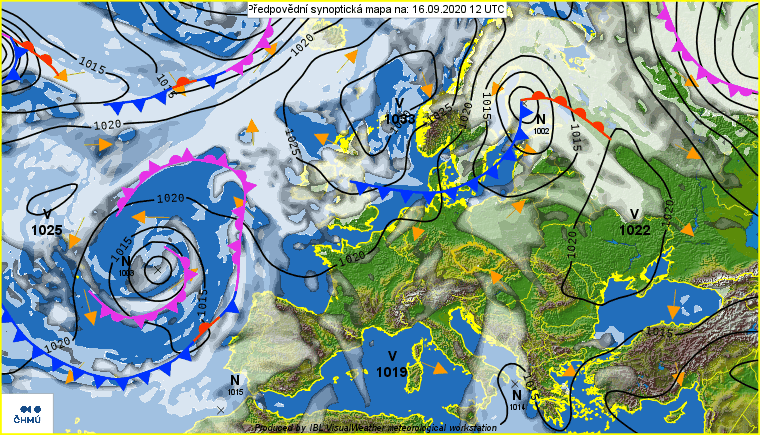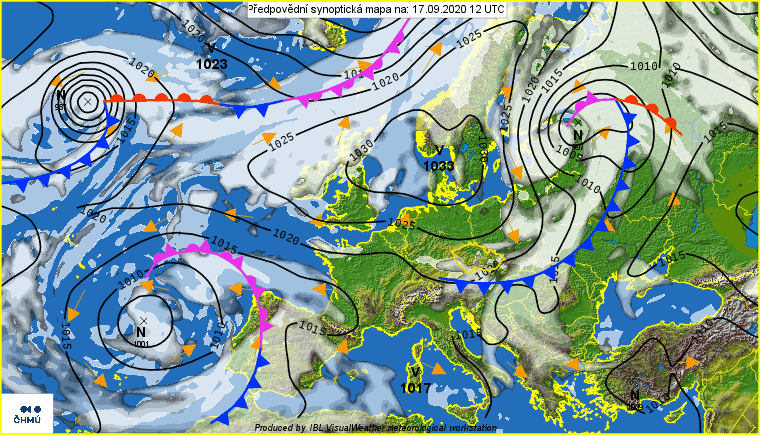 T850 hPa over Europe from Monday to Sunday 14.-20. September 2020 (over +15°C in 850 hPa risk of tropical days above +30°C) /wxcharts.com/: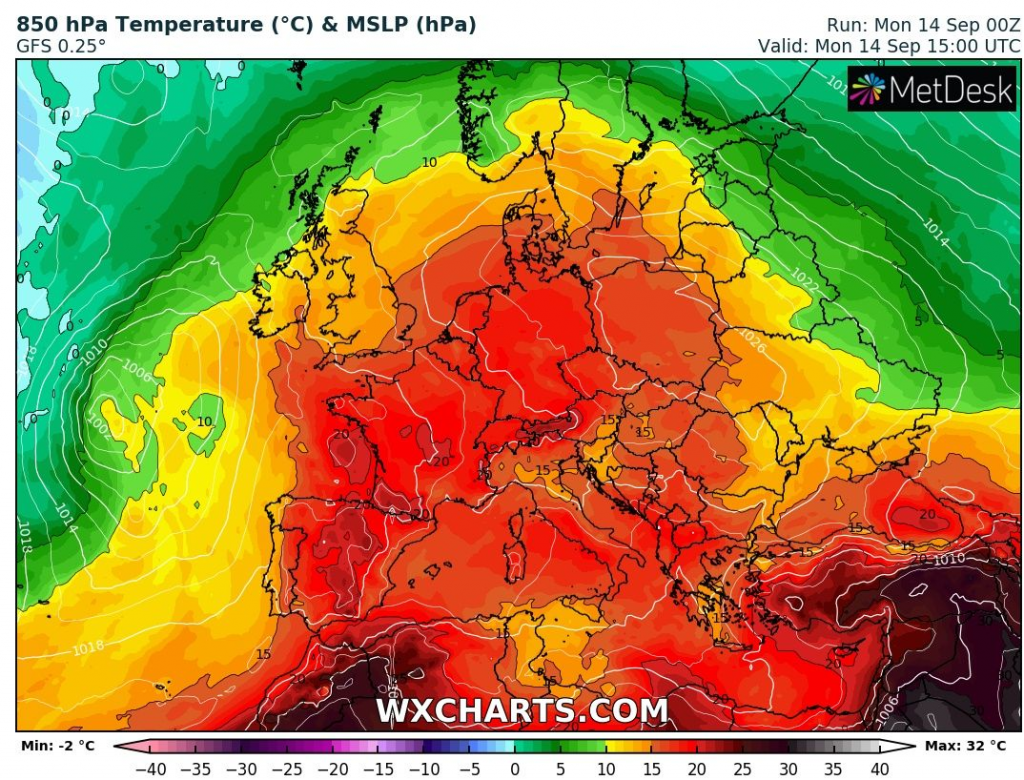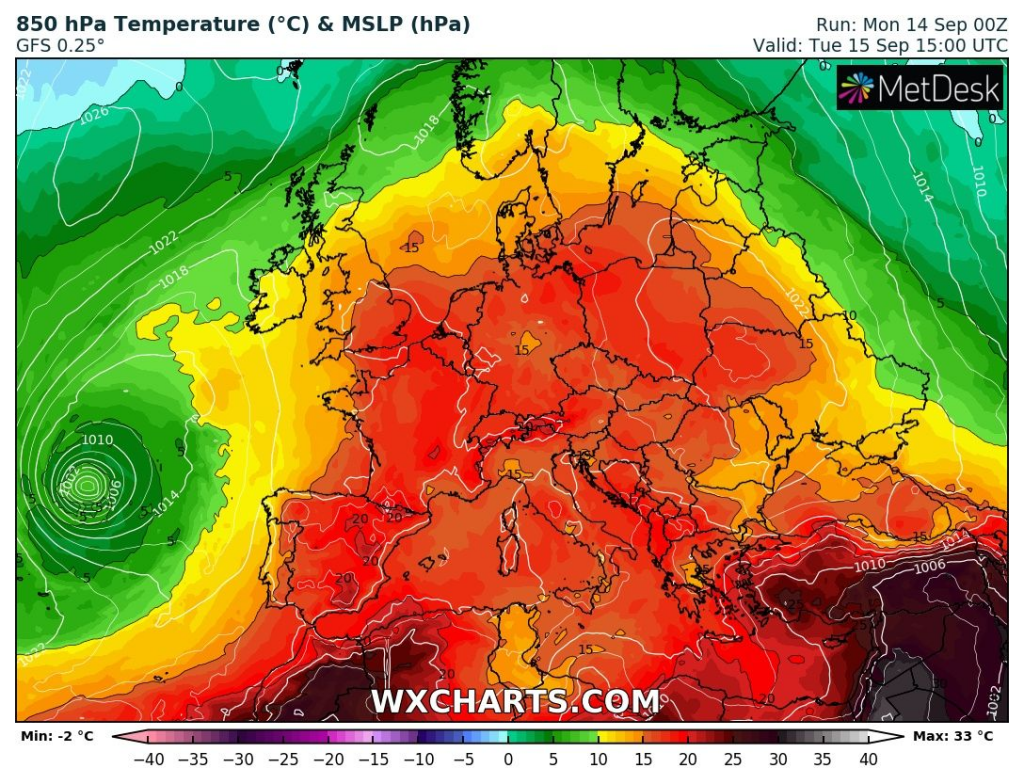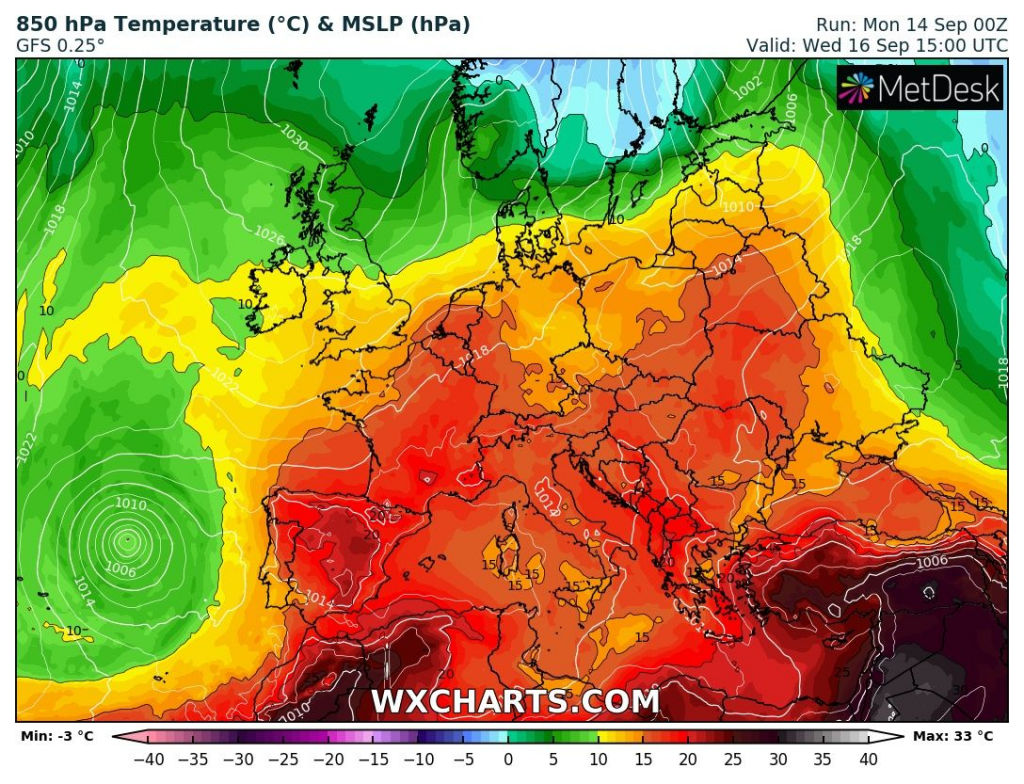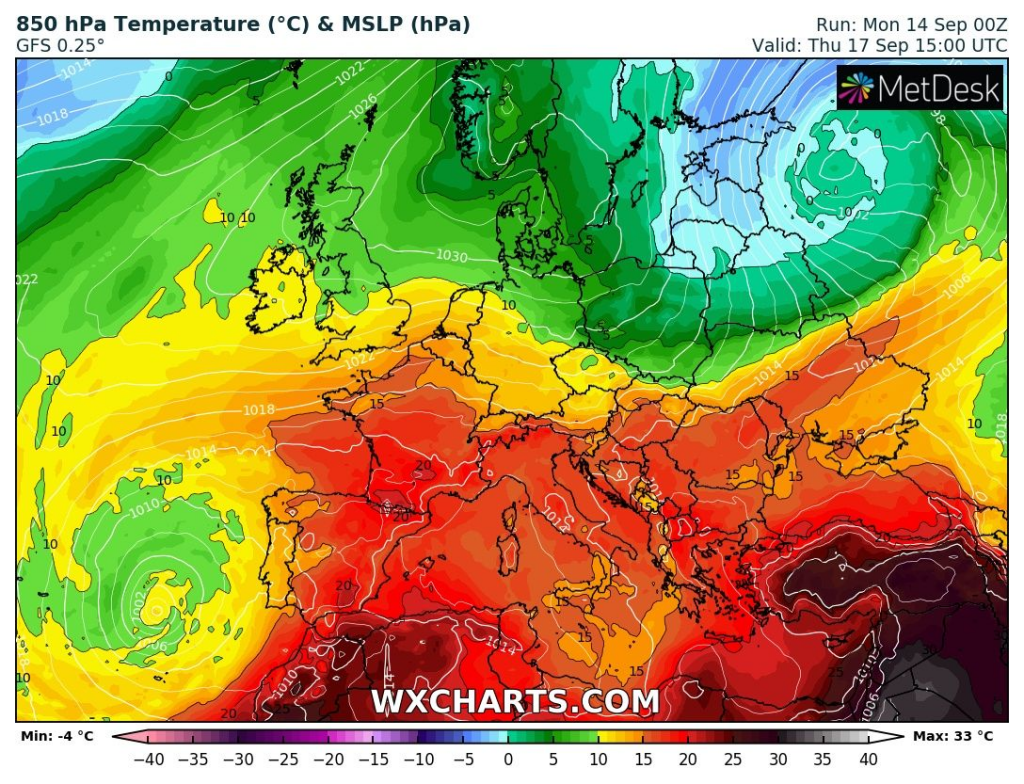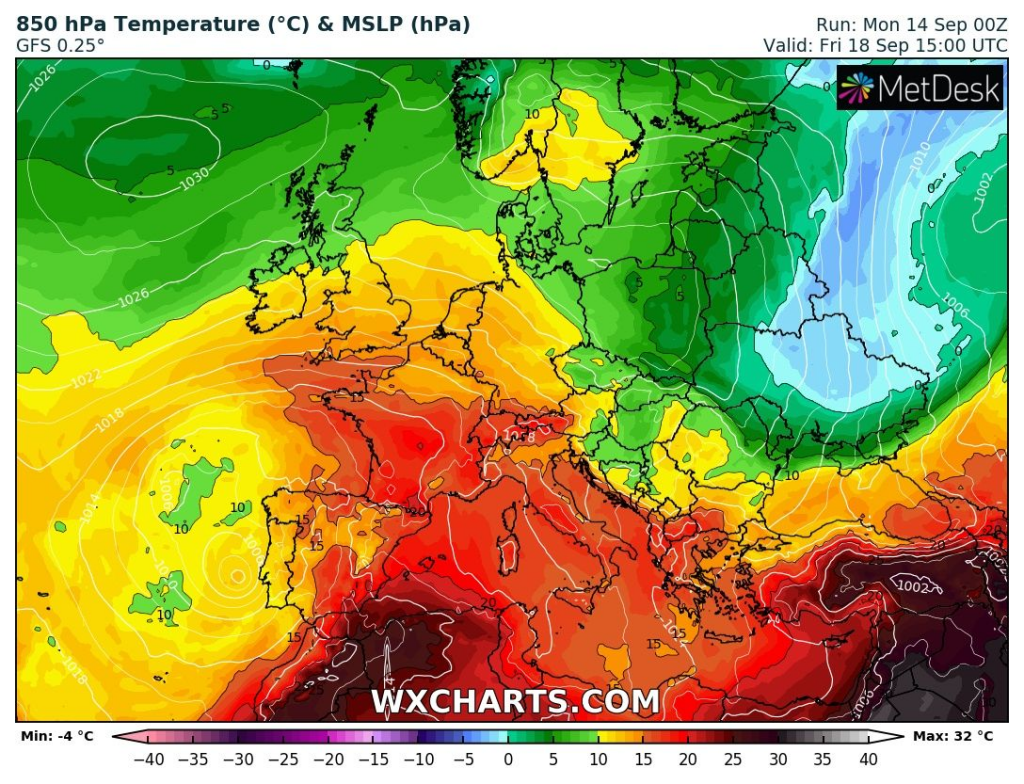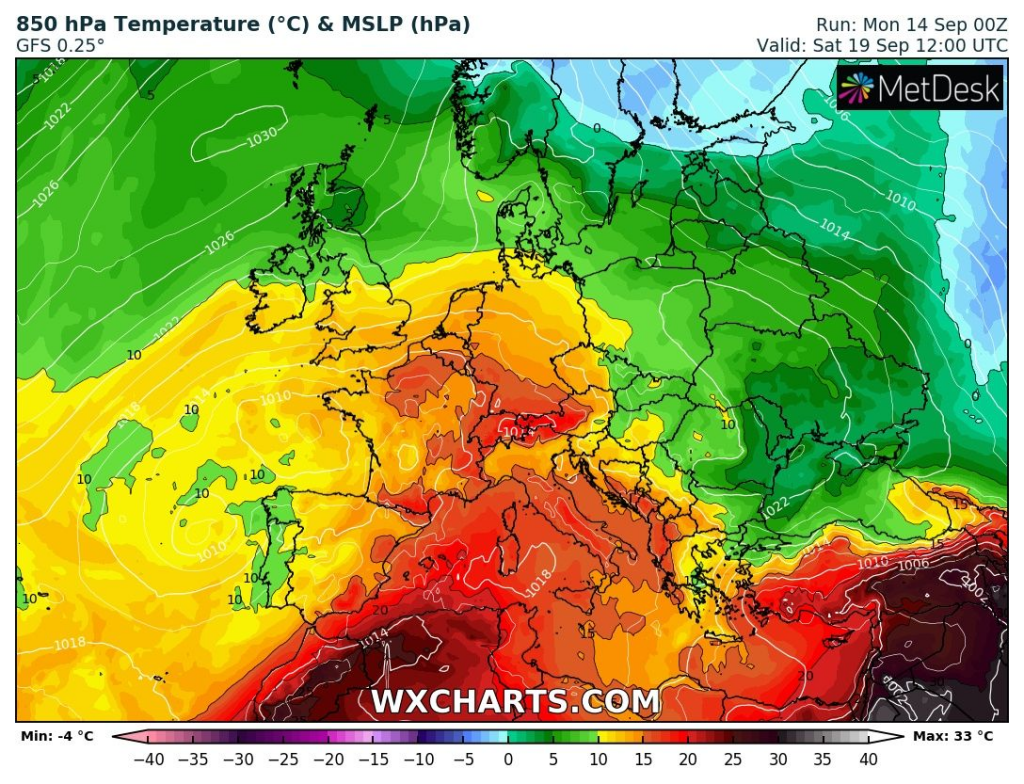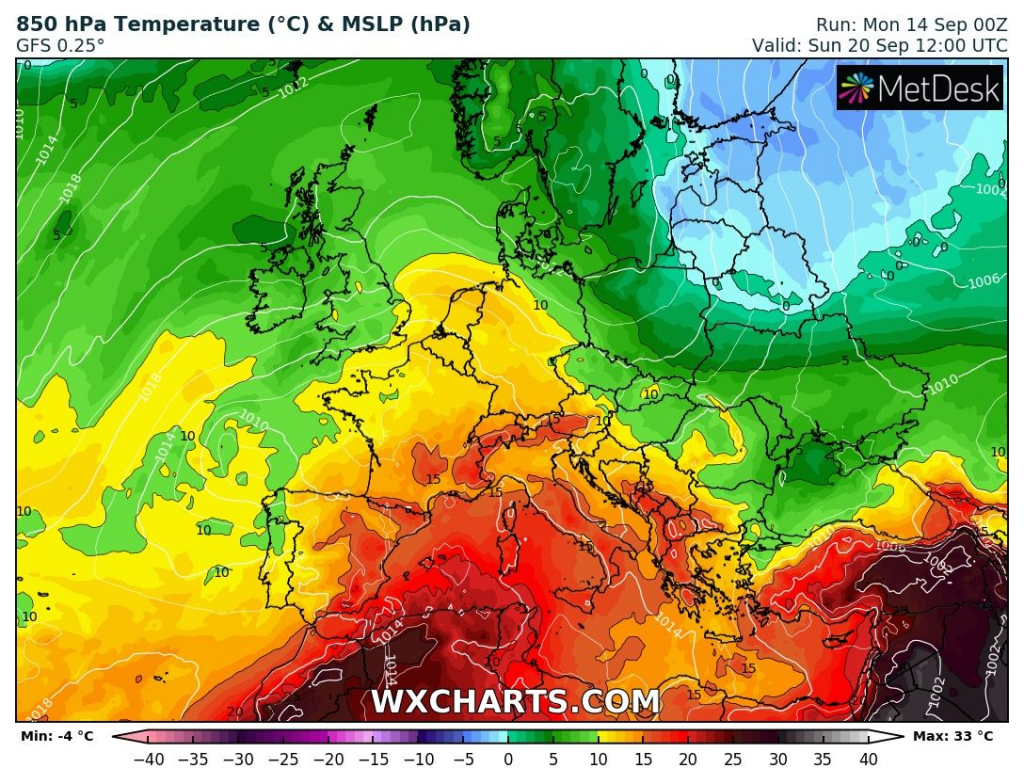 T850 hPa anomalies above Europe (T2 m anomalies are very similar) from Monday to Sunday, 14.-20. September 2020 /wetterzentrale.de/: