Freezing start of Indian summer in Europe: Sweden -16,7°C, France +23,7°C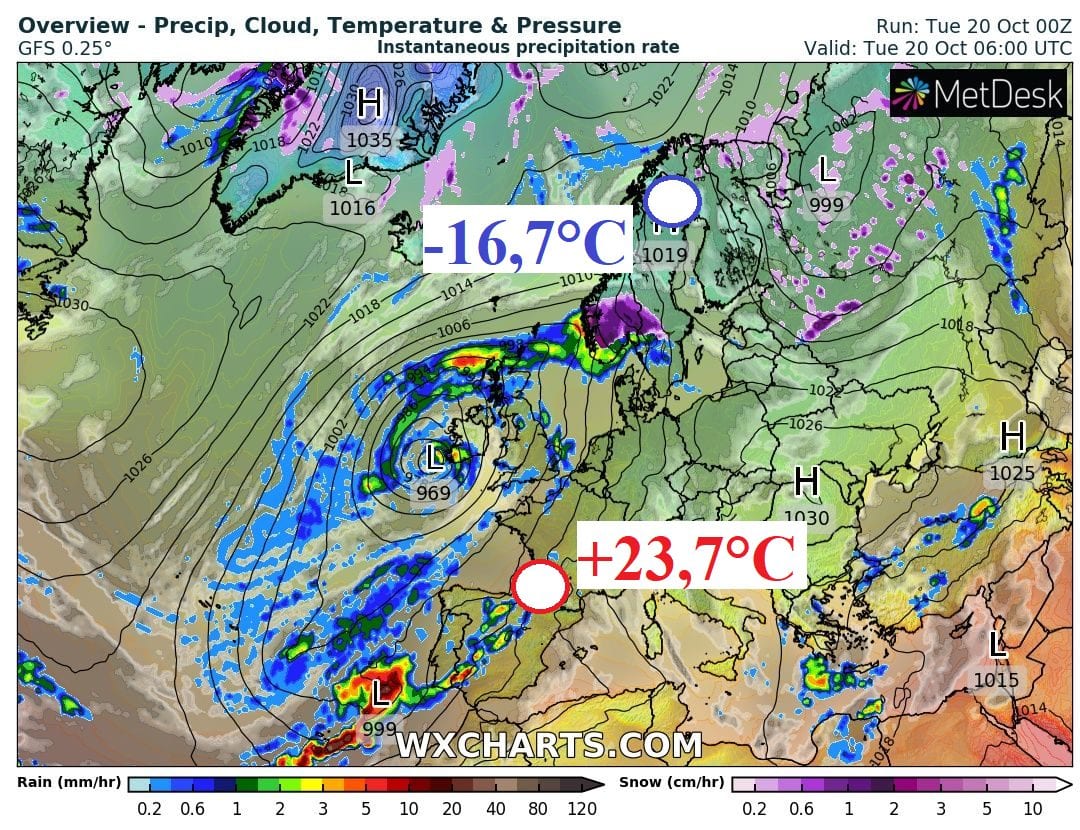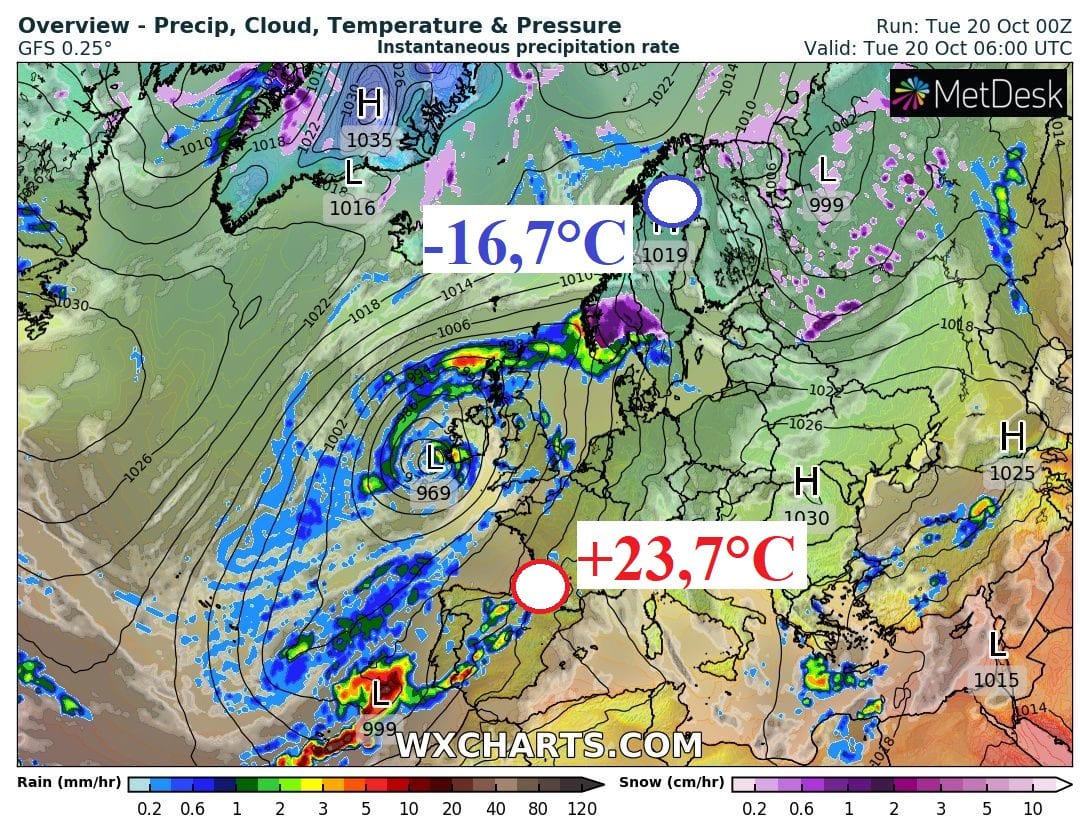 If we neglect Monday´s morning, with occasionally drizzle from fogs above the continent, the first sunny morning in dry anticyclonic air over Europe was very freezing on Tuesday, 20. October, in Europe.
In Rensjon, Sweden (near Kiruna) meteorologists has measured only -16,7°C (1.9°F). Extremely cold was too in Grotli, Norway, only -16,1°C. Wednesday´s morning should overcome this temperatures, yet /https://mkweather.com/2020/10/19/scandinavia-under-the-snow-peak-of-arctic-blast-on-wednesday-15c//, but gradually, warm air from the southwest will shift on the back side of pressure high more eastward over Europe.
On Tuesday, tropical temperatures has surprised parts of Spain on the front side of cyclonic system Barbara /https://mkweather.com/2020/10/19/portugal-and-spain-red-alerts-before-depression-with-tropical-features// and in Andujar was measured +30,9°C in Tuesday´s afternoon. Warm air has shifted over France and England too – Biarritz in southwestern France has reported +23,7°C and London relatively warm day with +18,8°C. In Bad Rogaz, Switzerland has warmed up to +20,7°C, but Germany has been still in relatively cold air.
Warmer weather has reported Italy and Balkan too – in Kastelorizo, Greece was +24,7°C, in Carbonara, Italy, +24,2°C, in Durres, Albania, +23,0°C, in Bar, Montenegro, +22,7°C, in Gevgelija, Northern Macedonia, +22,6°C, in Hvar, Croatia, +22,1°C, in Gudja, Malta, +21,9°C, in Mostar, Bosnia and Herzegovina +21,2°C and in Sliven, Bulgaria, +19,2°C.
From Central Europe has been the warmest despite of Switzerland in Austria (Brand, +18,7°C) and other Central European countries for Indian summer with temperatures over +20°C, or even, up to +25°C, are only waiting.
Interesting are too minimum temperatures from continental Europe from Tuesday, 20. October 2020 – Miercurea Ciuc in Romania (Carpathian basin) has reported -5,2°C, Aigen Im Ennstal in Austria -3,8°C, Sjenica in Serbia -3,6°C, Berovo in Northern Macedonia -3,1°C, Johvi in Estonia -2,6°C, Oberstdorf in Germany -2,6°C, Zakopane in Poland -2,1°C, Poprad in Slovakia -1,9°C and Cheb in Czechia -1,7°C.
The warmest period is expected from Wednesday 21. October to Wednesday 28. October 2020 – the highest temperatures will be gradually shifting from France to East-Central Europe. It is a question, if +25°C / 77°F (summer day) will be reached lastly and rarely in some region of Central Europe.
Infographics: wxcharts.com – Position of pressure high bringing Indian summer to Europe from Tuesday morning (the beginning of anticyclonic situation):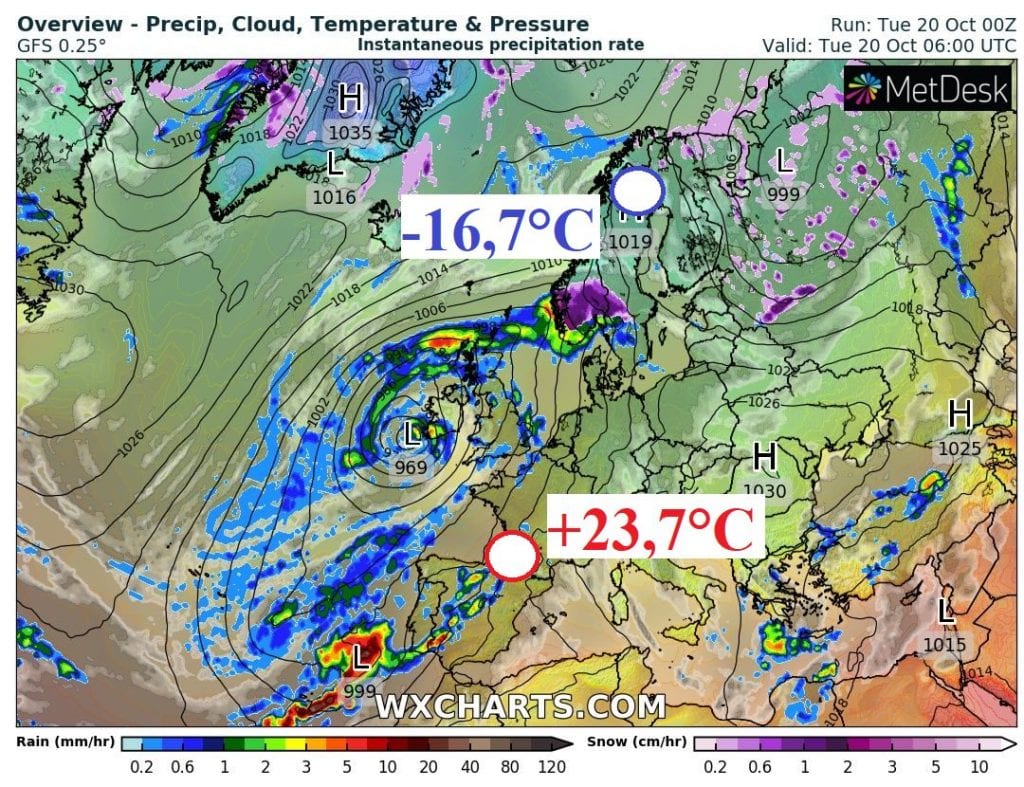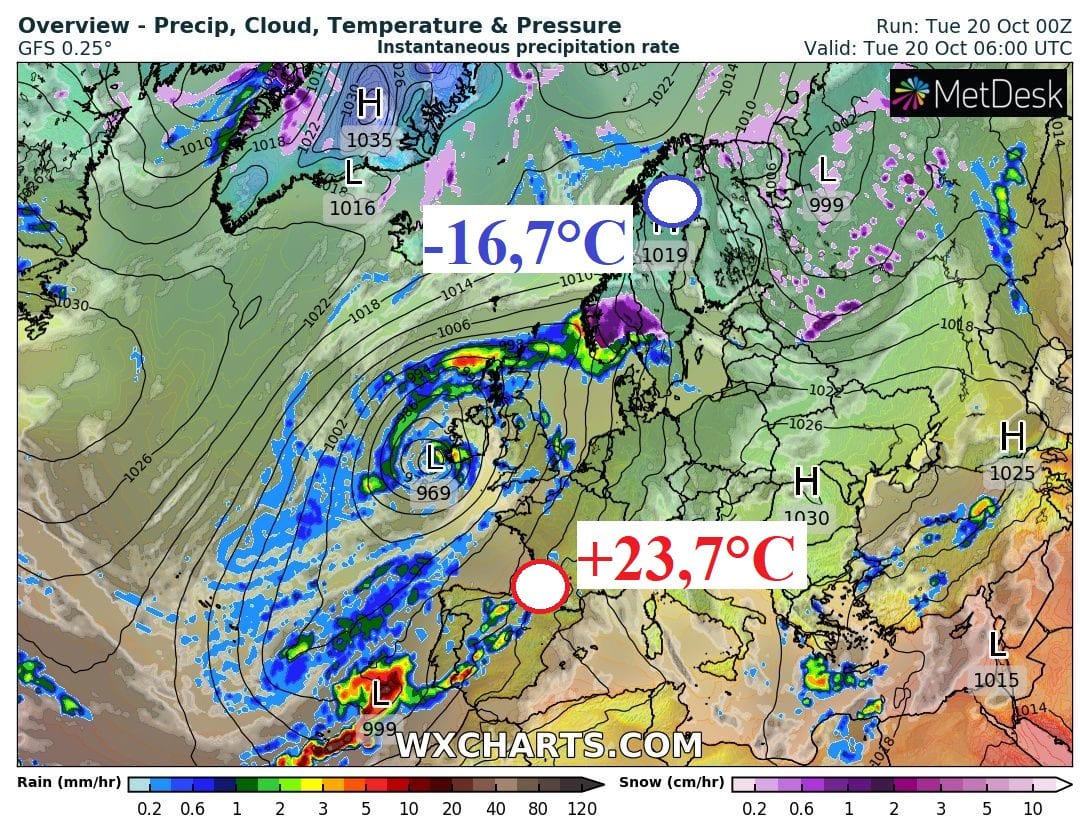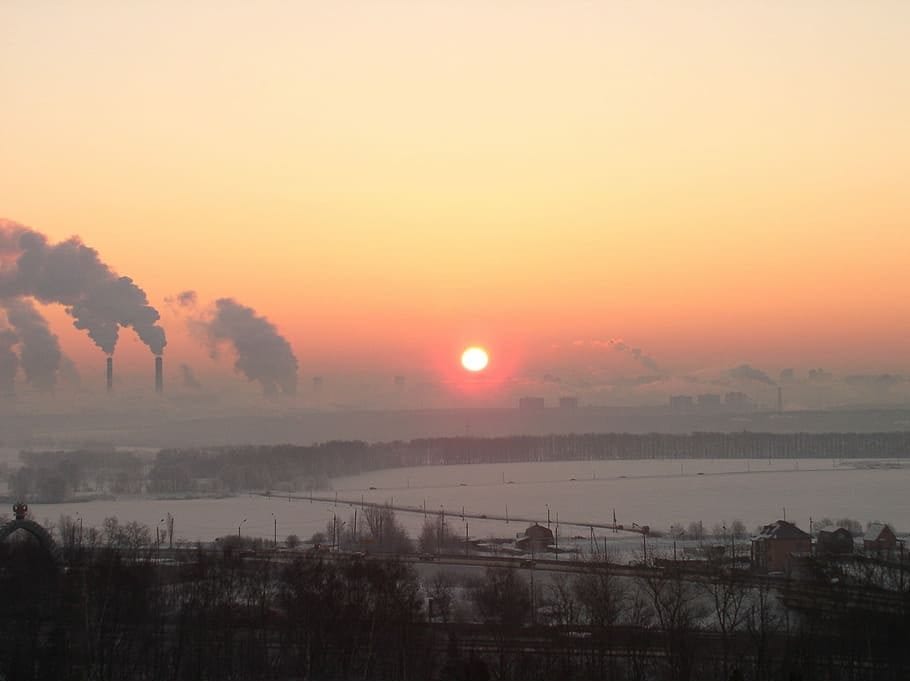 Read more: