Hudson Valley, New York, with 30 cm of snow, West with winter heatwave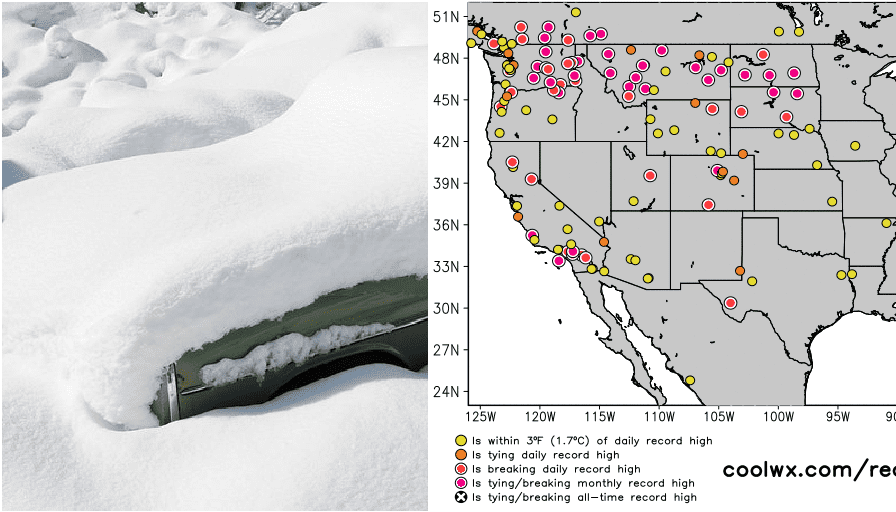 2 different worlds.
Weather in Northeast, Great Lakes region and Upper Midwest in the last period brought frosts, snow and in some areas even blizzard conditions, while all western half of the USA has sunk into extremely warm weather.
Surprisingly a lot of snow cover received in the last days Hudson Valley in state of New York, northeastern USA – snow cover reached here 1 foot / 30 cm.
While in International Falls, the minimum temperature on 25. November 2021 fell to -20,6°C / -5°F, Mt. Washington more southward and eastward, 1909 MASL, reported -18/-19°C / 0/-2°F on 24., 25., 27., 28., 29., 30. November and 1. December 2021.
In Central Park, New York, the maximum temperature on 28. November 2021 reached only +5,0°C and the first snowflakes appeared.
Meanwhile, in the western half of the USA and neighboring Canada, extremely warm winter weather is ongoing.
In Riverside, California, +31,7°C / 89°F was measured on 30. November 2021, which was a higher temperature than the all-time daily record from 1916 (accuweather.com).
In Denver, extremely warm +22,2°C / 72°F was on 30. November 2021 measured, North Platte reported the same temperature, Helena in Montana reported +18,8°C / 66°F, Casper, Wyoming +16,1°C / 61°F.
Extremely warm +17,2°C was reported on 1. December 2021 from Raymond, Alberta, Canada, too.
Outlook until 17. December for the USA is saying about chances for snowflakes in the northern half of the country, but significant blizzards are forecasted only along a Canadian border in the Great Lakes region and Northeast and in higher elevated parts of the Rocky Mountains.
The warmer character of early Winter 2021/2022 should be a result of NAO- / AO- phases, such as other circulation parameters described in our Winter 2021/2022 forecast for continents of the Northern Hemisphere /https://mkweather.com/winter-2021-2022-forecast-for-northern-hemisphere//.