From Monday to Tuesday, 16.-17. November 2020, Hurricane Iota reached status of Category 5 hurricane before an arrival above Nicaragua /https://mkweather.com/2020/11/16/breaking-hurricanegeddon-in-central-america-iota-category-5-315-km-h-winds-hit-central-america-as-the-2nd-november-cat5-hurricane-since-1932//.
Iota as hurricane Category 4, with only few km/h lower sustained winds hit coast of Nicaragua only 22 km from the place, where hit Hurricane Eta, Category 4 in early November 2020.
The highest 1-minute sustained winds reached 260 km/h / 160 mph and wind gusts reached deadly 315 km/h / 196 mph shortly above arrival above the land, with the lowest pressure 917 hPa.
Then Eta above Central American land weakened to a tropical storm and its remnants and brought extreme rainfall, with estimates up to 1000 mm / 40 inches.
Hurricane Iota hit large area from Venezuela and Colombia in the south to southern Mexico, Guatemala and Belize in the north, with the strongest impact in Nicaragua and Honduras (heavy rain in Salvador, Costa Rica and Panama, too).
2 days after catastrophic disaster, 83 people is dead or missing (48 in Nicaragua, 16 in Colombia, 14 in Honduras, 2 in Panama and Guatemala and 1 in Salvador.
Iota as the strongest hurricane of the strongest Atlantic hurricane season ever, 2020, destroy not only lives, but too property, ecosystems and economy, e.g. in Providencia Island in Colombia, 98% of infrastructure has been destroyed.
Next videos document mainly heavy rains in the region, which will have deep impact to economy /https://mkweather.com/2020/11/15/more-expensive-coffee-half-of-banana-production-destroyed-effects-of-hurricane-eta-and-iota-in-central-america// of countries – strong winds videos are available in last article of the topic /https://mkweather.com/2020/11/17/first-extreme-videos-of-hurricane-iota-%e2%9a%a0%ef%b8%8f%e2%9a%a0%ef%b8%8f%e2%9a%a0%ef%b8%8f//.In some regions, floodwater was up to roofs high.
Infographics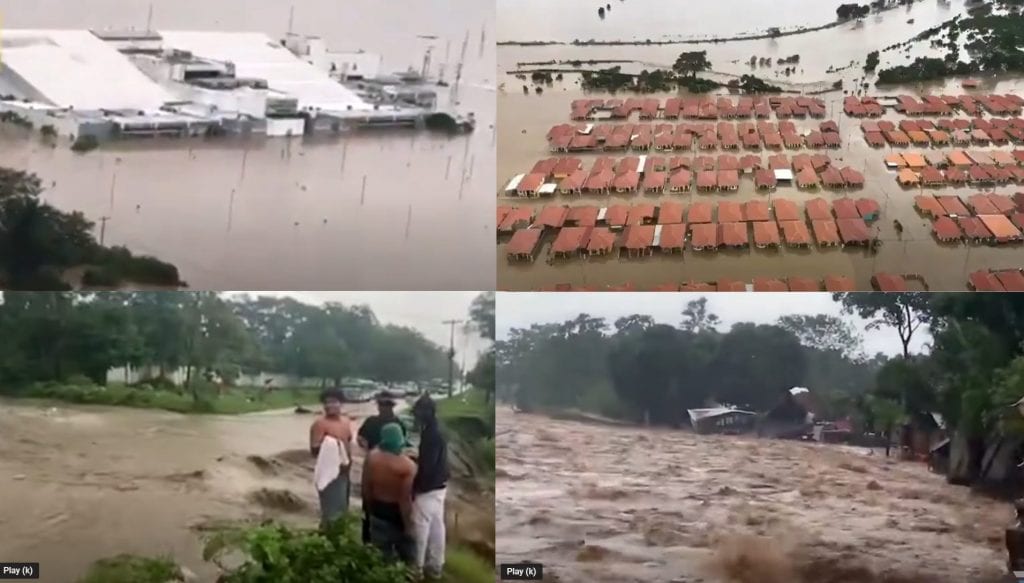 Read more:
(Visited 14 times, 1 visits today)