If wasn´t the year 2010, Finland would have experienced the worst heatwave in 50 years! +34,0°C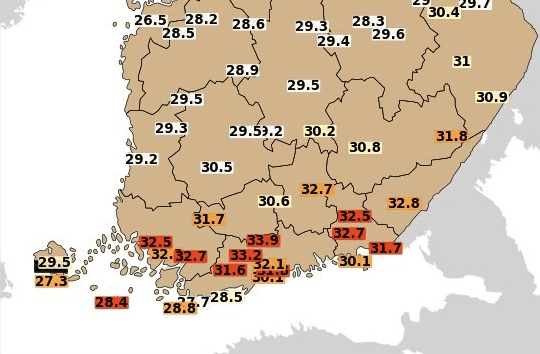 The temperature on Wednesday, 14. July 2021 in Hyvinkää, Finland reached +33,9°C, which is the highest temperature in Finland, excluding the year 2010, since 1961!
Thursday, 15. July 2021 was even hotter, within the International Exchange Site in Heinola Plaani with +34,0°C, national TOP however should be higher, around +35°C.
Before an extreme heatwave in Scandinavia, we have informed here a few days ago: https://mkweather.com/abnormal-heatwaves-for-scandinavia-8-days-with-supertropical-potential-35-36c-in-outlook-many-all-time-records-will-be-broken/.
Before 1961, higher temperatures in Finland have been recorded apparently at least in 1914, 1933, and 1934 according to Tweets from the region.
Helsinki reported both days – Wednesday and Thursday, 14.-15. July 2021 tropical +32,1°C, Puumala +32,4°C / +33,1°C, Lappeenranta +32,8°C / +33,0°C, Tampere +31,2°C on Thursday, Turku +32,5°C /+31,6°C.
In Heinola Plaani, only 2 days since mid-June 2021 had maximum temperatures lower than +25,0°C – 28 summer and 11 tropical days were from the station reported.
In Helsinki, all days since 18. June 2021 had a maximum temperature of +24/+33°C.
The summer day (+24,7°C) was on 5. July 2021 almost measured in Kilpisjarvi Saana elevated 1007 MASL in northern Finland.
Very warm weather is forecasted to continue with little breaks until 20. August 2021 according to ECMWF outlook /https://mkweather.com/forecast-almost-until-the-end-of-summer-2021-blocking-high-over-scandinavia-hot-northern-and-eastern-parts-of-europe-while-france-benelux-and-a-few-weeks-germany-iberia-the-alps-will-be-colder//.