South-Central Europe and northern Balkan/Italy are fighting with colossal storm system, which has brought to the region significant worsening of weather. Gradually, red alerts on meteoalarm.eu were valid in parts of Italy, Slovenia, Croatia, Slovakia and Serbia during Thursday and Friday 23.-24. July 2020, with severe storm events across the region. Orange alerts were reported from many other countries.
In Italy, damaging storm system caused lot of problems on Thursday, but too in Friday - in Verona, northern Italy, 108 mm (4.25 inches) of rain felt from Wednesday to Thursday and from the whole northern Italy, tens cases with large hail were reported. Hails according to ESWD was achieving 5 cm (2 inches) and minimally 3 tornado events were reported.
In Slovakia, Slovenia, Croatia and Serbia, red alerts before storms/rain/floods were valid in Friday and in Slovenia and Croatia are valid still on Saturday. Heavy storms will be according to our warnings /https://mkweather.com/warnings// continue in Italy, Croatia, Slovenia, Hungary and Slovakia during Saturday too, therefore situation with flash floods can be even worse. In Italy, Austria and Croatia occured wind gusts up to 90 km/h (ogimet.com).
The largest investigated precipitation amount fell in Slovakia on Friday, in Stránske near Žilina in Slovakia, 84 mm (3.3 inches), but it is possible that larger precipitation amount will appear from some of hit countries from Friday, or will fall more in Saturday, or from Friday to Saturday.

Friday´s red warnings (HR, SI valid in the chosen time), floods in Zagreb, Croatia´s capital /https://www.24sata.hr/news/poplava-u-zagrebu-ilica-je-puna-vode-auto-zapeo-u-strojarskoj-707735/galerija-645477/, hail from Italy from night Wednesday-Thursday 22-23.7. 2020 and tornado from northern Italy /https://eswd.eu/cgi-bin/eswd.cgi/
Severe storms in Northwestern Europe on Sunday, Monday possible, our red warnings for Denmark/Norway on Sunday and for UK on Monday
During next days, hot air floods Central Europe and storm activity will shift to the western and northwestern parts of Europe. During Sunday, cold front can cause damages in Denmark and southern Norway, with our 3. warnings before storms, but too in Netherlands or Germany.
On Monday, the same front will shift over Sweden, Poland, Baltic countries and Belarus and in the UK hit a new system with our red warnings before storms with wind and coldwave.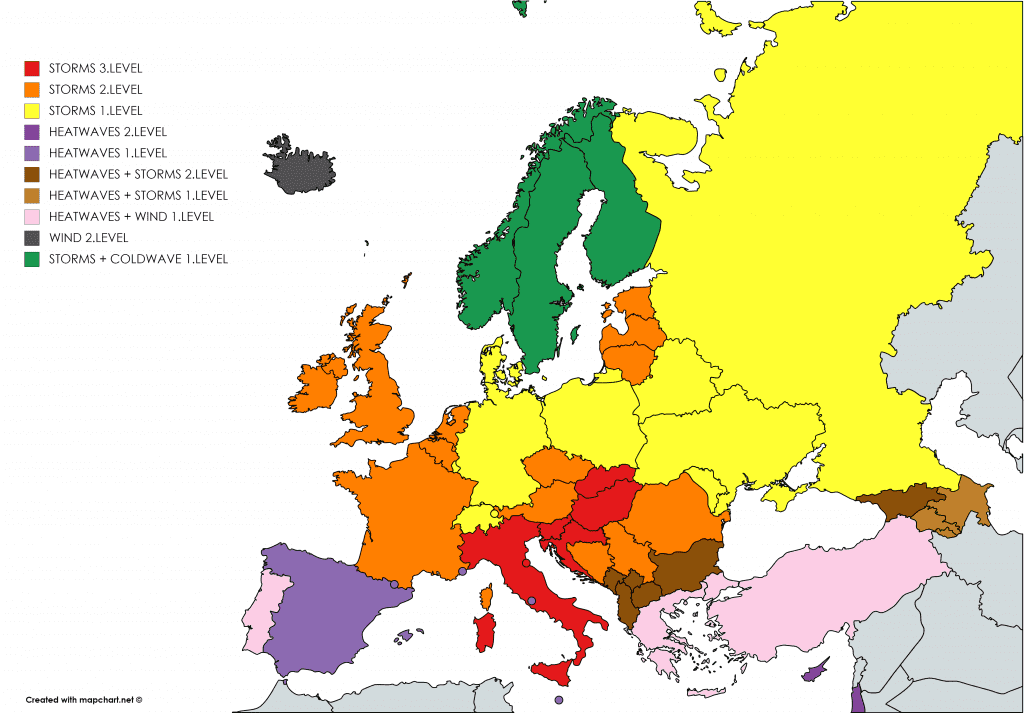 Our warnings for next 3 day /https://mkweather.com/warnings//
3 big heatwaves are crystalizing, already in Tuesday in AU, SK, CZ, HU up to +38°C / 100°F, second can surprise UK with +35°C / 95°F in London area around 31. July
First upcoming heatwave is behind the corner and in Central Europe temperatures will start raise already from Sunday. Till Tuesday, 28. July, in AU, SK, CZ, HU area, very hot tropical air with +23°C in 850 Hpa can bring temperatures up to +38°C in the region. Then arrive cold front with possible severe T-storms.
After cold front, advection will be restored at the end of July, and GFS will expecting +18°C in 850 hPa over London area with possible temperatures in southeastern England up to +35°C. Then next cold front will bring a next storm round.
Third, the most uncertain heatwave, had to arrive during the first decade of August 2020, with next powerful heatwaves and possible T-storms after. Situation will be monitored by our website and you get every day fresh information about expected evolution.