Long-term forecast promises extreme heatwave in Europe between 20.-25. July 2020, had we expect peak of summer?
After rainy, floody and stormy June lot of us are expecting, when summer 2020 will arrive in Europe, such in the other regions of the world, in full power. June was in almost all Europe cold, with positive low pressure anomaly and with lot of cloudiness – in some parts the most cloudy for last minimally 50 years! From lot of countries we are hearing every day news about floods, hailstorms, storms linked with strong wind gusts, heavy precipitation, lighting activity or even tornadoes. Start of July brings variable weather – short heatwaves are alternated by quick and powerful cold periods after incomings of cold fronts and people living in colder regions still waiting for more favourable and long-termy stable summer. For many of Yours we have good news – long-term forecasts for Europe are, for now, very favorable for hot tropical outlook, which had to be starting already next week, around 20. July.
Cold, rainy and cloudy June in Europe
During the June 2020 reached NAO index mostly values around 0.0 /https://www.cpc.ncep.noaa.gov/products/precip/CWlink/pna/nao.sprd2.gif/, what is favourable for southern shifts of stormtracks and with it linked lot of precipitation, cloudiness and humidity in low latitudes. During 3rd decade of June NAOi declined below -1.0, what not means mainly further drop stormtrack to south, but low cyclone system near Azores with southern track, which on its front page in end of June and at the beginning of July causes advections of tropical, Saharan air to many parts of Europe, but it was only short periods. NAOi below 0 is in the summer linked with higher percentage of extremes and, highet probability of extreme heatwaves, because during NAO+, Azores high is moved above British isles and upon its front of side flows to central Europe stable, dry and less warm air from north-west. Big heatwave had to come to central Europe cca 10 days after declining of NAOi to greater minus values (while low pressure system from Azores come to west and central Mediterranean). Now is NAOi extremely low, between -1 and -2 and 10 days after actual decline really heatwaves are expected – with peak between 20.-25, July.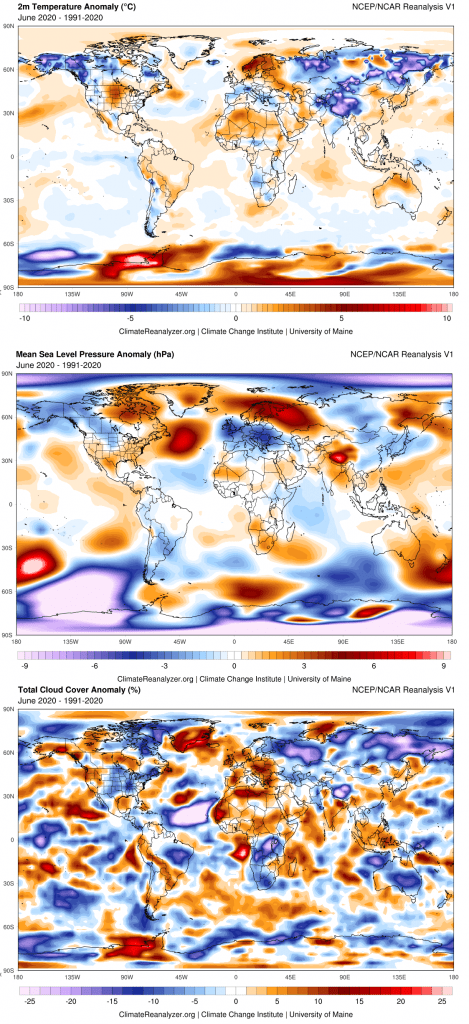 Spain up to +48°C, southern France +42°C, Germany and central Europe up to +38°C, it is possible scenario of peak of incoming heatwaves between 20.-25.7. 2020
850hPa temperature pannel is saying the best about expected reaching temperatures in Europe during incoming heatwaves. Extremely heat will come to southern Spain already between Wednesday and Friday 15.-17. July 2020 with reaching temperatures +29°C in 850 hPa and possible hottest day in Europe during this summer in Andalusia with peak in Friday up to +48°C. Other parts of Spain will be cooler, in the south mainly +40/+48°C, in the north only +32/+40°C.
To France heatwaves had to come between Sunday 19. and Tuesday 21. July, with peak in SW France in 850 hPa around +26°C in 850 hPa and above +40°C, maybe up to +42°C at the turn of the weeks. Other territory of France can expect +32/+40°C during next work week, maybe in north only +26/+32°C if colder variant will become.
During next week, extremely hot air will arrive to central Europe – at first Germany and Switzerland, later Czechia, Austria, Hungary, Slovakia and Poland. Even the coolest runs of GFS are giving for southern parts of region temperatures up to +38°C, northern half is by these cold variants cooler, only between +24/+30°C at peak, but if high pressure Azores high ridge will be more powerful, lowlands in area can be happy from supertropical +32/+38°C (exceptionally maybe up to +40°C) and colder mountainous regions with higher elevation or coasts of Northern and Baltic seas from warm +26/+32°C in peak.
We had to be prepared for tropical nights and too, our older people need to know, that they don´t feel thirst so strong such as normal people and that is needed to follow a drinking regime and restrict movement in the sun. During heatwaves namely, is increased amount of mortality mainly old persons with very high age. Other can enjoy hot summer near water, or thanks COVID´19 in the garden or vaccations of various types.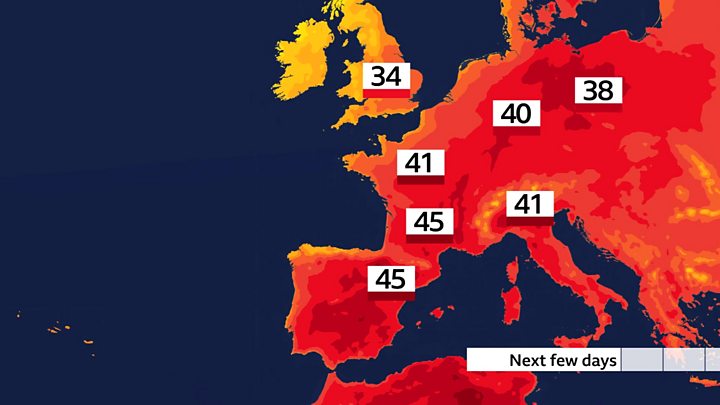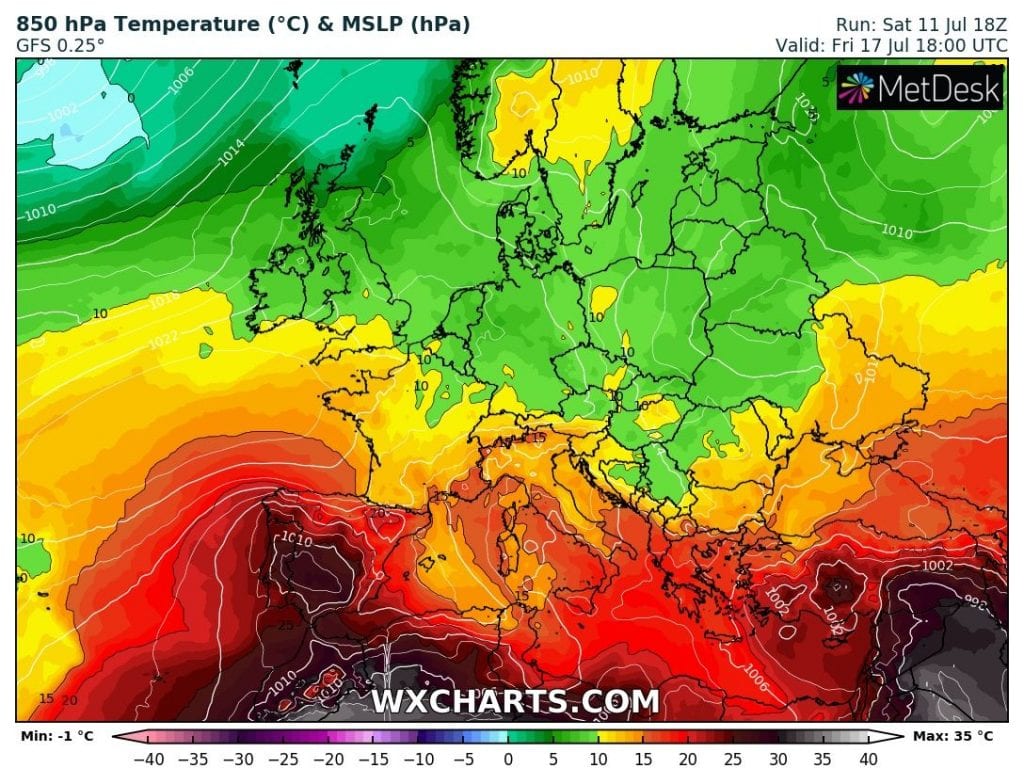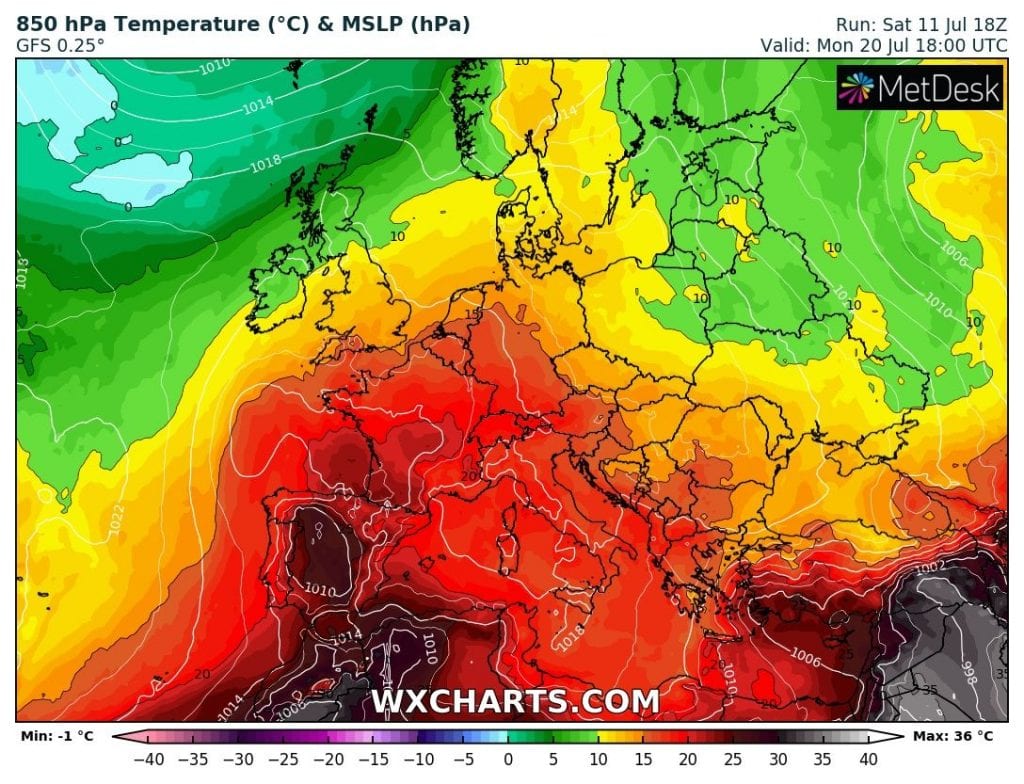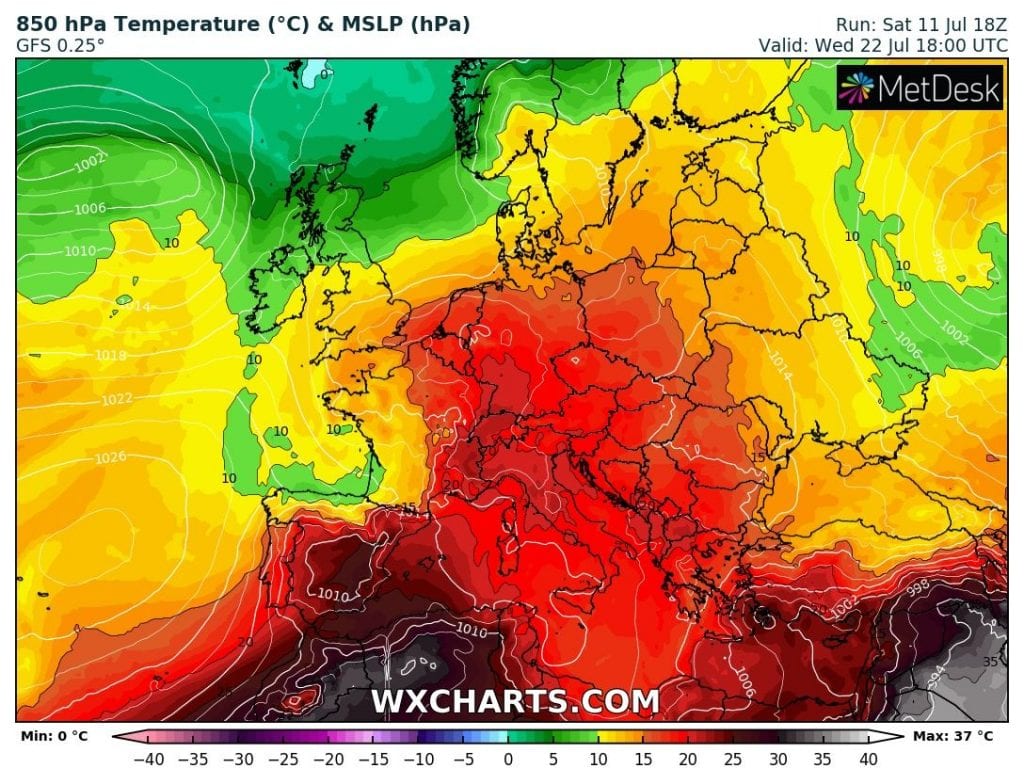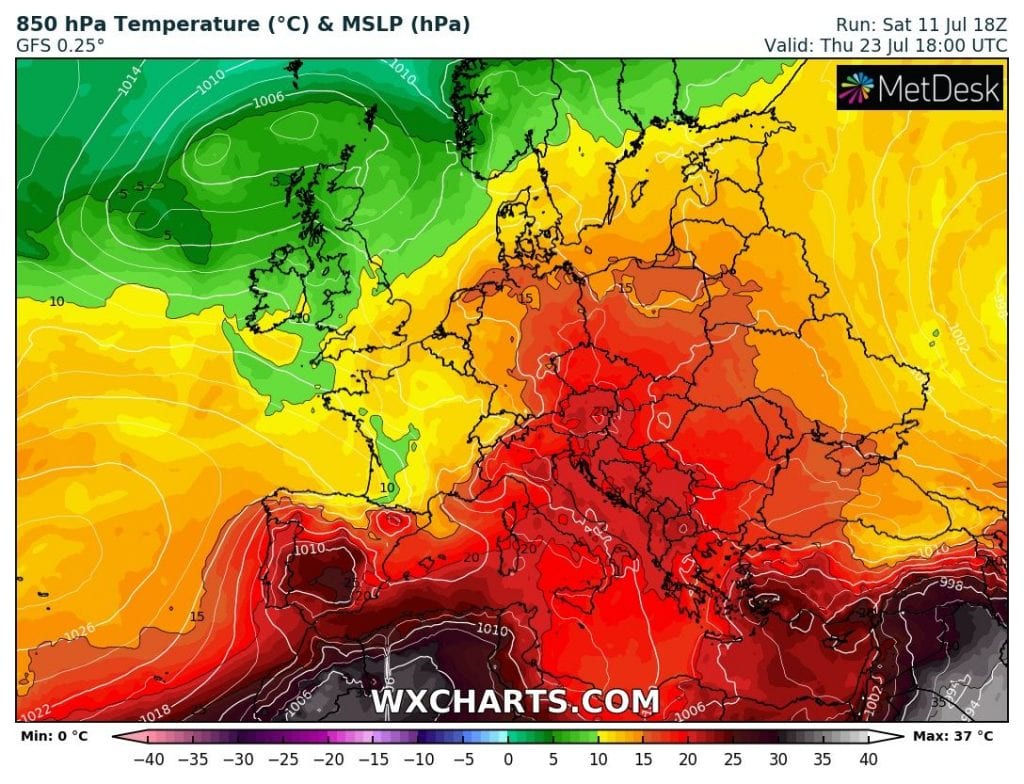 Ensemble graphs for SW France, S Germany and Hungary /wxcharts.com
After next heatwave in Europe as always, we are expecting strong T-storms on cold front going from NE to SE. Still is possible, that heatwave variant hit only southern half of central Europe and northern half will stay in relative colder air. This variant is for now less likely. If something will change in forecasts, we will inform you during the next week. It suffices live out possible peak of summer in safe and try to utilize expected conditions in favor to summer activities and the rest.