Round of severe storms hits Europe between 16.-22. June 2021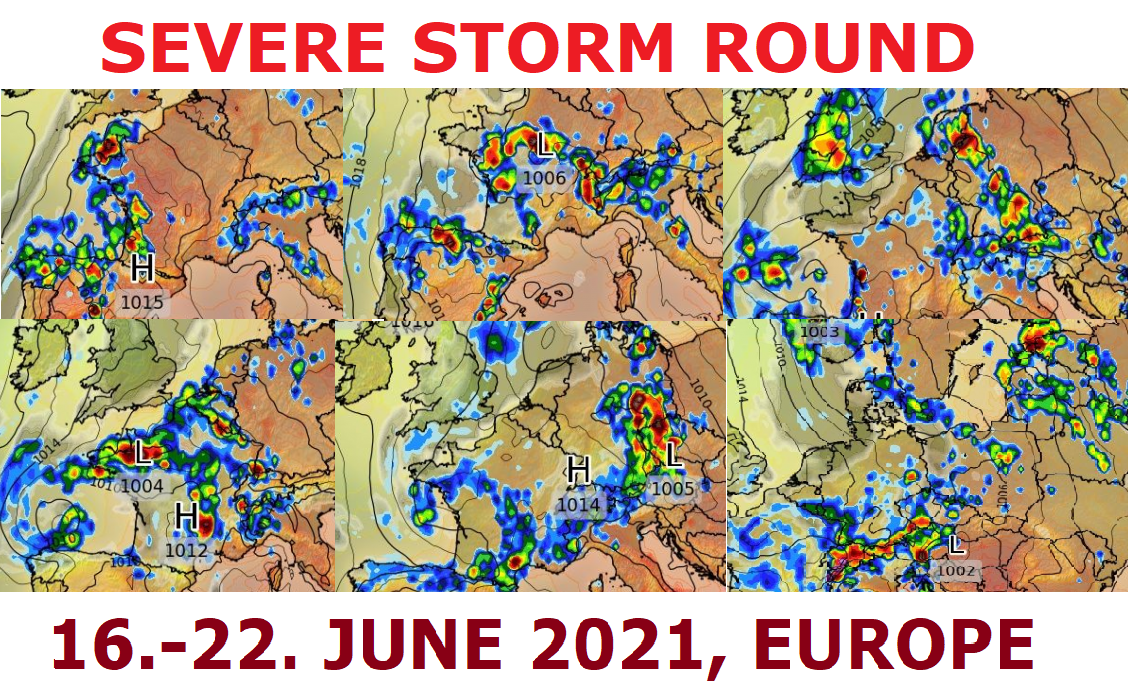 After expected severe heatwave /Mediterranean +45°C, Central Europe +35°C, Scandinavia +34°C and the UK +32°C: Heatwaves will come in 2 peaks, around 16. and 22. June 2021 – mkweather; the newest outputs from Sunday, 13. June 2021 will be updated in separate article, yet/, round of severe storms is forecasted for Europe between 16.-22. June 2021.
Storms will be 7 days shifting from northern Portugal and northern Spain into Ukraine, Belarus and European Russia and will replace the first serious heatwave in 2021 above the continent.
Already on Wednesday, 16. June 2021, the first violent T-storms will appear in Bay of Biscay, the Spain and France and northern Portugal.
On Thursday, 17. June 2021, the most severe storms will shift above France, northern Spain, NW Italy and W Switzerland.
On Friday, 18. June 2021, severe storms hit mainly Germany, England, Benelux and Alpine region.
At the weekend, 19.-20. June 2021, severe storms will return into France, Germany, Benelux and still will bringing bad times into Alpine region, but later, in Czechia, too.
On Monday, 21. June 2021, East- and South-Central Europe should be hit the most, including Switzerland, Austria, Czechia or Poland.
On Tuesday, 22. June 2021, the strongest storm line is forecasted to shift above Baltic states, Belarus and Ukraine and later above westernmost parts of European Russia.
Storm activity in Black sea region /Severe storms hit Greece, Turkey, Russia (Kozani, Ankara, Samson, Saratov), Black Sea region expects the next damaging events – mkweather/ will be gradually weakening during the period and replaced by heatwaves.
Severe storms should appear in Norway, Sweden and Finland, too.
Regionally, storms should bring 24-hour precipitation amounts above 100 mm and flash floods, hailstorms or gusting winds are within supercell storms quite possible. Rarely, tornadoes should appear, mainly in western half of Europe, where temperature gradient will be bigger.
The highest floods risk will be according to current materials in northern Spain, France, southern and eastern edges of Germany, Alpine region, Czechia, England, western Poland, Norway and coast of Baltic states, despite of Black sea region, in next 16 days.
Southern Portugal, Spain, Italy, Turkey, western Balkan, Hungary, Slovakia, Benelux, NW Germany, eastern Poland, southern Sweden, Finland, Baltic states and big parts of European Russia should until the end of June 2021 fighting with severe drought, but local flash flood should appear near transition of cold front, too.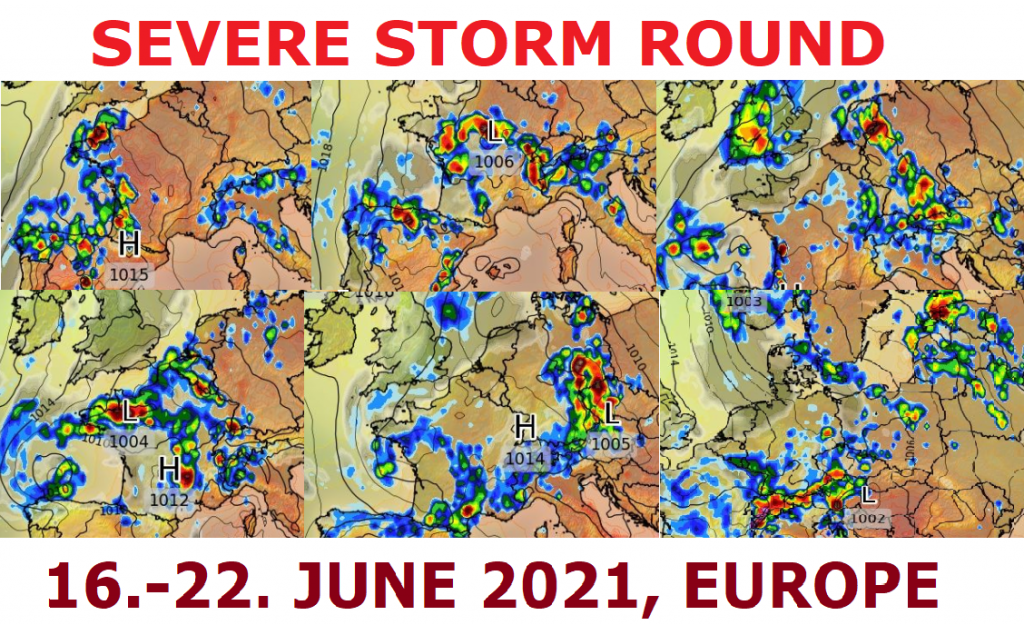 16.-23. June 2021 /wxcharts.com