Southern US is facing excessive heatwave (Death Valley 128°F/54°C; Texas and New Mexico 116°F/47°C, in Northeast and Central Canada heavy storms and local flood are expected, summer here simultaneously with Europe (21.-27.7.)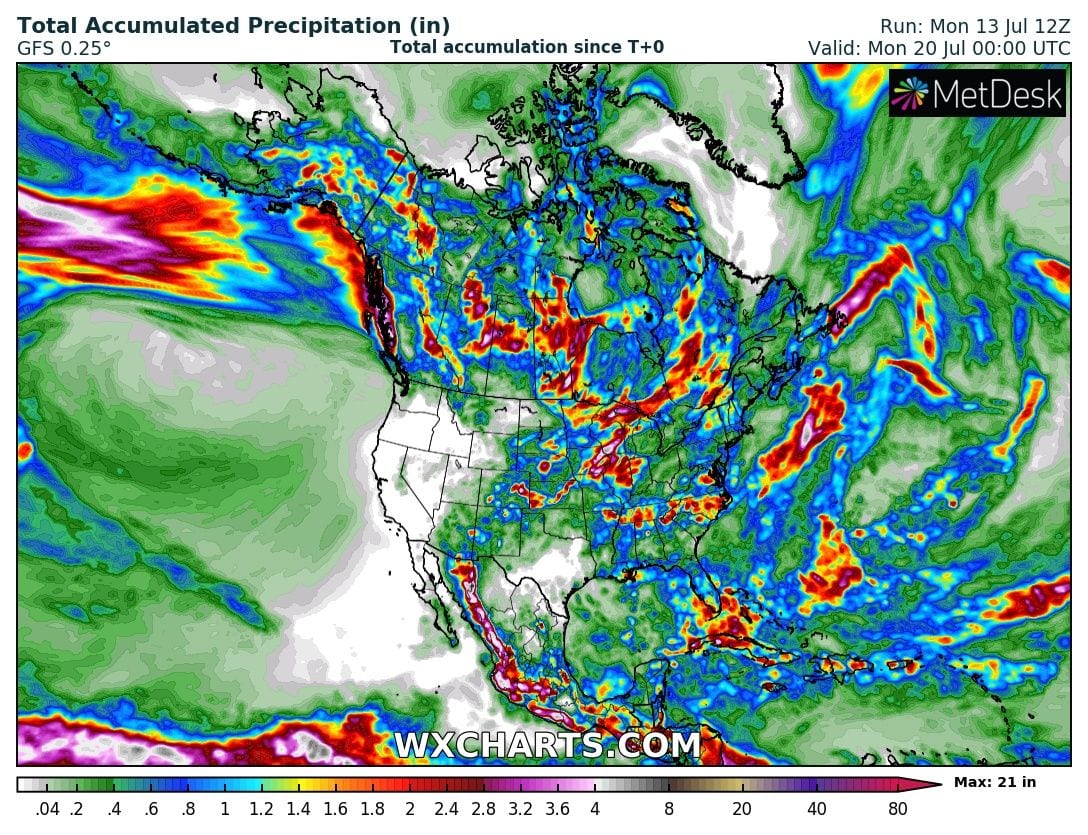 This week will be in US and Canada relatively wild, if we are showing on recently and excepted weather extremes. While above Arctic is situated very persistent pressure high /https://www.severe-weather.eu/global-weather/arctic-ocean-ice-melt-transpolar-fa/ and Europe is enjoys coolder weather after cold front with stable and no-extreme weather /https://www.severe-weather.eu/mcd/cold-europe-weekly-pattern-mk/, North America alives very hot moments and hot will be too near expected heavy rains and thunderstorms during all next week, mainly in Northeast of territory US and in central Canada. Above Northeast and SE Canada heatwaves had to arrive already between 21.-27. July.
The highest temperatures are traditionally measured in Death Valley, at the weekend up to 128°F / 54°C. National records however has fallen in 2 states in Southwest – New Mexiko and Texas. In Phoenix and near Amarillo meteorologist measured anomalous 116°F / 47°C. Extremely hot area spread out from New Orleans to Las Vegas with conditions of Heat Advisory up to Excessive heat warming. Temperatures above 120°F are reported too from Northern Mexico.
Hot spell is slowly spreading to Southwest, where very strong storm systems are formed in the humid air. Almost 2/3 of US during last days reported hot weather with maximum temperatures 90-128°F / 32-54°C.
Northeast and Central Canada are waiting stormy spell, peak of summer is possible between 21.-27. July
America is sweating, but in some regions is more humid such in another. Over Labrador in Monday moved ex-tropical storm Fay, which brought except of rain and wind strong cooling. In the region, including Northeast US is still very humid and rainy, more southern stormy. Above area is still situated low pressure and next cyclone will arrive from North Canada till Thursday. It hit mainly central Canada, region of Great Lakes and Northern US, with possible severe storms. Southwest during all next week will stay in hot and very dry tropical air, without possibility of rain or cold front effect.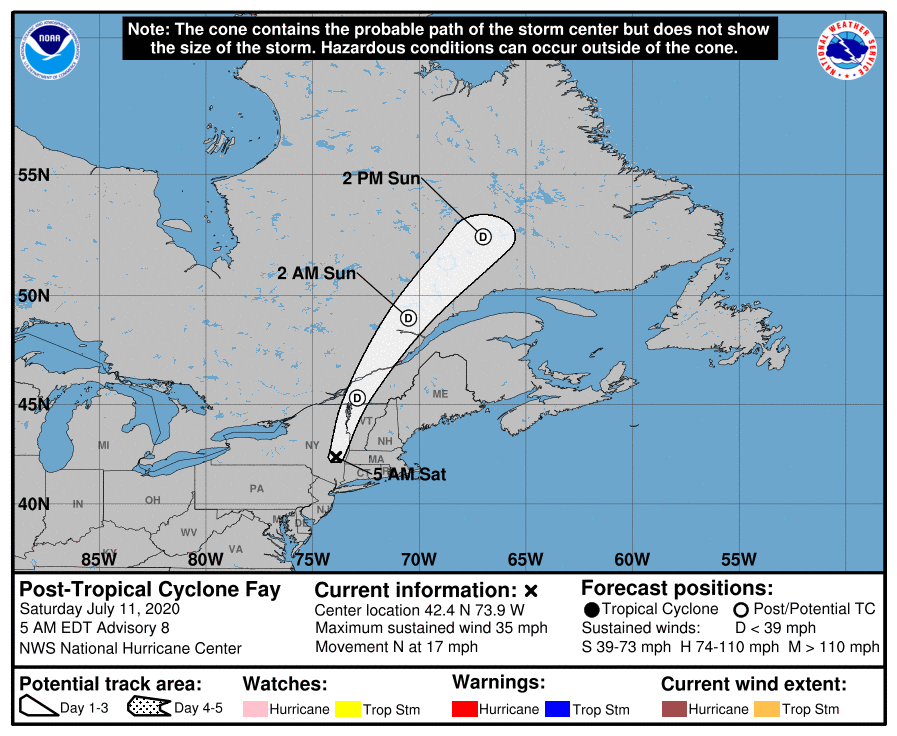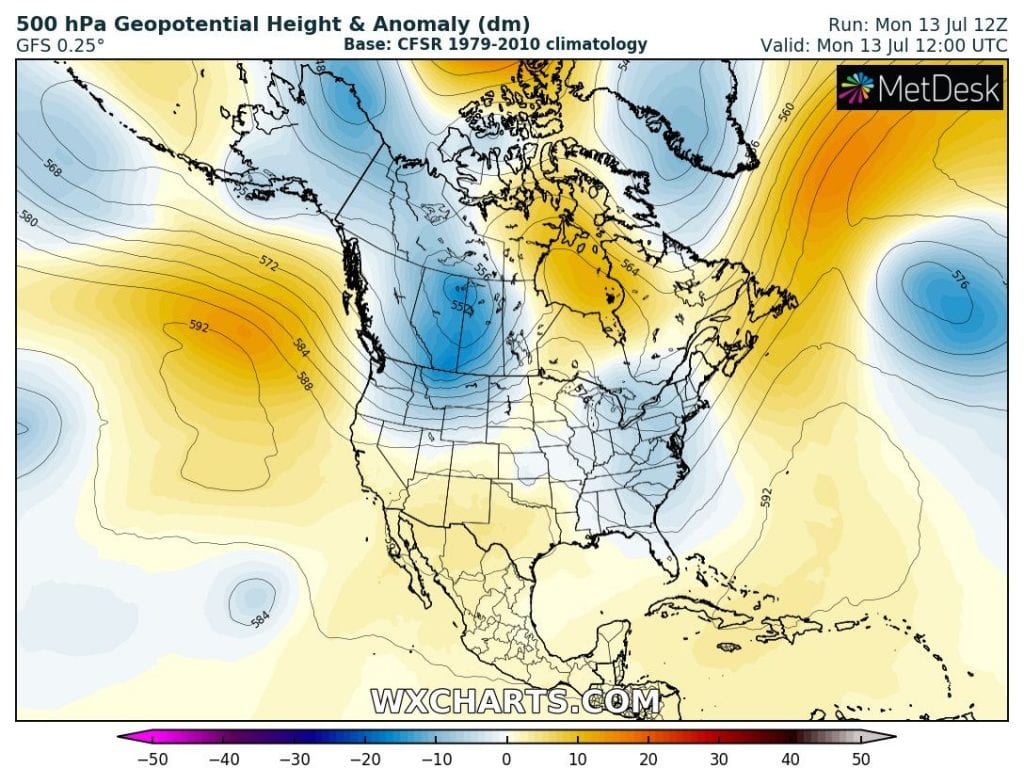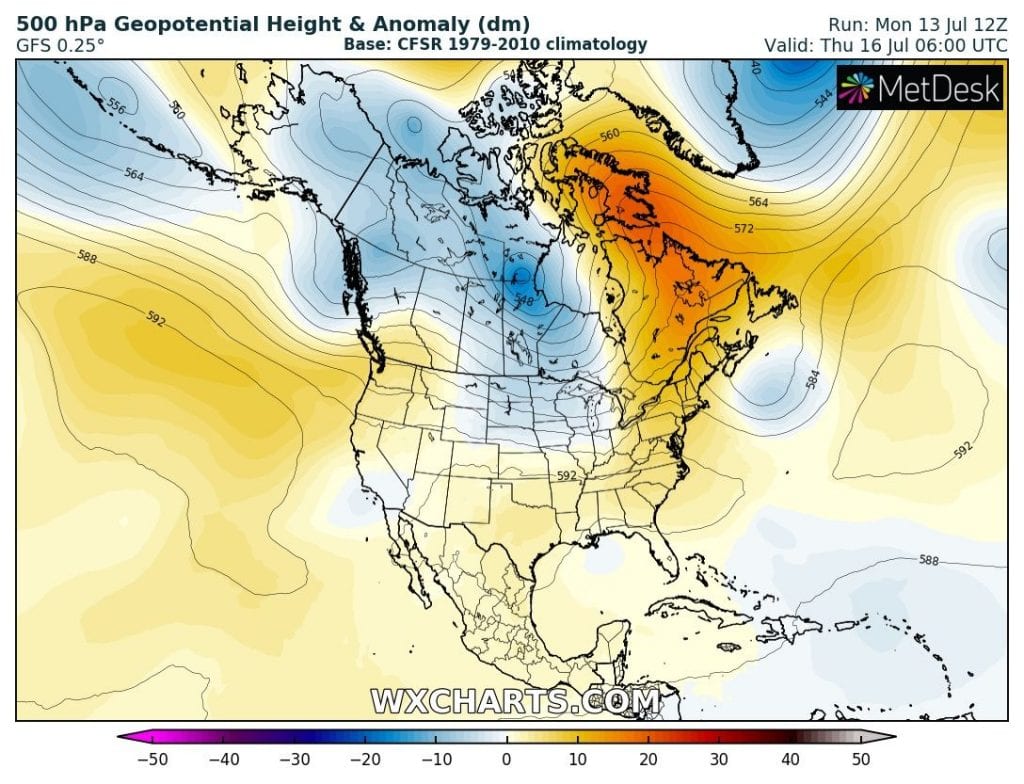 European heatwaves could be less weaker, but in Europe and North America simultaneous peaks of summer are possible
In the meantime, European heatwaves after 20. July are appearing little less dangerous as in Sunday, with little cooler north regions, but very hot southern parts of affected area. Heatwaves can be strong in southwest this week, in southern parts next week, and in eastern parts of Central Europe up to end of July. Similar pattern looms in Northeart US and SE Canada, where heatwaves will have to arrive between 21.27. July, after expecting rainy period. Chance of Above-Average temperatures are according to NOAA/Accuweather more than 70% and here will be possibility of simultaneous peaks of summer 2020 in Europe such as in North America.
After heatwaves such this, are appearing always severe T-storms and powerful cold fronts, so that simultaneosity could bring more stable and colder start of august to mid-latitudes. At all, more rainy, and not very hot august is more likely to be expected, with earlier owerflow of stortrack to southern latitudes. Thanks to climate change, however, is everything possible, so we will be situation furthermore monitor and bringing actual news and reports about weather every day.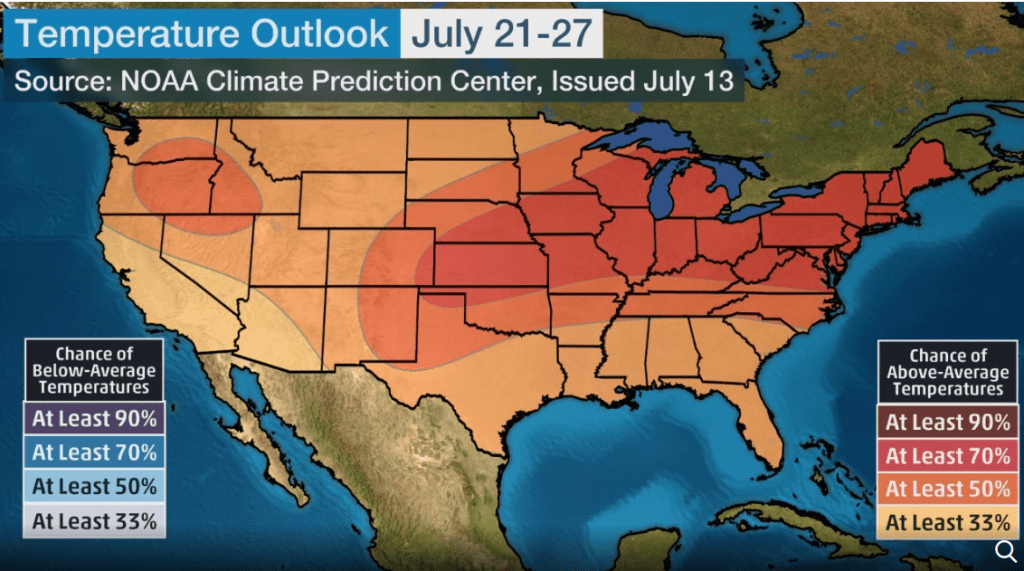 At the end Monday´s warnings and flash news: