The strongest late monsoon rain ever: Mumbai faces historical floods, 332 mm/24 hours
Breaking its all-time record of the highest 24-hour rain in August on Wednesday, 5.8. 2020, the Mumbai observatory recorded 331,8 mm rain – highest in 46 years. The Mumbai observatory was set up in 1841, while the archive data is available from 1974. 230 mm of rain dropped during 10 hours. These rains were the heaviest since 2005 and local authorities also warned of flash flooding in many areas.
The entire state of Maharashtra faced one of its worst floods in 2005 floods, which include large areas of Mumbai as well. The flood resulted in the death of approximately 1,094 people, in 2005.
Strong winds reaching up to 100 km/h and heavy rain continued to lash Mumbai and the Mumbai Metropolitan Region, uprooting trees, damaging cranes and tearing down hoardings and awnings.
For the second day running, Mumbai received heavy rain, surpassing the annual seasonal average rain of 2,260.4 mm. Within two months and five days of the monsoon, Mumbai has so far received 2,319.7 mm rain.
Projections for the rest of August 2020 are expecting the strong late monsoon in almost whole the territory of India, Bangladesh and Southeast Asia. Timing of late summer monsoon is shifted thanks to climate change.
Predicted acumulated precipitation for next 24 hours and next week (7 days) /wxcharts.com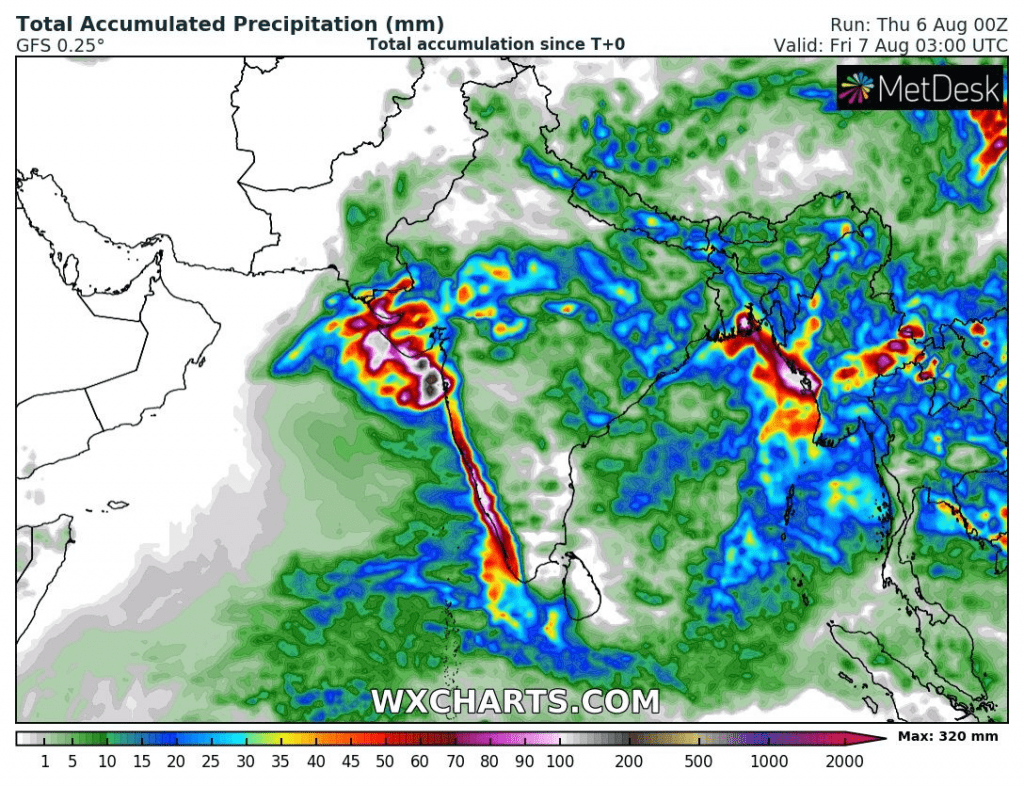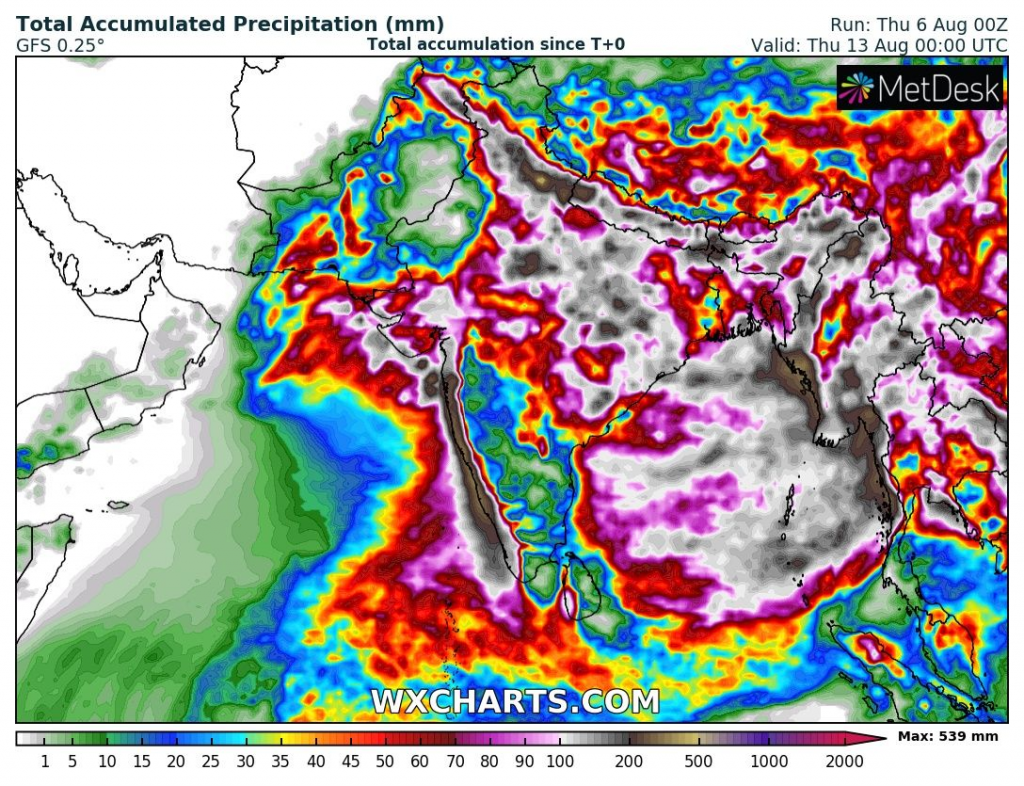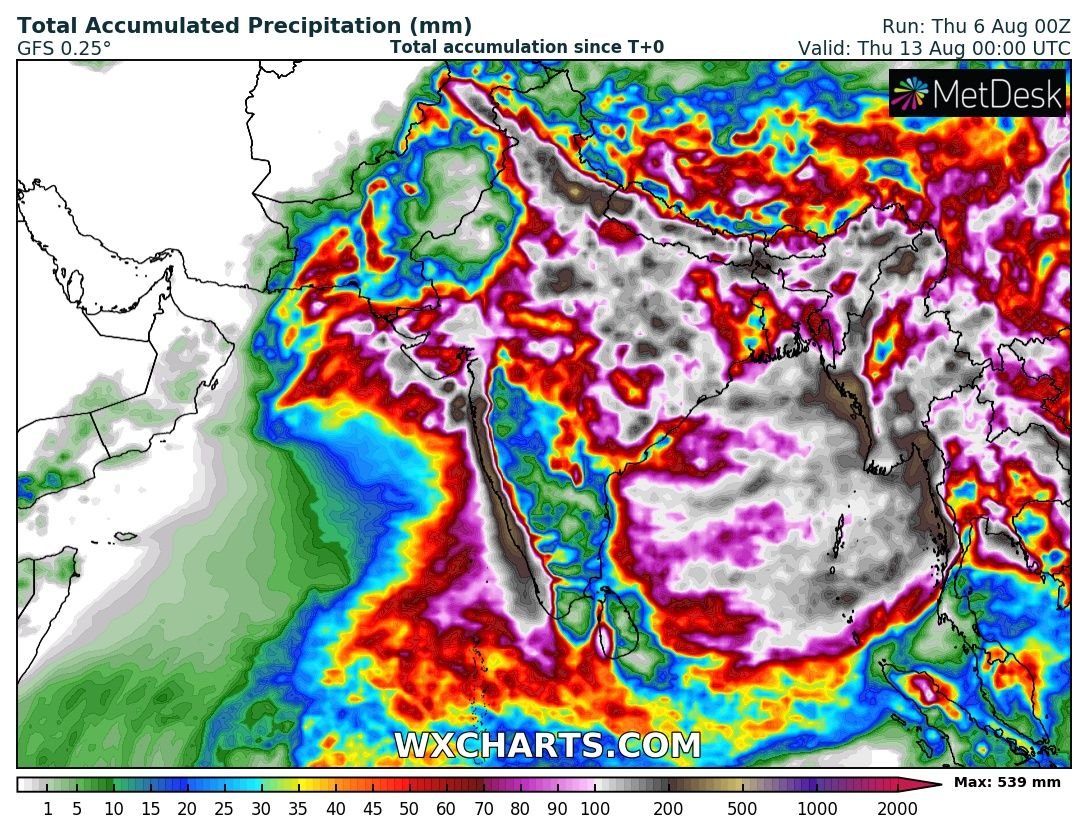 Precipitation records from Mumbai area according to IMD (Indican Meteorological Department)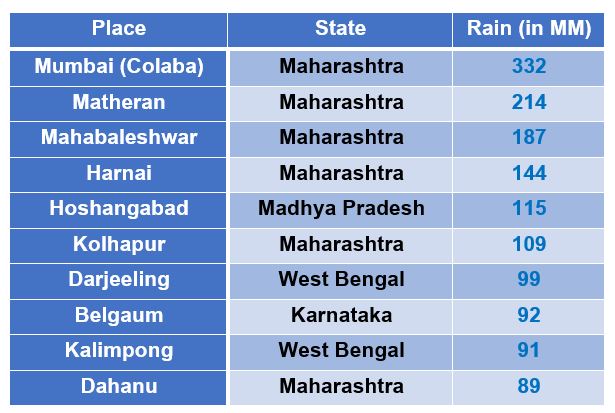 Photodocumentation of floods in Mumbai, 5.-6. August 2020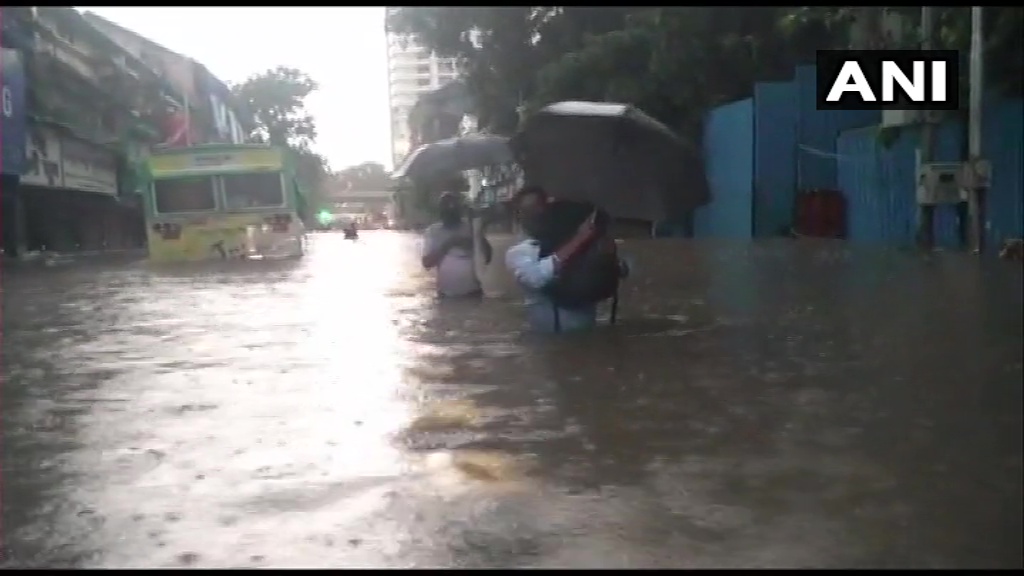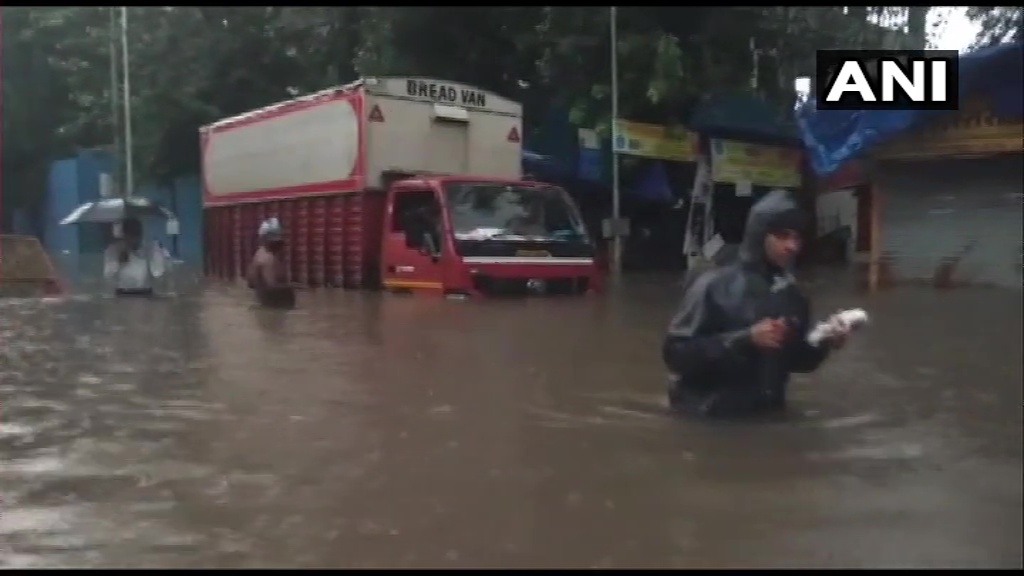 Videodocumentation of floods in Mumbai, 5.-6. August 2020
Sources
https://indianexpress.com/article/cities/mumbai/massive-flooding-and-destruction-after-heavy-rain-strong-winds-batter-mumbai-6541567/
https://www.cnbctv18.com/india/mumbai-rains-today-latest-news-updates-mumbai-local-trains-imd-mumbai-weather-update-flight-schedule-waterlogging-updates-mumbai-rains-live-news-6532301.htm
https://timesofindia.indiatimes.com/topic/mumbai-flood
https://www.hindustantimes.com/live-update/mumbai-rains-latest-updates/story-kEEHBvsHpvkZH7oFmAvDxL.html
https://mumbaimirror.indiatimes.com/mumbai/other/mumbai-rains-latest-updates-heavy-rains-day-3-alert-imd-bmc-water-logging-floods-vihar-lake-tree-collapse-cm-thackeray/liveblog/77384551.cms
https://english.jagran.com/india/mumbai-rains-heavy-showers-lead-to-flooding-strong-winds-batter-city-in-pics-10014919
https://www.accuweather.com/en/severe-weather/monsoon-low-to-exacerbate-flooding-in-mumbai-this-week/789266
Read more: