Intensifying winds resulted in the No 9 storm signal, the second-highest storm warning, being issued for Hong Kong at 1.30am on Wednesday, 19. August 2020.
At 5am, the weather forecaster of Macau, which is just an hour from Hong Kong by ferry, issued the highest signal –No 10 – and said it will "remain in effect for a period of time".
A storm surge threatening low-lying areas of Hong Kong with flooding or a backflow of seawater by morning. High seas with swells were also expected.
The alert before heavy rain is valid, exceeding 30mm in an hour.
The meteorological agency said that at 5am, Higos was estimated to be about 80km west to southwest of the city, moving northwest or west to northwest at about 20km/h.
It was the first time the No 9 signal had been issued since Super Typhoon Mangkhut on September 16, 2018, which gradually intensified into a powerful No 10 storm. Higos is the third storm of the typhoon season and the strongest so far to affect the city this year.
"Higos is expected to start departing Hong Kong in the next several hours, and will then make landfall to the west of Pearl River estuary. However, Higos is still bringing heavy squally showers to the coast of Guangdong," the Observatory said at 4.45am.
Sustained winds at Cheung Chau hit 104km/h at 4am, while speeds of 89km/h were recorded at Waglan Island and 77km/h at Cheung Chau Beach.
A flood alert system for Tai O on Lantau Island had been activated. The village is particularly vulnerable. The Home Affairs Bureau said waters could rise by 3.3 metres above sea level and risked serious flooding.
It took under 22 hours for Higos to go from the No 1 standby signal to a No 9 warning, underscoring how swift the typhoon developed.
People in China have been already warned against landslides and flash floods.
Following this, the storm's centre at 7 a.m. on August 19 will be located in the southern waters of Guangdong province, with winds reaching between 75km and 90km per hour close to its eye.
The subsequent 48 hours will see the storm move west north-west at speeds of between 15km and 20km per hour, with the storm's centre being positioned on the southern mainland of Guangxi province on August 20, before the weather event eventually weakens into a tropical depression.
Despite storm Higos not making landfall in the Vietnam, it is expected that the storm's circulation will bring heavy rains to northern provinces from August 20 to August 23.
As a result of the impact of the tropical convergence, torrential rains are poised to hit the northern Vietnam, with rainfall set to be measured at over 180 mm / 24 hours.
Furthermore, the northern provinces of Thanh Hoa and Nghe An, Vietnam, are expected to endure heavy rain and thunderstorms, with downpours in some places reaching over 100mm over the course of 24 hours.
Moreover, due to the influence of the southwest monsoon, thunderstorms and heavy rains will hit the Central Highlands and the Southern regions, posing a high risk of whirlwinds and lightning.
Storm partly hit northern Thailand, too.
Documentation of tropical storm Higos: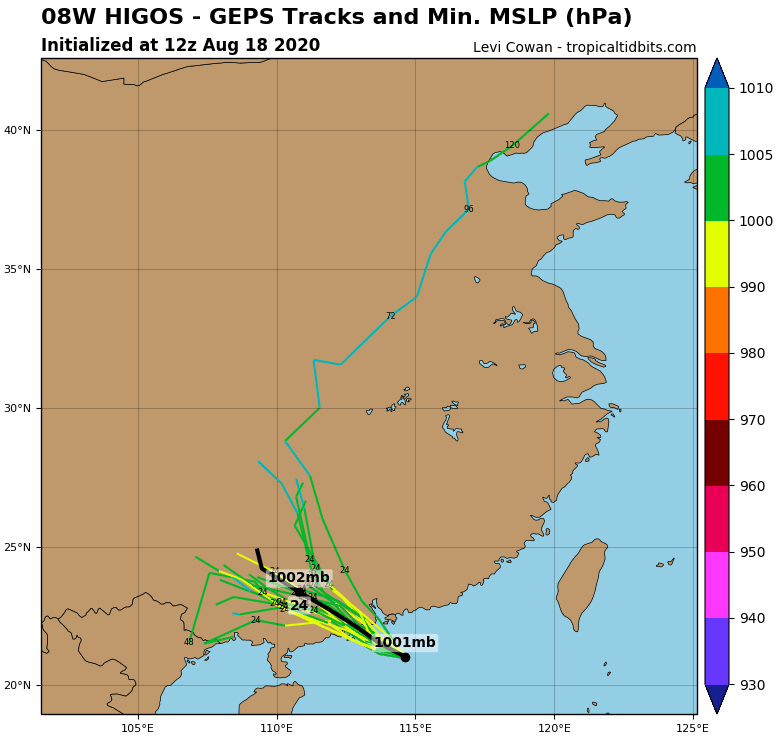 Sources:
https://www.accuweather.com/en/hurricane/tropical-storm-higos-to-target-china-vietnam-with-flooding-rain/796246
https://www.nationthailand.com/news/30393152
https://www.thestandard.com.hk/breaking-news/section/4/153407/HK-braces-for-typhoon-Higos,-signal-No-8-likely-by-midnight
https://vietreader.com/news/11773-rain-to-batter-northern-regions-once-tropical-depression-turns-into-storm.html
https://sg.news.yahoo.com/hong-kong-observatory-typhoon-signal-015312238.html
(Visited 61 times, 1 visits today)