Turkey +39,2°C (abnormally hot), Sweden -18,5°C, windstorm in UK 169 km/h and floods in Croatia at the weekend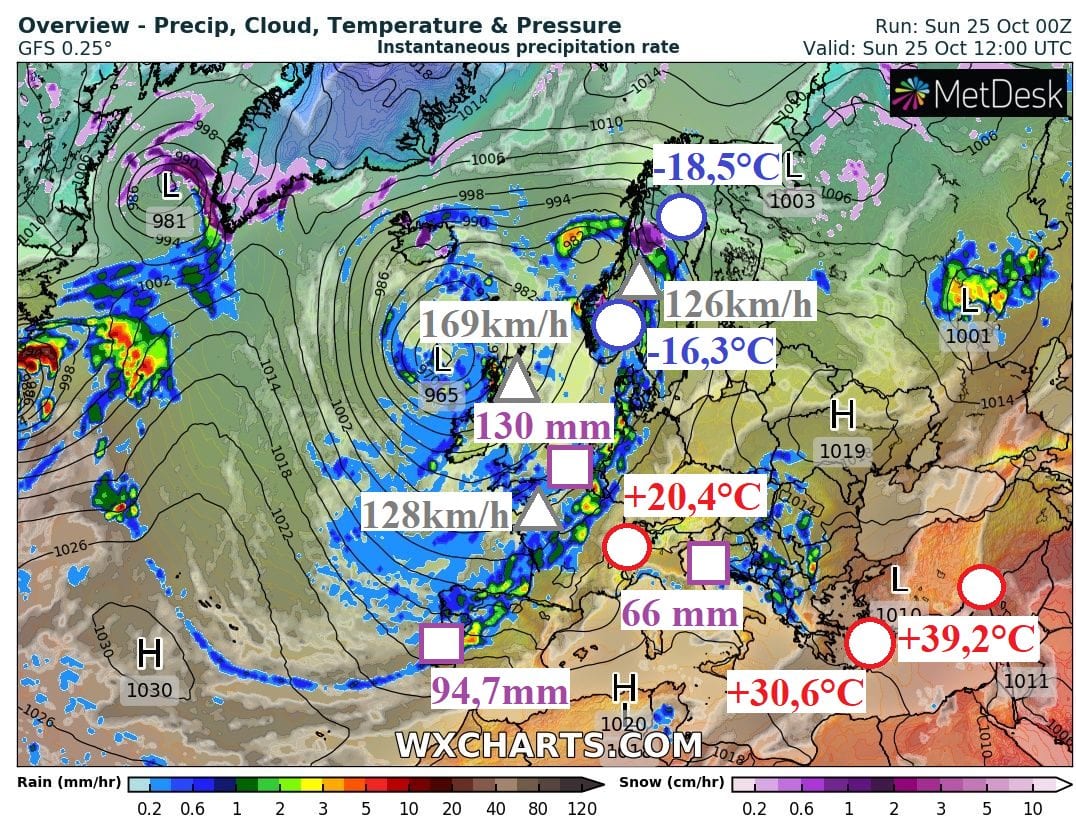 Indian summer in central parts of Europe is weakening and only rarely has been at the weekend overcame threeshold +20,0°C.
However, extensive pressure high over Europe is bringing a lot of extremes of temperature and windstorm shifting over Europe from the Atlantic is associated with severe wind gusts and flooding rain. Floods has appeared at the weekend in Croatia, too, from relative shallow storm system.
In Central Europe, the warmest has been in Switzerland – Bad Rogaz, +20,4°C, Germany – Lahr, +19,8°C and Austria – Deutschlandsberg, +19,5°C on Sunday (Saturday has been little colder). In many parts, fogs or low cloudiness has stopped temperature rise.
A big surprise was +39,2°C in Adana, Turkey on Saturday, 25. October – so hot never been so late in the city, November absolute all-time record has value only +34,3°C. Greece – Kastelorizo, has reported on Sunday, 26. October +30,6°C, but extremely hot has been in southwestern Russia, too, in Prehladnaya summer +28,8°C! Cyprus has reported +35,6°C (Gecitkale) on Sunday and Simferopol, Ukraine, +25,4°C on Saturday.
From other countries: +27,2°C has been measured in Sliven, Bulgaria on Saturday, +25,9°C in Malága, Spain on Saturday, +25,8°C in Catania, Italy on Sunday or +25,2°C in Lajes Acores in Portugal on Saturday.
Warm has been in Gjirokastra, Albania on Saturday, +24,8°C, Gudja, Malta on Saturday, +24,3°C, Bastia, France on Saturday, +24,1°C, Constanta, Romania on Saturday, +24,0°C, Banja Luka, Bosnia and Herzegovina on Saturday, +23,5°C, Berovo, Northern Macedonia on Saturday, +23,4°C, Negotin, Serbia on Saturday, +22,5°C, Stefan-Voda, Moldova on Saturday, +21,4°C, Bar, Montenegro on Sunday, +21,3°C, Dubrovnik, Croatia on Sunday, +21,3°C and Nova Gorica, Slovenia on Sunday, +20,2°C.
On the other side of Indian summer anticyclone has been still extremely cold in Scandinavia, thanks to snow cover, too. Alvsbyn, Sweden has reported on Sunday only -18,5°C, Folldall-Fredheim, Norway, on Saturday -16,3°C, Mezen, Russia, -12,8°C on Sunday, Ranva Arfield, Finland, -10,5°C on Saturday, Miercurea Ciuc, Romania, -1,2°C on Saturday, Berovo, Northern Macedonia, -0,5°C on Saturday, Velke-Maarja, Estonia, -0,3°C on Saturday, Cairnwell, UK -0,2°C on Saturday and Sunday and Tervel, Spain 0,0°C on Saturday.
Floods surprised mainly Rjeka, Croatia, on Saturday, with precipitation amount 66 mm, in Frontone, Italy has fallen 60 mm. On Sunday, on cold front, linked with windstorm over British Islands, 130 mm has fallen in Koksijde, Belgium, 94,7 mm in Penhas Douradas, Portugal, 64,8 mm in Fossmark, Norway, 57 mm in Sazan Island, Albania and 50 mm in Pontevedra, Spain.
The highest wind gusts has been reported from the UK (Saturday, Cairngorm 169 km/h), France (Saturday, Barfleur Point, 128 km/h), Sweden (Sunday, Sylarna, 126 km/h), Norway (Sunday, Kistefjell, 122 km/h), Spain (Saturday, Puerto de Lietariego, 115 km/h) and Germany, Netherlands and Ireland (Brocken, L9FF1 and Belmullet, 104 km/h).
If you think, that weather at the weekend is not very dynamic in Europe, prepare yourself for tropical storm Epsilon, which hits Northwestern Europe already during next 72 hours! /https://mkweather.com/2020/10/24/hurricane-epsilon-hits-british-isles-in-full-power//
Infographics: wxcharts.com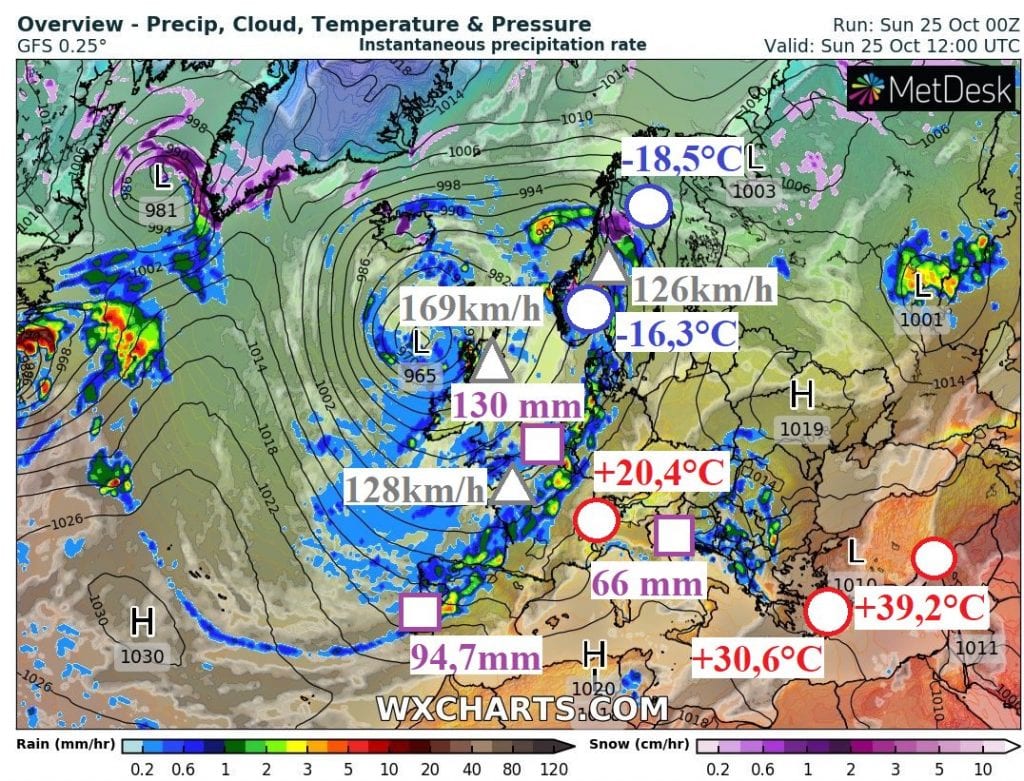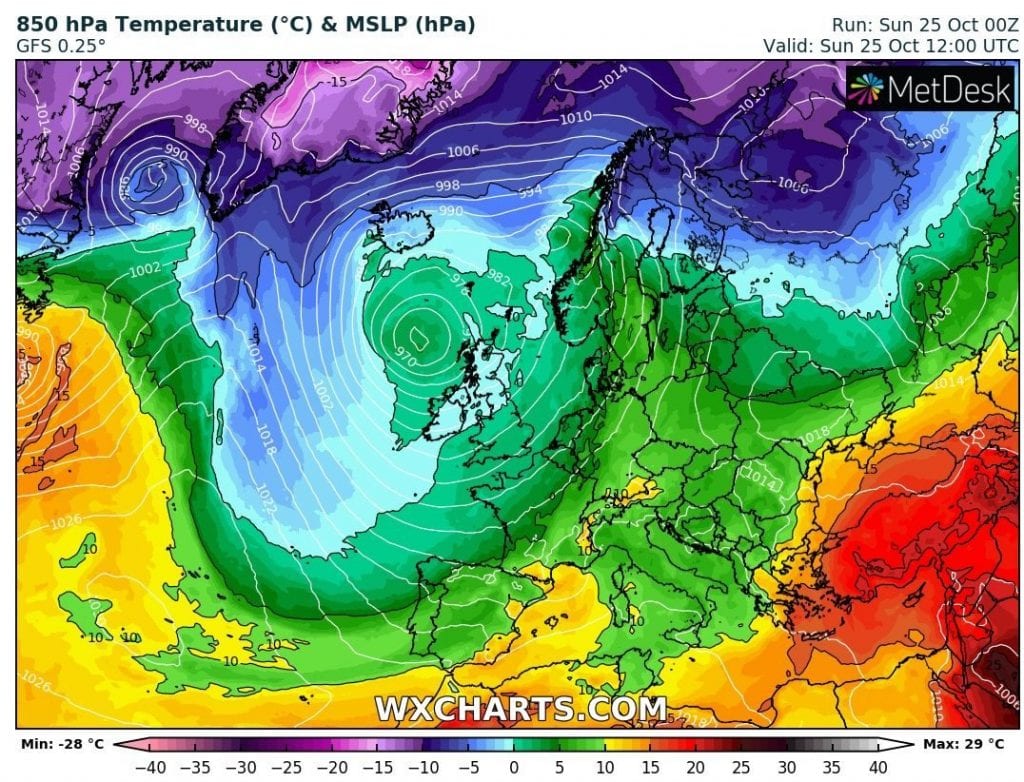 Read more: