2 killed, 25 missing in France (500 mm/24 h) and Italy (630 mm/24 h), heavy rains from Windstorm Alex until Wednesday!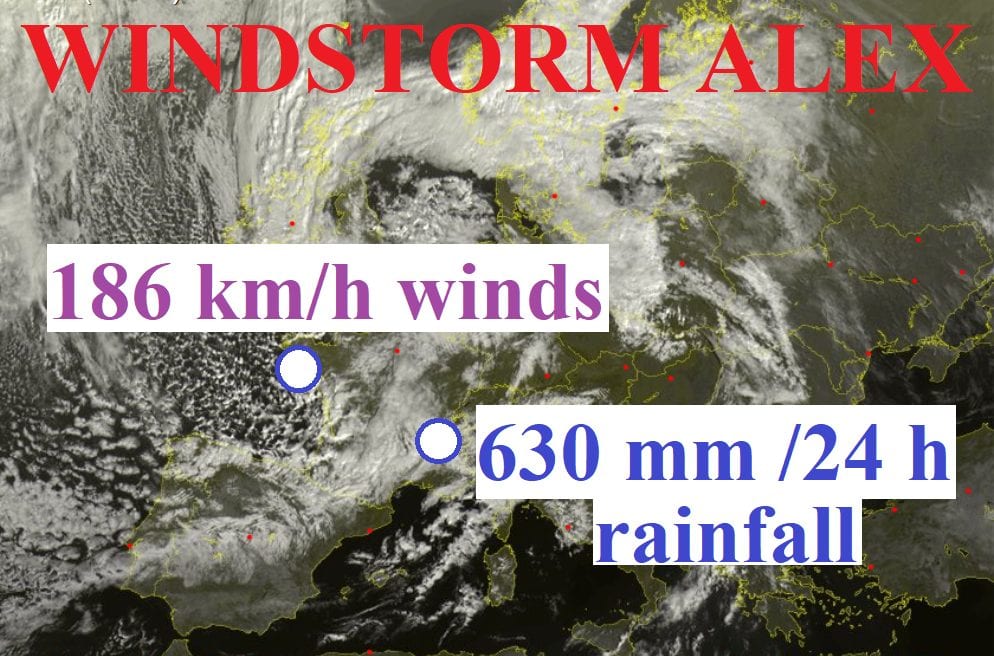 Windstorm Alex is bringing significant worsening of weather across Europe, with excessively strong winds and rainfall. On Friday, in France was reported wind gusts up to 186 km/h in coastal areas of Brittany and at the weekend, anomalously rainfall occurred in France and Italy, with maximum 24-hours precipitation amount in Piedmont region (Italy) up to 630 mm (24.8 inches) (!) and in Alpes-Maritimes department in France recorded 500,2 mm (19.7 inches) (!) of rain according to watchers.news.
Heavy rain with floods, extreme winds and severe storms bother almost whole territory of Europe. Wind causes damages and floods devastate settlements. According to Sunday´s news, 2 killed and 25 missing in France and Italy are claimed.
The strongest wind gusts for last 72 hours were measured in France (186 km/h – Belle Ile), Switzerland (181 km/h – Matro), Poland (180 km/h – Kasprowy Wierch), Austria (176 km/h – Patscherkofel), Slovenia (166 km/h – Kraderica), Italy (156 km/h – Monte Cimone), Norway (162 km/h – Roldalsfjellet), Bulgaria (144 km/h – Mourgash), Slovakia (137 km/h – Lomnický štít), Czechia (133 km/h – Snežka), UK (119 km/h – Cape Cruig), Germany (119 km/h – Zugspitze), Spain (115 km/h – Alto De Los Leones), Croatia (108 km/h – Split), Serbia (104 km/h – Vrsac).
Anomalous 24-hours rainfall was reported except for Piedmonte region in Italy (630 mm / 24 hours) and Alpes-Maritimes department in France (500,2 mm / 24 hours) in Denmark (up to 221 mm / 24 hours), Switzerland (up to 207 mm /24 hours), northern Spain (up to 103 mm / 24 hours), Croatia (up to 97 mm/24 hours), Slovenia (up to 65 mm / 24 hours), UK (up to 57 mm / 24 hours) and Norway (up to 44 mm / 24 hours). There are only data from International Exchange Site, therefore LocalMAX should be in these regions 2-3-times higher. Severe storms has moved over Central Europe from Saturday to Sunday too, with precipitation amounts regionally 20-50 mm.
According to videos updated on Youtube, floodwater has taken whole houses, damaged roads, bridges, crops and property, while severe winds were breaking trees and shattered windows.
Situation in France and Italy, and too in some regions in Spain, the UK and other countries is disastrous and thanks to slow moving of the system, next heavy rains are expected until Wednesday. Next days, too, severe storms in the front of the system will shift over more eastern and southeastern parts of Europe, where could cause damages.
Infographics: