+20°C on New Year 2022 in European mid-latitudes? Extremely warm air already in Spain (air from North Africa), +26,0°C
The next peak of Winter 2021/2022 in continental Europe was shifted to around 7. January 2022 (will be updated already in the next article – https://mkweather.com/the-next-arctic-blast-for-europe-in-the-second-january-2022-week-in-scandinavia-40c-continental-europe-balkan-turkey-20-25c-the-british-islands-spain-below-15c-is-possible/) and the next days will be finally from the West very warm.
The upcoming winter heatwave (on the front side of the next part of the polar vortex) should be longer than was expected and more extreme, with many daily and a few monthly temperature records in Europe (mainly the first January 2022 days monthly for January).
Forecast of temperature anomalies form long-term average above Europe from wxcharts.com we have published in materials below.
Warm spell will be gradually shifting from SW/W Europe above Central Europe, Balkan and even southern Scandinavia eastward, with anomalous temperatures, maybe locally higher than +20°C in mid-latitudes.
Many countries in European mid-latitudes will be reporting +10/+15°C, rarely up to +20°C.
In the Mediterranean, regionally above +25°C, maybe rarely close to +30°C is expected.
The warm spell has already begun in Spain, where summer temperatures above +25°C (+, Portugal, France, and Italy above +20°C) were already on 27. December 2021 measured and on 28. December, +25°C will be exceeded, again.
The warmest was in Murcia, Spain, +26,0°C, on 27. December 2021, which is the record December temperature for the city.
Anomalously warm air above Iberia has shifted from Morocco, where before Christmas 2021 were reported extreme heatwaves.
In Rabat, capital of Morocco, +27,6°C was on 21. December 2021 measured, which is only 0,7°C below the all-time December record for the city.
In Agadir, +29,6°C was on 18. December measured.
In Socoa, SW France, +20,0°C was on 28. December and +21,5°C on 22. December 2021, measured.
Portugal reported only up to +20°C in the last few days (Lisbon every December day with a maximum temperature +15/+19°C, so far).
In Algeria, after Christmas, up to +27,9°C was reported from in Guezzam, but 10 days before Christmas, up to +31,0°C in Bordji B. Mokhtar and on 3. December even at the same station +33,5°C and before the coldwave, on 27. November 2021, +35,1°C, was measured.
Sicily, Italy, reported on 28. December 2021 up to +21,3°C /http://www.sias.regione.sicilia.it/frameset_tmax.htm/ and Tunisia up to +24,0°C in Medenine.
A short warm period before Christmas hit northern Italy and Switzerland, too, with +19,2°C in Lombardy, Italy, and +17,4°C in Switzerland on 20. December 2021.
Mkweather will be furthermore watching it.
Illustration map: wxcharts.com
Source: wxcharts.com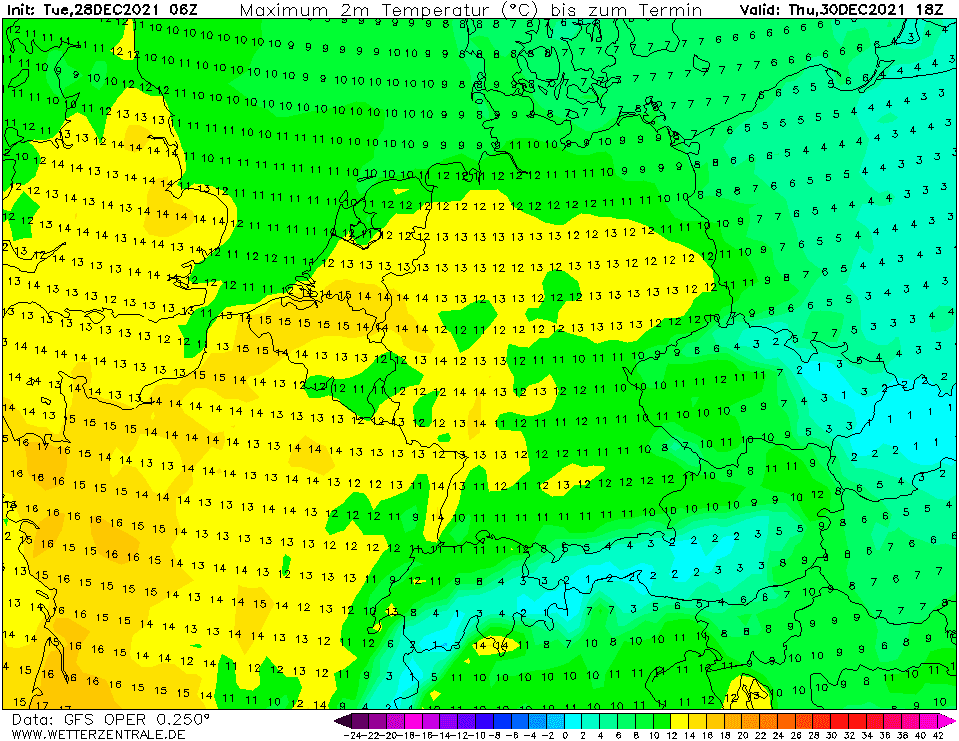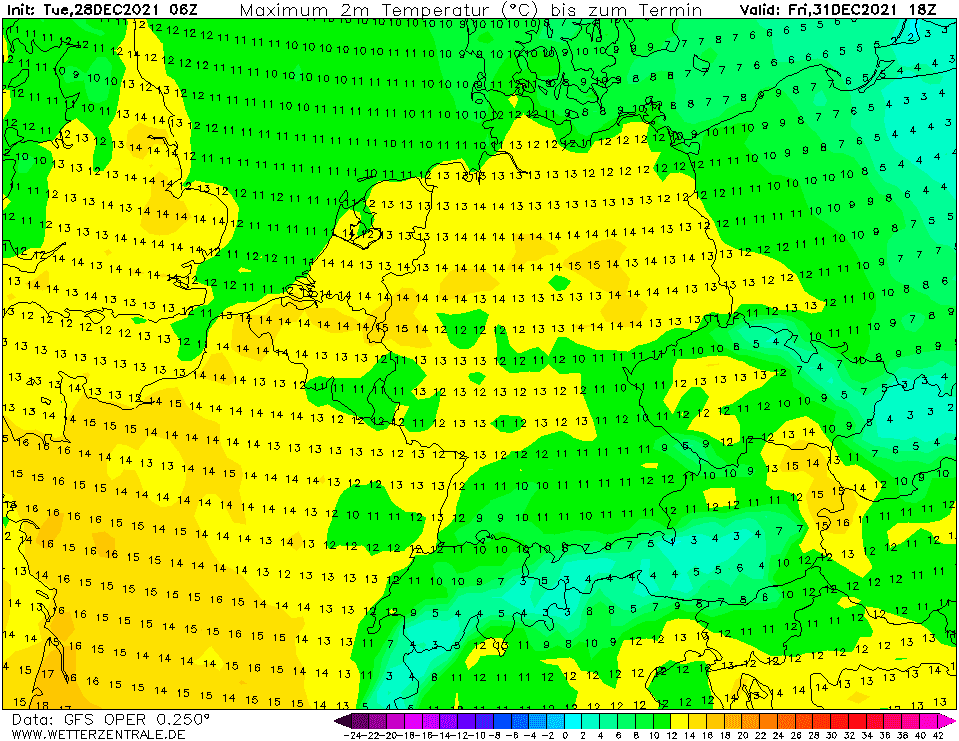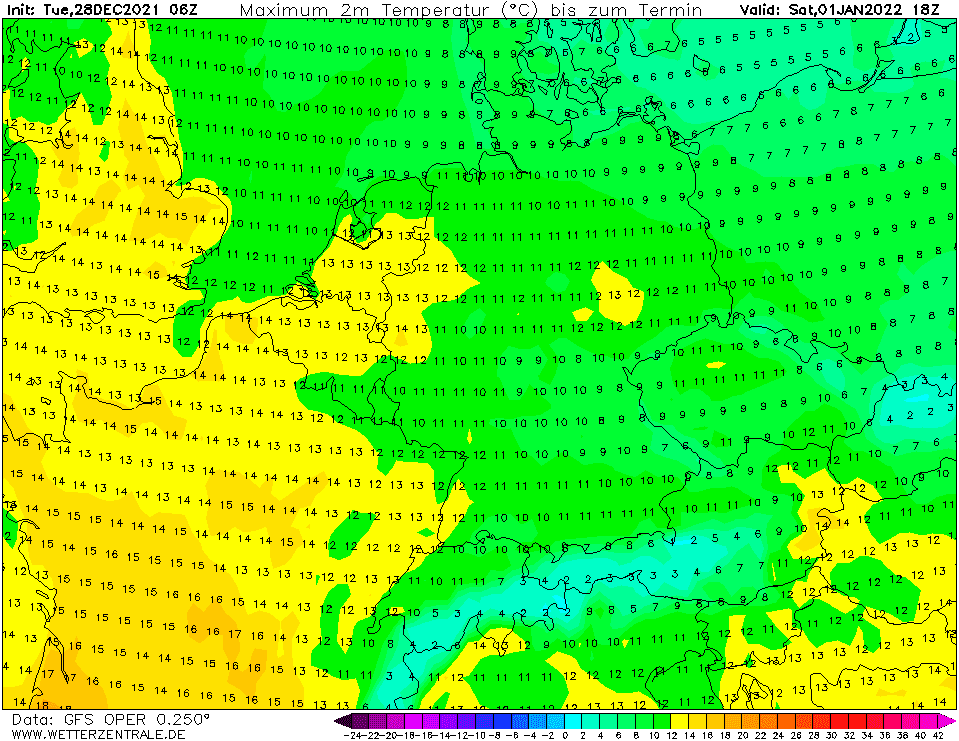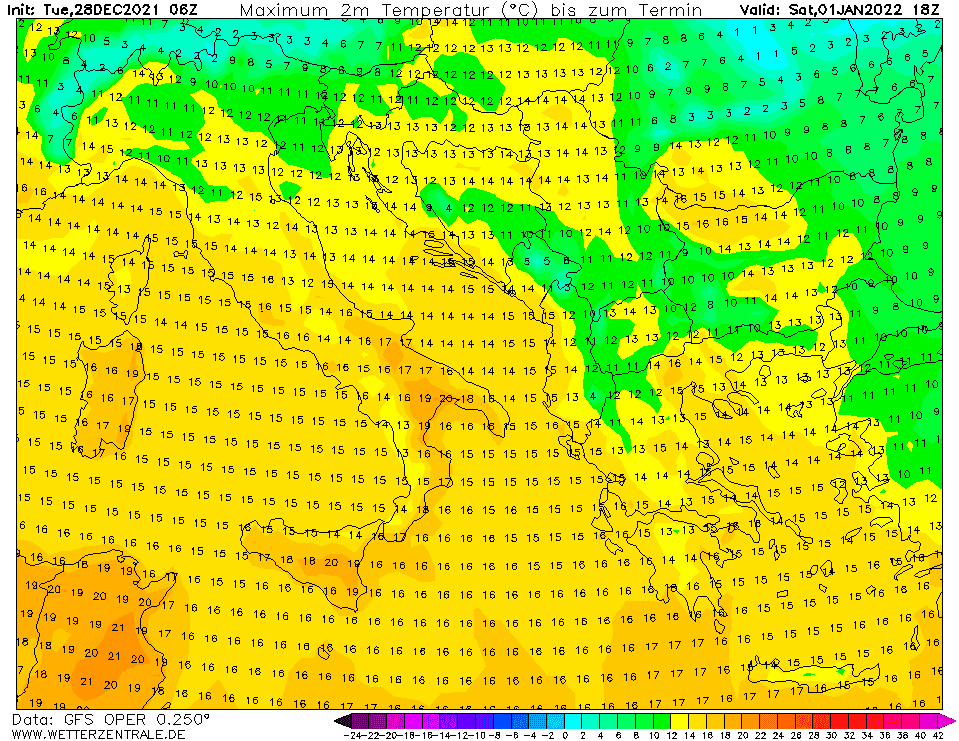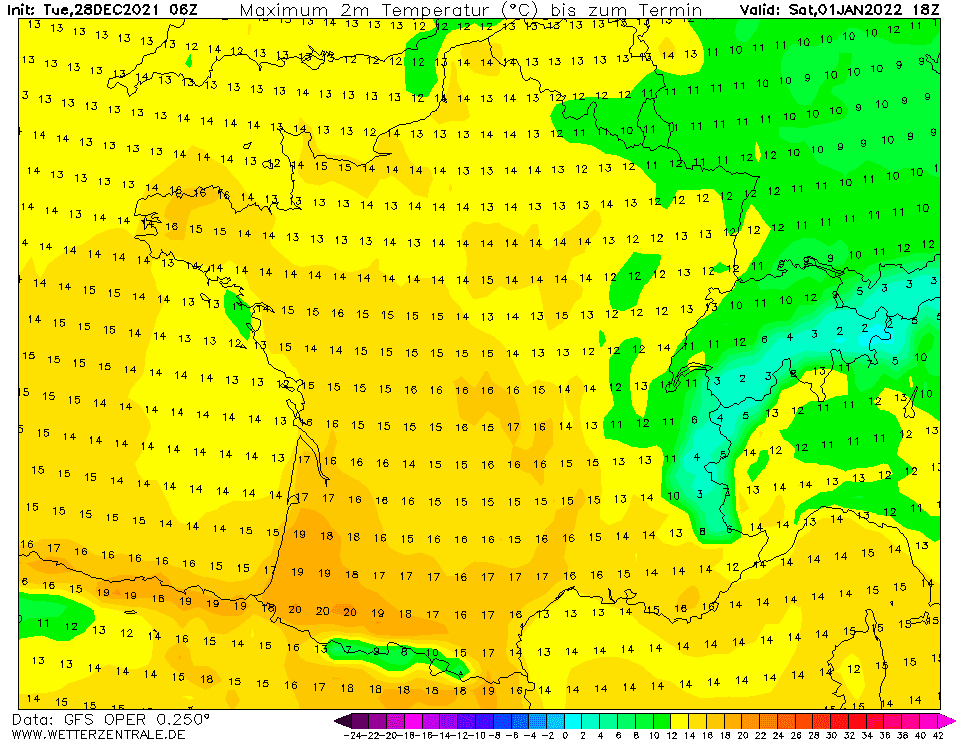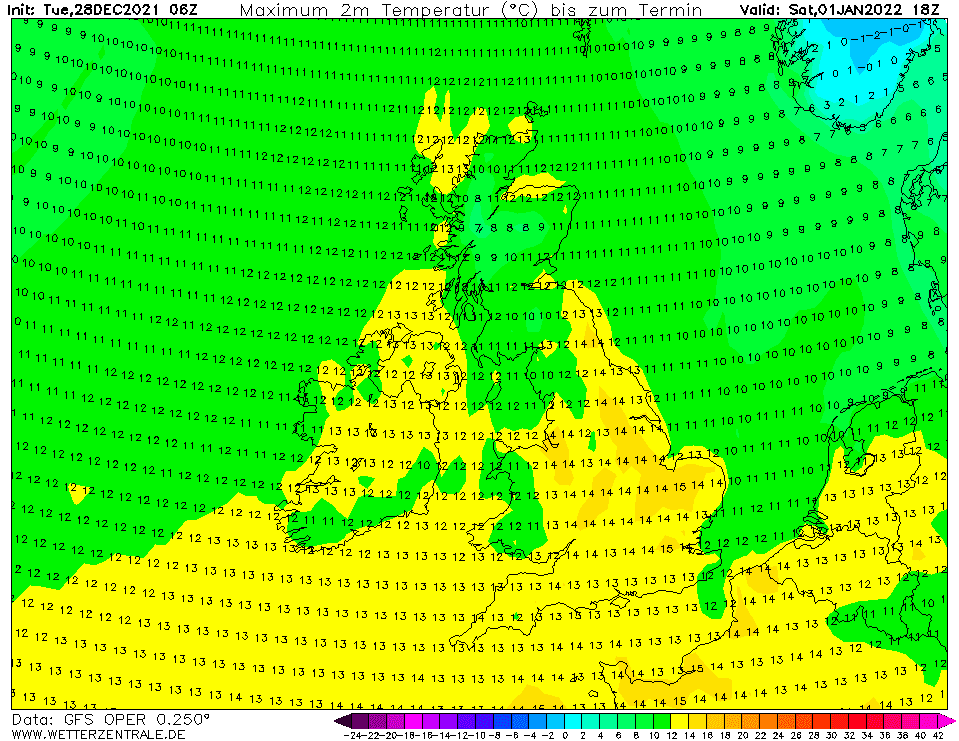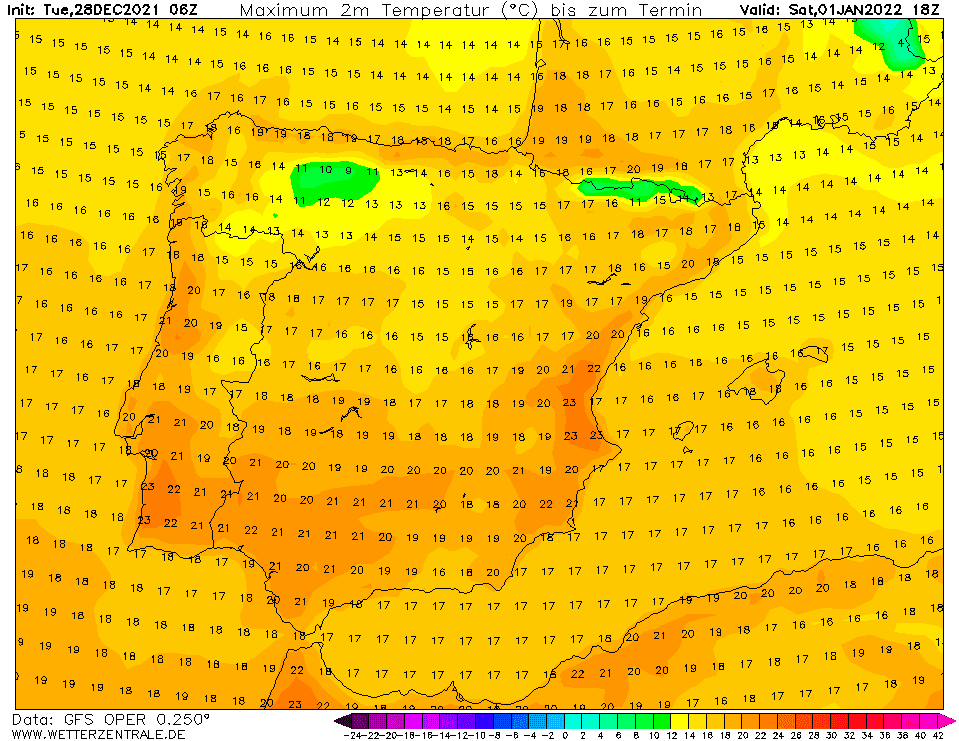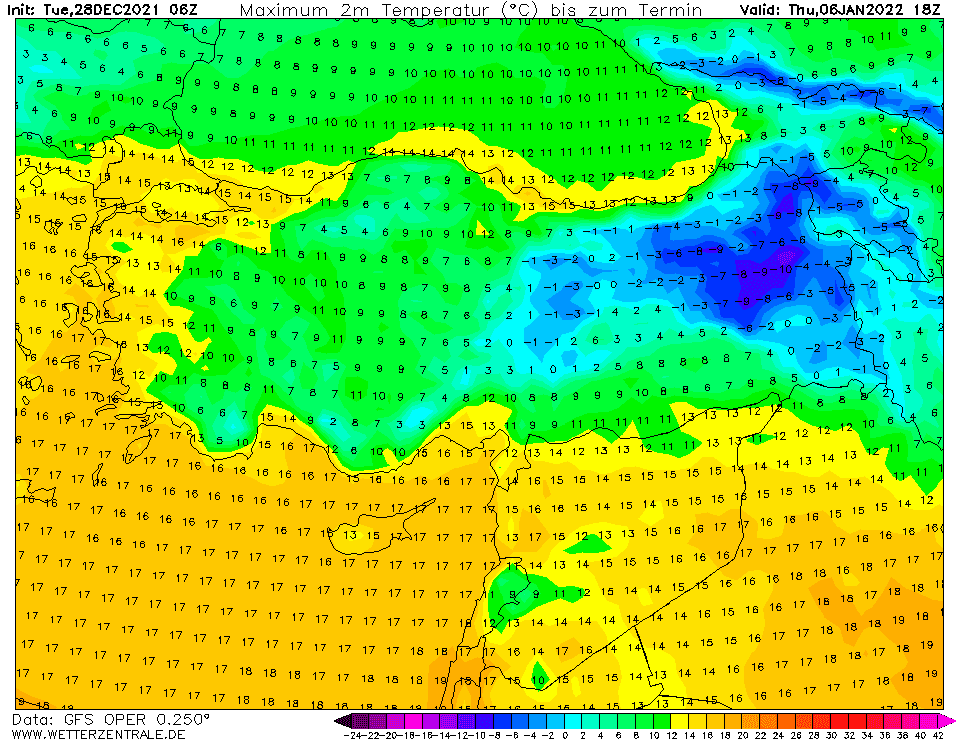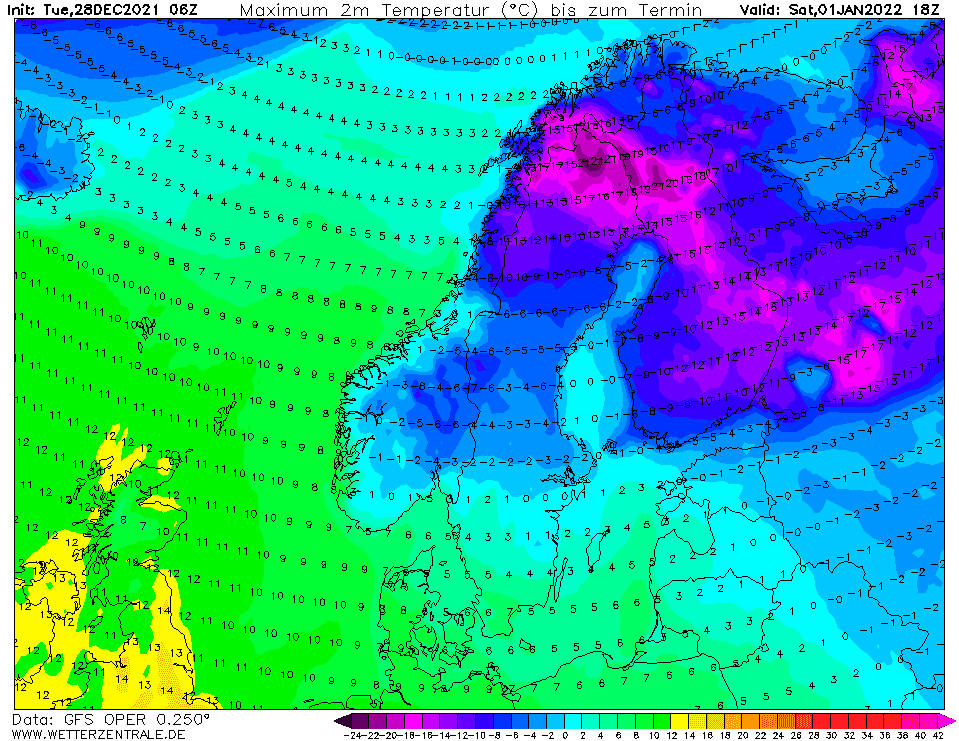 Source: wetterzentrale.de