24,2% territory of Canada with frosts and snow in Toronto, cold weather will continue until 18. September
The best, still with summer conditions, it will be only in British Columbia with powerful heatwave and possible temperatures of up to +35°C (95°F). All other provinces has experienced or will be experiencing with persisting coldwaves until 18. September 2020.
185/764 (24,2%) Canadian stations in ogimet.com has reported frosts on Wednesday.
Southern central provinces reported snowing and heavy frost from Monday, on Wednesday with minimum temperautre only -8,8°C (16,2°F) in Coronach, Saskatchewan. Val Marie in Saskatchewan reported (-8,4°C) and Elbow Marine Aviation -8,0°C. These frosts occurred in lower situated areas.
Only on Thursday, after 3 days with frost in southern provinces, cold air has moved northward and the lowest temperature has reported in northern areas, in Isachsen meteorological station was measured -8,9°C (16,0°F) and in Mould Bay -7,1°C.
In southern parts of Canada – mainly Saskatchewan and Alberta has snowed up to 20-30 cm of snow this week. According to current videos on Youtube, snowing has occurred in Toronto on Wednesday, too.
Cold period will be continue minimally up to 18. September according to GFS, with widespread cold blast mainly around Monday 14. September. To densely populated regions cold air will shift up to Thursday, 17. September, with temperature anomalies regionally of up to -20°C below long-term average.
Next coldwave will hit except for Canada northern parts of US, too, mainly North, Great Lakes region and Northeast. Southern states wont be hit again.
850 hPa temperautre anomaly till Thursday, 18. September 2020 – the most of territory of Canada will be cold /wxcharts.com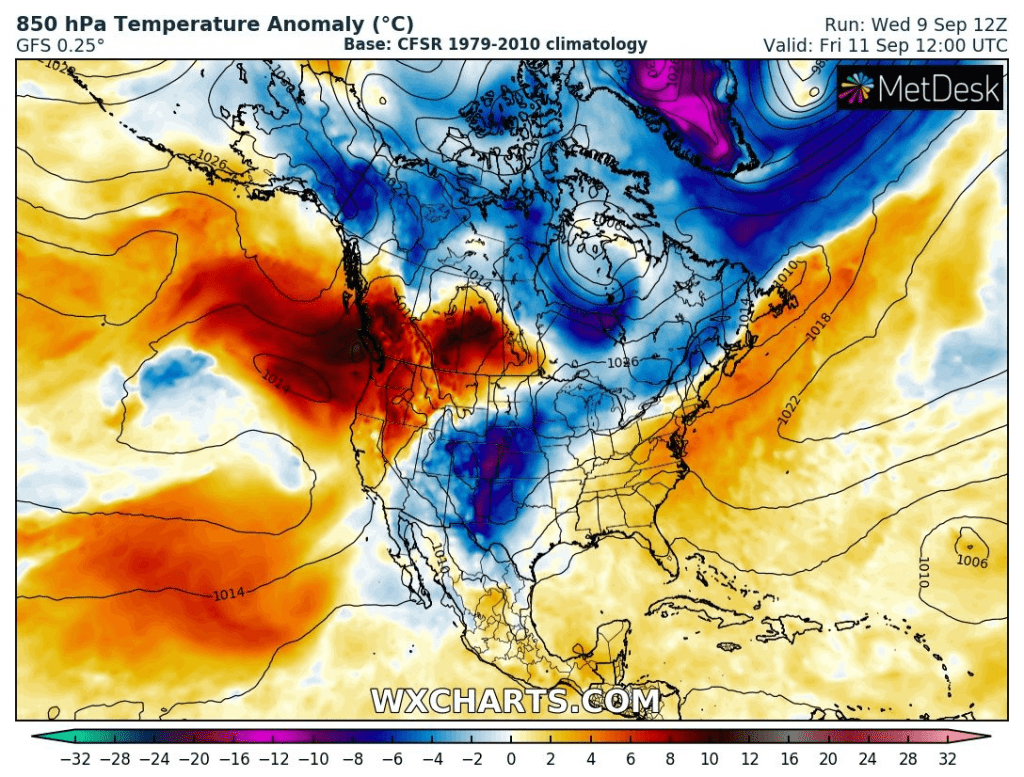 Videos – snowing in parts of Canada this week:
Read more: