+25°C in Germany after France´s +27,8°C in November?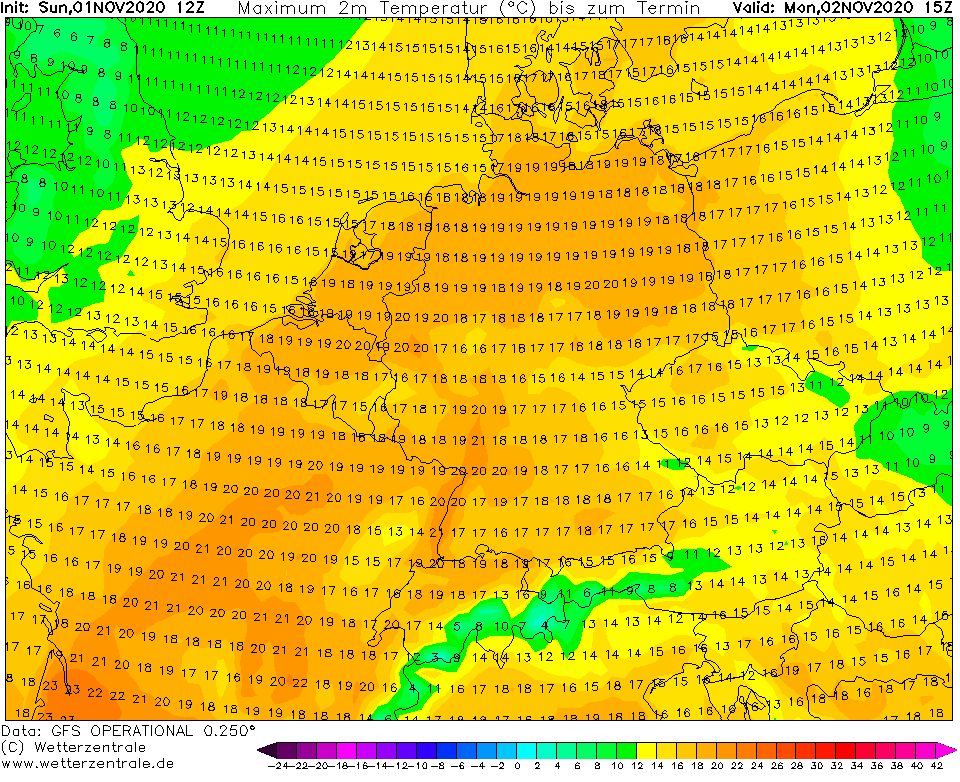 On Sunday, 1. November 2020 has started last phase of Indian summer, called sometimes in the central Europe a "Marian summer", with last chances for some warmer sun rays in the year.
Entrance of Azores high above southwestern Europe has surprised on Sunday, 1. November with a temperatures up to +29,2°C in Spain (Cieza) and up to +27,8°C in southwestern France (Biarritz).
Extremely warm air will be shifting on Monday to northeast and hits Benelux, London region and western Germany, with maximum temperatures above +20°C, very rarely in southwestern Germany with possibility of summer +25°C!
On Sunday, for southwestern France, was forecasted only +24°C according to GFS and reality was almost 4°C higher. For Monday, +21°C is forecasted in southwestern Germany, therefore, here is a possibility of temperatures very close to +25°C, if conditions will be good (any fogs, any cloudiness, sunshine and calm winds).
Very warm air will be shifted above east-central Europe on Tuesday, 3. November, with possible temperatures up to +23°C in Hungary, +22°C in Slovakia and above +20°C in Austria, Czechia and Poland, too.
Balkan and Italy will have similar temperatures such as on Sunday, next days, with rarely +25/+27°C and many regions with more such +20°C. Warm air gradually shifts above Eastern Europe with temperatures above +20°C in Ukraine and around +18°C in Belarus and Baltic states. Scandinavia will be thanks to windstorms and warm air too warmer, south around +17°C, north with melting of snow.
Infographics: wetterzentrale.de: