Atmospheric circulation in Northern Hemisphere, Europe and North America during the first half of autumn 2020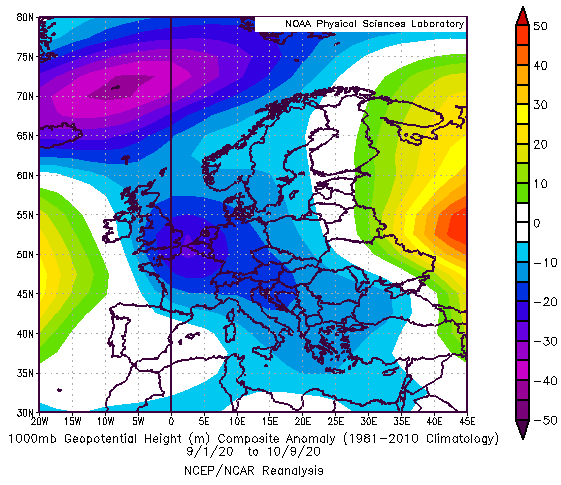 It´s already 11. October 2020 and we can look at composites from the first 39-days of 91-day autumn season period. It´s almost half of autumn 2020 and until 15./16. October won´t change a lot.
Period from 1. September to 9. October 2020 was characterized by strong hurricane season over North Atlantic, linked with negative geopotential (pressure) anomalies above southern waters of tropical Atlantic and neutral temperature anomalies in the wide region of Atlantic hurricane activity and thanks to absence of advections of very warm air from the south, cold temperature anomalies above Greenland.
Big area with neutral temperature anomalies has been situated from central USA and Central Canada through North Atlantic, Euro-Atlantic sector of Arctic, to Central Europe – and correspond approximately with activity of hurricanes and ex-hurricanes during extreme strong Atlantic hurricane season 2020.
Accumulation of extreme cold Arctic air over Greenland, together with higher pressure over Greenland such as above other parts of Arctic has brought over Europe many Arctic blasts from the northwest, in combination with activity of Icelandic pressure low with result of cyclonic, rainy and colder conditions in West and Central Europe.
However, eastward from the activity of hurricanes and ex-hurricanes, over Eastern Europe, Eastern Mediterranean and Middle East has been persisting extremely hot and dry weather, with anomalous blocking pressure high and returning heatwaves.
West of the USA and Canada, similarly, and thanks to La-nina, has reported anticyclonic and hot conditions.
On the front side of blocking high over Eastern Europe and Middle East, very cold air has flown over Central Asia, with a result of cold conditions.
Strong typhoon and monsoon season in Asia has brought low-pressure anomalies across S, SE and E Asia, with lot of rain.
Slightly disturbing during this circulation pattern acts high pressure anomaly above Azores and low pressure anomaly above Arctic (except of Greenland), therefore it isn´t fully AO-/NAO-, neither AO+/NAO+ phase. During the first 3 weeks of September AO+/NAO+ was observed, but last September week and druing the October 2020, AO-/NAO- is (will be) observed, with the strong destabilization of polar vortex and clearly AO-/NAO- pattern, with warm Arctic with high pressure and cold mid-latitudes with strong cyclonic activity and low pressure anomalies.
In summary – despite of slightly AO+/NAO+ start of the autumn, hurricane season and Greenland high has brought relative colder conditions in parts of Northern America and Europe, with the continuing of AO-/NAO- minimally next 5 weeks until the end of October and forecasted AO-/NAO- during November 2020, with even more powerful coldwaves in long-term outlook.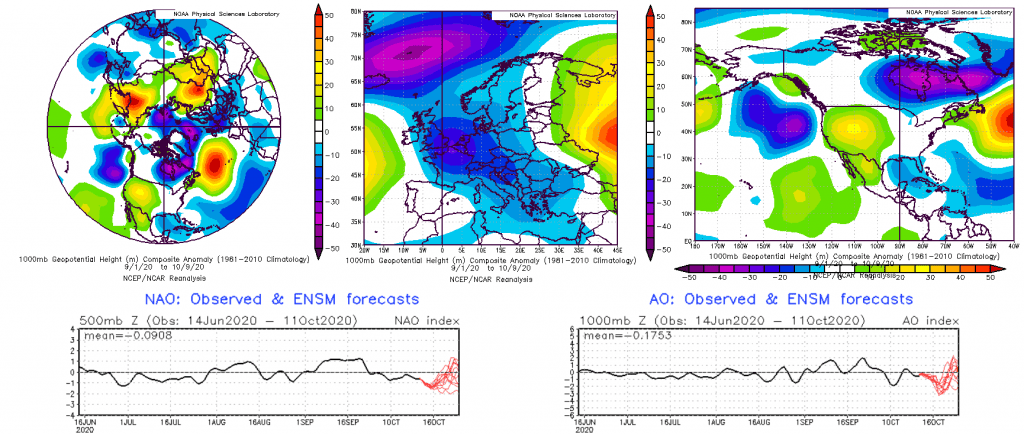 Infographics: psl.noaa.gov/data/composites/day/; NOAA (Arctic Oscillation / North Atlantic Oscillation Index)