Autumn 2021 forecast for Europe: Mostly dry and frosty Autumn – Be prepared for early severe frosts!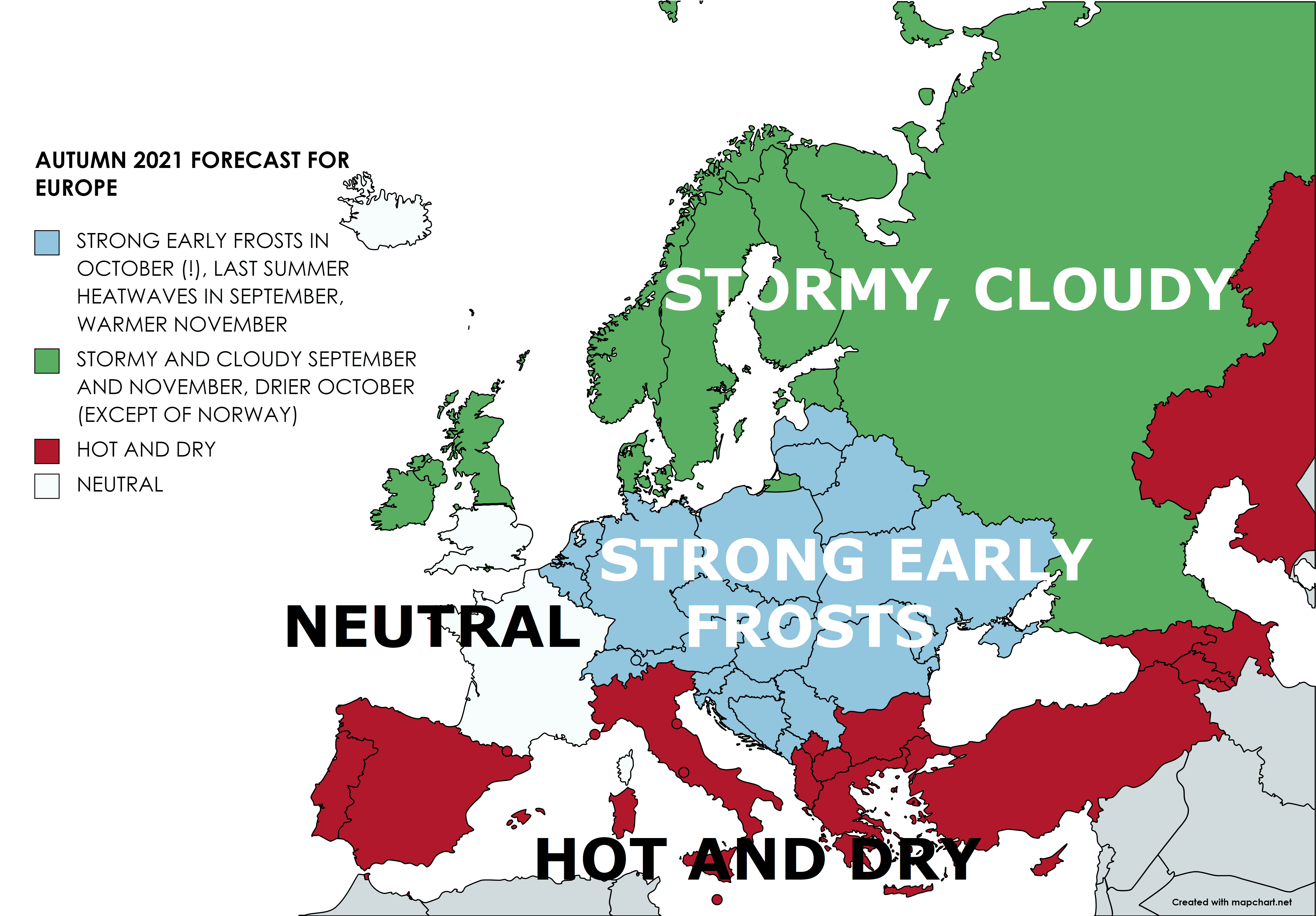 It´s the end of August 2021 and we should look at Autumn 2021 forecasts for continents.
Firstly, we should look at Europe.
Overall, re-strengthening of the La Nina pattern during the next months is expected, which should mean colder Earth.
QBO will be still in its easterly (colder) phase, maybe with the transition into the westerly phase around November 2021.
AO / NAO forecasts promise neutral, slightly NAO+ signals for September, NAO+, later NAO- signals for October, and NAO neutral or NAO- signal for November 2021, which should mean extremely drought and early frosts in the middle of Autumn.
Hurricane season 2021/2022 should be a little weaker than was forecasted, which should be linked with shifting positive geopotential anomaly from Greenland above Europe and later the Mediterranean during Autumn 2021.
MJO should be in the wet phase until 10. September and in dry phase between 10. September – 5. October, so far.
Just this field of high pressure will be important for the evolution of weather in Europe:
In September, it still will be situated above Greenland, with relatively warm temperature anomalies. Parts of western Europe should be already drier than usual.

In October, this high pressure anomaly will shift directly above Europe, with expected extremely dry and frosty conditions above the continent.

In November, high pressure anomaly will shift above Mediterranean and large parts of Europe should find themselves on th back side of this system and southward from stromtrack, in warmer air.
Parts of Northern Europe, such as northern British Islands, eastern Iceland, Scandinavia, Baltic states, and parts of Russia should report mainly in September and November (Norway in October, too) low geopotential, with rains and storms, which should mean in September colder, in November warmer conditions. October should be in southern parts of northern Europe drier.
Continental Europe is forecasted to be hit by extremely dry October and maybe the end of September and the start of November, too. Around 15.-30. September, the possibility of NAO+ will bring the next potential for drought and pressure highs from the Azores, but the worst will come in October, when large high-pressure anomaly will shift farther above the continent, with severe frosts on its front side and within the middle of the system.
The Mediterranean is expected to stay very hot and dry during Autumn 2021. The situation should be similar such as during Spring 2021 when all hot air was shifted into southern latitudes, but some warm spells or Indian summer should be reported from northern latitudes, temporarily, too.
France, England, or Iceland should be relatively neutral, without significant anomalies of temperature and precipitation from the long-term average, but short periods with severe storms are still possible.
At all, relatively dry Autumn, with early strong frosts is expected, therefore will be prepared to collect your harvest sooner, than usual and prepare warmer clothes, which should be during sunny days put away. In northern Europe, will be prepared for traditionally stormy, rainy, or even snowy conditions and in the Mediterranean oppositely for hot and drought times. The second wave of cold weather is forecasted already around Christmas and a New Year 2021/2022 – we will update soon Mkweather Winter 2021/2022 forecast, too.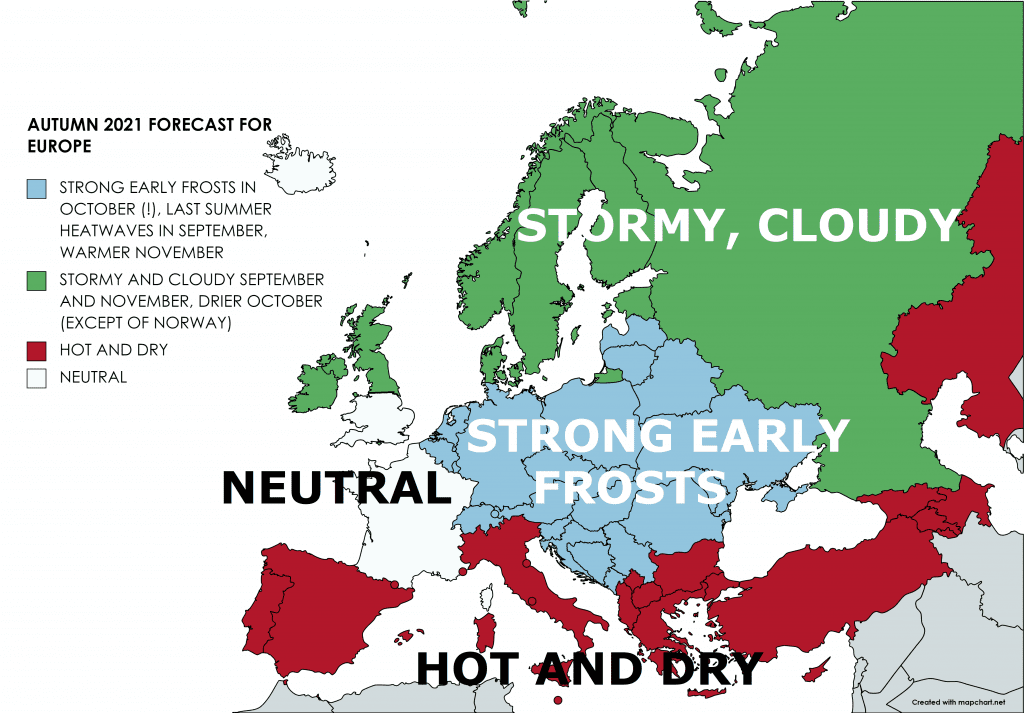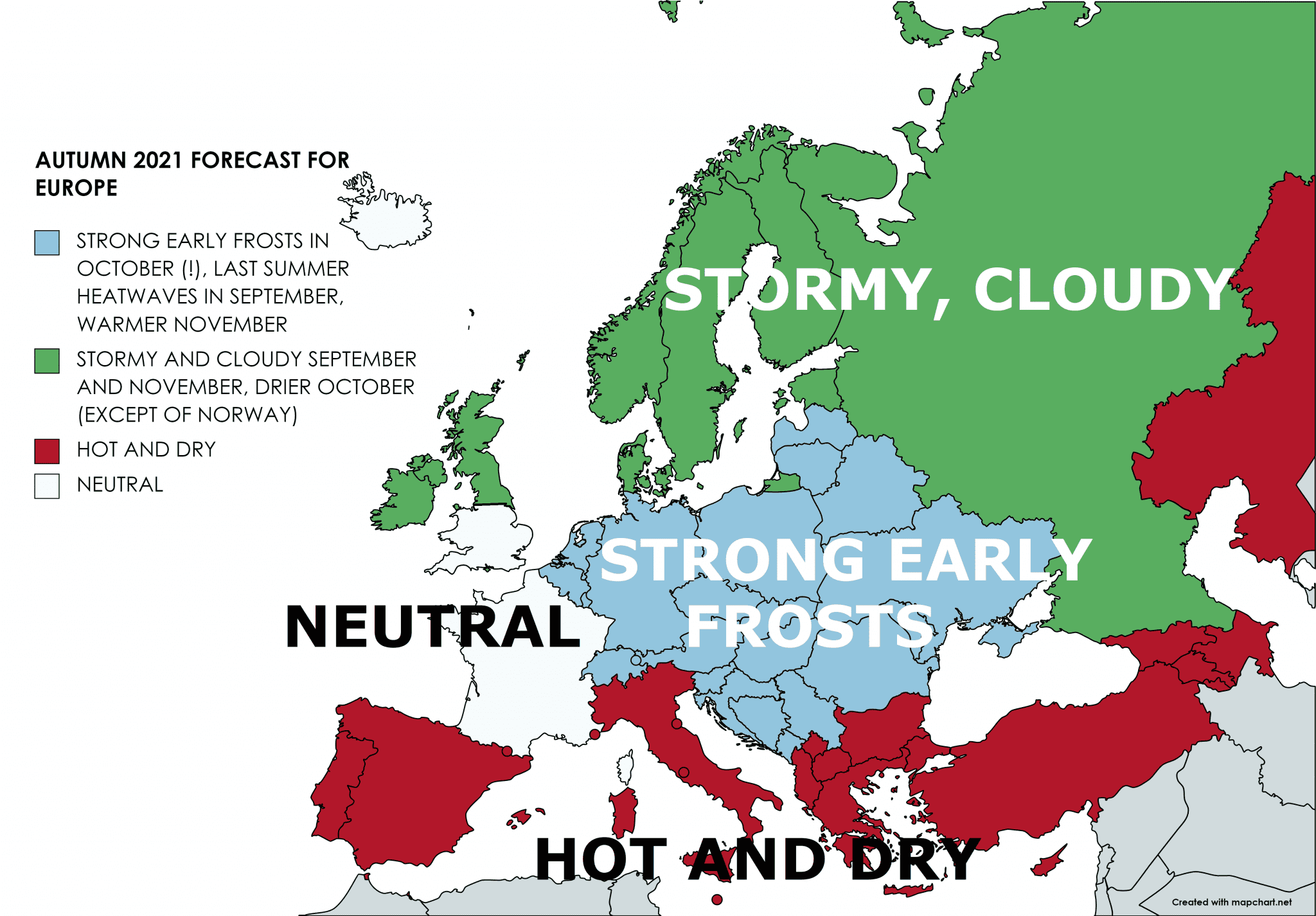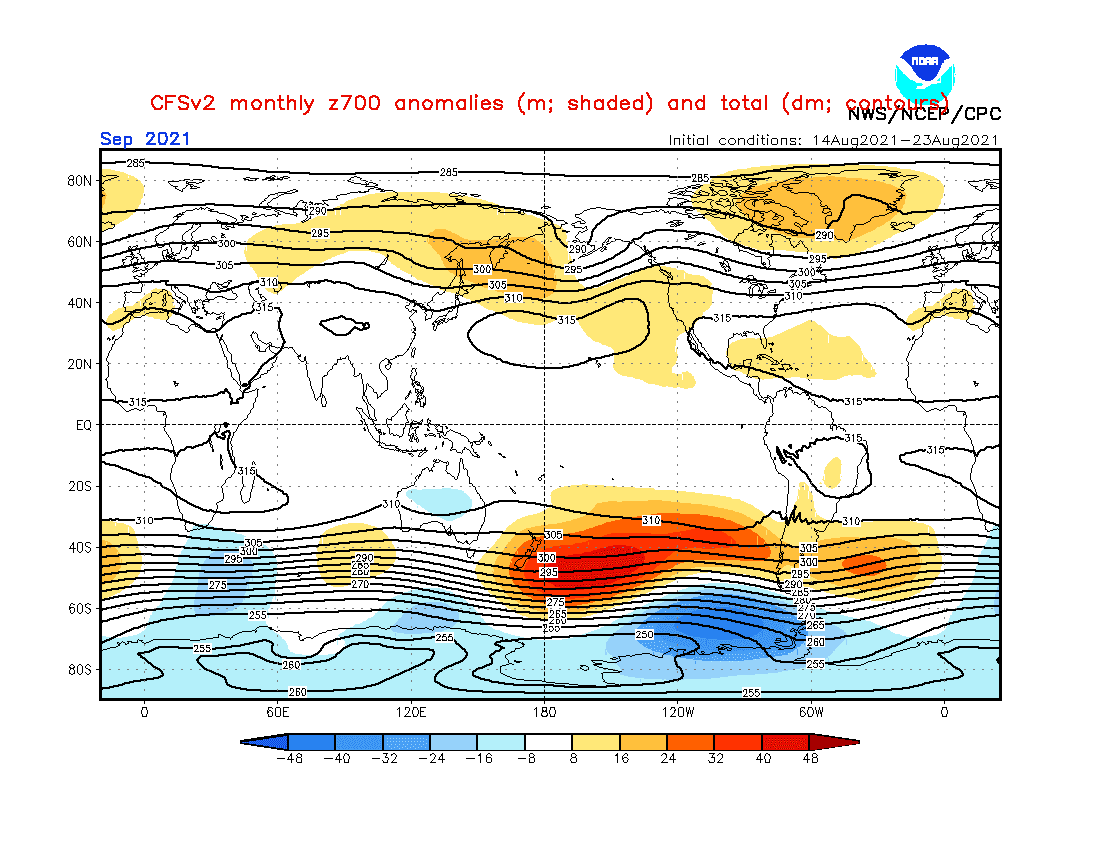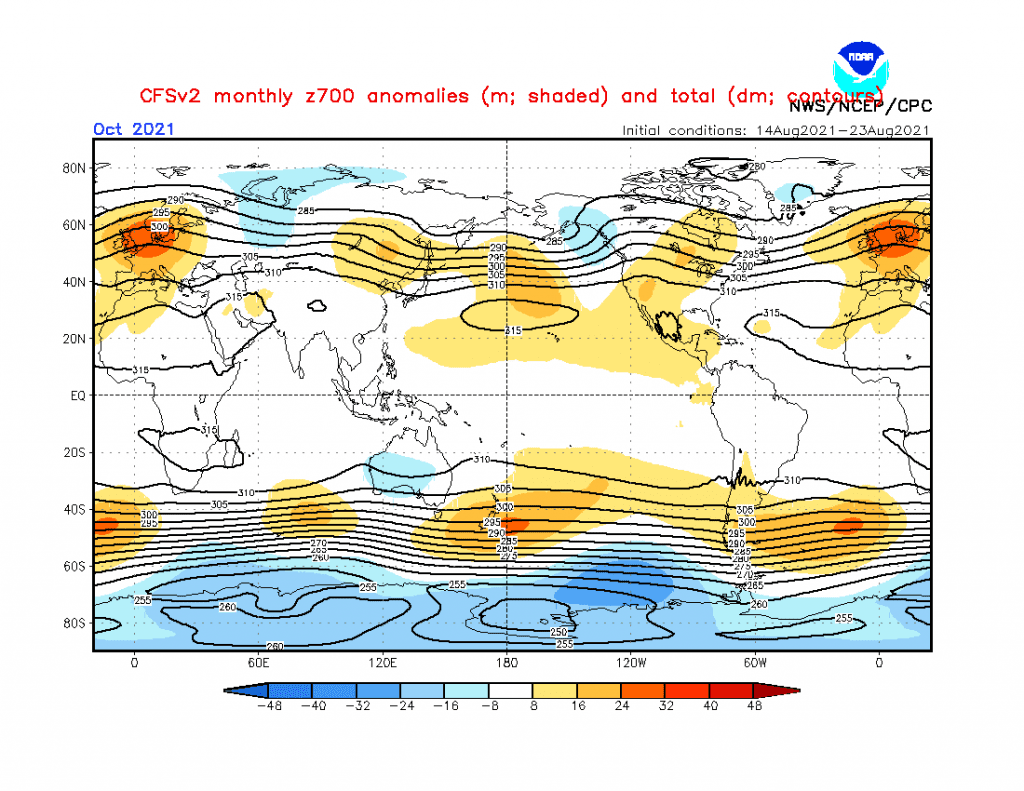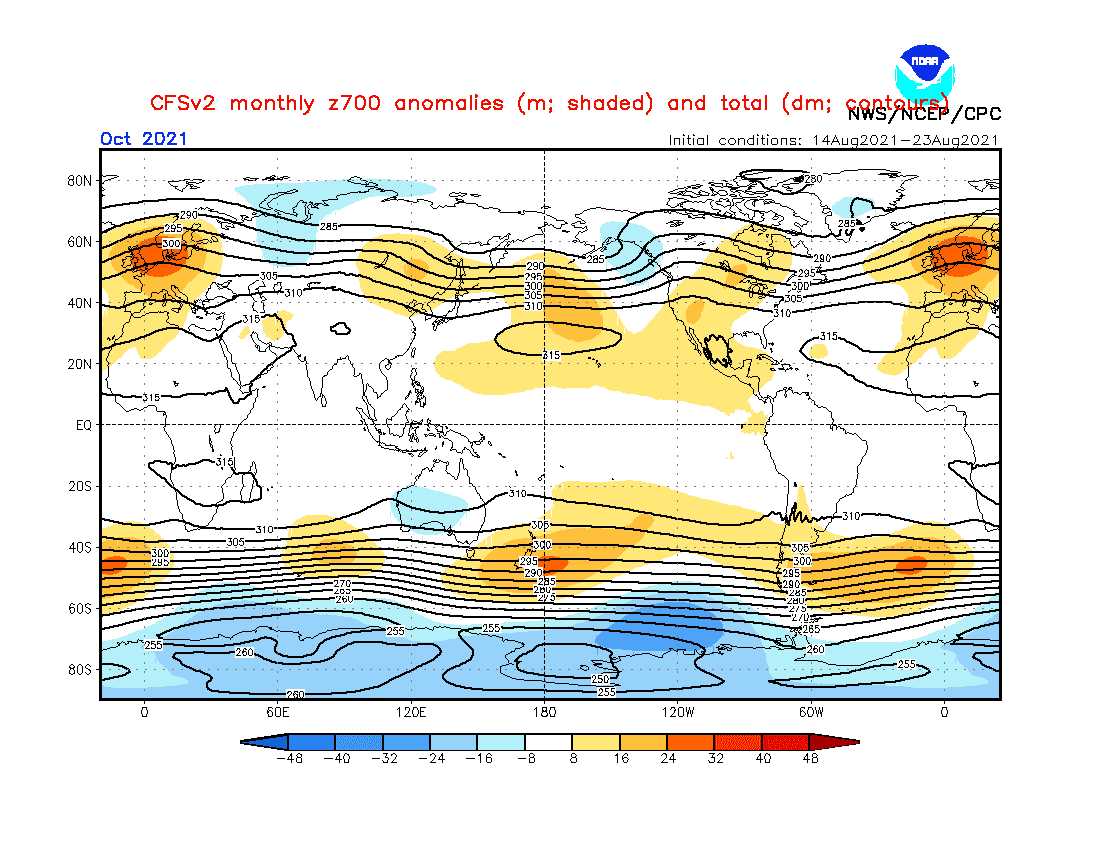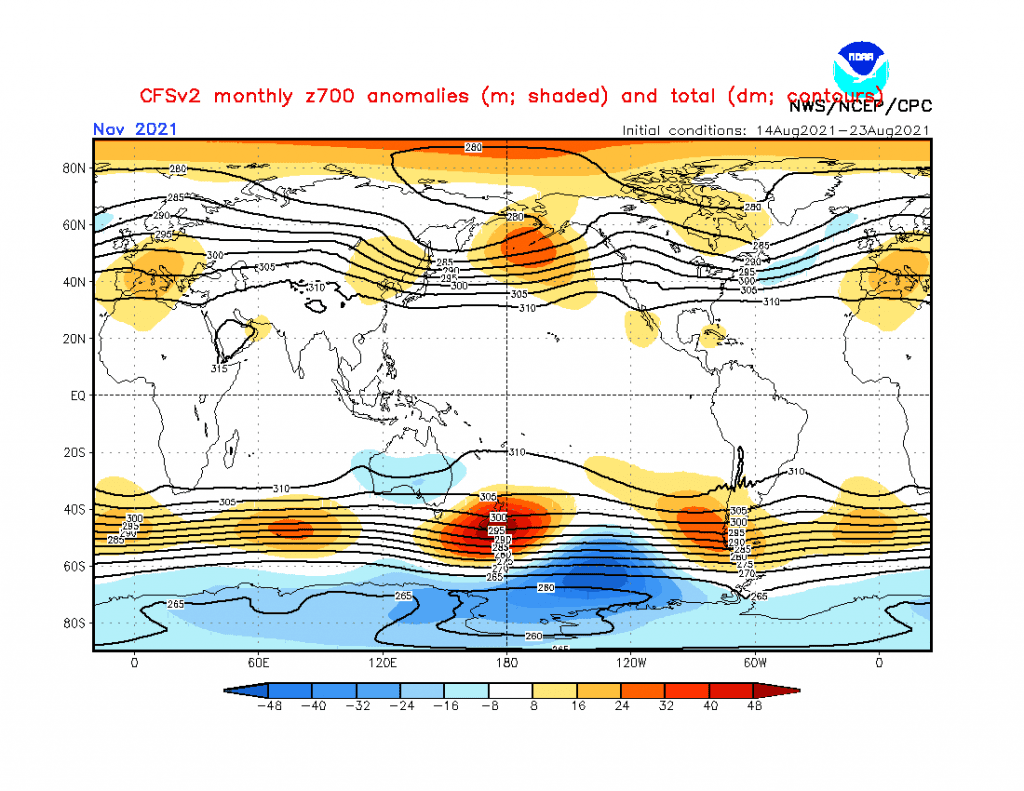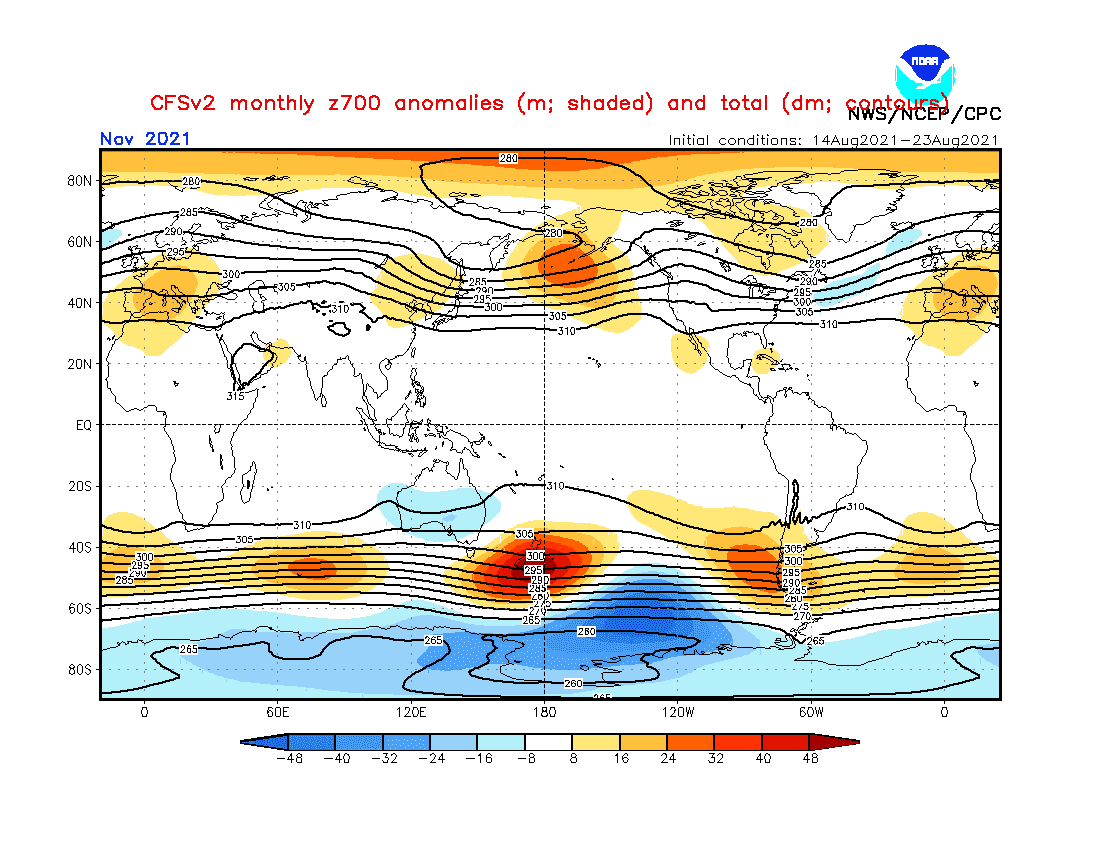 Source: https://www.cpc.ncep.noaa.gov/products/CFSv2/htmls/glbz700e3Mon.html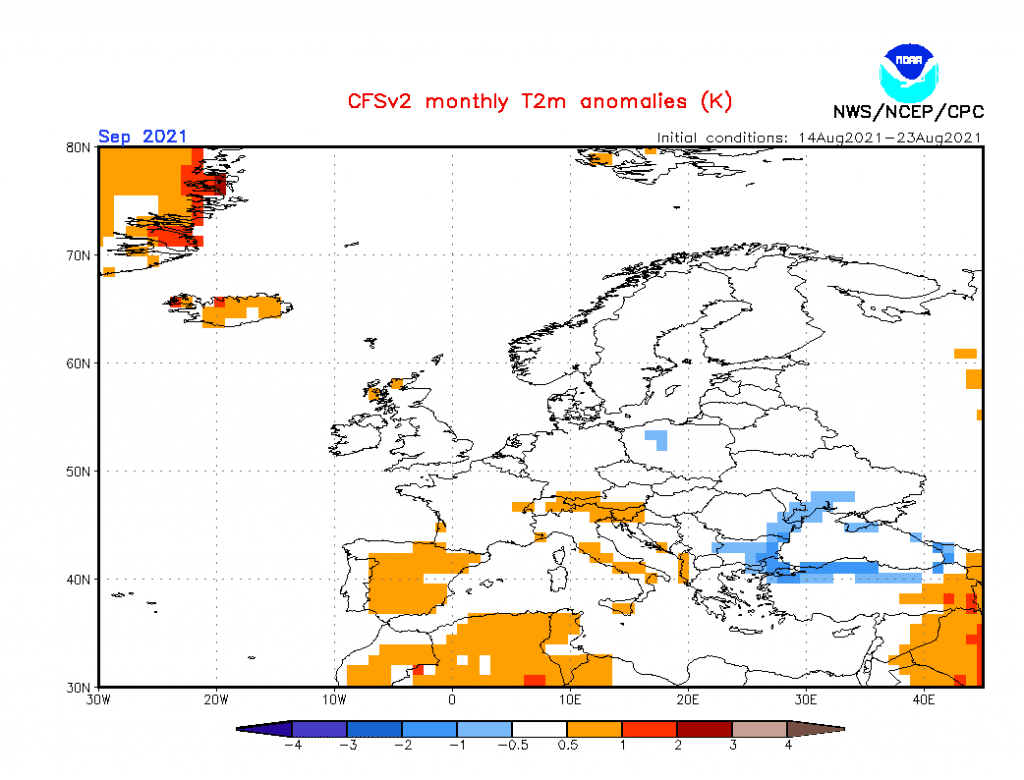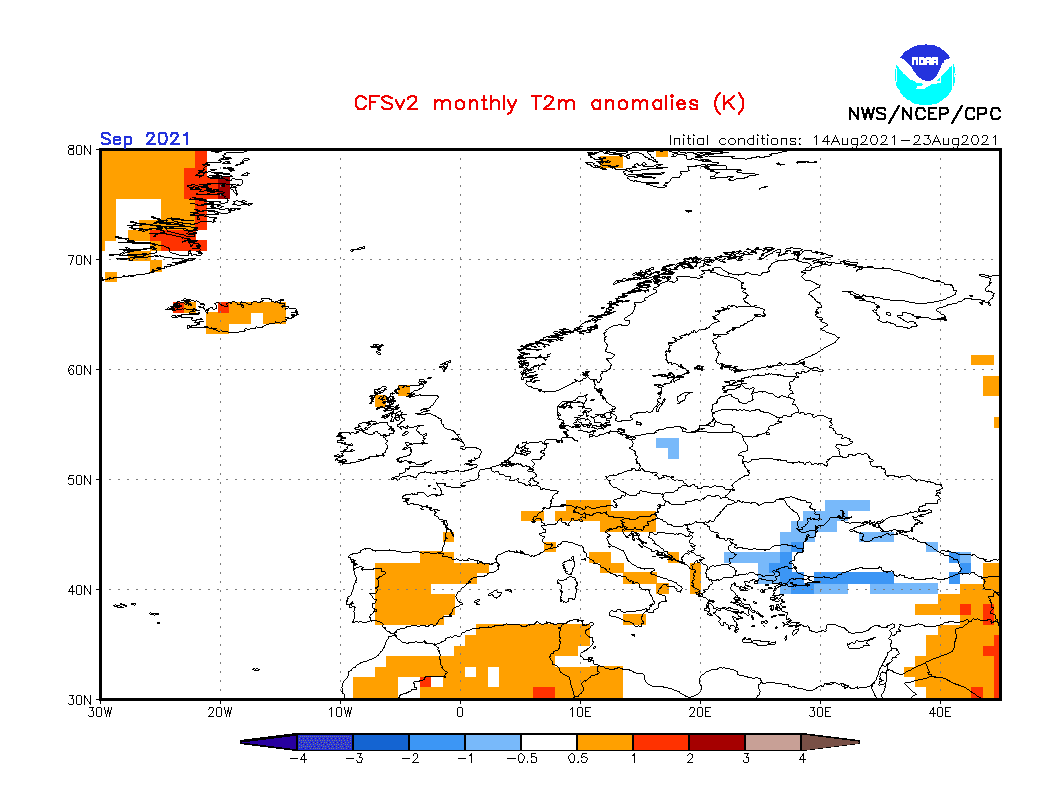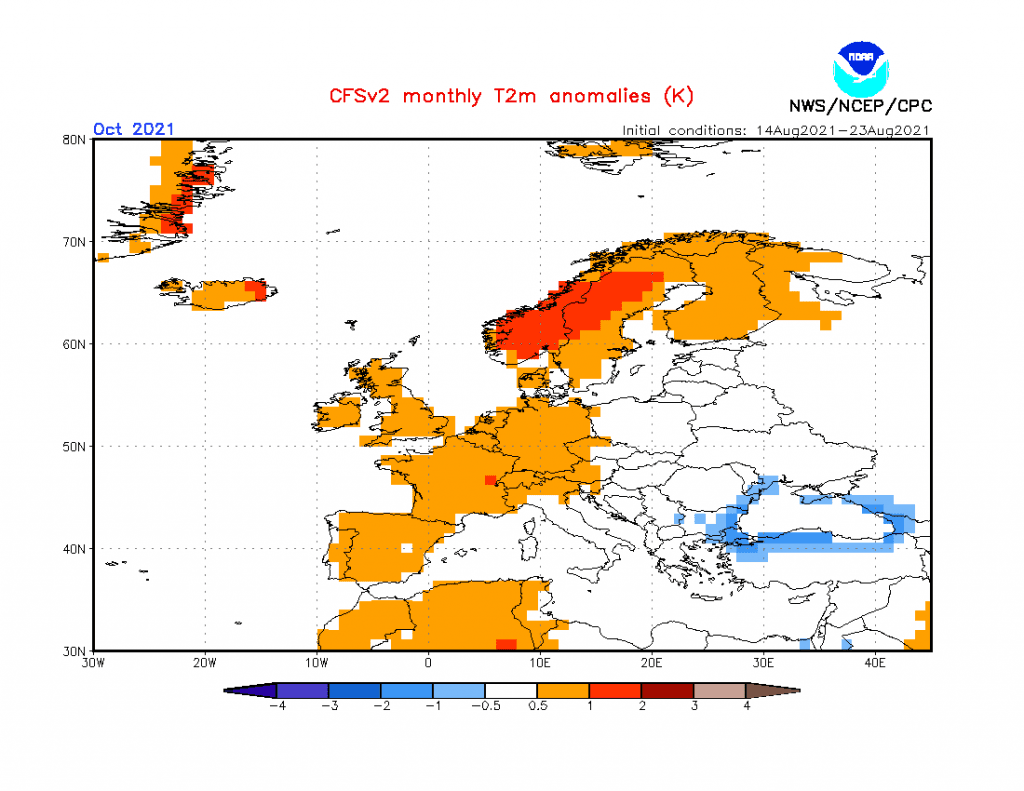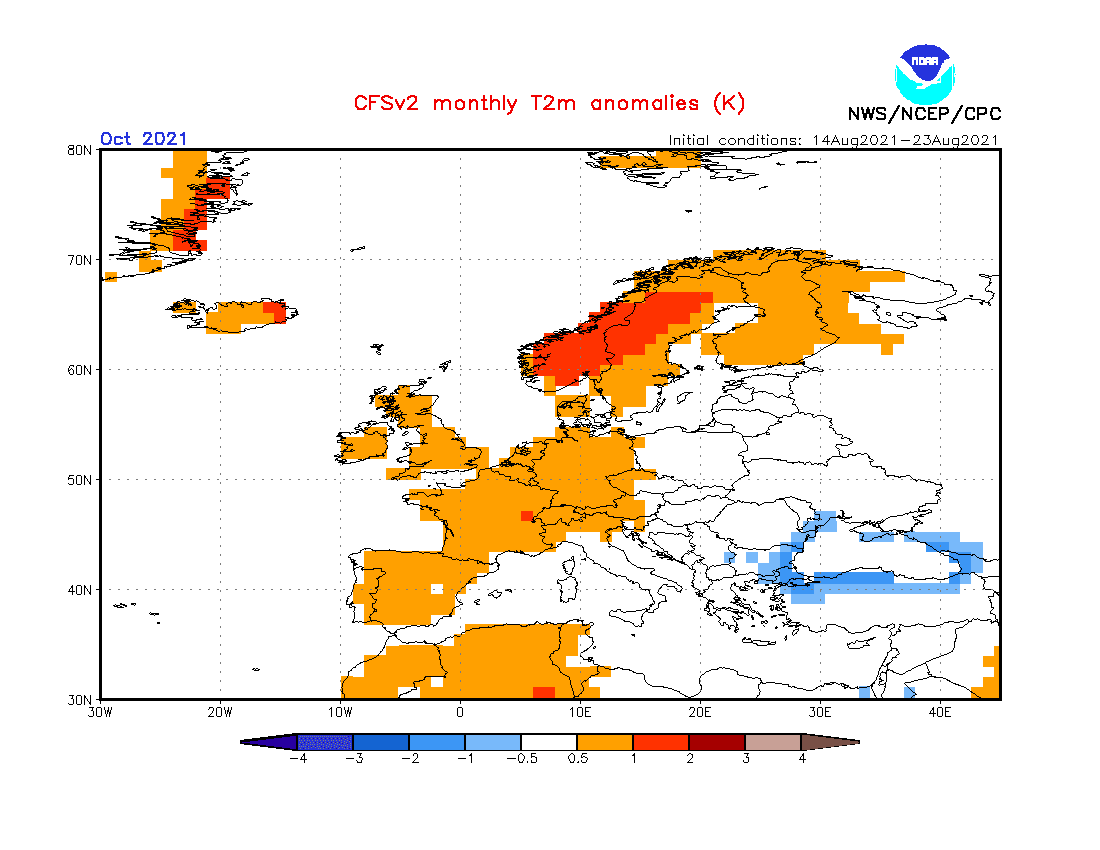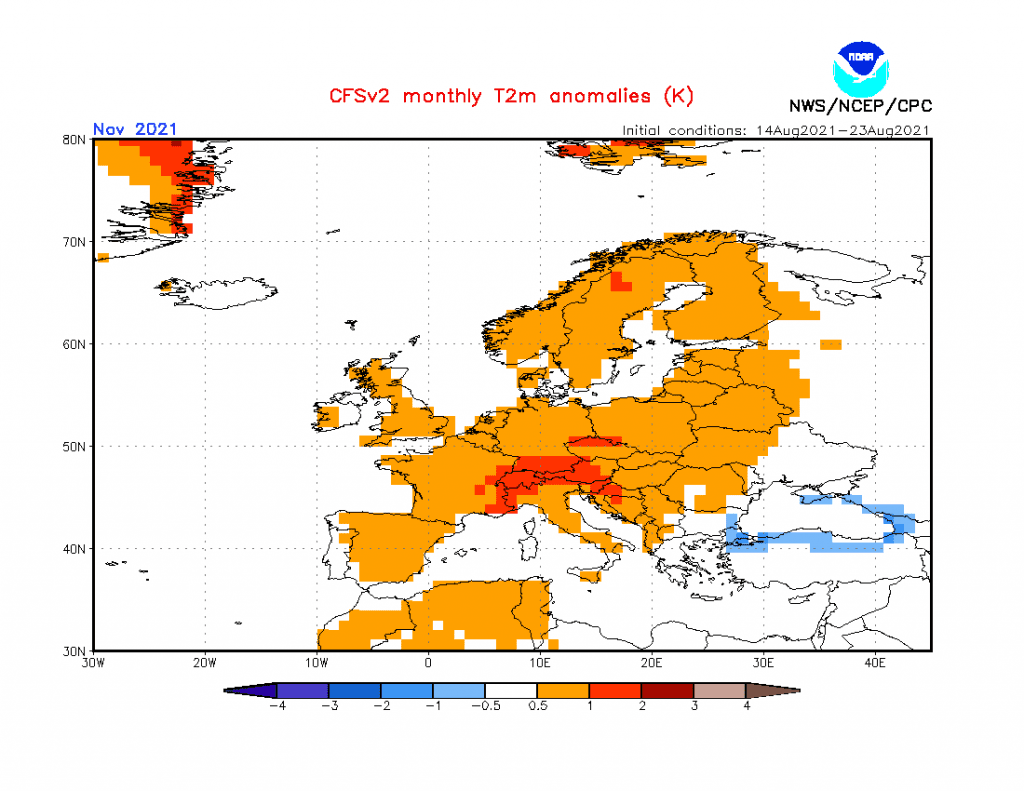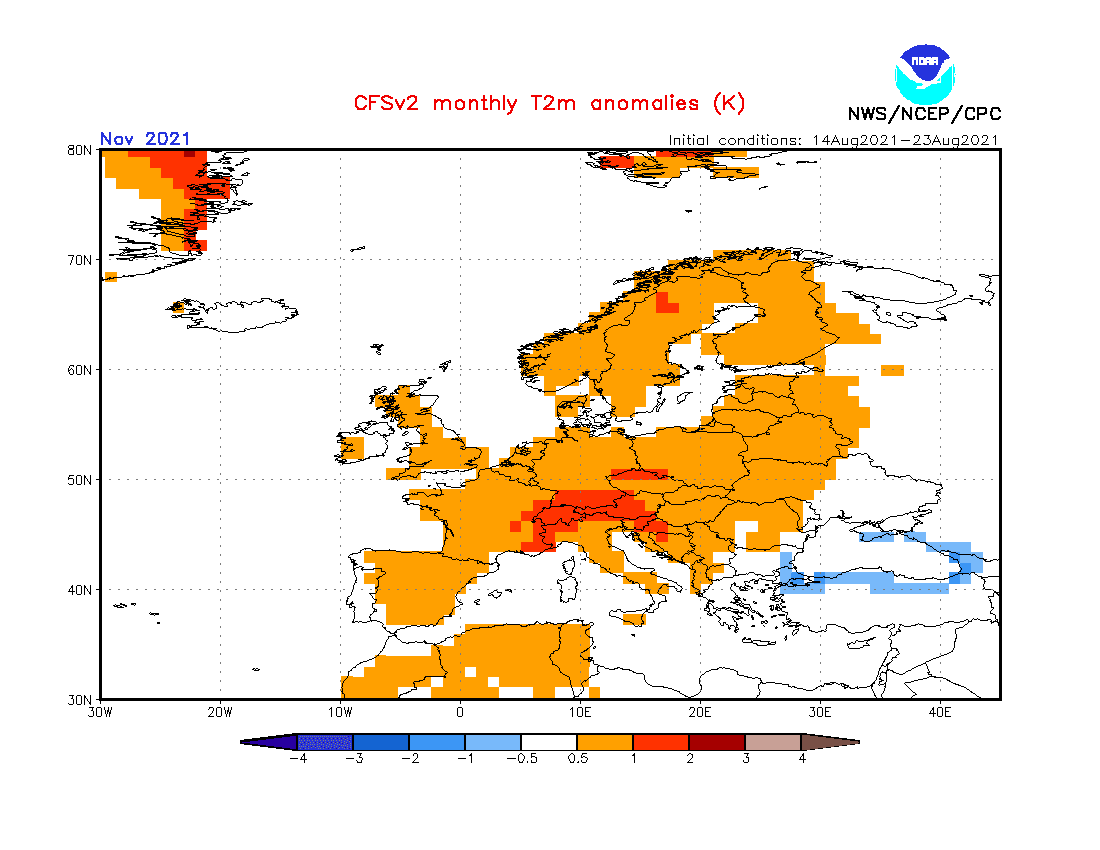 Source: https://www.cpc.ncep.noaa.gov/products/CFSv2/htmls/euT2me3Mon.html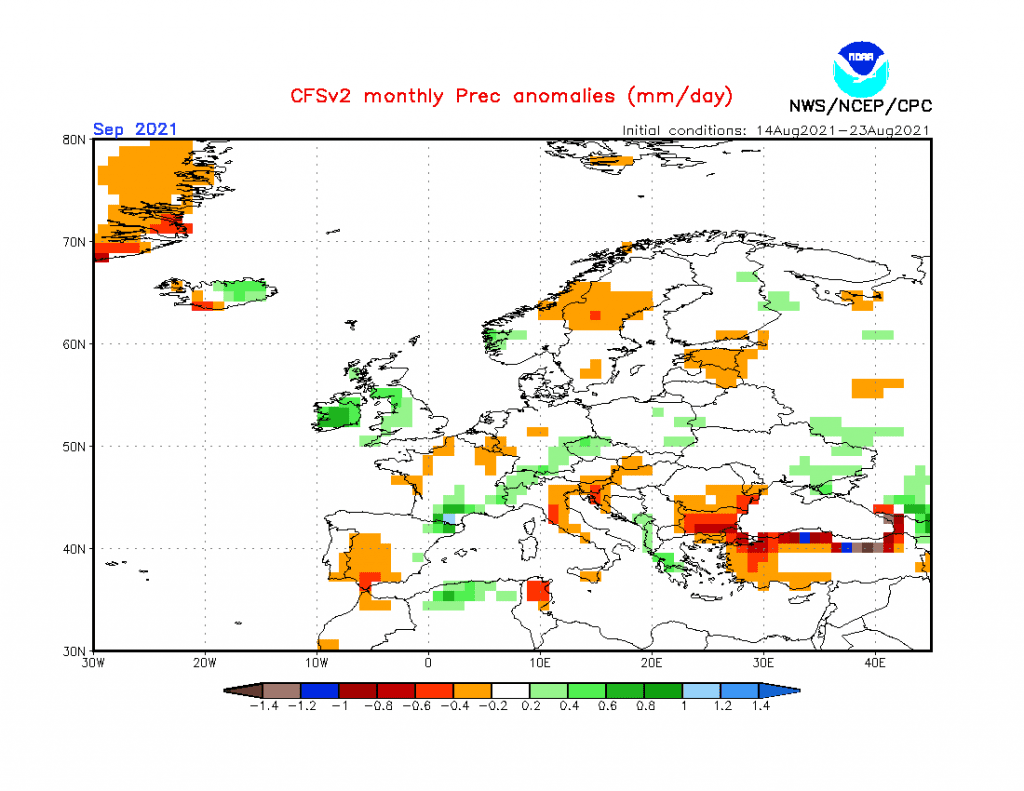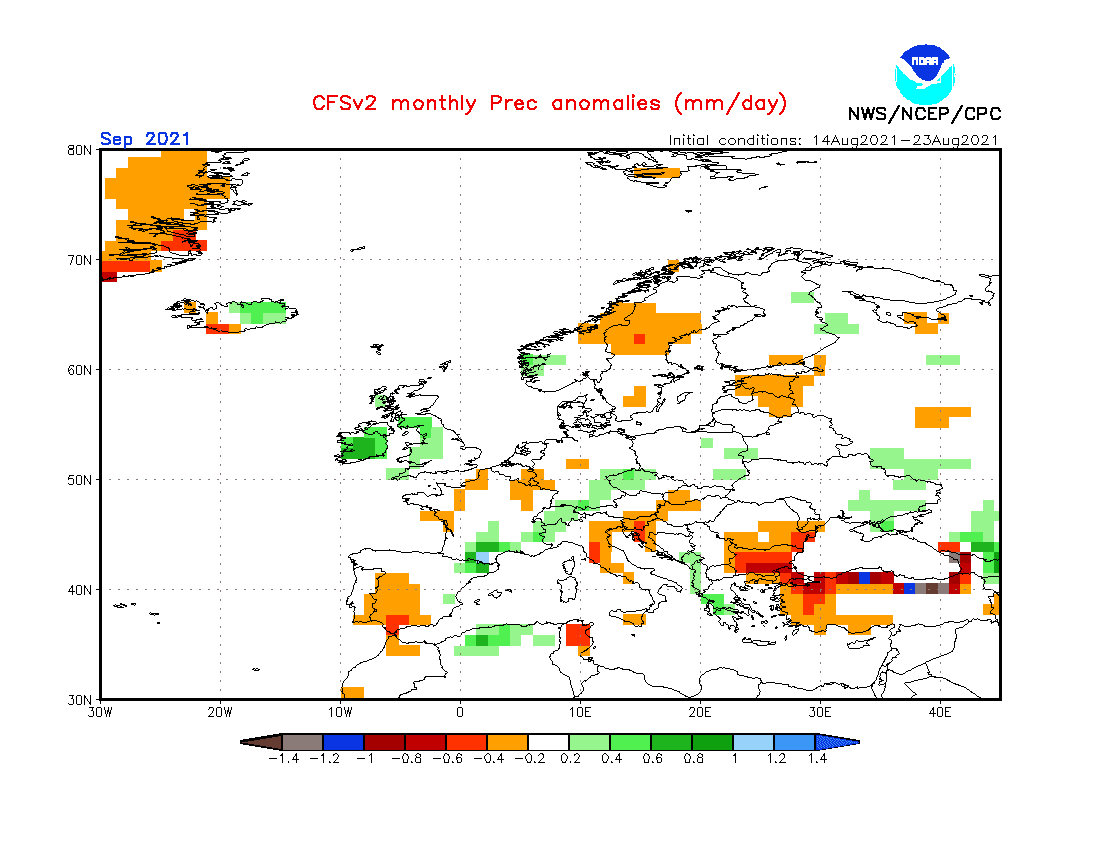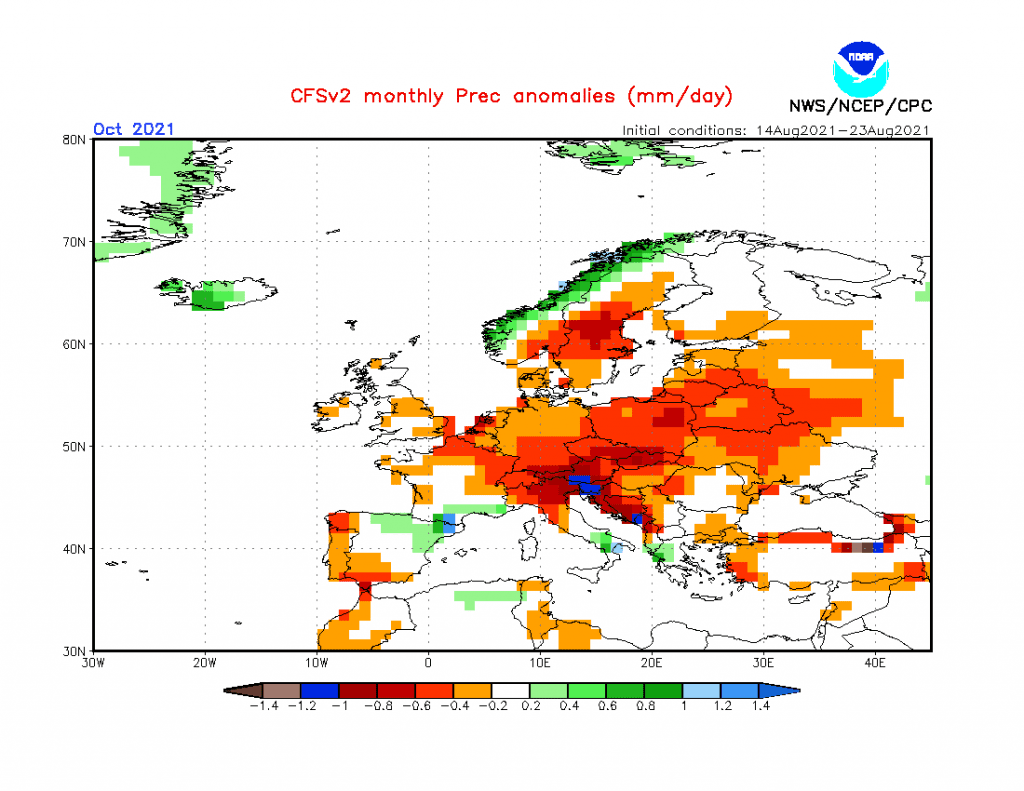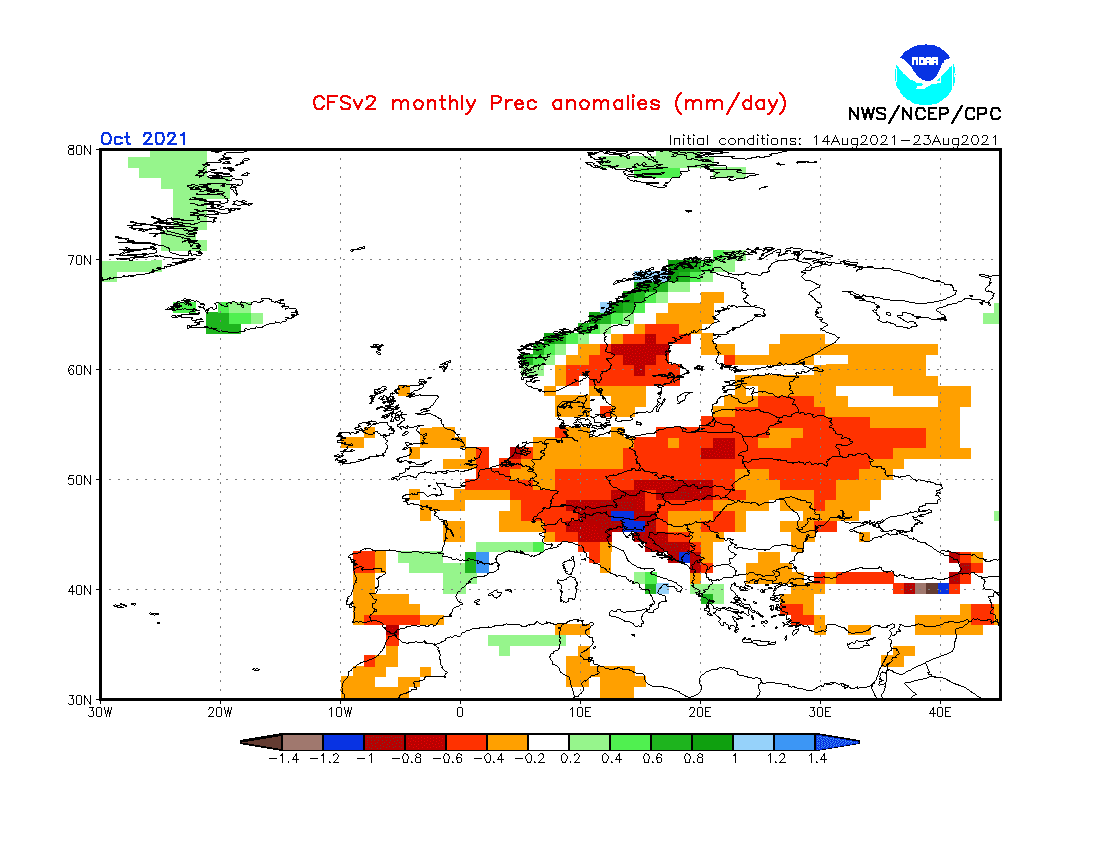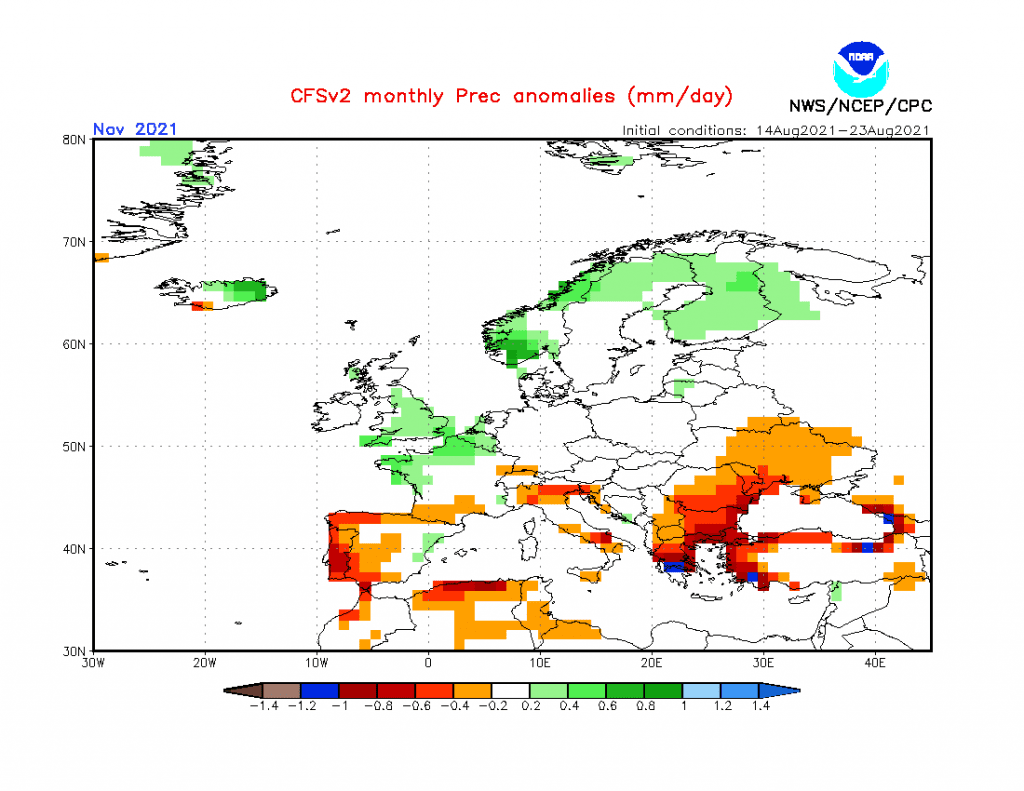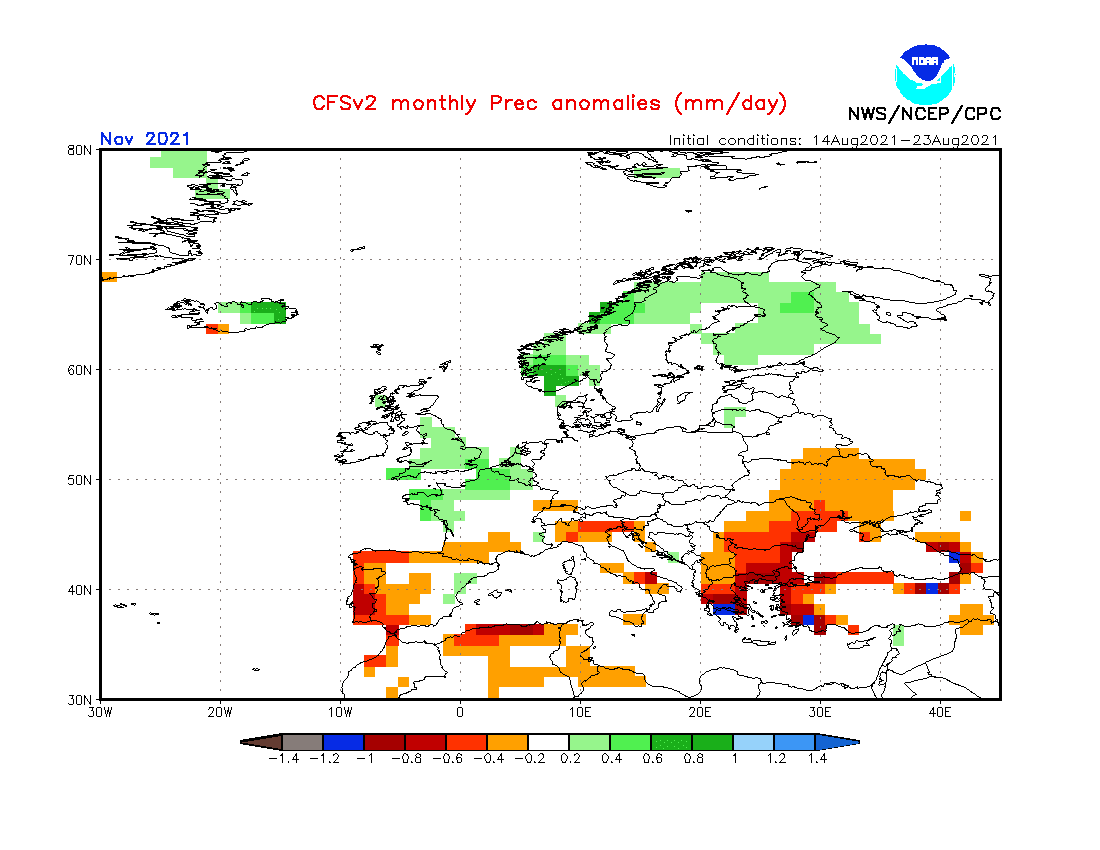 Source: https://www.cpc.ncep.noaa.gov/products/CFSv2/htmls/euPrece3Mon.html