Autumn 2021 forecast for North America: Long Indian Summer and weaker Hurricane season such was expected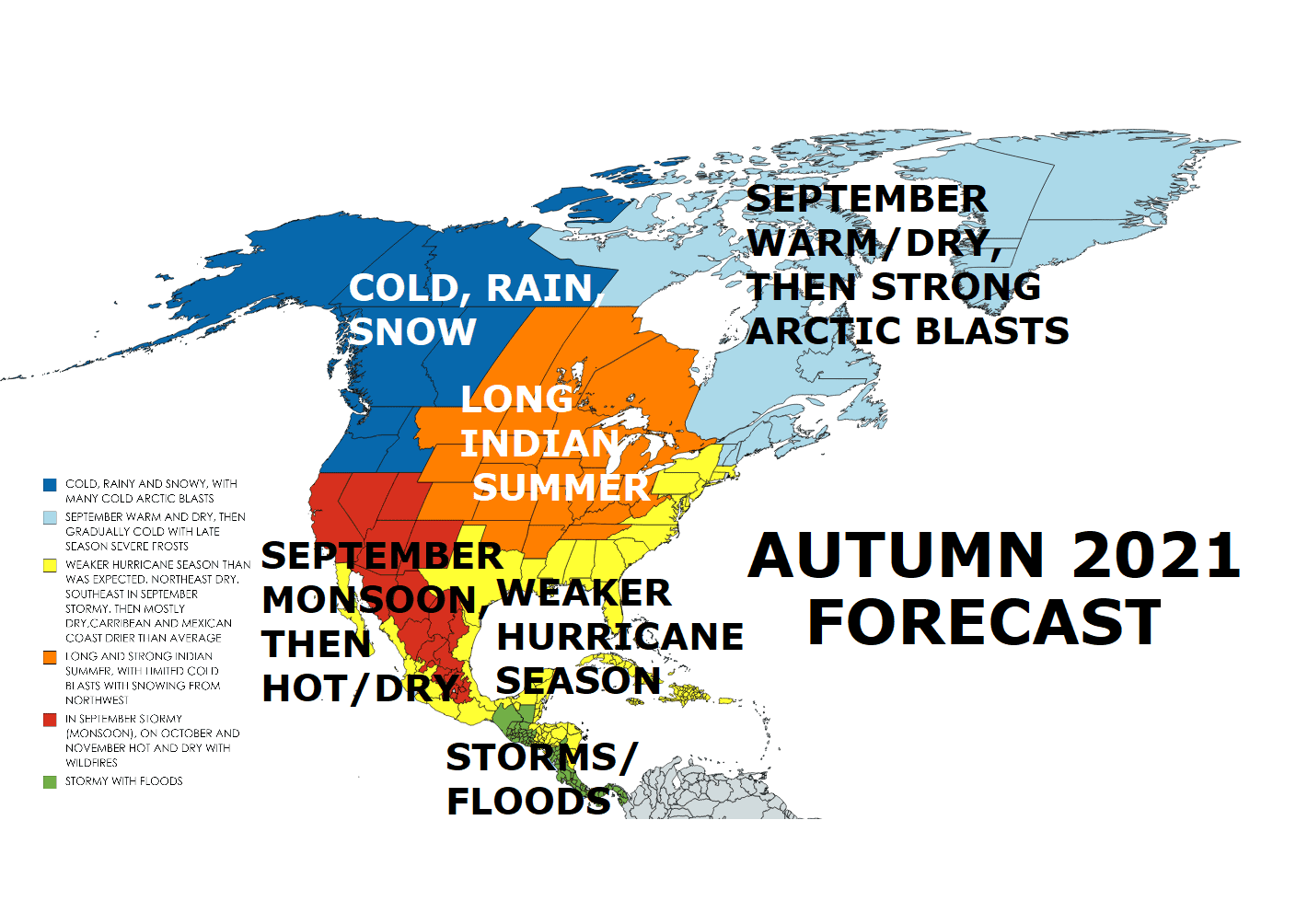 At the end of August 2021, we should look at Autumn 2021 forecasts for continents.
Secondly, we should look at North America.
Overall, re-strengthening of the La Nina pattern during the next months is expected, which should mean colder Earth and too colder parts of Alaska, Western Canada, and Northwestern USA.
QBO will be still in its easterly (colder) phase, maybe with the transition into the westerly phase around November 2021.
AO / NAO forecasts promise neutral, slightly NAO+ signals for September, NAO- signals for October, and NAO neutral signal for November 2021.
MJO should be in the wet phase until 10. September and in dry phase between 10. September – 5. October, so far.
Hurricane season 2021/2022 should be weaker than was forecasted. Not only dry MJO between 10. September – 5. October, but all October 2021 is forecasted to be above the USA very dry, therefore a peak of Hurricane season 2021 should be in 2021 milder than was forecasted.
Accuweather however counts with early Autumn coldwaves with snow thanks to La Nina and jet-stream configuration in some regions /https://www.accuweather.com/en/weather-forecasts/accuweather-fall-forecast-2021-us/992938; https://www.accuweather.com/en/weather-forecasts/accuweathers-2021-canada-autumn-forecast/1002672/.
There are a few significant forecasted patterns for North America that would have to be a subject of the next investigation:
Regenerating heat domes above southern Canada and northern USA with an association of very dry October 2021 above the USA according to CFS – it should be linked with long and strong Indian Summer in 2021 in southern parts of Canada and northern USA.

Weaker projected hurricane activity – dry MJO after 10. Sptember and dry USA in October with a combination of updated hurricane season forecasts. It´s a possible, that a peak of Atlantic Hurricane Season 2021 wil be weaker than was predicted in the last months, thanks to favorable configurations above the Atlantic, but too Indian Ocean, Pacific and the Arctic (a strong positive pressure anomaly above Greenland during September 2021 and maybe early October 2021). Norteast and East Coast should be overall dry in Autumn 2021, what is the next sign of weaker hurricane activity.

AO+ conditions in September and possible AO- conditions in November 2021 should cause colder Gulf Coast in September, warmer in November and colder Arctic in November.

La nina will be traditionally linked with cold Alaska, British Columbia, Yukon and parts of Northwestern Territory and Alberta. Above the region is predicted a big negative geopotential anomaly, therefore, cold blasts with snowing will be coming into southern regions from Northwest in Autumn 2021. A coast of British Columbia expects heavy rainfall mainly around October 2021 – it will be a region without an Indian Summer.

Monsoon rains in Mexico and SW USA are still forecasted in September, then dry October and November is predicted.

Autumn 2021 in the Caribbean should be drier, but parts of Central America, mainly southern states, should be very stormy, with an increased possibility of floods mainly in Costa Rica and Panama, thanks to La nina pattern, brining heavy rain into northern parts of South America, too.

Persisting warm and high pressure anomaly in September over Greenland should change in the second half of Autumn to colder pattern on the back side of strengthening Icelandic cyclone. It should bring colder end of Autumn in eastern parts of Canada, or Great Lakes region (alhough it is not evident from maps), with more coldwaves.
Overall warm conditions are forecasted for southern Canada and the northern USA in Autumn 2021, with a nice Indian summer pattern such a main part of the season. The northwestern sector of the continent should be colder and pressure troughs with early snowfall should be coming from this region above the continent. The peak of hurricane season is forecasted to be weaker in September and October 2021 (dry MJO, Indian summer heat dome anomaly). The Caribbean should be therefore drier, but Central America wetter thanks to La Nina.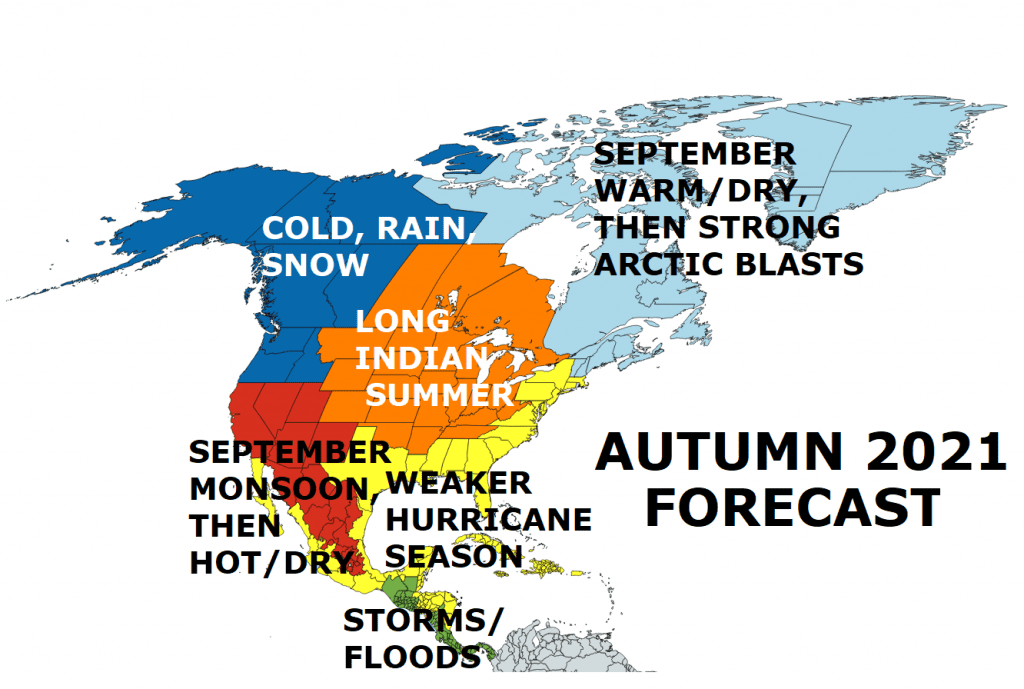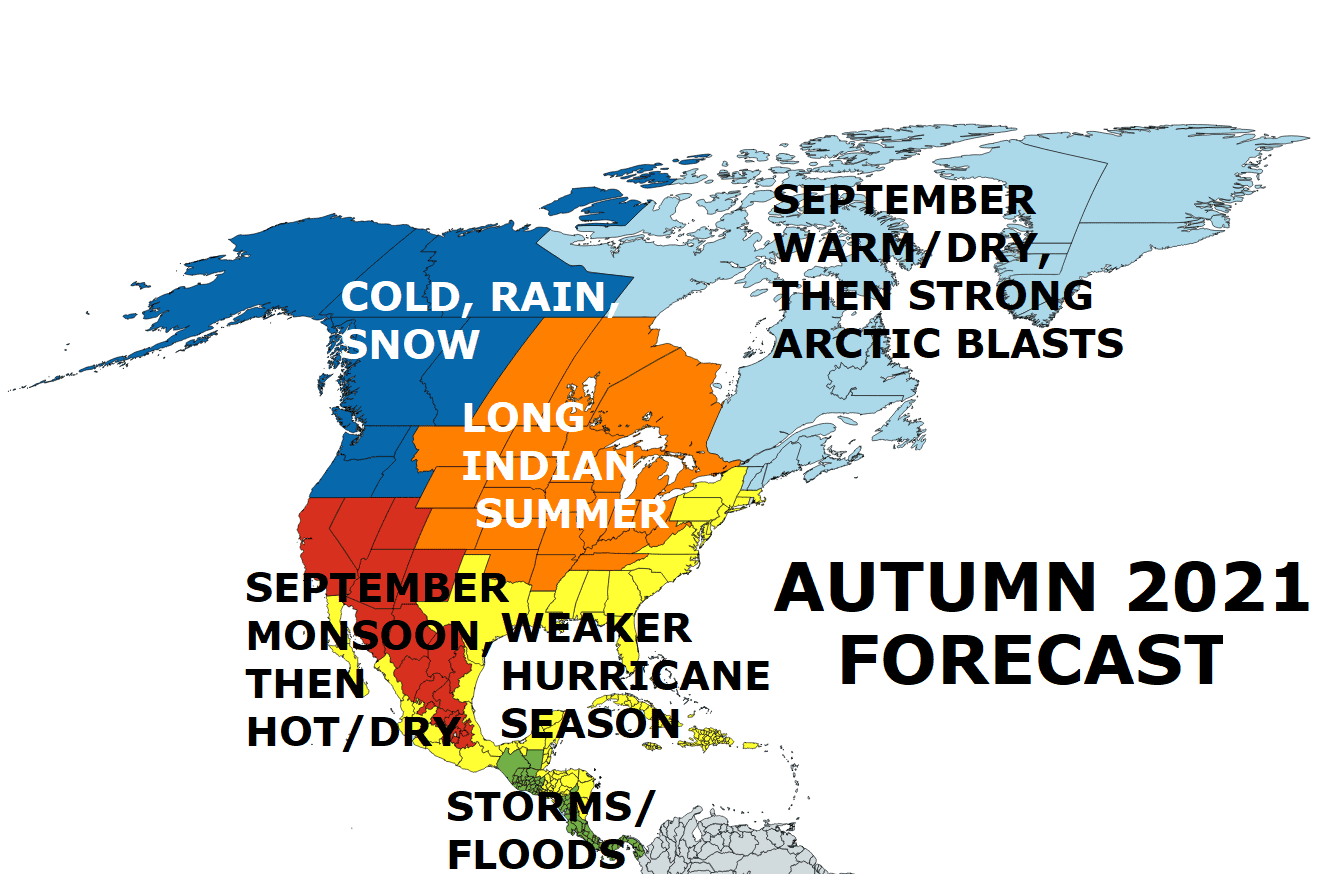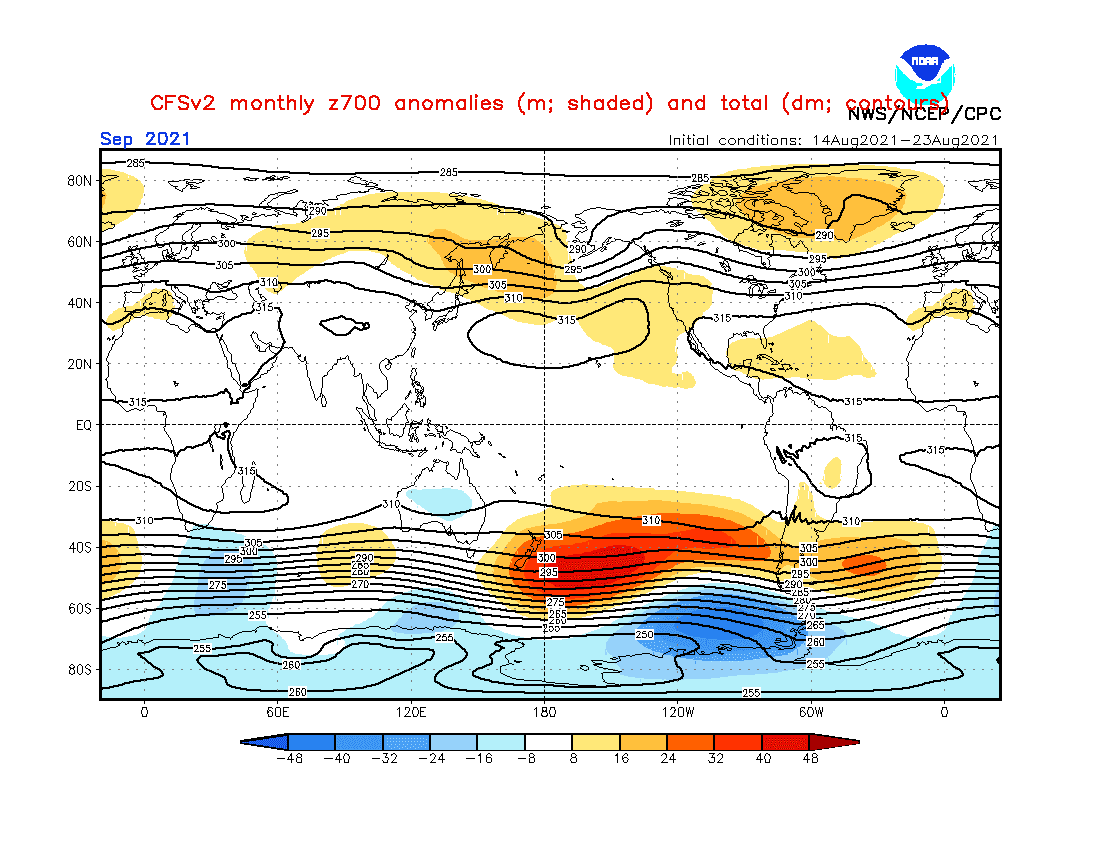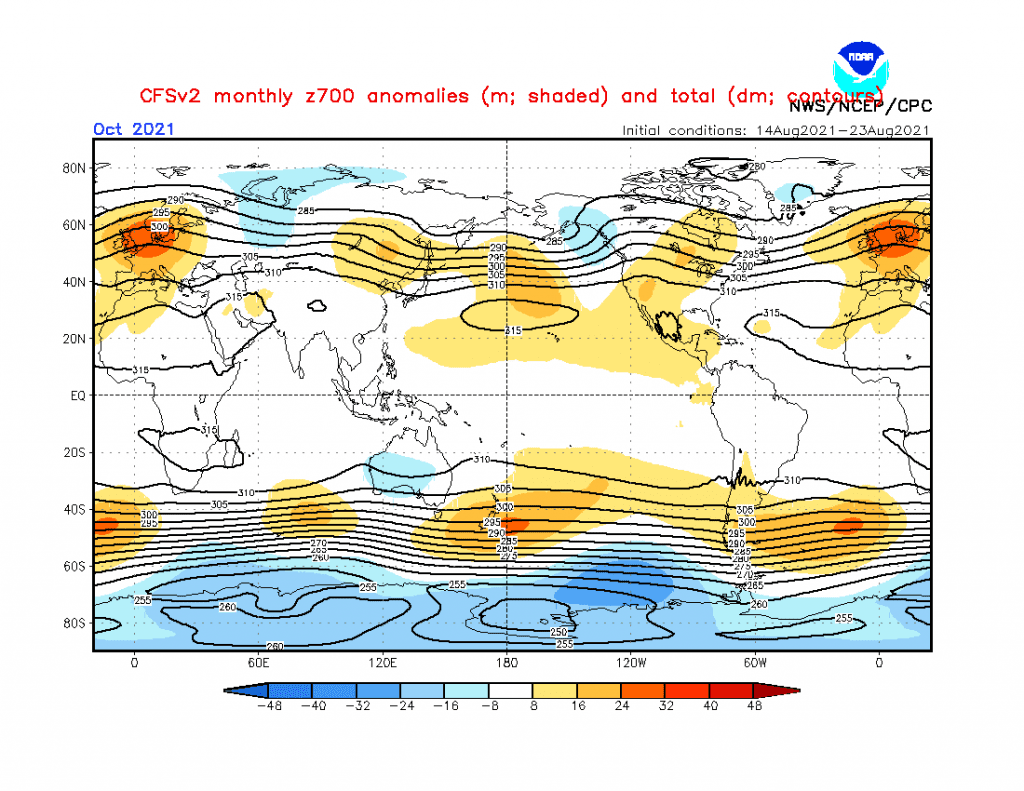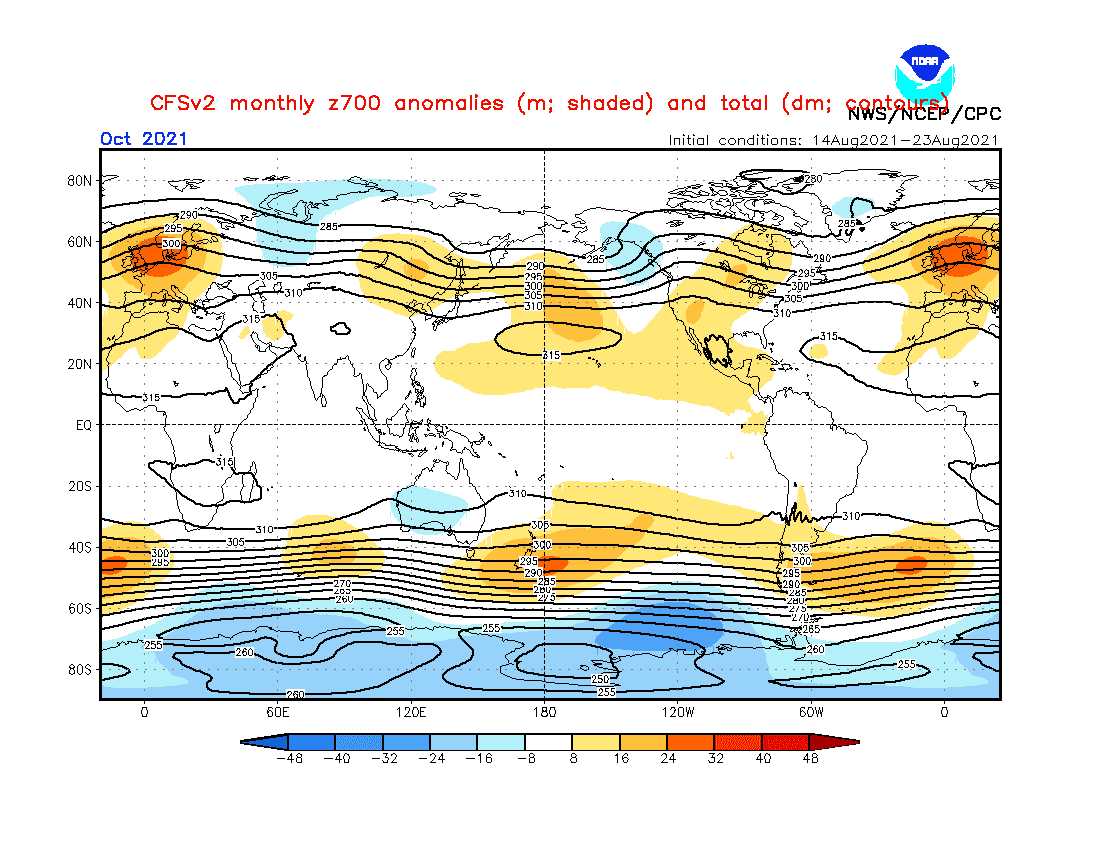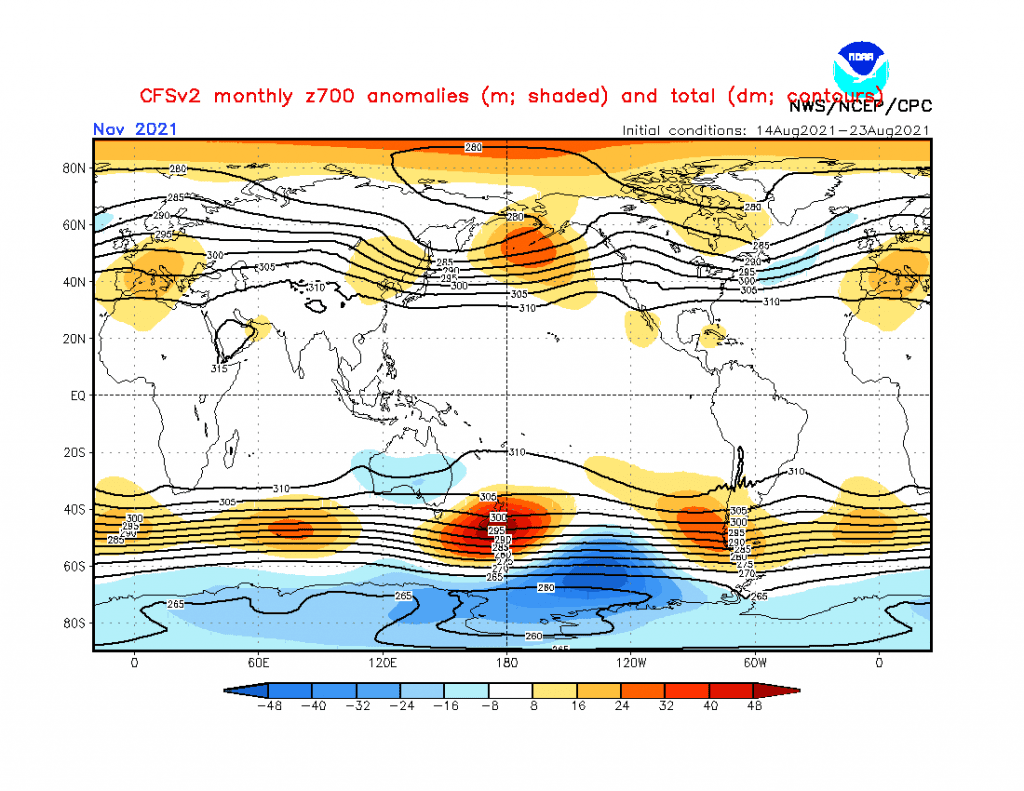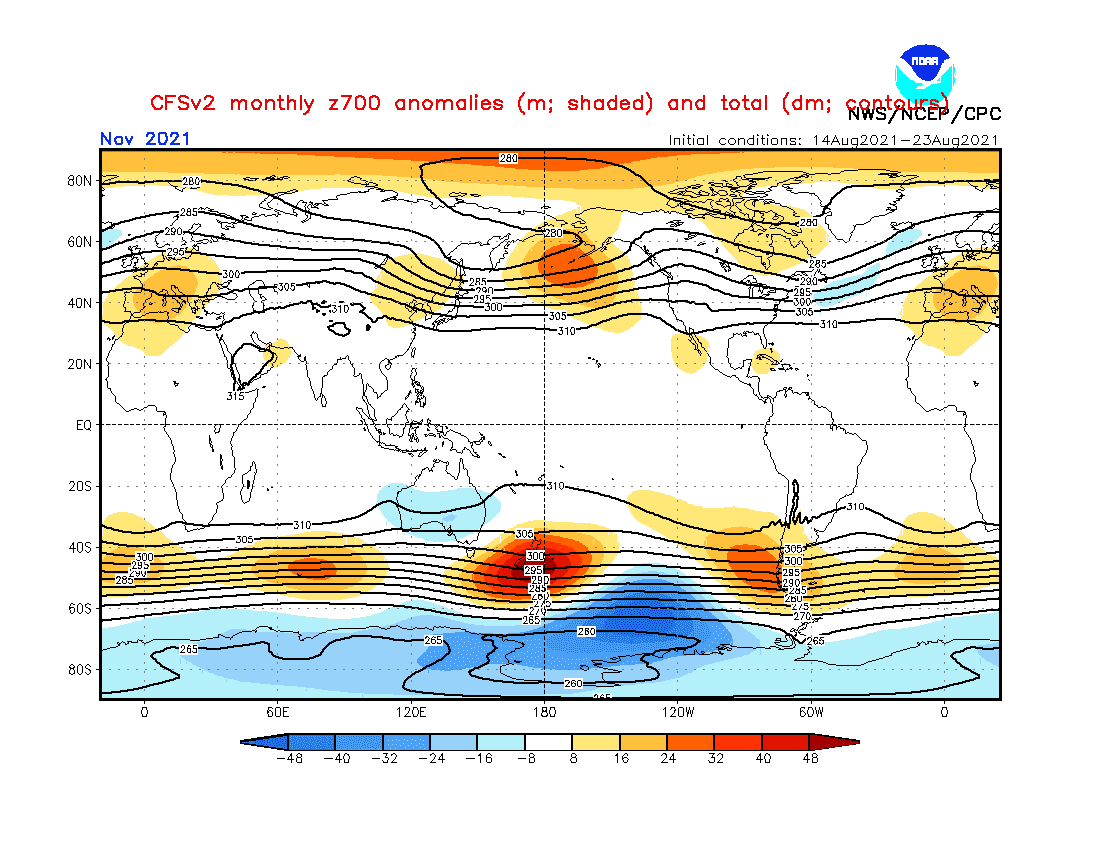 Source: https://www.cpc.ncep.noaa.gov/products/CFSv2/htmls/glbz700e3Mon.html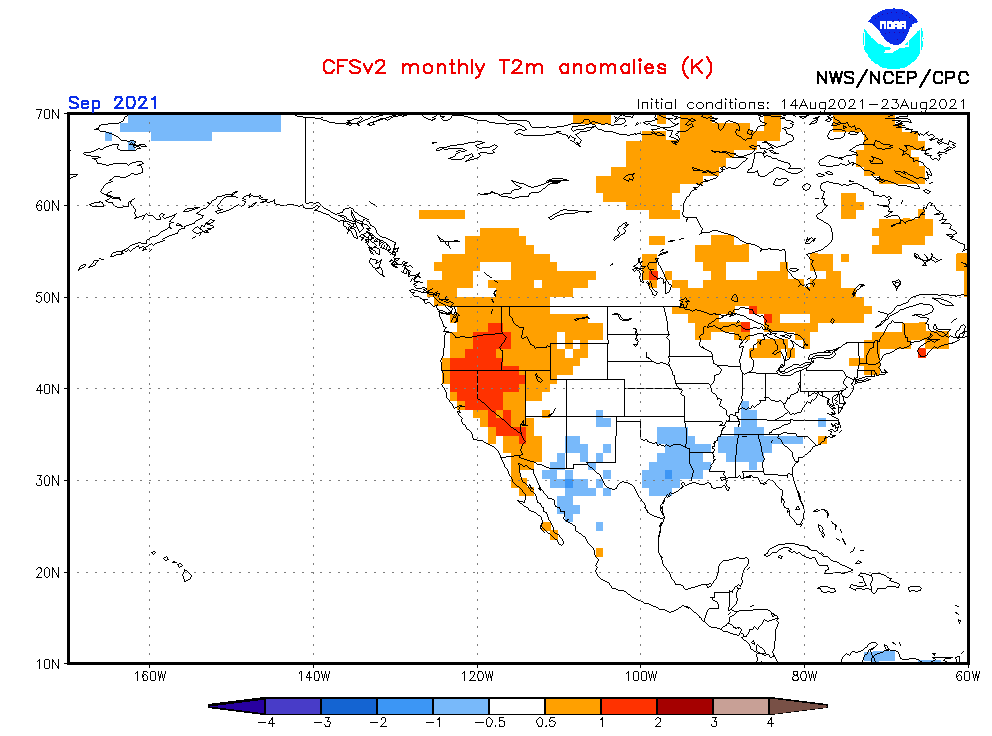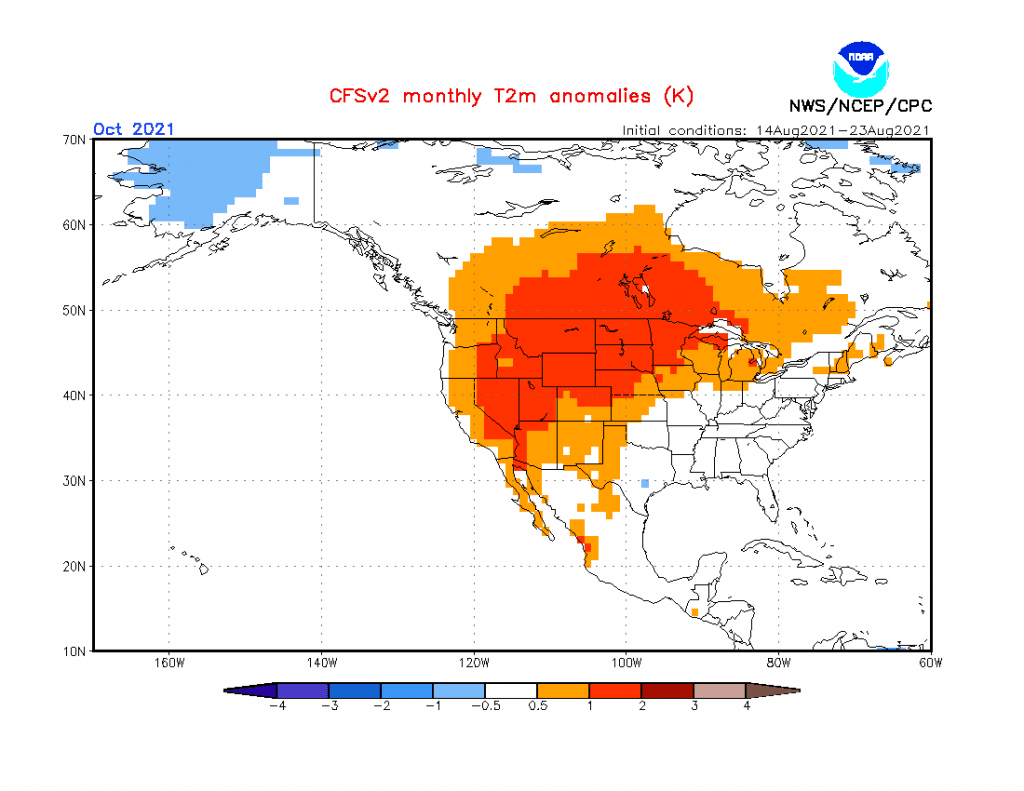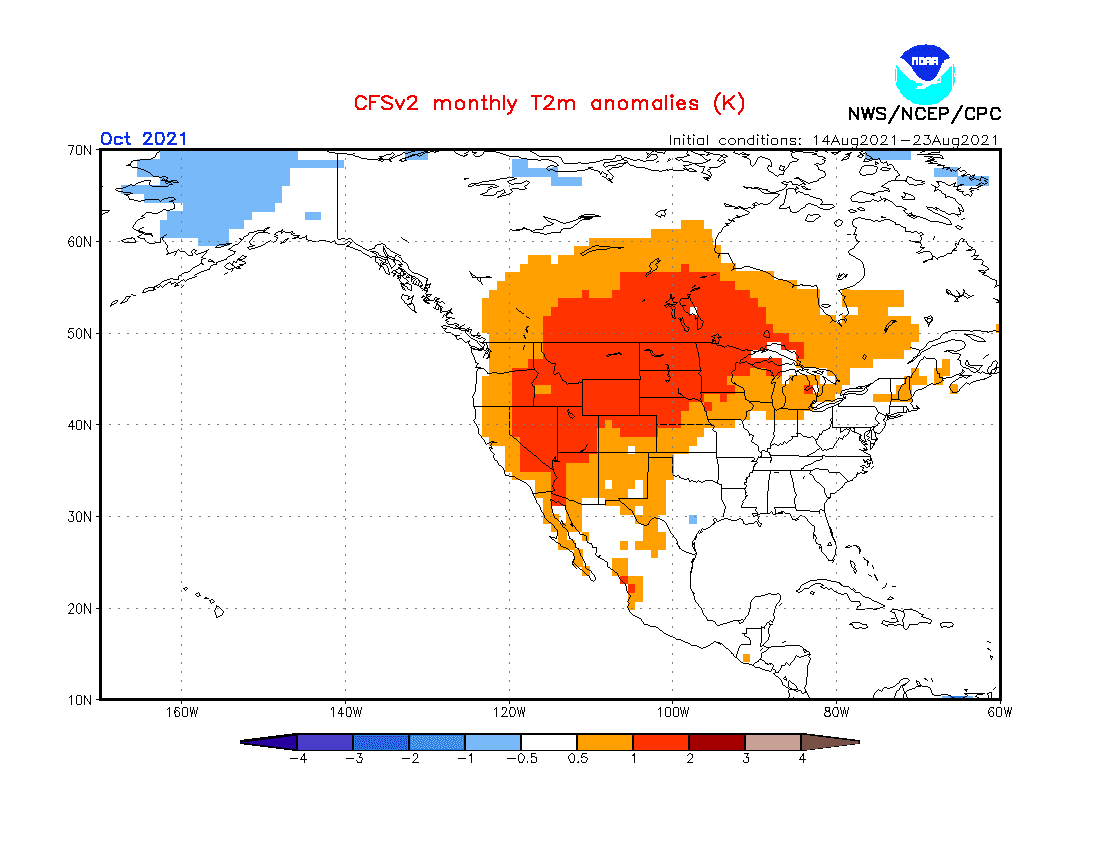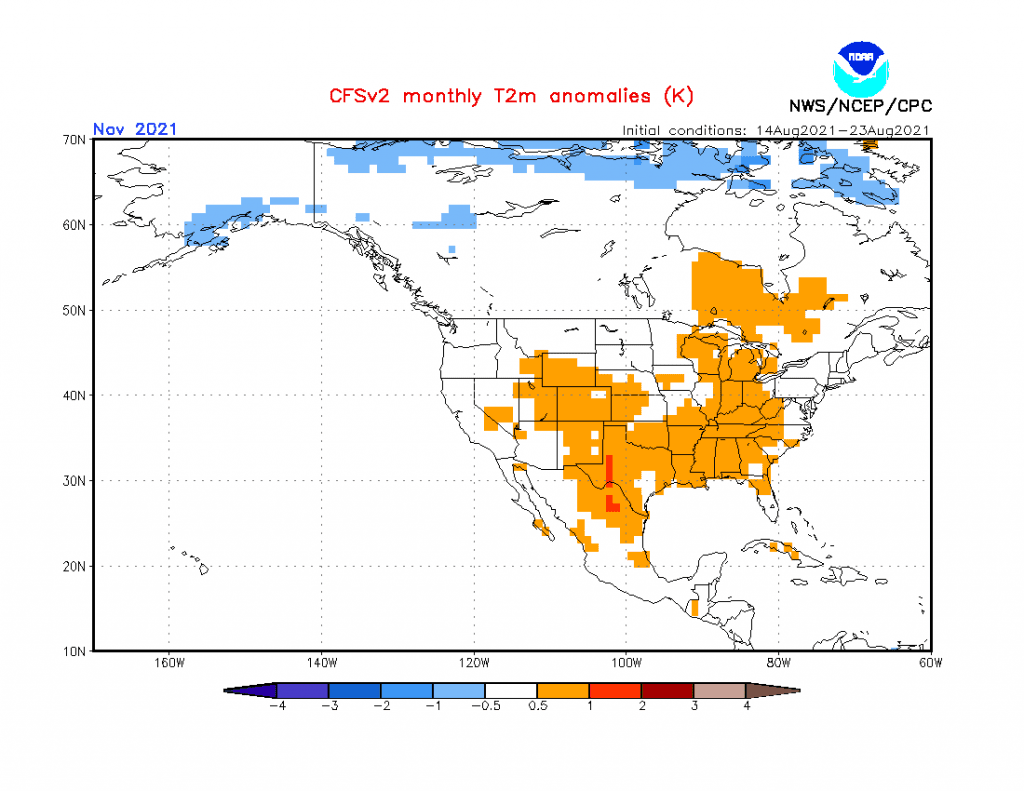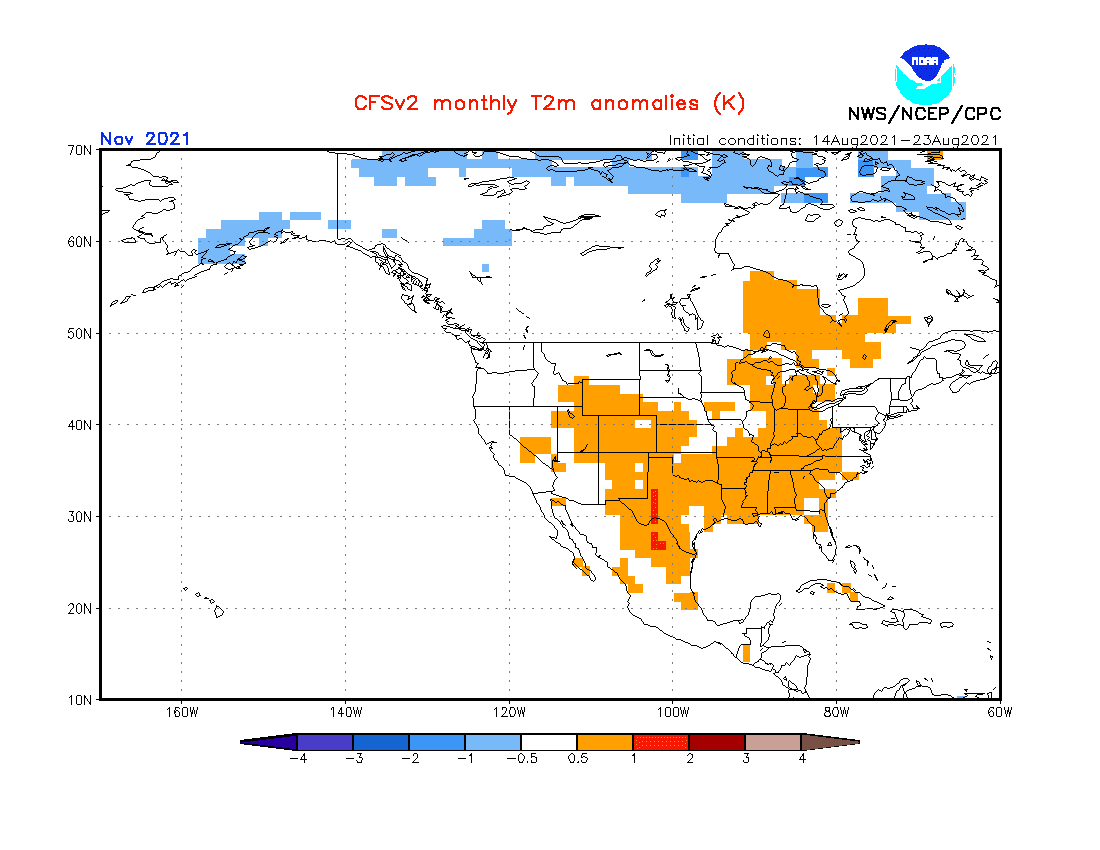 Source: https://www.cpc.ncep.noaa.gov/products/CFSv2/htmls/euT2me3Mon.html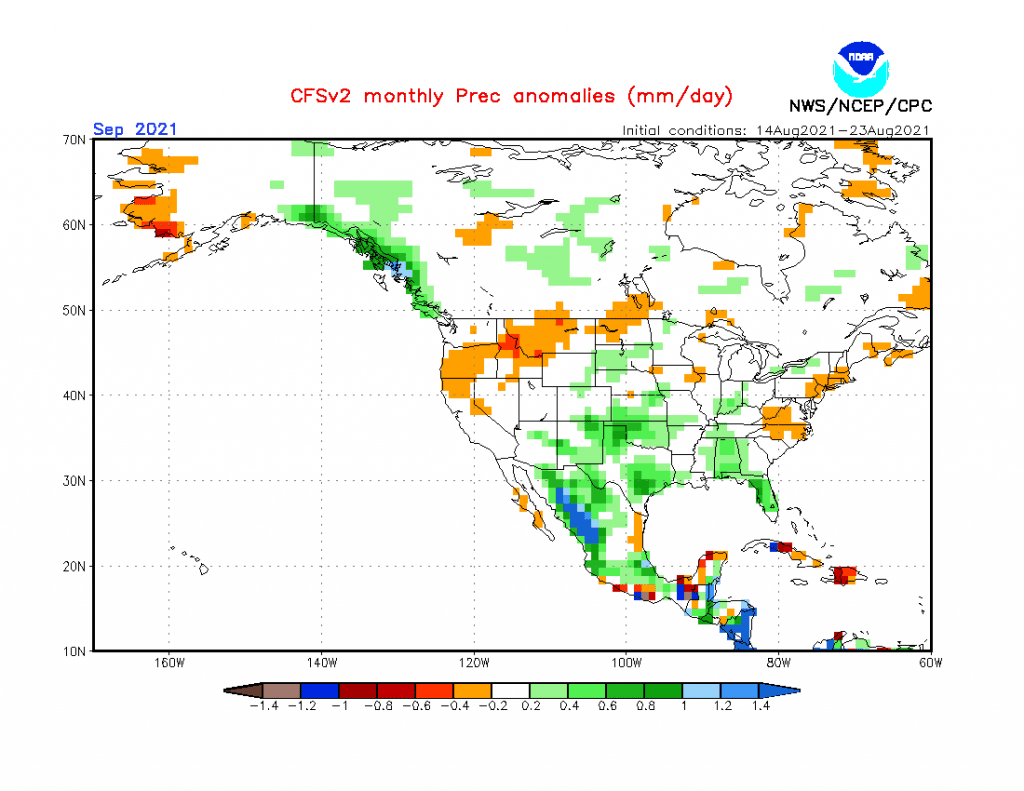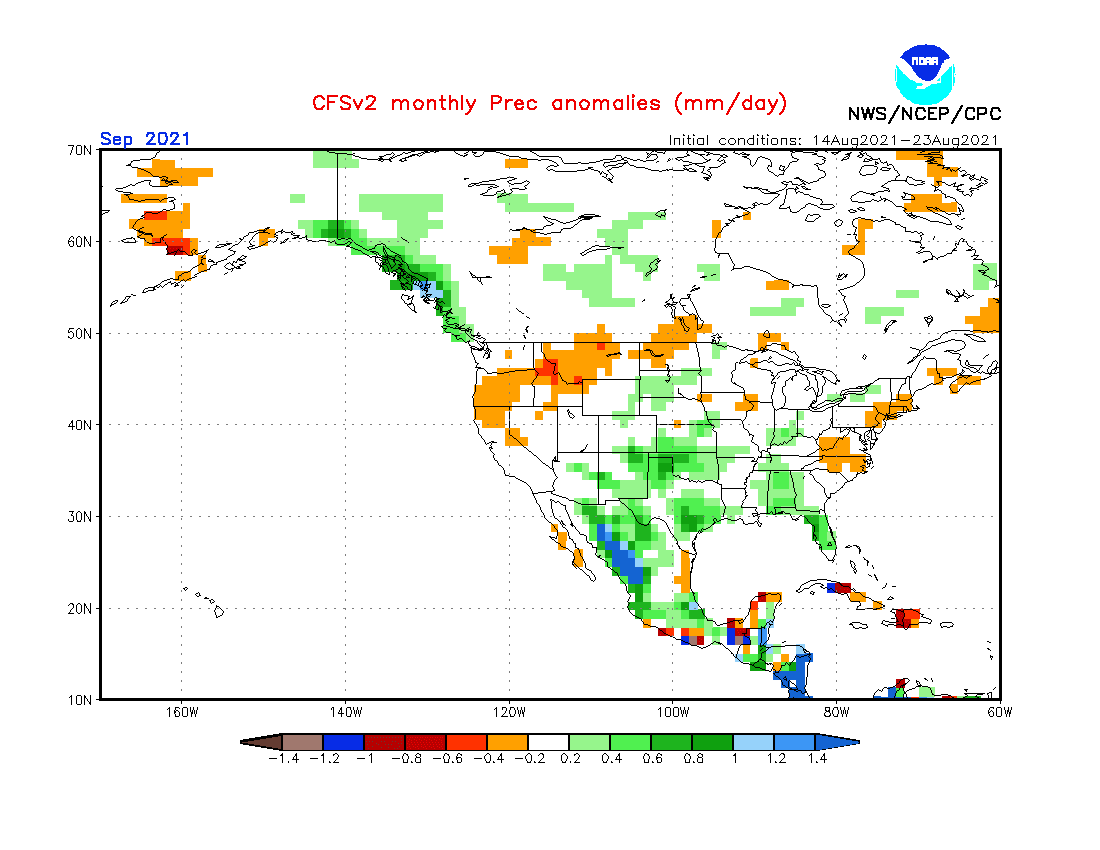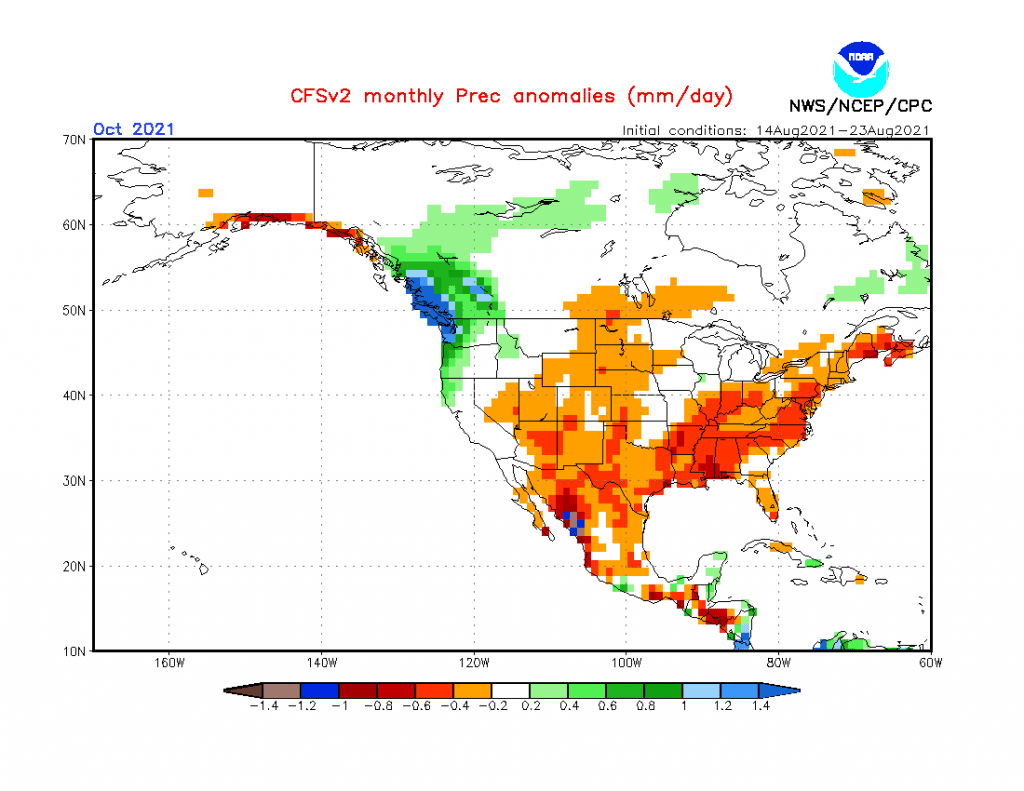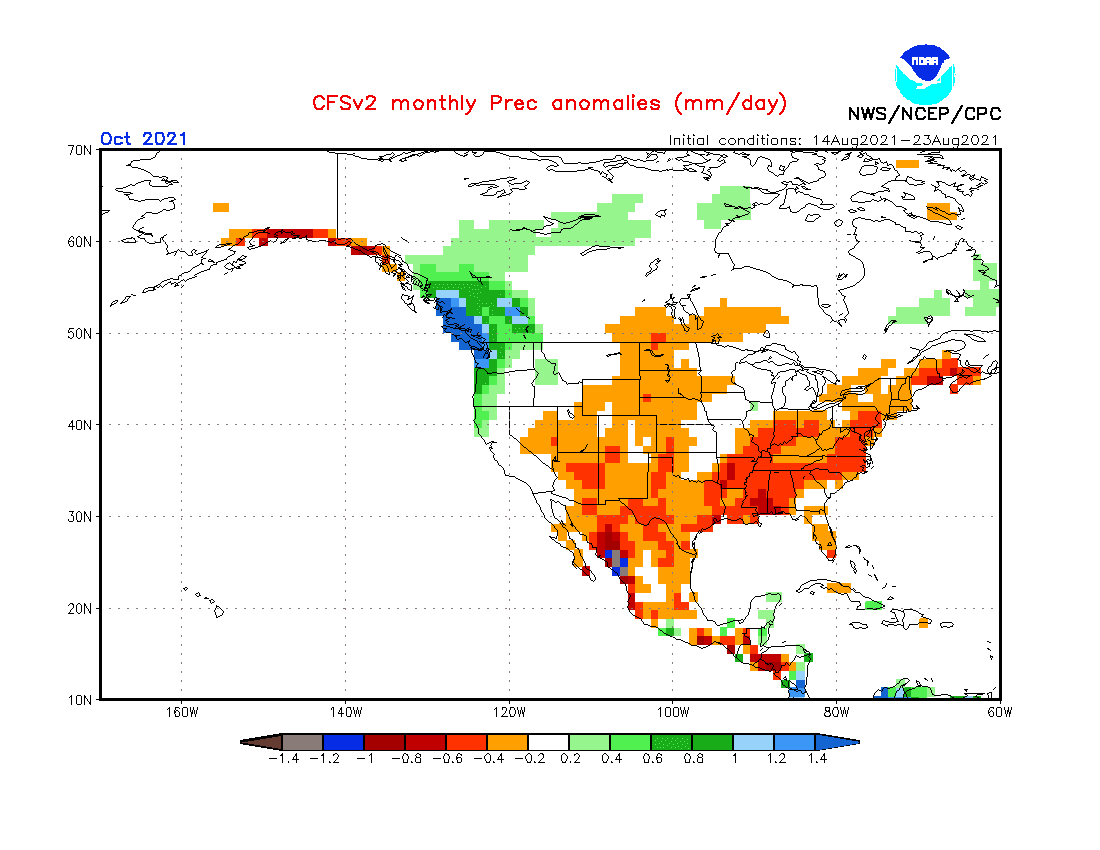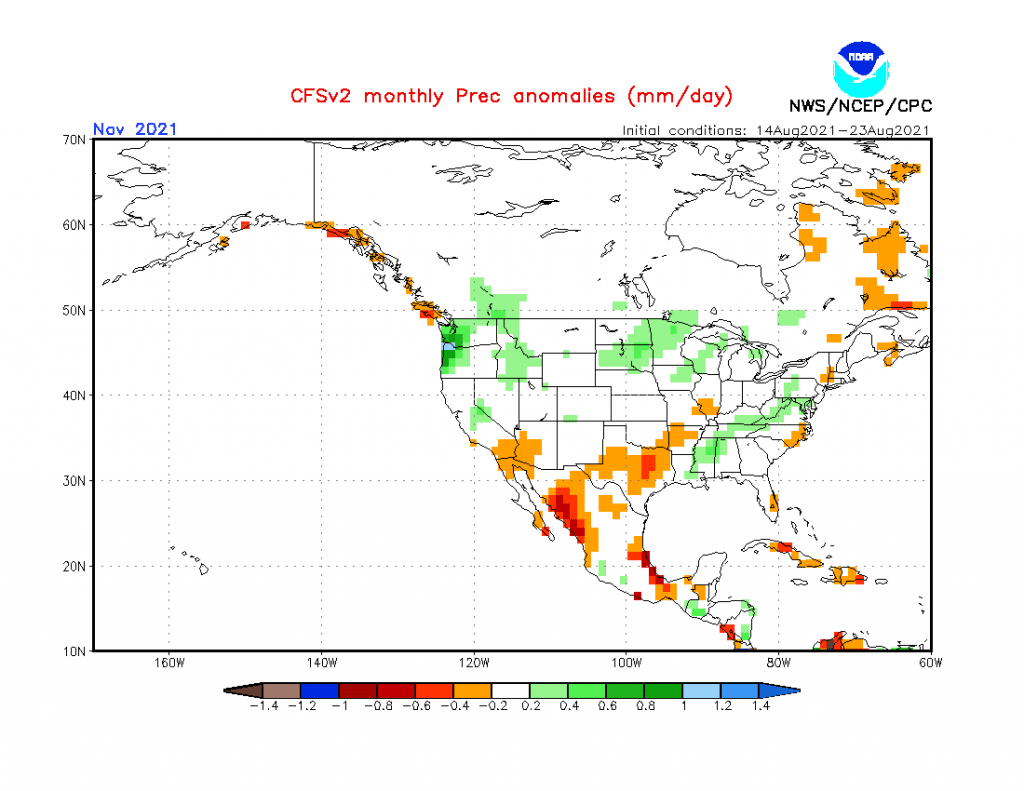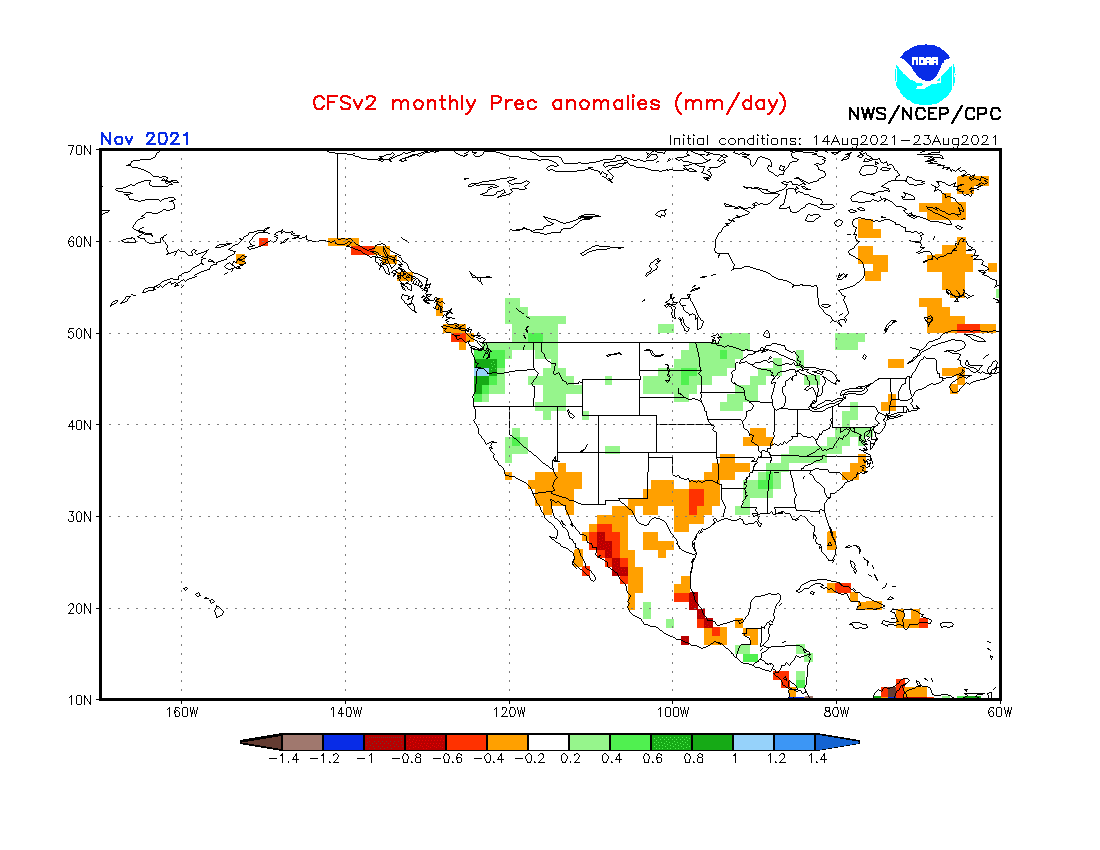 Source: https://www.cpc.ncep.noaa.gov/products/CFSv2/htmls/euPrece3Mon.html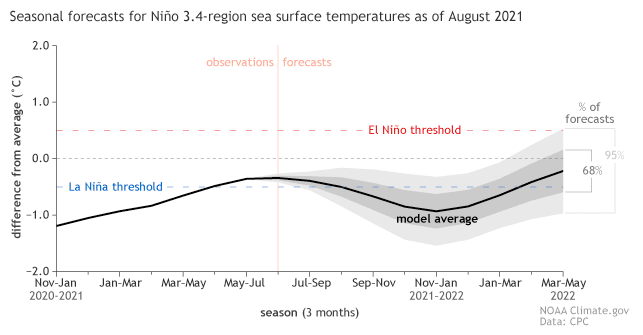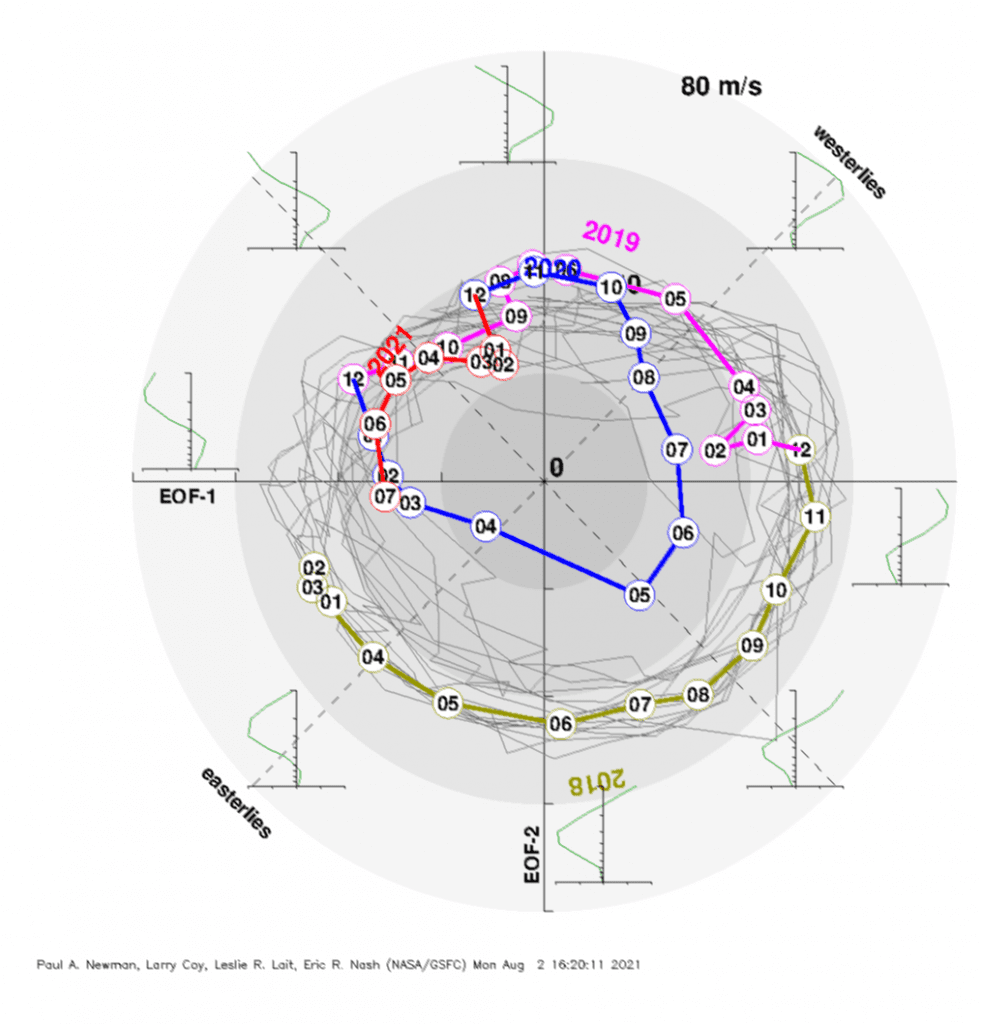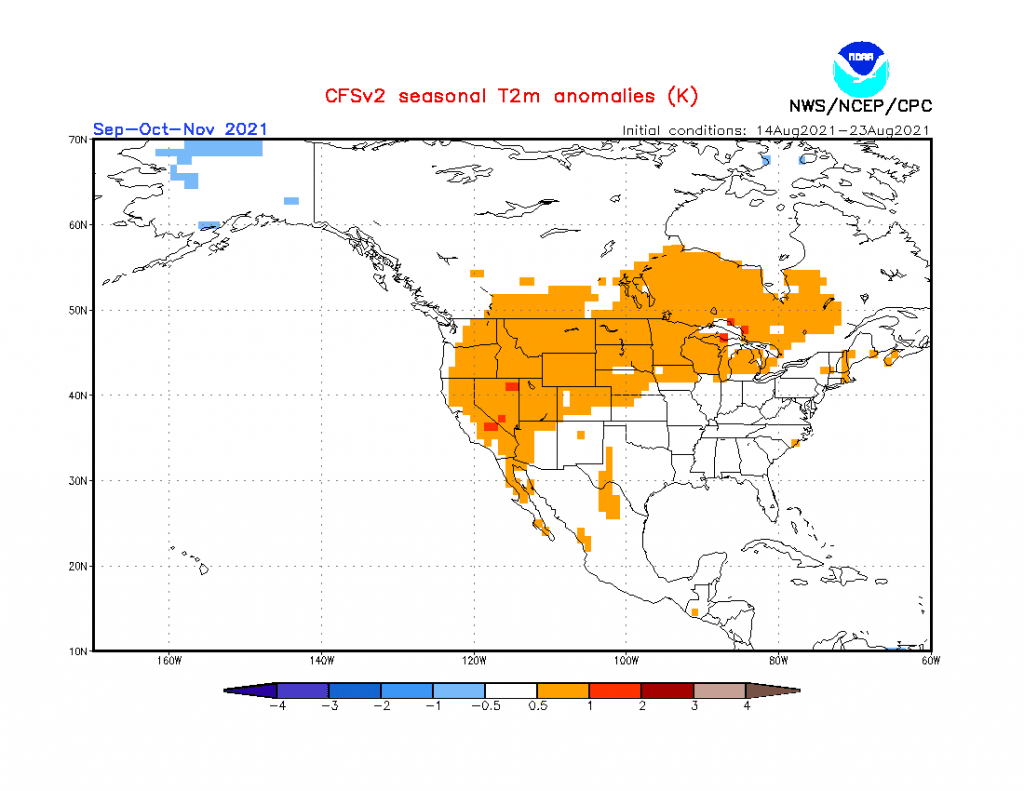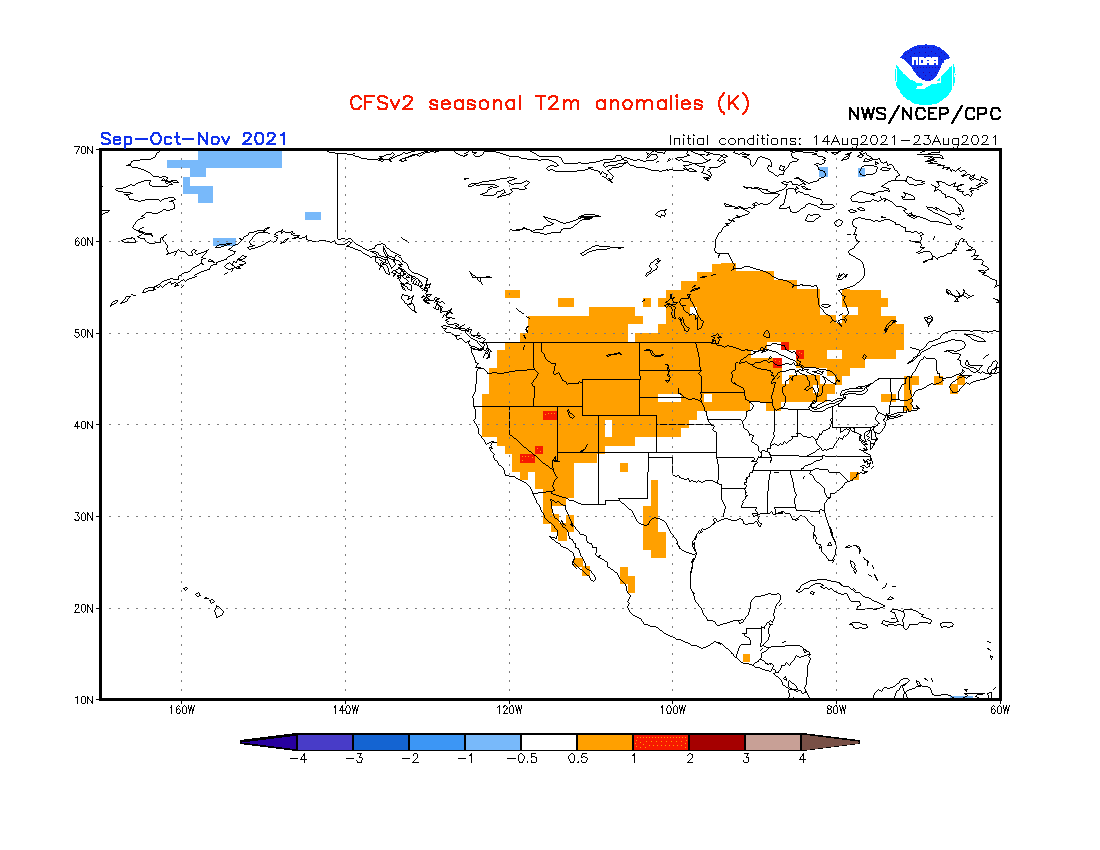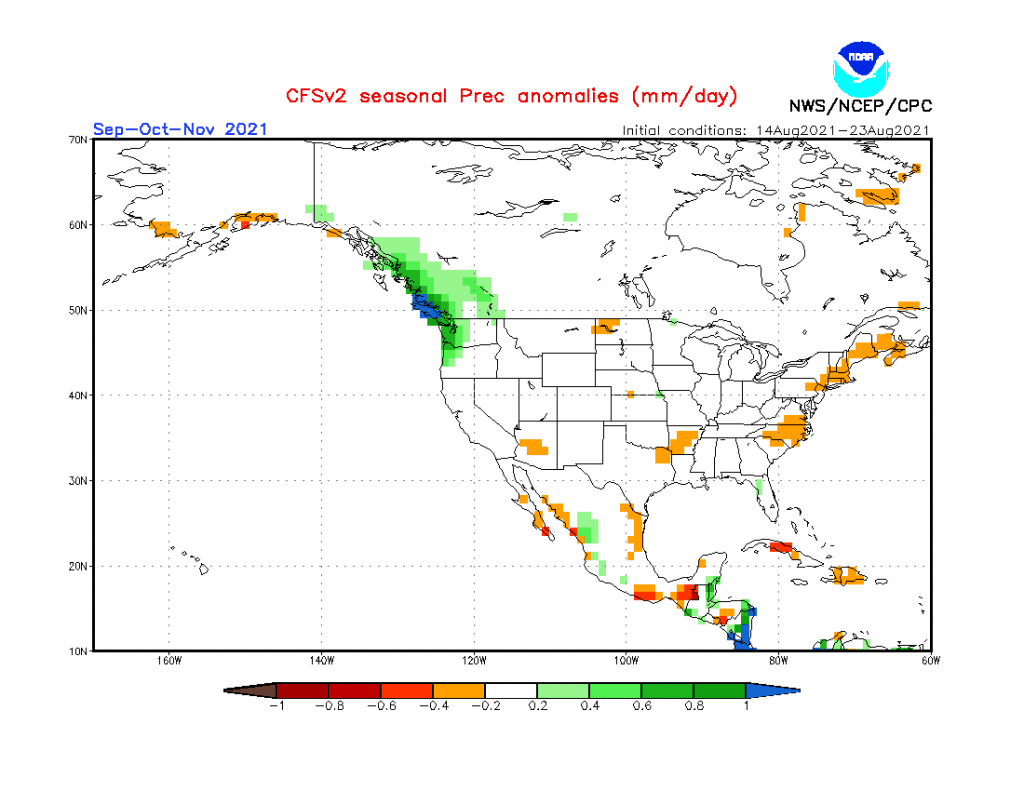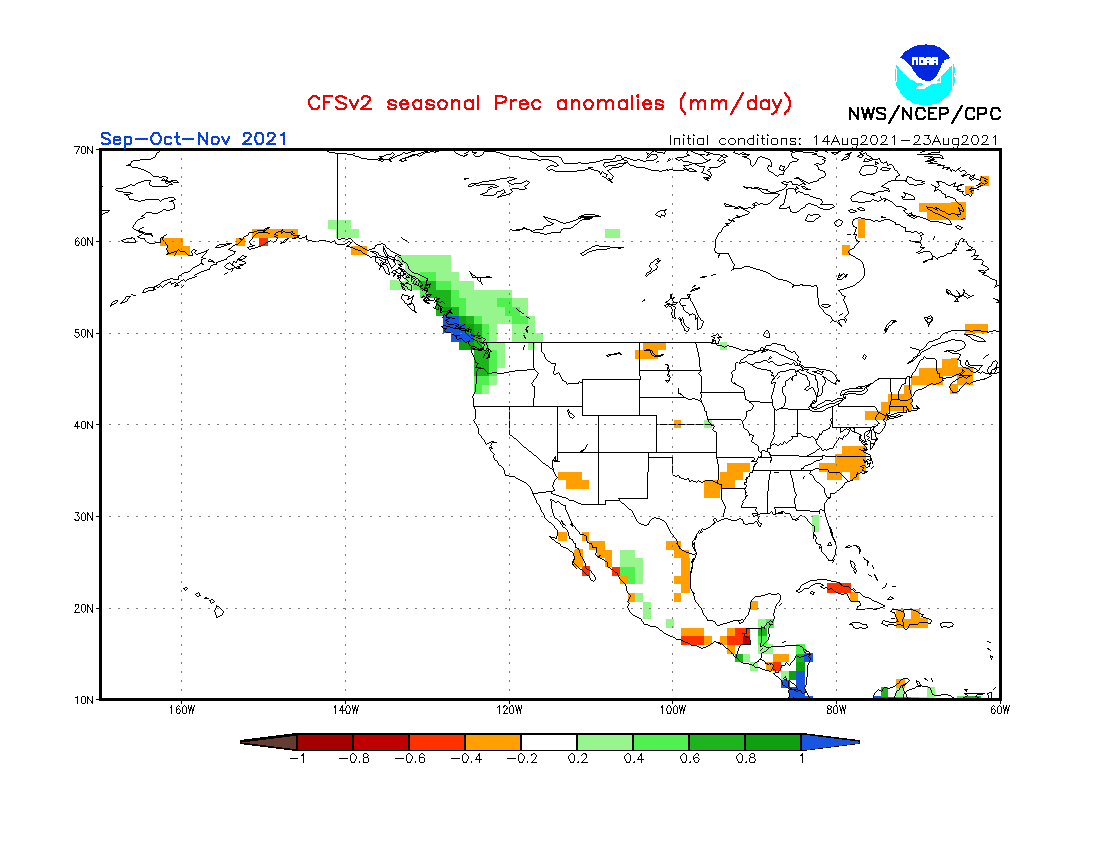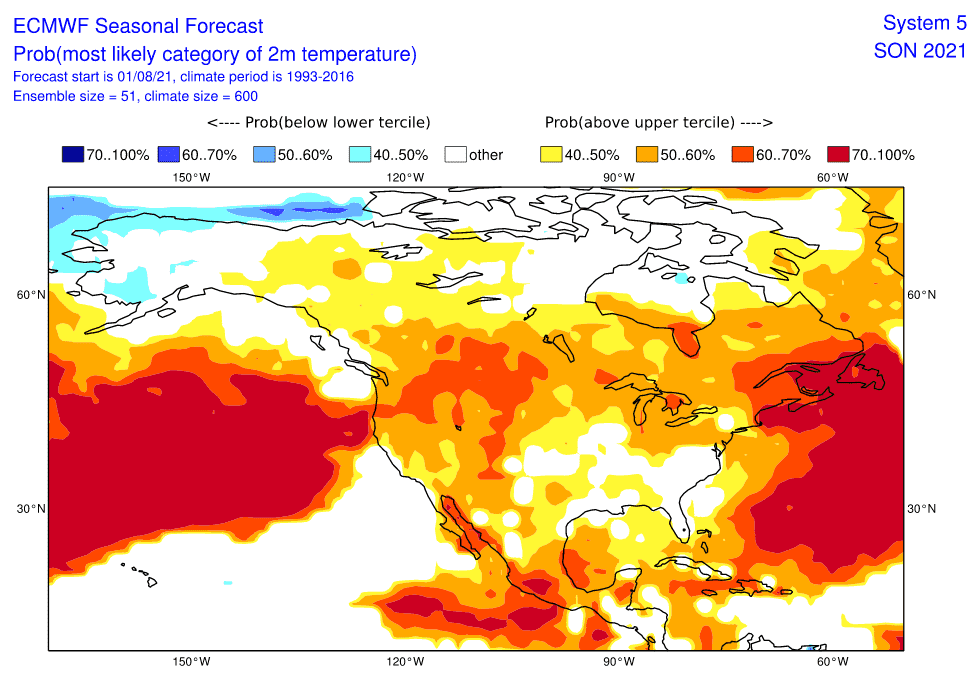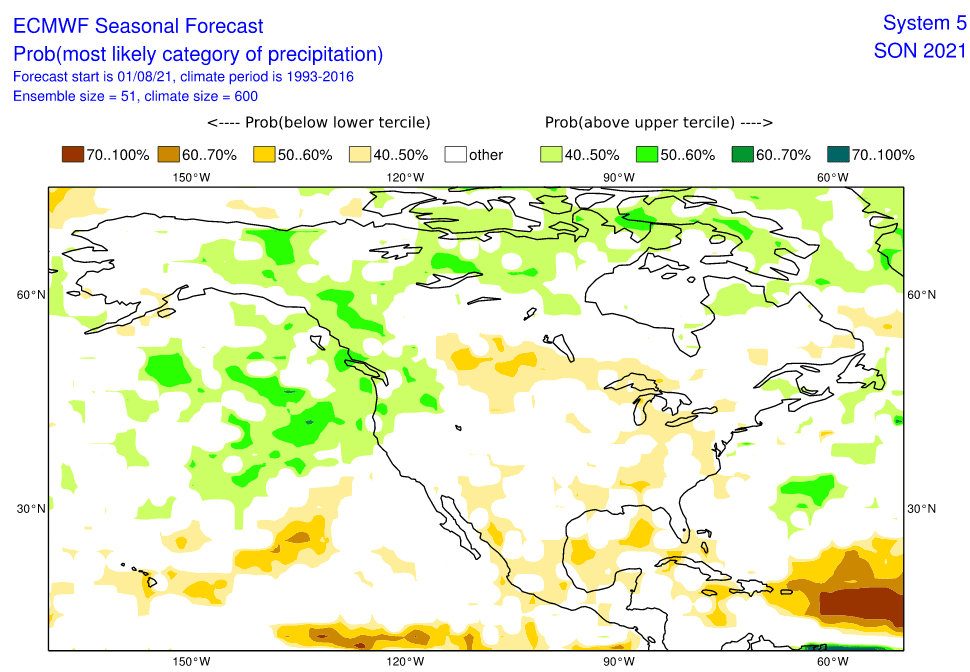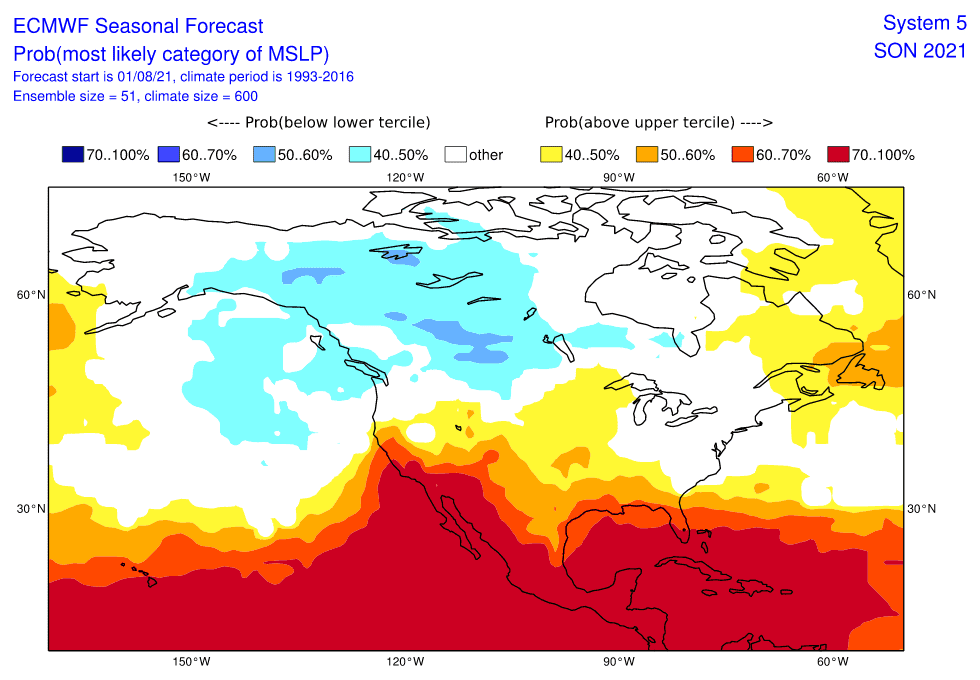 Source: https://www.ecmwf.int/en/forecasts/charts