Day 4 of several storm round in Europe, is late evening and we can summarize known and new weather extremes across western Balkan and neighboring regions.
During last days heavy storms, rain and floods occurred from Germany to Greece.
On Sunday, storms caused big problems in Germany, Switzerland , Austria and Italy, with 3. level of warnings, in Germany mainly floods, in Italy gusty storms, hailstorms and floods and in Austria and Switzerland severe storms with heavy rainfall. Wind gusts near storms reached 106 km/h, precipitation amounts up to 129 mm.
On Monday and Tuesday, storm line shifted above NW Balkan, with surprising gusty storms in Croatia with wind gust up to 140 – 150 km/h and large hails in Italy and Croatia up to 8 cm. During 48 hours dropped in Salzburg, Austria, 223,4 mm (almost 9 inches) of rain and people in Alpine region and Dalmatia had ruined vacations.
During Wednesday, next severe storms and heavy rain occured in Croatia, Montenegro, Serbia, Albania, North Macedonia, Kosovo, Greece, but local storms appeared too in Romania, Hungary and Slovakia.
Serbia and Kosovo were in Wednesday evening with red alert before floods, Podgorica reported 24-hours precipitation amount 79,2 mm, Dubrovnik 62,0 mm, Sombor in Serbia 61 mm, Falconara in Italy 54 mm, Demir Kapija in Skopje 42 mm, Kerkyra in Greece 41 mm, Kamenica nad Cirochou, Slovakia, 38 mm, Arad, Romania 37 mm, Siofok, Hungary, 36 mm and Neum, Bosnia and Herzegovina 33 mm. Local preciptiation amounts in every country could be 2-times higher, because in International exchange site are reports only with few precipitation stations from countries.
In Croatia were reported on Tuesday hailstorms with hail up to 8 cm, on Wednesday up to 3 cm. Dubrovnik hit wind gusts 97 km/h, Rax in Austria 90 km/h, Rijeka 90 km/h, Karpathos, Greece, 78 km/h, Postojna, Slovenia, 72 km/h, Topolcani, North Macedonia, 72 km/h, Bar, Montenegro 68 km/h.
Cold air after cold front arrived over southern Italy and many tornadoes were reported on ESWD. On one shot, 4 tornadoes are visible!
During Thursday and Friday, severe storms will persist over Balkan and Greece. The most severe thunderstorms are expected over Montenegro, Kosovo, Albania and North Macedonia on Thursday and Serbia, Bulgaria, Kosovo, North Macedonia and Greece on riday. At the weekend this storm round will weakening and above Europe will start next long-term heatwave. /https://mkweather.com/2020/08/05/london-with-7-day-heatwave-6-12-august-on-friday-35c-95f-possible//
Storm forecasts from Severe Weather Europe for Wednesday and Thursday 5.-6. August 2020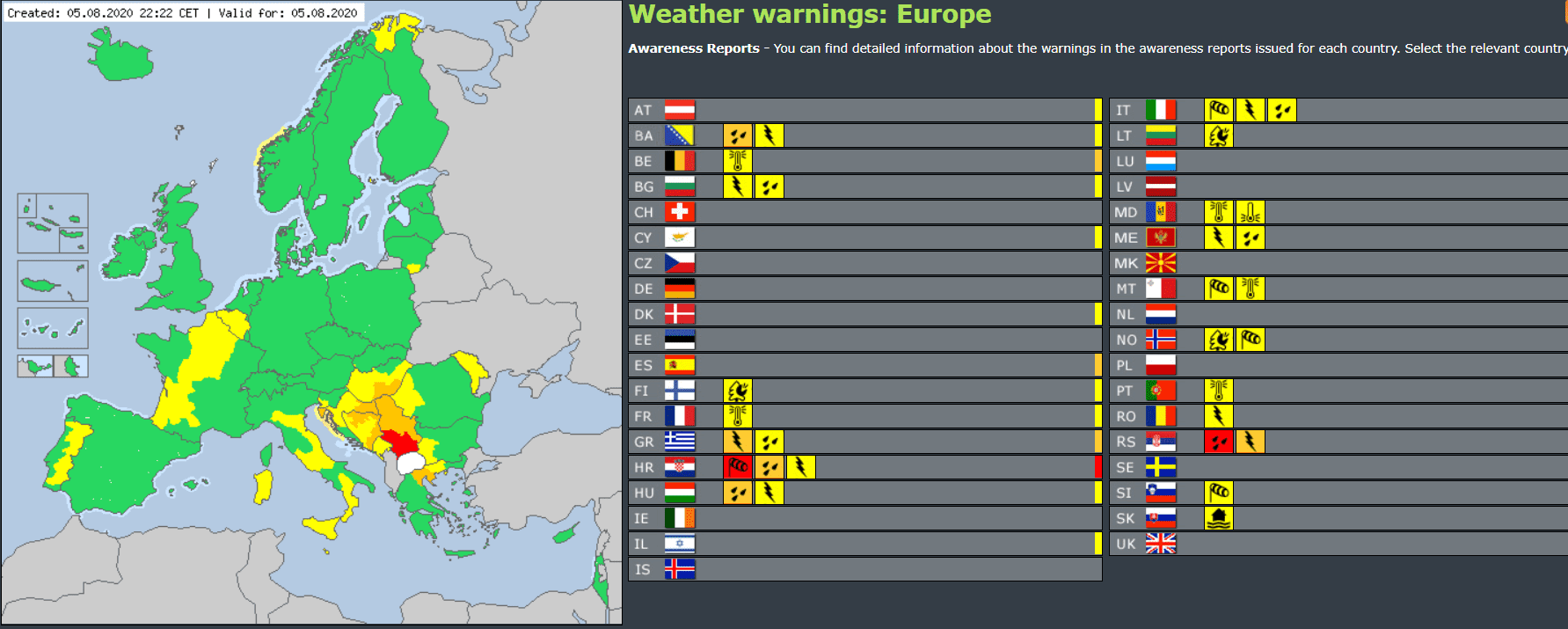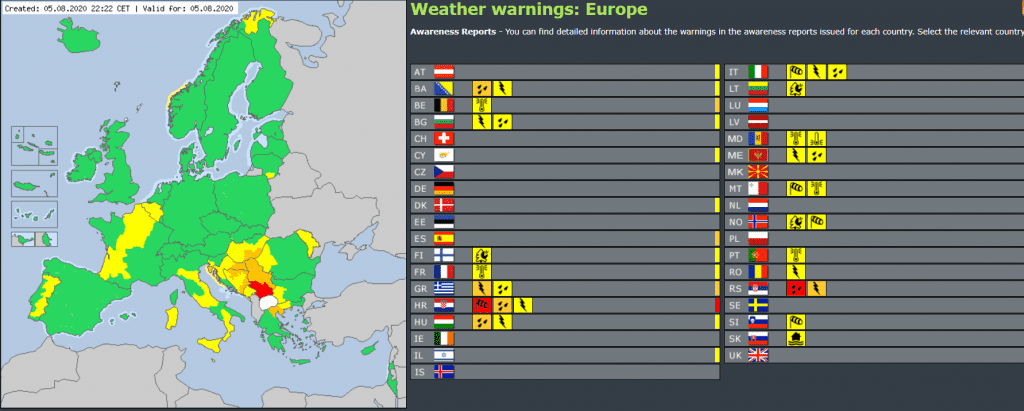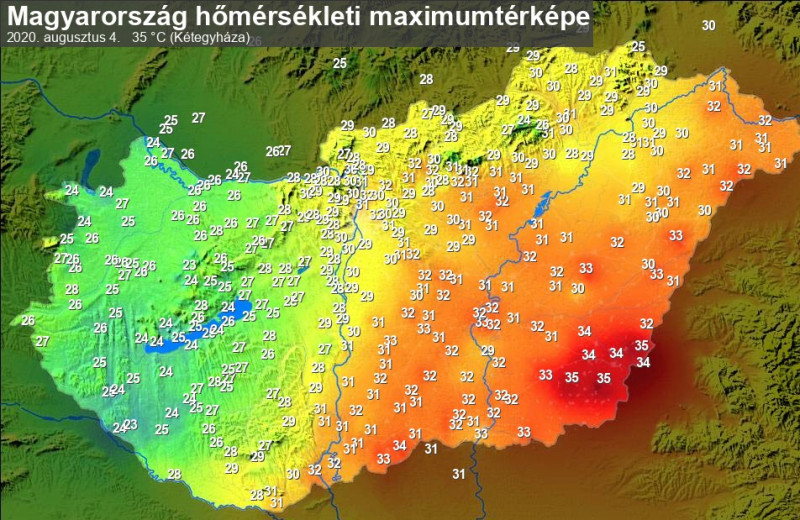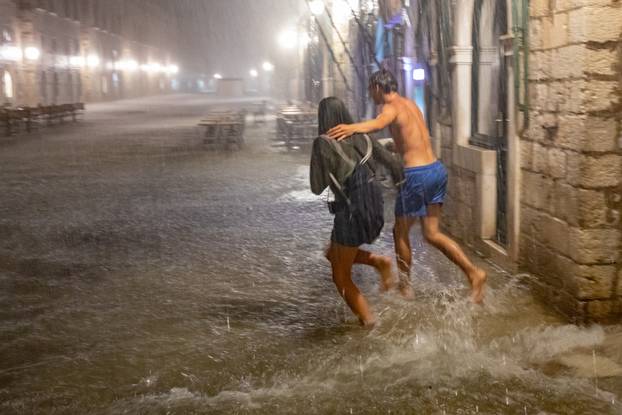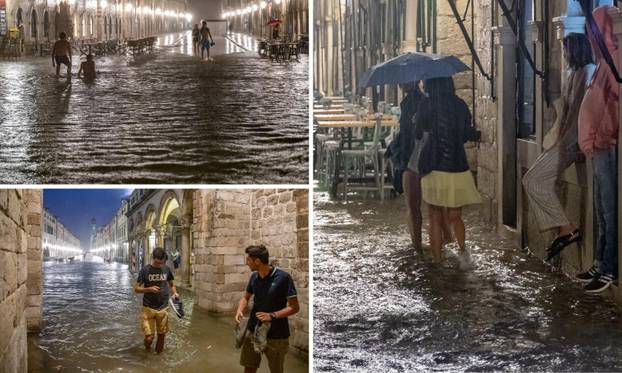 City under floodwater in Kosovo, Wednesday, 5. August 2020 /Severe Weather Europe/:
Multiple tornadoes in Italy, Wednesday, 5. August 2020 /ESWD/
Our warnings for WED – THU – FRI 5.-7. August 2020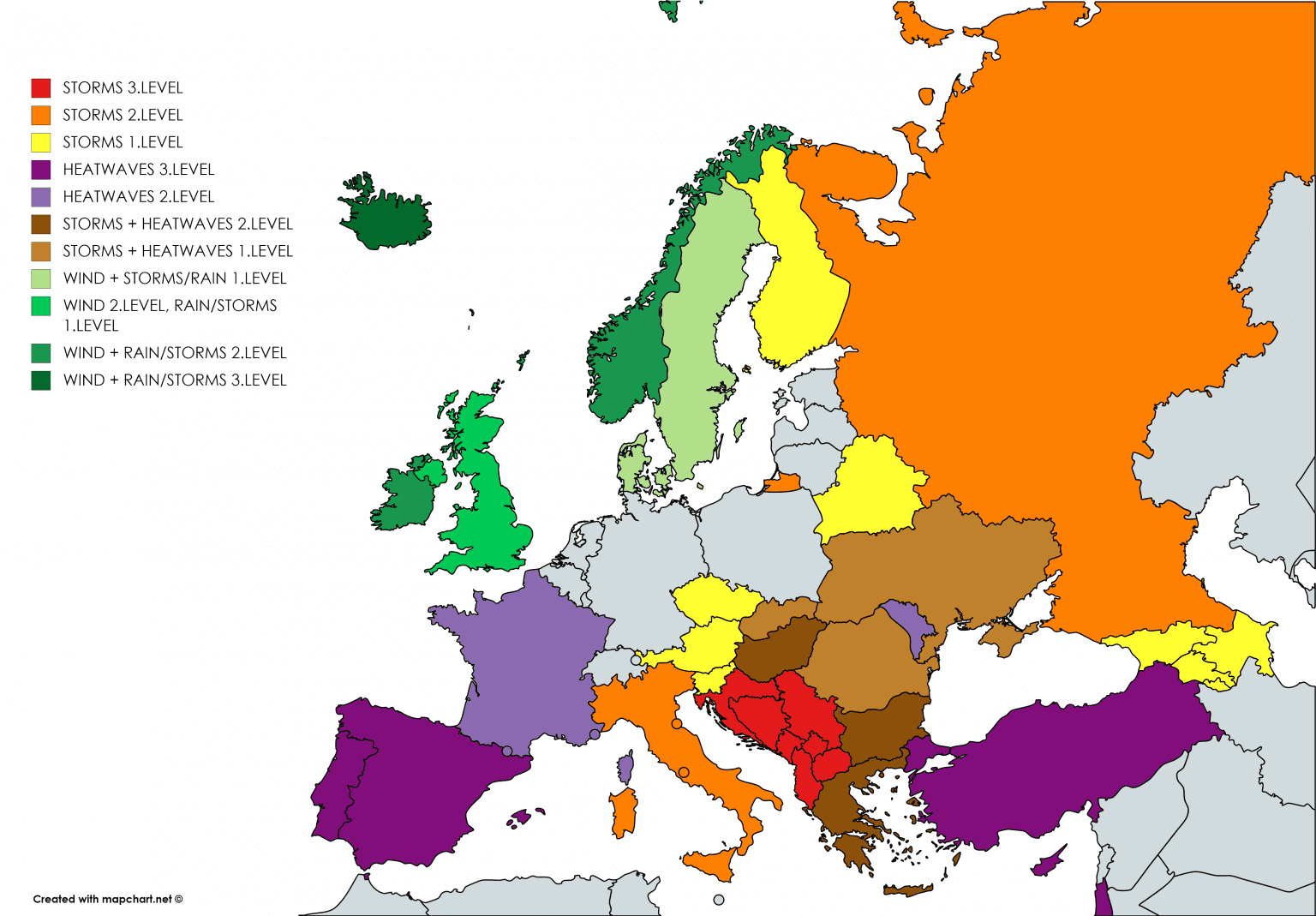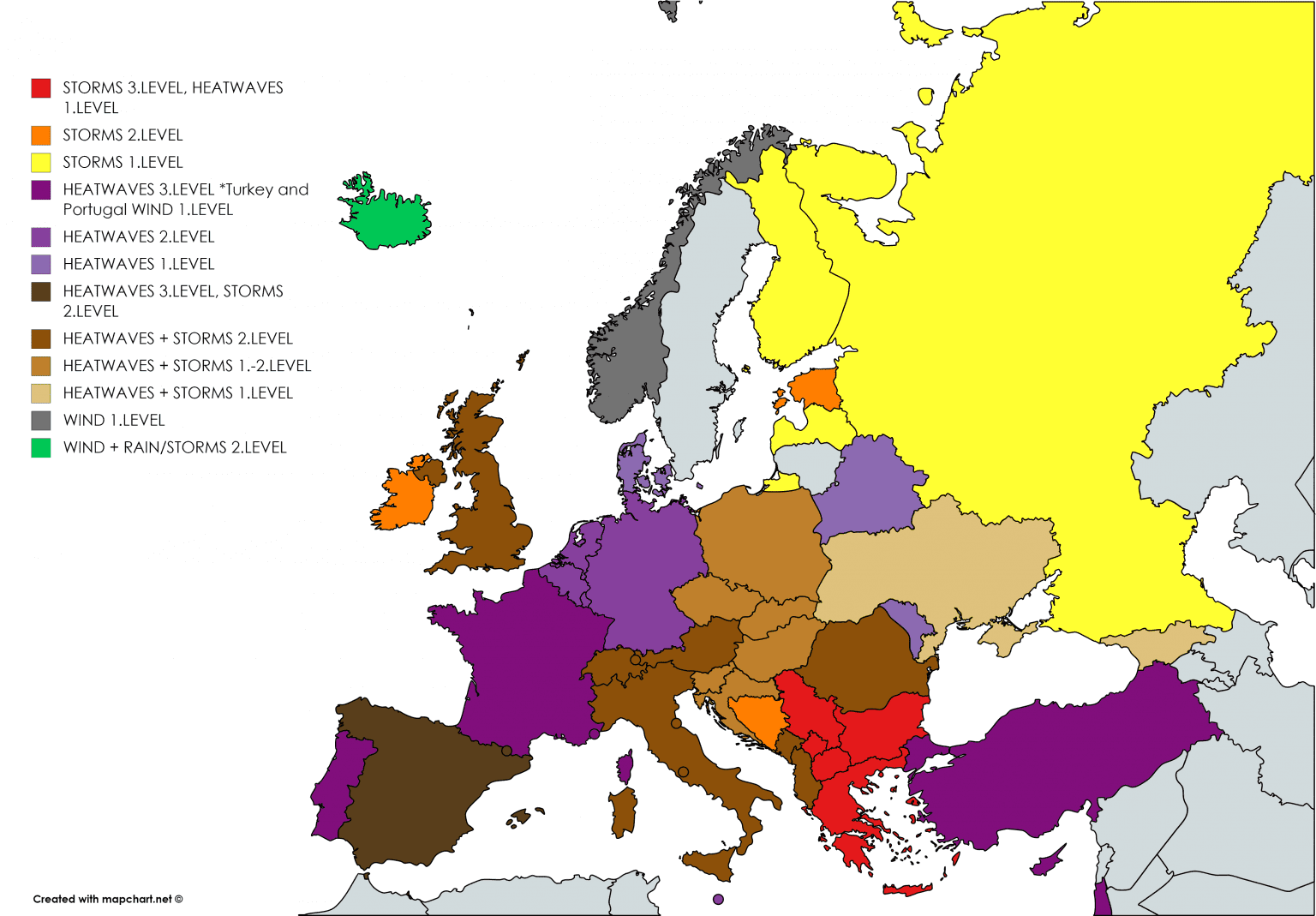 Read more:
(Visited 89 times, 1 visits today)