Brazil is waiting a historic coldwave, temperatures will drop 30°C below average around 20. August 2020
Several regions of Brazil are suffering a historically cold days in August 2020. Serra Catarinense (SE Brazil) has been registering consecutive negative temperatures since June 29, with no end to the run in sight.
All-time cold records have been busted in the southern municipality of Bom Jardim da Serra of late. The city is one of the coldest in Brazil– but these past few days have been something else. According to the Keizer station network, Bom Jardim registered only -8.8°C (16°F) on Thursday 6 August. That made it the third consecutive day with a reading below -8°C (17°F), the first time that's occurred anywhere in Brazil since record-keeping began, reports /https://saojoaquimonline.com.br/climaterra/2020/08/07/serra-catarinense-registra-frio-historico-com-tres-dias-seguidos-na-marca-de-8o/?amp&__twitter_impression=true/.
Freezing conditions also hit the Vale dos Vinhedos, and the Vale da Invernadinha. Here, ponds and lakes froze, water pipes burst, and a considerable portion of the vegetation was blanketed in a thick frost.
The worst in southern half of Brasil is only beginning. A powerful coldwave from Argentina and Chile will explode over northern parts of South America during the next week and Uruguay, Paraguay, Bolivia, Brasil and even Peru and southern Equador will be hit by extremely cold Antarctic air, over parts of Brasil around 20. August 2020 with negative temperature anomalies up to -30°C below average!
This could bring to higher situated basins in Brasil temperatures below -12°C (national cold record from Caçador, Santa Catarina state is -14,0°C) what could be according national meteorologists mean a historic coldwave in Brasil.
In lower situated cities in southern Brasil, snowing or frosts are in this air probably. Temperature in 850 hPa in southern border area of Brasil had to cool down up to -5°C (!) on Thursday, is expected. Near conditions such this, heavy frosts up to -18°C are possible in basins and valleys of Europe, US and Canada if they have a high snow cover.
This winter is in parts of South America very cold and according to Argentinian meteorologists and meteorologists from Chile, the strongest witner from nineties in several parts of Patagonia /https://mkweather.com/2020/08/12/patagonia-with-one-of-the-cruelest-winter-for-last-20-years//. It´s appear, that winter 2020 in South America did not tell the last word, yet and that many parts of continent will be bothered by extremely cold Antarctic air masses.
We will monitor the situation and will bring fresh news from region during the next week.
Parts of Brasil alive the period with consecutive period with frosts from 29. June 2020:
-5°C in 850 hPa over southern borders of Brasil on Thursday, 20. August 2020: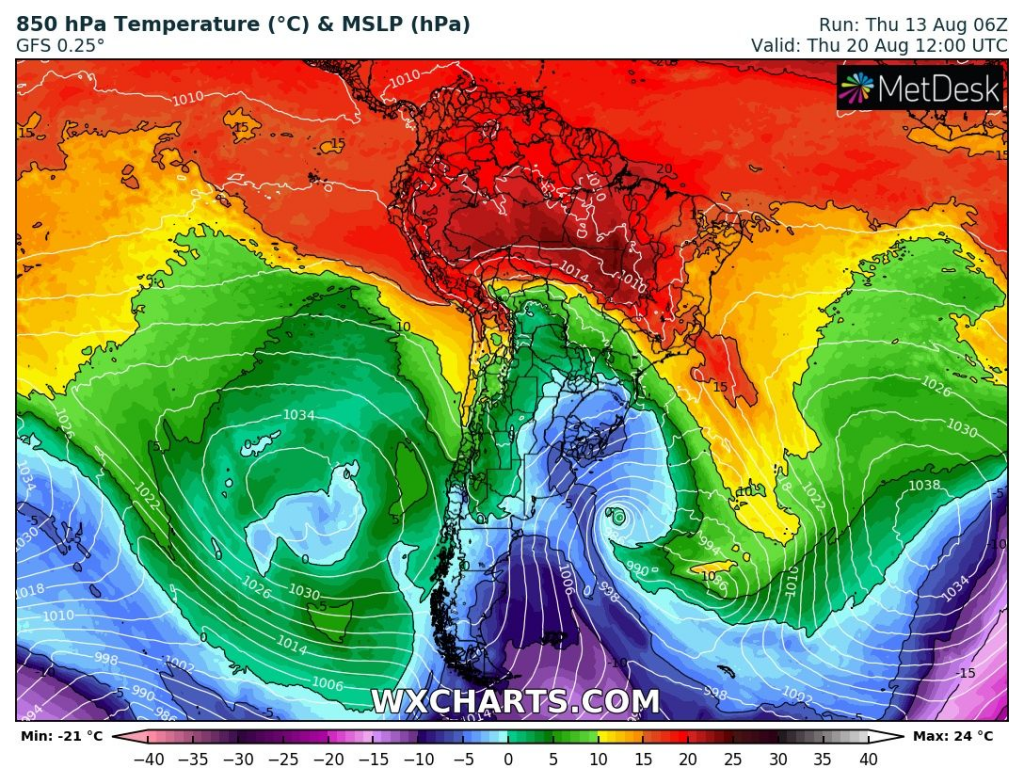 Temperature anomalies in 850 hPa and 2 metres above ground in South America during the period Wednesday – Saturday 19.-22. August 2020: