Mkweather already published the First Christmas 2020 forecast for the USA and Canada /https://mkweather.com/2020/12/06/first-christmas-forecast-for-the-usa-and-canada-warm-christmas-but-chances-for-snow-in-west-midwest-and-great-lakes-region//, where was mentioned, that warm Christmas 2020 are expected, for now, but chances of snowfall are still alive in (North)West, Midwest and Great Lakes region according to last forecasts.
We will update Christmas forecasts for Europe, the USA and Canada every Friday / Satudray until the Christmas and in next updates we will add a forecast for New Year 2021, too.
Meantime, NOAA published a Chances of a White Christmas for the USA according to long-term climate normal 1981-2010.
As we should see on the map below, more than 90% chances for snow on Christmas Day are mainly in Rocky Mountains – mainly parts of Montana, Idaho, Wyoming and Colorado, but too in Great Lakes region and along northeast border with Canada.
Chances gradually declines with latitude and above 10% probability is still in Kansas, Missouri or Kentucky.
Very limited chances of White Christmas are in southern states, along border with Mexico and in Gulf Coast, but too in West Coast.
In Canada, chances for White Christmas are still very high, with the most warmest conditions in Vancouver region.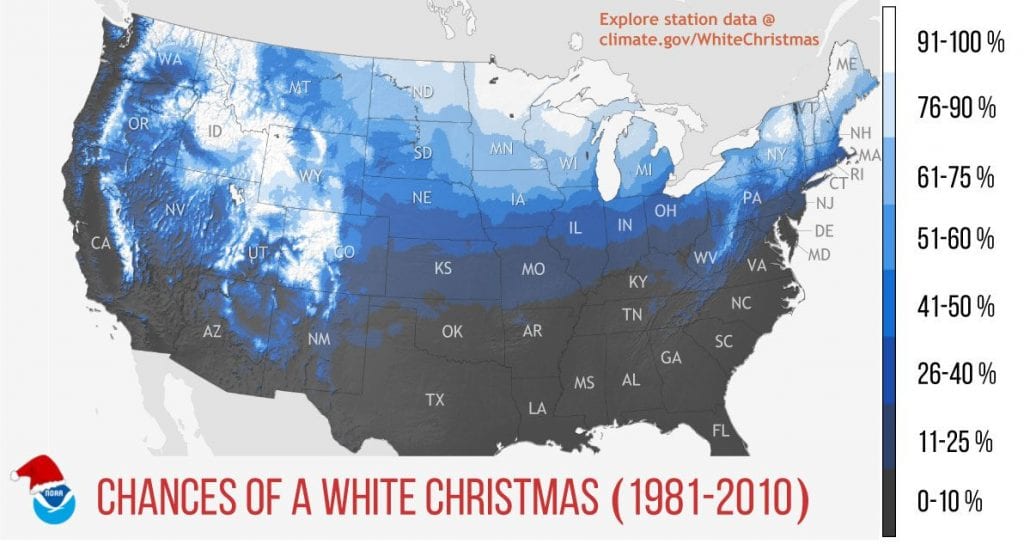 Read more:
(Visited 55 times, 1 visits today)