Wave of extremely cold weather in the USA continues and country reports minimally 20 dead, 73% of the territory under the snow /a topic of the next article/ and many broken all-time or very old temperature records.
As we mentioned in previous articles, extreme winter has shifted up to Texas and northern Mexico /https://mkweather.com/2021/02/17/extreme-frosts-in-mexico-monclova-620-masl-100c-all-time-record-2021/; https://mkweather.com/2021/02/14/ely-minnesota-the-usa-50f-456c-records-in-midwest-and-texas-expected//. In Texas, only -28,9°C / -20°F was measured, what is only 3°C from all-time state temperature record /https://mkweather.com/2021/02/16/70-4-of-the-usa-under-the-snow-the-snowiest-winter-ever-record-is-70-9-and-the-next-snowfall-is-expected//, moreover, pipeline in southern USA frozen, therefore millions people including northern Mexico experienced with widespread power outages.
The coldest known temperature during ongoing coldwave was measured in North Dakota, only -46,1°C / -51°F /https://mkweather.com/2021/02/15/historic-winter-in-the-usa-51f-461c-in-bottineau-north-dakota-128-year-record-broken//.
Extremely cold wasn´t only in Texas, but in the large region between Canada and Mexico (from Minnesota to Texas), including Oklahoma. In Oklahoma City was on Tuesday, 16. February measured the coldest temperature in 122 years, since the end of 19. century, only -25,6°C / -14°F.
Temperature anomalies from long-term average reached above Midwest ad Texas less than -40°F.
Meantime, area within a territory of the USA under the snow reached 73%, what is the lowest value since the beginning of records in 2001. Southeastward from extreme blizzard, freezing rain has occurred in Southeast.
Extreme winter is still forecasted until Friday, in east until Sunday and during the next weeks, extreme winter should return mainly into parts of Canada and Great Lakes region.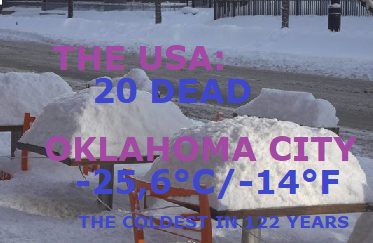 Read more:
(Visited 22 times, 1 visits today)