Iowans continue to deal with the aftermath of the destructive derecho storm that roared across the Midwest on Monday, 10. August 2020. A derecho is a widespread, long-lived wind storm that is associated with a band of rapidly moving showers or thunderstorms.
The storm, with straight-line winds that reached 112 mph / 180 km/h in parts of Iowa, swept across Nebraska, Iowa, Illinois, Indiana, Wisconsin and Michigan.
There have been three confirmed deaths in Iowa. One other person was killed in Indiana.
As of midday Friday, some 140,000 customers remained without power in Iowa. Another 60,000 were without power in Illinois.
The National Weather Service's Storm Prediction Center (SPC) said Tuesday morning that the "intense derecho" traveled from southeast South Dakota all the way to Ohio, a path of 770 miles in 14 hours.
Early estimates indicate 10 million acres (4 million hectares) have been damaged in the nation's top corn-producing state and many grain bins were destroyed. That's nearly a third of the roughly 31 million acres (12.5 million hectares) of land farmed in the state sustained damage from the derecho.
10 million area is more than 40 000 km2, what is area of european country such as Denmark, Switzerland, Netherlands or Slovakia.
According to data from the USDA, 23.4 million acres were seeded with corn and soybeans this spring.
According to AccuWeather meteorologists who study how weather impacts crop commodities, the derecho caused enough damage to impact American farmers' overall crop yields for 2020. "AccuWeather believes harvested acreage will be lower, likely closer to 83.5 million acres, due to damage from the derecho on Monday," AccuWeather Meteorologist said.
By early estimates that would mean some 43 percent of Iowa's 2020 corn and soybean crop has been damaged or destroyed by the violent storm system.
Photodocumentation of derecho in Iowa: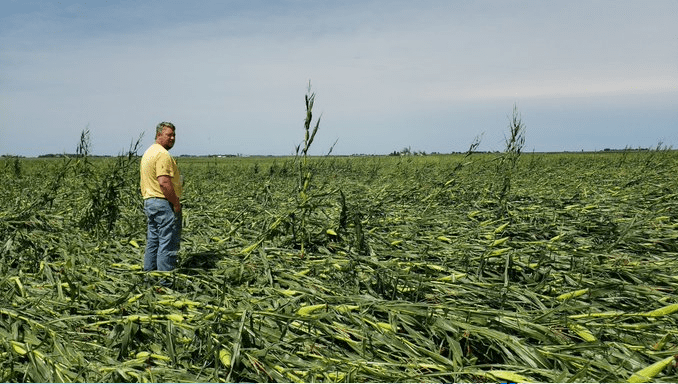 Sources: https://eu.usatoday.com/story/news/nation/2020/08/14/iowa-derecho-deadly-storm-power-outages-national-guard/5581492002/
https://www.foxbusiness.com/money/derecho-iowa-crop-land-farmland-midwest-damage-severe-weather-corn-soybean-disaster-10-million
https://www.accuweather.com/en/severe-weather/derechos-hurricane-force-winds-damaged-10-million-acres-of-crops-in-iowa/794157
(Visited 26 times, 1 visits today)