Europe is still under effect of tropical air in lower pressure, with warm weather and severe storms in Central Europe, northern Italy and NW Balkan. In Germany, till Friday, regionally has dropped up to 90 mm of rain with local flash floods an heavy rain is reported from Benelux, Alpine countries, Czechia, Slovakia and Slovenia. In Germany, Benelux and Slovenia occurred gusty storms and Germany, lesser Poland, Austria, northern Italy and Slovenia are reporting hailstorms.
As we predicted on Thursday /https://mkweather.com/2020/08/14/end-of-summer-2020-ex-tropical-storm-in-europe-not-more-as-22c-in-uk-france-germany-cz-pl-su-au-nl-be-after-last-return-of-heatwaves//, several peaks of warming up and cooling down is waiting us till end of summer 2020.
The biggest temperature shock is prepared for us mainly between 21.-26. August, firstly, with last big heatwave in Europe, then with Arctic blast from northwest.
Around 21. August, temperature in Europe will be really high, up to +44°C in SE Spain, +38°C in France, Germany, Italy and East Central Europe and +42°C in Balkan. Up to +34°C can report northern Germany and Poland and tropical days can pleasure southern Scandinavia, too. Hot will be in east Ukraine and SW Russia too, up to +38°C.
During fifth August pentade (21.-25.8.) will be moving over Atlantic ex-tropical storm or ex-hurricane Jospehine, respectively, where will be merged with extratropical Icelandic cyclone and together will cause massive Arctic blast over parts of Atlantic and after 25. August in quickly in Europe, too.
In Scotland, Iceland, Norway, Sweden and Finland, frosts are possible in air masses with T850hPa 0/-5°C, very fresh air will bring autumn minimum temperatures only +3/8°C, in parts of Mediterranean only +10°C around 26.-27. August. It will be the first early autumn cold blast in Europe, with first possible ground frost in densely populated areas.
We will monitor the situation and will bring the news about this topic during the weekend and the next week.
ESWD database reports from this week:
Expected reached maximum temperatures during last supertropical heatwave in Europe around 21. August 2020: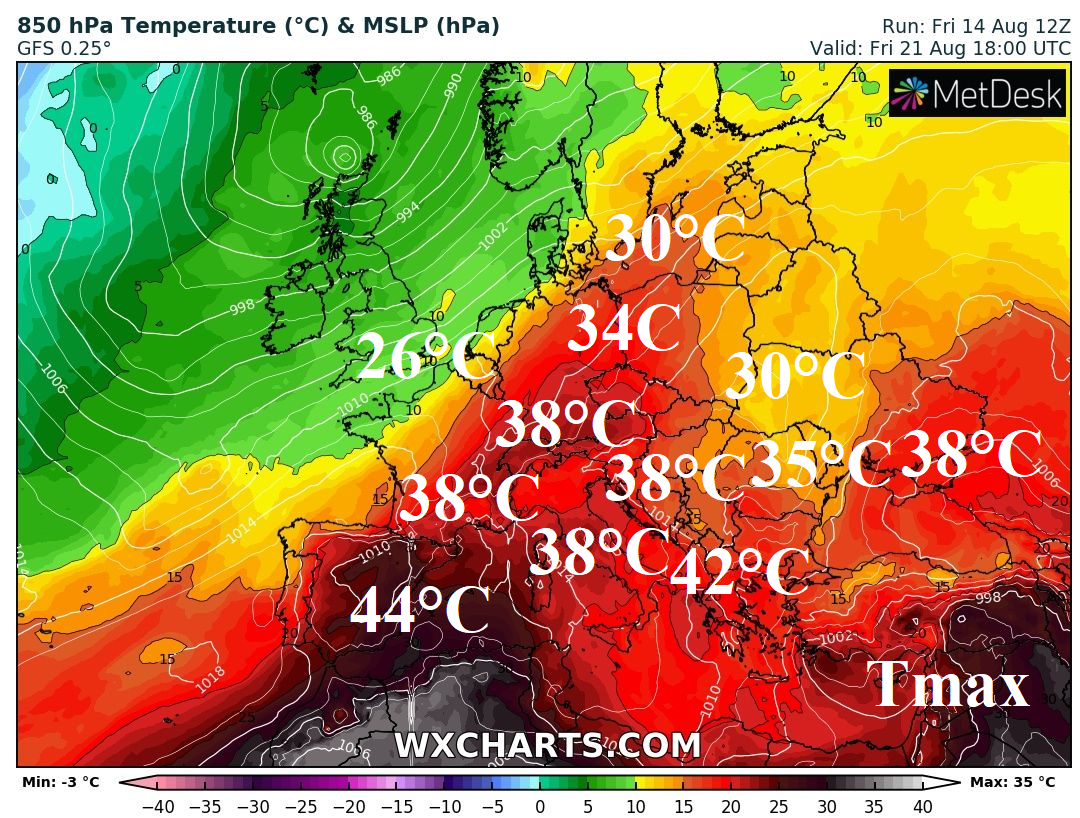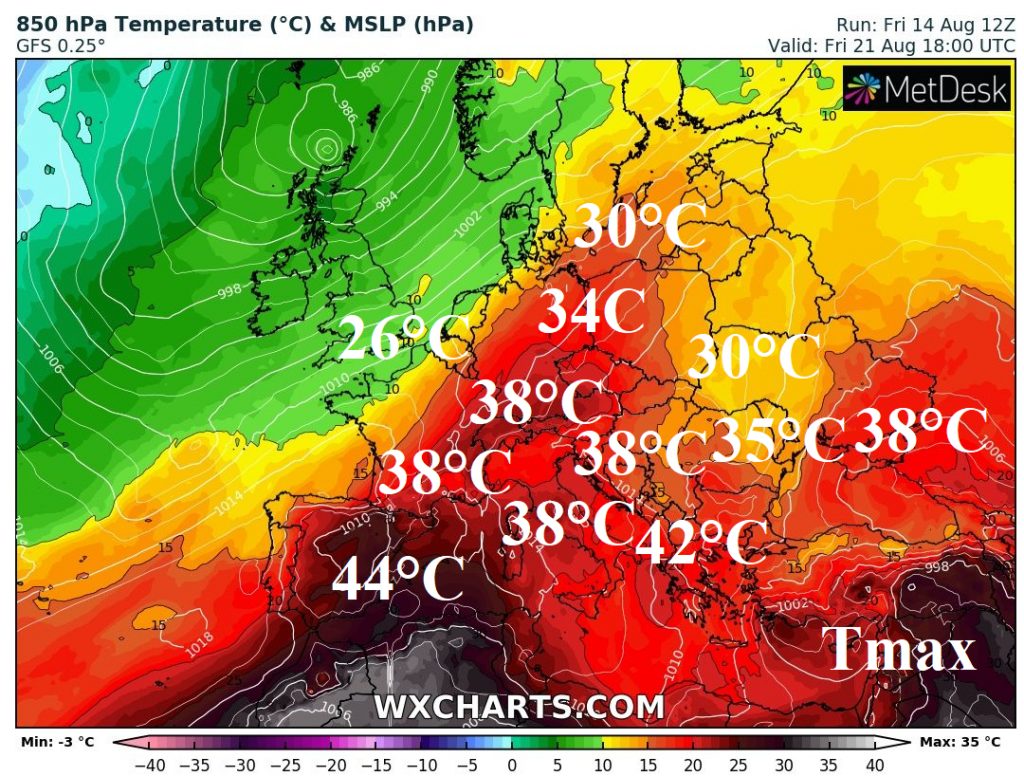 Expected trajectory of moving of tropical storm (possible hurricane?) Josephine over Atlantic during the next days: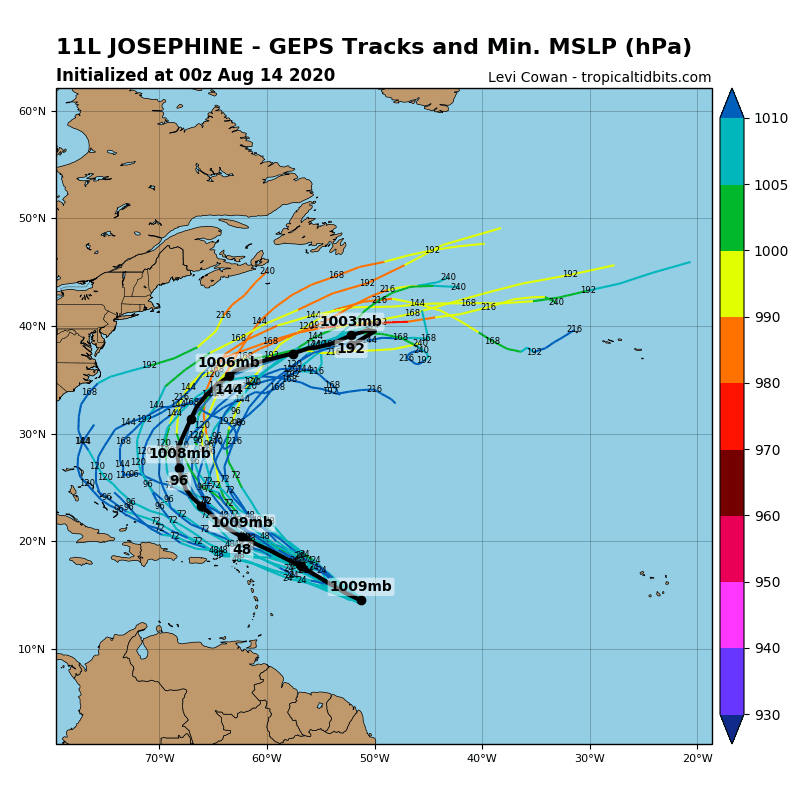 Expected reached minimum temperatures during massive Arctic blast in Europe around 26.-27. August 2020: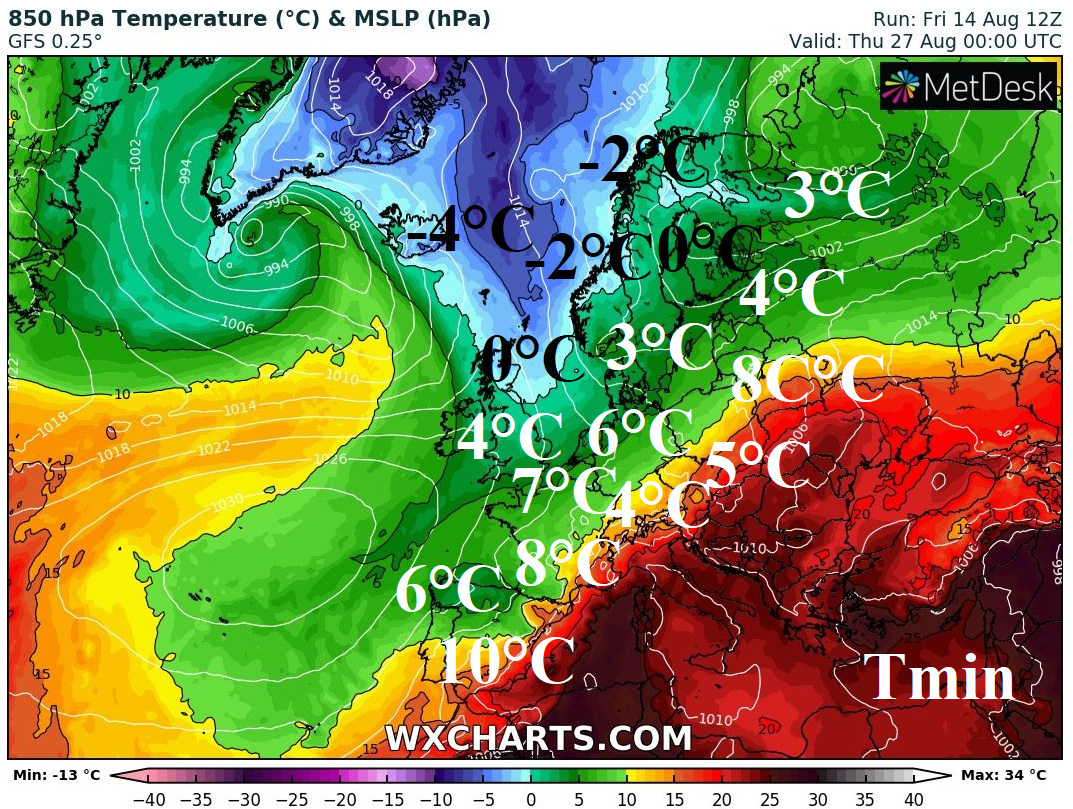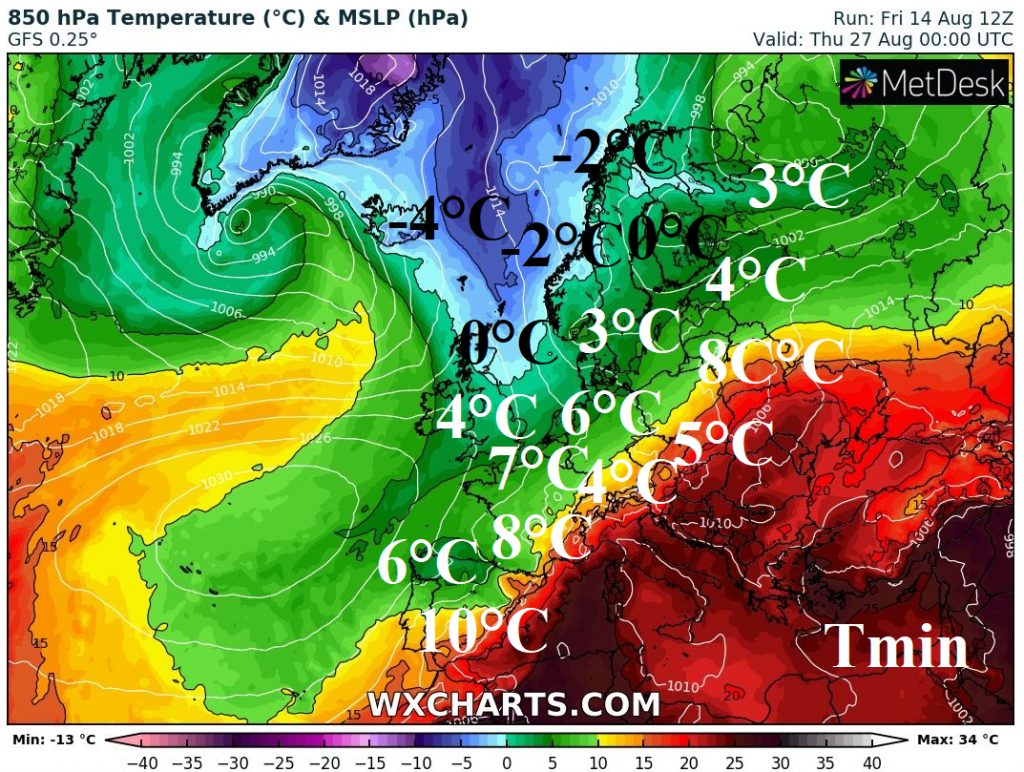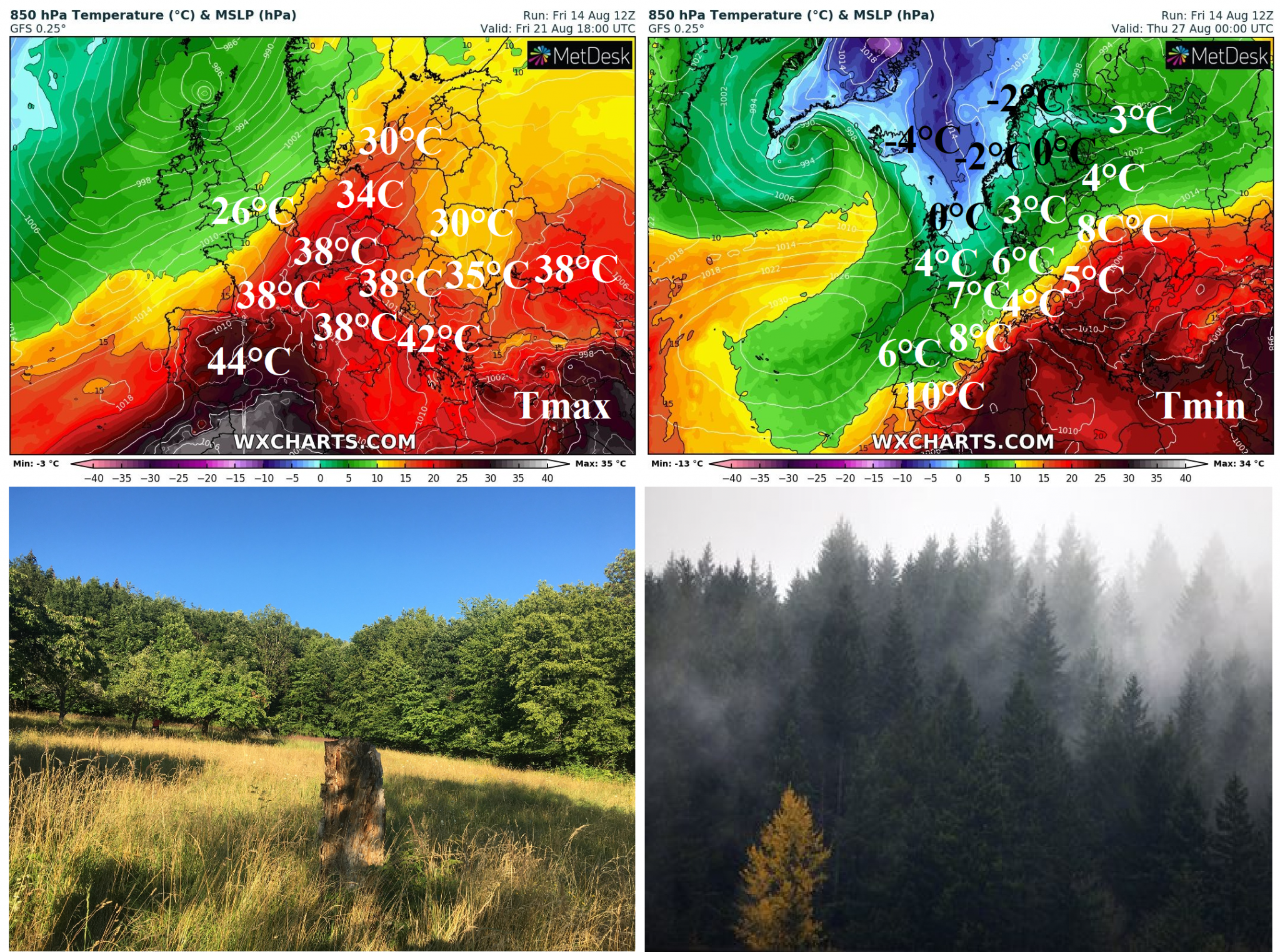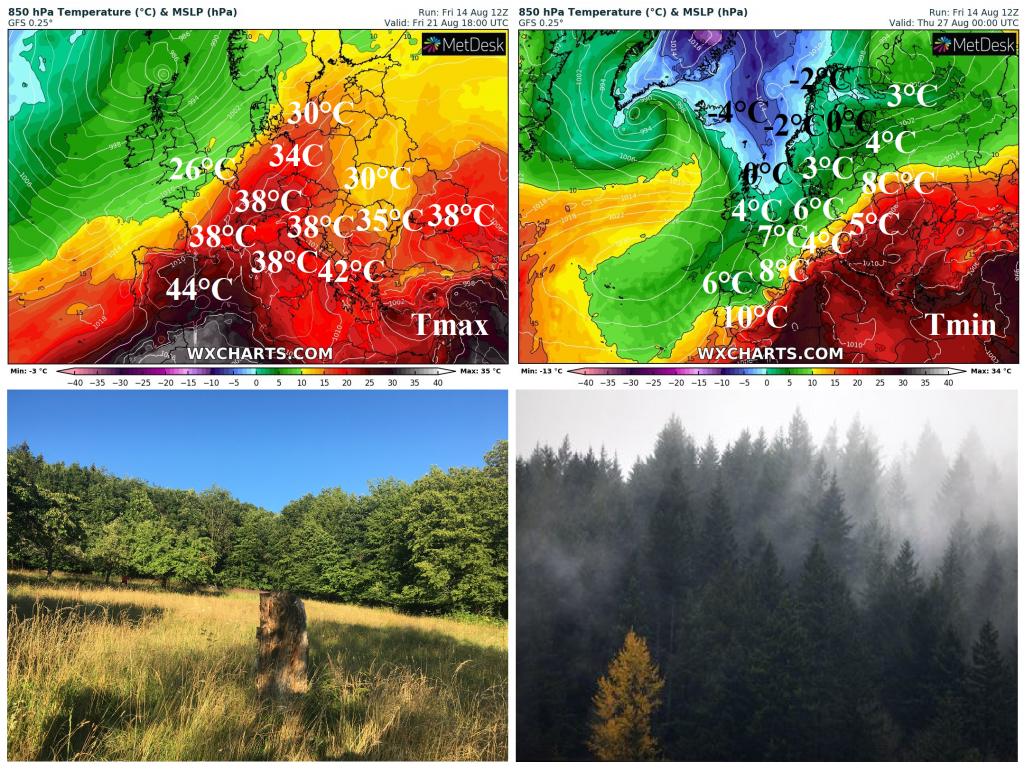 (Visited 31 times, 1 visits today)