Epsilon after Alpha already the second tropical storm, which hits Europe in 2020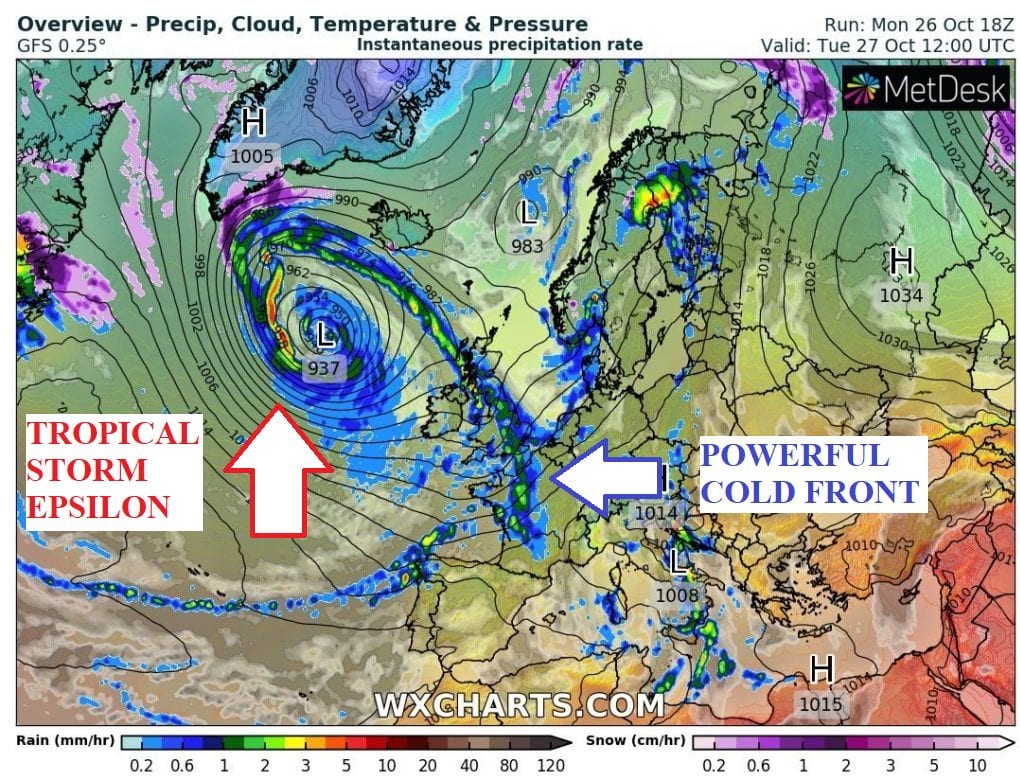 In September 2020, easternmost formed tropical storm ever, Alpha hit Portugal, Spain and France /https://mkweather.com/2020/09/20/tropical-storm-alpha-in-europe-floods-in-spain-portugal-and-france-easternmost-forming-tropical-storm-ever// and its remnants brought floods in Italy and Adriatic region.
At the end of October, next system with power of tropical storm, Epsilon, hits from Tuesday to Thursday, 27.-29. October, Europe /history of forecasts of Epsilon in Europe is available on 1; 2; 3; 4; 5/.
Although, the center of the system will be persisting southward from Iceland and according to the newest predictions wont´t hit British Islands, above Europe including British Islands system sends severe cold front, with heavy rainfall and strong wind gusts.
In warm air, storm activity on the cold front is possible. The most rainfall is expected in western Scotland, southwestern Norway and northwestern coast of Europe from Brittany, France to Denmark.
Surprising is, that the strongest winds shoudln´t hit Scotland in the UK, but England including London area during next hours.
After tropical storm activity, unfortunately, next possible windstorms are expected in Ireland and the UK already until current week, therefore, strong winds and heavy rain will be on plan minimally until the end of October 2020.
Except of NW Europe, powerful cyclonic activity until 10. November is expected in Mediterranean too, with heavy rain and strong winds, and possible threaten regions will be Alps and Carpathians, too, with possibility of early blizzards until the end of the 1st November decade.
Infographics: watchers.com, tropicaltidbits.com: