Eta will bother Gulf Coast minimally next 7 days, Florida with 401 mm / 15.79 inches of rain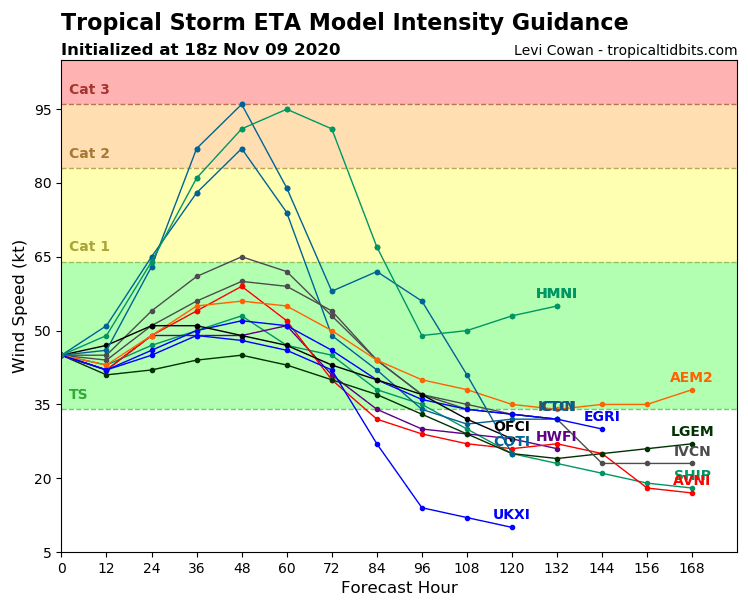 Hurricane Eta hit Cuba and southern Florida from Sunday to Monday 8.-9. November 2020, with regional floods and hurricane-force (Cuba) or tropical storm-force (Florida) winds.
System again has changed a direction to southwest and above warm waters of seoutheastern Gulf Coast, it re-strenghten into a hurricane again during current workweek.
Then, until Sunday, 15. November Eta again shifts above Florida / Gulf Coast land, with possible tropical storm or even hurricane strength. The worst scenarios are forecasting re-strengthening of a system to Category 2-3.
Eta hit Florida with sustained winds 65 mph / 105 km/h, for hurricane Category 1 is limit 74 mph / 119 km/h winds.
Tropical Storm Eta is the first tropical storm to make a November landfall in Florida since Tropical Storm Mitch in 1998 and recorded 28th tropical storm of record Atlantic hurricane season 2020.
According to Accuweather, 15.79 / 401 mm inches of rain has fallen in Miramar, Florida until Monday´s morning, in Hollywood, Florida, it was 14.24 / 362 mm.
Until 15. November, the most of rainfall and the strongest storms are expected in Southern Florida, with local rainfall over 20 inches / 508 mm. Remnants of the system should later shift above East Coast.
Until 25. November, any big tropical threat isn´t expected, for now. After 15. November, MJO will pass into it´s dry phase and conditions for development of hurricanes in Gulf Coast and wider region will be worsened.
Infographics: tropicaltidbits.com, wxcharts.com: